If you're looking for affordable yet beautiful rustic fencing for your home, the post and rail fence may be just what you need. Known by some as the split rail fence, installing this fence is a smart way to establish your boundaries while locking your animals in.
Many homeowners in the country spend anywhere from $11 to $34 per linear foot. This translates to around $1,100 to $3,400 for the installation of 100 feet post and rail fence. The national average is $2,250.
However, factors such as your location, the materials you choose, and the size of your land will influence the exact figures you'll spend.
The average cost of a post and rail fence ranges between $11 – $34 including the labor, materials, and supplies cost. If you're working a DIY, your costs will be significantly lower.
| | Quantity | Low | High |
| --- | --- | --- | --- |
| Post and rail fence cost | Per linear ft | $11 | $34 |
| Materials cost | Per linear ft | $5 | $2 |
| Supplies and Equipment cost | Per linear ft | $3 | $6.50 |
| Labor costs | Per linear ft | $3 | $5.50 |
| Total costs | 100 sq. ft | $1,100 | $3,400 |
Average installation cost for 100 linear ft = $2,250
Post and rail costs per linear foot
On the low end, expect to spend anywhere from $11 per linear foot, and up to $34 per linear foot on the higher end. Depending on the location and condition of your existing land, labor will also cost you between $3 – $6 per linear foot.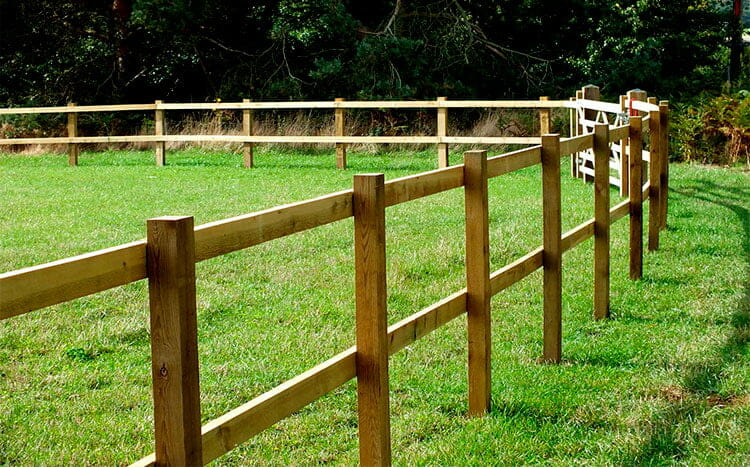 Post and rail fence cost per acre
If you're planning to fence an acre (836 linear feet), the installation costs will range between $9,196 to $28,424. Nevertheless, the final quote you receive for this job will depend on the number of railings used and the rail material.
Tip: For installations on large ranches, farms, and other multi-acre properties, many contractors will offer significant discounts since their total overhead costs are lower. Be sure to inquire about such discounts particularly on the materials and labor.
| Property size | Size in linear feet | Average costs |
| --- | --- | --- |
| Eighth (⅛) acre | 104.5 | $1,149.50 - $3,553 |
| Quarter acre | 209 | $2,299 - $7,106 |
| Half acre | 418 | $4,598 - $14,212 |
| 1 acre | 836 | $9,196 - $28,424 |
Cost to install post and rail fence
Your overall post and rail fencing installation cost will be split into two main cost factors, i.e., permits and inspection, and labor.
Permits and inspection costs
Before starting your fencing project, you'll first need to check if your local council requires you to obtain a permit. If the fence forms a perimeter around your property, or in any way works as a property boundary, you'll need to conduct a property survey.
Obtaining the building permits and survey results will cost you anywhere from $100 to $250. You might also spend an extra $75 on utility companies if you need to locate any non-public underground utility lines.
Important: Every state and county in the United States has its set fence laws and regulations that govern the height and setback regulations of that area. Some Homeowners Associations also have separate by-laws governing the fencing of your neighborhood.
Read more about the fence laws in your area here.
Post and rail fence labor costs
The total cost for post and rail field fencing will depend either on how fast your installers can complete the job, or how big your yard is.
Most contractors will charge you anywhere from $3 – $5 per linear foot or between $35 – $60 per hour on labor.
The simple installations will take a professional 1 – 2 days to complete and up to 5 days for the large, difficult jobs. Generally, a team of 2 – 4 workers should install between 200 – 300 linear feet of post and rail fencing every day.
Cost of post and rail fence by material
With post and rail fencing, you're not limited to just one material. Although wood is the most popular due to its cheap cost, you also have other alternatives like vinyl, Black locust, Aluminum, and steel which offer a better aesthetic appearance.
Nevertheless, the beautiful rail fence materials will come at a cost. Most homeowners pay between $8 – $32 depending on the material you choose.
| Rail material | High | Low |
| --- | --- | --- |
| Pine | $8 | $12 |
| Cedar | $7 | $12 |
| Composite or vinyl | $10 | $25 |
| Black Locust | $15 | $28 |
| Aluminum | $22 | $32 |
| Steel | $15 | $20 |
Cedar
Cedar railing is the cheapest and most popular material used on post and rail fences today. It costs around $8 – $12 per linear foot and around $11 – $22 per linear foot when installed.
The only problem with cedar fencing is that it will require extra maintenance like painting, and staining to avoid warping.
Pine
Like cedar, Pine is also quite popular as a railing material. It's relatively cheaper than cedar due to its availability but it's not the most durable.
Expect to spend anywhere from $7 – $12 on the pine fence, and between $11 – $20 per linear foot when installed.
Pine is also susceptible to warping and requires regular maintenance to retain its appearance.
Composite or vinyl
If you want more color options with a smooth texture on the post and rail fence, vinyl is a suitable rail option.
Composite wood can also work, offering the natural wood look and texture.
However, these materials are expensive and will cost you between $10 – $25 per linear foot. When installed, the total job costs between $15 – $30 per linear foot.
Black Locust
Unlike cedar, pine, and other timber, Black locust is a more long-lasting wood option for the rail fence. It also requires very little maintenance, but it's quite expensive.
You can expect to spend anywhere from $15 – $28 per linear foot on the material and approximately $25 – $60 per linear foot when installed.
Aluminum
If wood doesn't work for your fence style, you can still try out an aluminum railing. The fencing is more durable and requires less maintenance. However, its cost per linear foot is quite high, standing at $22 – $34 when installed.
Steel
Like aluminum, steel rails are also long-lasting and low-maintenance when compared with wood. But even though it's slightly cheaper than aluminum, the cost is still high.
Expect to spend anywhere from $15 – $20 per linear foot on the steel fence and up to $32 per linear foot when installed.
Cost of gates, doorways, and accessories
Gates and doorways on post and rail fences are usually cheap since they don't utilize a lot of material. Expect to spend anywhere from $100 – $300 for every gate and doorway you install depending on the type and size.
Adding other accessories such as lighting or decorations will also cost you slightly more. The more additions you install, the more money you'll spend.
Cost of post and rail by number of rails
The cost of a post and rail fence is also affected by the number of horizontal rails you decide to use. The average cost of one rail stands between $1.50 – $4.50 per linear foot depending on the size.
Most homeowners prefer the 3-rail fencing because they are tall and often stronger than a 2-rail fence. Its cost is, however, higher at around $8 – $14 per linear foot compared to the $3 – $9 per linear foot of 2-rail.
Each railing is available in 1 by 6, 2 by 6, and 2 by 4 sizes, or 8 – 11 feet span for wooden rails.
| Number of rails | Cost per linear foot |
| --- | --- |
| 2 - rail fence | $3 - $9 |
| 3 - rail fence | $8 - $14 |
| 4 - rail fence | $13 - $19 |
| 5 - rail fence | $18 - $24 |
Cost of other extra services
When accounting for the post and rail fence installation costs, there are several other extra services that you should add to your budget for a successful job. These include;
Land grading
While post and rail fences can work on almost any terrain, in areas where the land's slope is too steep, some grading will be needed to even out the fence. Depending on the amount of excavation and re-sloping required, this process will cost you between $900 – $3000.
Fence removal
If you have an existing fence that can't be repaired, you'll need to remove it before installing the new split rail fence. This process will cost you about $3 – $6 per linear foot if you choose to hire a professional.
Keep in mind; If the old fence was installed using concrete and other thick materials, the removal costs will be higher.
Tree/bush removal
Removing obstacles such as trees and bushes along your installation path may force you to hire a tree service company. Doing this will set you back an additional $400 – $1,100 per plant removed, or $10 -$14 per foot of the plant's height.
Painting/staining
After installation of the post and rail, if you used material like pine and cedar, you may want to paint or stain it as protection against rotting, insects, and other natural elements.
Other homeowners paint the rails for aesthetic reasons. Regardless of the reason, painting or staining the fence will mean extra costs hiring a painter.
Expect to spend anywhere from $550 to $3,000 depending on the size of your fence.
Size and Height – Tall and long post and rail fences generally require more material than short and smaller fences. You'll therefore spend more on a fence taller than 5 feet and longer than 8 feet.
Wire mesh – Installing a wire mesh with the post and rail fence increases your overall costs by around $1.80 per linear foot.
Soil condition – The condition of the soil in your area affects how difficult the installation will be. For instance, Clay soils are very dense meaning digging will take more time. Loam soils can be unstable hence require large posts or additional gravel to improve balance. Sand soil may force the contractors to transport extra water on-site to improve its retention. All these mean additional costs.
The shape of rails – Round rails cost slightly more than flat rails, but they last longer and thus are a better long-term investment.
Cost of installing post and rail fence DIY
Installing split rail fencing isn't rocket science. With the right instructions, equipment, and materials, it can be properly done as a DIY.
If you choose to go this route, expect to spend anywhere from $8 – $28.50 per linear foot on the job. This means that for a 150 linear foot fence, you'll spend between $1,200 – $4,275 depending on the materials you choose.
This pricing is still relatively high due to the cost of materials. For supplies and equipment, the costs remain at between $3 – $6.50 per linear foot.
Here are some of the tools you'll need and their average cost.
| Equipment | Cost |
| --- | --- |
| Tape measure | $20 |
| Shovel | $24 |
| Work gloves | $10 |
| Post level | $9 |
| Hand saw | $16 |
| Mason's line | $15 |
| Stakes | $60 |
| Safety glasses | $16 |
| Posthole digger | $50 |
| Total | $220 |
DIY vs Hiring a pro (Cost comparison)
By choosing DIY fencing, you stand to save around $1,000 or more in labor costs. This margin could be even bigger for large fencing jobs that would require more labor. 
Nevertheless, you have to remember that DIY fencing consumes a ton of your time. You can spend days to weeks working on the fencing job, especially if you don't have help. 
What's worse, if you're not experienced in the job, you could end up doing a poor job that will then need an expert to come and correct. 
Therefore, while DIY will save you money, hiring out the job to fencing contractors near you could be the profitable choice in the long run. 
The contractors will offer insurance for their work and even guarantee you of good results regardless of what happens on the job. 
Maintenance of post and rail fencing
The maintenance of your post and rail fencing will depend on the material you choose. If you go with wood like cedar and pine, you'll need to paint or stain it at least once every 5 years to keep it in shape.
Vinyl and metal are also relatively maintenance-free with the only requirement being regular washing using soap and warm water.
Pros and cons of post and rail fence
Pros
Aesthetically pleasing and blends well with the natural landscape
It's easy to install and repair
No sharp edges that could hurt children or animals
Sturdy when properly installed and can be used to pen livestock
Materials like cedar and vinyl used for the railing require minimal maintenance
Wooden options are cost-effective
Cons
Doesn't provide any real security or privacy
Doesn't keep up out smaller animals like dogs unless you use a wire mesh
Some rail materials can be expensive
Doesn't provide any shade
How to save on post and rail fence
If you're working on a strict budget, here are a few tricks to help you cut down the overall split rail fence cost.
Involve a few of your friends to help you with the DIY. 2 – 3 is okay, but the more the merrier. just ensure they understand the job.
Take advantage of the low season which comes during winter and early spring. If your area has a limited freeze during these seasons, you'll be able to get good deals for the job.
Get competitive with more quotes. The 3 quotes rule for all home improvement projects also applies to split rail fences. By getting multiple well-detailed estimates, you'll be surprised by just how much you can save.
Consult with your neighbor to cost-share a common fence. This will work if you both need a boundary fence, either of you keeps animals like horses or cattle, or you both have gardens. However, be sure to read the fence laws regarding boundary fences in your area.
Looking for a reliable fencing contractor?
Use this FREE service! HomeGardenGuides.com is a free service that quickly matches you with the top-voted post and rail fencing professionals.
You can get 3 estimates by real certified experts in your area in just under 2 minutes by simply scrolling to the top of the page, entering your Zip code then answering some questions about the split rail fencing you want.
We forward your fencing job details to three local experts, who'll then send you a price estimate for the job with some friendly advice