Aluminum fences are fast becoming popular among homeowners because they are lightweight and easy to install and resistant mold and rust, making them ideal for humid climates.
If you wish to install an aluminum fence, expect to pay about $4,250 for the installation, coming in between $3,000 and $8,500. The cost is around $2,500 on the low end, while the high-end cost can go up to $12,000.
The cost varies widely depending on the project's size, location, the difficulty of the job, and the finish option you select.
Aluminum fencing cost per linear foot
The average cost to install an aluminum fence per linear foot ranges between $13 and $75. However, some aluminum fencing is sold in panels, which means each panel is priced individually. Some of the cheaper aluminum fencings include pool and powder-coated fences, while picket and ornamental fences tend to cost more.
If you plan to fence your home, you should decide which type and style will be ideal for your preferences, needs, and budget. Besides, you should get about 3 to 5 estimates before choosing a particular contractor to know the market range of the installation.
Aluminum fencing cost per acre
One acre is about 209 linear feet or 43560 square feet. Installing aluminum fencing on one acre of land can cost about $2,700 to $16,000. This project may take several days and require more labor, which explains the high cost. If the installation is straightforward, the cost can be lower. However, if the terrain is rocky and hilly, contractors will charge you more because of the challenges.
For a big project like this, hiring a professional ideal for timely installations. Pros are experienced in handling all kinds of projects and can work within the deadline. Besides, they can advise you on the best type and style of aluminum fence for your project.
Aluminum fence cost per panel
The cost of aluminum panels ranges between $50 and $75 per panel, depending on the material. You can also buy aluminum per linear foot, but this will depend on the type of project and your preference. Powder-coated, pool and black-aluminum fencing are usually sold by the panel. Below are the prices for the panels, not including labor.
The material cost for the powder-coated black aluminum fence is about $50 to $75 per panel. If you prefer buying per square foot, the cost ranges between $13 and $35 for materials only.
Labor cost for the installation ranges between $15 and $50 per linear foot, depending on your location. Contractors may offer slightly lower or higher rates in different states.
Aluminum fencing with a powder coating is highly durable because the coat makes them resistant to weather elements.
The average cost for buying an aluminum pool fence is approximately $60 to $65 per panel or about $15 to $25 per linear foot for materials alone. Aluminum pool fences are installed around pools to protect children and pets from reaching the pool without supervision. They act as a safety barrier, which makes it important for every home with kids.
These fences are beautiful and long-lasting because they are corrosion and rust-resistant. They do not rust even with the increased moisture and humidity in the vicinity. Pool fences should be about 50 inches or more to be effective.
Installing all the fences mentioned costs about $15 to $40 per linear foot. The labor cost for installing aluminum fences is usually charged by foot. This is good because hourly rates can be unreasonably high, especially for larger projects. Besides, this kind of project can last for more than one day.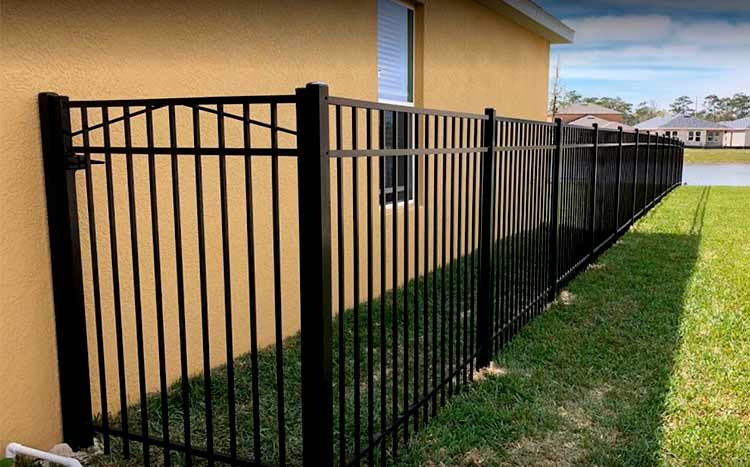 Aluminum Fence Cost by Style
Cost per linear foot
Fence Type
Low
High
Single rail
$13
$45
Spear Top
$15
$40
Staggered Spear Top
$15
$45
Two-Rail Flat Top
$16
$45
Three-Rail Flat Top
$20
$48
Arches
$25
$52
Aluminum fences are also available in different styles. This makes them very diverse as you get so many options to choose from. The cost varies depending on the style, and it ranges between $50 and $75 per panel. Each style has its own benefits and drawbacks, but they are all great choices for safety and ornamental purposes.
Different people have different tastes and preferences, so, with many options, everyone can find the right fit. Below are different styles of aluminum fences plus their costs. All the prices mentioned are for materials only.
Single Rail
The average cost for single rail aluminum fences is about $50 to $70 per panel or between $13 and $45 per foot. This style is designed for safety, and it features a single rail that runs across the fence's top area. It prevents kids and pets from being stuck in the slats and keeps them safe within the property.
If you love streamlined looks, this fence is perfect for you. It is relatively cheap to install, making it a popular option for homeowners. This fence is also strong and durable because of its weather-resistant features. It can withstand heavy rains, snow, and sunlight without rusting or fading.
Spear Top
Spear Top aluminum fences are another excellent choice if you are looking for safety and privacy. It costs about $60 to $65 per panel or $15 to $40 per foot. The spear top design is tailored specifically for security purposes. It will secure your home and keep off intruders. This fence has a similar design to a high-grade wrought iron fence, and it comes in different styles.
If you want a classy-looking fence at a lower price, this is an excellent choice. It is beautiful and looks like wrought iron fences, but you can get it at a relatively low price. Besides, it is durable and requires low maintenance, making it a worthy investment for its price.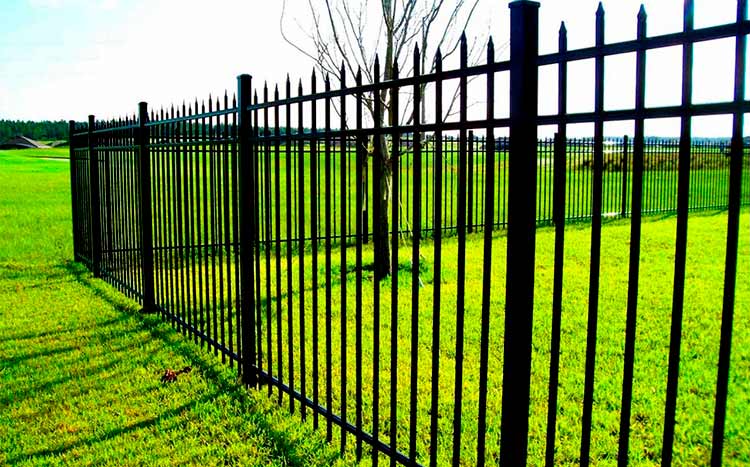 Staggered Spear Top
Another beautiful aluminum fence style is the staggered spear top. This design is very appealing and makes a home look very attractive. The average material cost for this fence is between $60 to $70 per panel or around $15 to $45 per foot.
Staggered aluminum fence is secure and keeps off intruders that may climb over the fence. If you want a safety fence, this is an excellent choice because of its design. It is similar to the spear, with the only difference being the staggering heights of the spear top. It is also available in different styles, so you can choose the best one depending on your preferences.
People with appealing compounds would not like hiding all that beauty behind a wall. If you are that kind of person, this fence is the best choice. It will provide security for your home and show off your well-maintained compound at the same time.
Two-Rail Flat Top
The Two-Rail Flat Top aluminum fence costs about $65 to $70 per panel. The cost per foot is in the vicinity of $16 to $45. This fence style is characterized by a single rail at the top of the pickets. It also has another rail at the bottom area. This fence is very popular and can be found on most residential properties.
It prevents animals and children from being stuck between the fence slats and can be used to fence a pool as well. Besides, its smooth top design makes it look comfortable and subtle. However, it may not effectively keep off intruders like the spear top fence.
This fence offers longevity and a maintenance-free lifestyle. It is not prone to rusting and corroding like iron fences. This makes it a great choice if you want a low-maintenance fence.
Three-Rail Flat Top
The Three-rail Flat Top fence costs averages $70 to $75 per panel or between $20 and $48 per foot. It is slightly costlier than the other options because it is stronger and more durable.
This fence is similar to the two-rail one but with an additional rail. The third rail is usually placed near the top area, creating space for the pickets on the top rail. Space can also be created in between the mid and top rail.
This aluminum fence style is decorative and adds to the aesthetics of a home. Besides, it allows your compound to be visible while effectively keeping intruders at bay. This fence is difficult to climb, making it a perfect choice for security. It is usually used to fence a pool or the entire compound.
Arches
The price for Arches aluminum fence ranges from $70 to $75 per section, and it is a bit expensive compared to the rail and spear top aluminum fences. It is an ornamental fence, but its arches and bends along the topline of the fenceline make it very upscale.
Some arches designs have spear tops on the pickets, while others have finals in between the arches. This fence is very appealing as it looks like a classic wrought iron fence. It is, therefore, a great option for people looking for class but at affordable prices.
This fence is not as durable as wrought iron and can bend and dent. It is, however, weather-resistant and will not rust or corrode. Besides, it is easy to install and provides security and aesthetics to a home.
What are the pros and cons of aluminum fences?
Aluminum fences have their advantages and disadvantages, just like wood, metal, and vinyl fencing. Below are some of the pros and cons of these fences.
Pros
They are lightweight and malleable, which allows them to be shaped into different styles and designs.
They are weatherproof and can withstand harsh weather without corroding, rusting, or fading. This makes them suitable for damp and humid environments.
These fences are available in many styles, so homeowners are spoilt with choice.
Aluminum fences require little or no maintenance, making them ideal for people with tight schedules.
They are significantly cheaper to ship and install compared to wrought iron fences.
These fences come with a lifetime guarantee for materials. The contractors can also offer a warranty for labor.
They are not affected by lawn chemicals, sprinklers, or other factors.
Aluminum fences are also highly durable compared to wood and wire fences.
They offer security and keep intruders at bay.
They are a better option for DIY installations as long as you have basic skills.
Cons
Aluminum fences are way weaker than steel fences. They are, therefore, not a good option for installations required to last for many years.
The strength of the alloy largely depends on the manufacturing company. So, some alloys can be weaker than others.
These fences are not effective choices for security and privacy.
Oxidation can make the fences develop a patina. So, they need maintenance to retain their look.
They are prone to bending and may not withstand the pressure from rowdy children or large dogs.