Black Aluminum fences add a touch of classic elegance when installed around a home or your pool. Even though it provides minimum security, it has an appealing decor.
The cost of a black aluminum fence ranges from $3,111 to $6,753. Aluminum fencing is affordable, durable, and demands little upkeep. It requires an average cost of $4,932 covering the purchase and labor for the installation of a black aluminum fence.
Depending on a lot of factors, the professional cost of installing a black aluminum fence could range from $19 per linear foot for plain aluminum panels to $76 per linear foot for the high-end custom-styled panel. This gives an average of about $48 per linear foot.
Black aluminum fence cost by type
Depending on the type and purpose for which the fencing is intended, the cost per foot of aluminum fencing is highlighted in the table below.
| Black aluminum fencing type | Cost per ft. (materials only) |
| --- | --- |
| Powder-Coated Fence | $13 - $45 |
| Pool Fence | $15 - $25 |
| Ornamental Fence | $15 - $55 |
| Picket Fence | $15 - $75 |
| Privacy Fence | $24 - $32 |
| Black Aluminum Fence | $24 - $32 |
Black aluminum fence price by quality of panels
The average cost of aluminum fencing (materials and labor) for an average aluminum panel is shown in the table below:
| Fence Type | Cost per Linear foot | Cost of materials | Installation cost | Total project cost |
| --- | --- | --- | --- | --- |
| Standard | $22 - $25 | $2,992 - $3,400 | $616 - $700 | $3,608 - $4,100 |
| Average | $25 - $28 | $3,400 - $3,808 | $700 - $784 | $4,100 - $4,592 |
| Top-quality | $28 - $32 | $3,808 - $4,352 | $784 - $896 | $4,592 - $5,248 |
Black aluminum fence cost by style
The cost of an aluminum fence also varies based on style. Ranging from $50 to $75 per panel, you can choose your desired style based on your budget and other considerable factors.
The spear top and staggered spear top are top-notch in terms of security. The two-rail and three-rail flat-top designs are good for safety because it allows nothing to slip between the slats. The arch design is majorly fit for ornamental purposes.
Here's a table that shows the cost of the various styles of fencing.
| Aluminum fencing style | Cost per panel (materials only) |
| --- | --- |
| Single Rail | $50 - $70 |
| Spear Top | $65 - $65 |
| Staggered Spear Top | $65 - $70 |
| Two-Rail Flat Top | $65 - $70 |
| Three-Rail Flat Top | $70 - $75 |
| Arches | $70 - $75 |
Labor cost of aluminum fence installation
Labor activities required during aluminum fencing include on-site setup, site preparation, job completion, trash removal, and work area cleanup.
The cost of labor for black aluminum fence installation ranges from $40 per hour to $118 per hour. A fencing activity taking an average of 12.5 hrs to complete will cost about $500 on the low end and $1,480 on the high end.
The differences in labor costs are due to variations like workload, job location, and seasonal wage rates.
Aluminum gates usually come with elaborate designs. The accessories needed for these designs are usually more expensive than the panels.
The cost of a single gate for walkways ranges between $250 and $750. Double gates for driveways can range between $400 to $12,000. The cost depends on a lot of factors such as height, size, designs, quality thickness, and gate accessories.
Factors that determine the cost of black aluminum fence
Residential fences have heights ranging from 2.5' to 6' while commercial feces can be up to 10'. The height of your fence will determine the cost of the panel to be used. The higher the height, the more the price
The thickness of the aluminum material
The thickness of aluminum fencing varies based on the intended use. Commercial and industrial fencing has thicker gauges of aluminum compared to residential fencing. Hence the higher cost of commercial fencing.
Linear feet of fence required
The commonly available widths of aluminum fencing are 4', 6', and 8'. The cost of your aluminum fencing will depend on the linear feet of fencing you want to do as well as the width you're using.
The cost of aluminum fencing also depends on the color. The most affordable fencing is black. Using other colors such as beige, white, ivory, green, brown, tan, sandstone, and gray requires that you pay a higher premium price.
Posts and caps used in the fencing are produced in various styles with sizes ranging from about 2" square to 6" square. They are also differently styled. The size and design of posts and capos will also determine their cost implication in the overall estimate.
Knowing the length of the fence, the width of the panels, and the number of corners, you can determine the number and types of posts required for the fence.
Other decorative features
There are different types of decorations applicable to aluminum fencing depending on your specification and budget. Some of them are brick column separators, scalloped or shaped posts, and gates of all shapes and sizes. T
The more decorative and creative you want the aluminum fence to be, the higher the cost.
Benefits of black aluminum fences
Compared to iron and steel fences, aluminum fences are mostly preferred due to their low cost of maintenance.
Aluminum fences don't require painting like wooden fences and they don't rust like iron fences.
With a hose and a few gallons of water needed to rinse off any possible blemish, the aluminum fence is easy to clean and hence the low cost of maintenance.
Due to the possibility of painting in different colors, aluminum fences fit perfectly into any home aesthetic.
Aluminum fencing components are easily recycled once they're out of commission.
Black aluminum fence installation
There are two options to consider in installing your aluminum fencing:
With some technical know-how and in the presence of the right materials, you can decide to go with a DIY installation. Materials needed are posts, pre-assembled aluminum fence panels, and ornamental accessories.
You can as well hire professional fencing companies to install your new aluminum fencing. We'll connect you with the 3 best companies that will install your fencing at the best prices if you fill out the form above.
The cost of professional installation covers permits and a site survey to locate property lines. All labor and aluminum fencing materials to install the fence, concrete for anchoring the posts, and all cleanup after the fence installation will form part of the cost.
Black aluminum fence DIY installation guide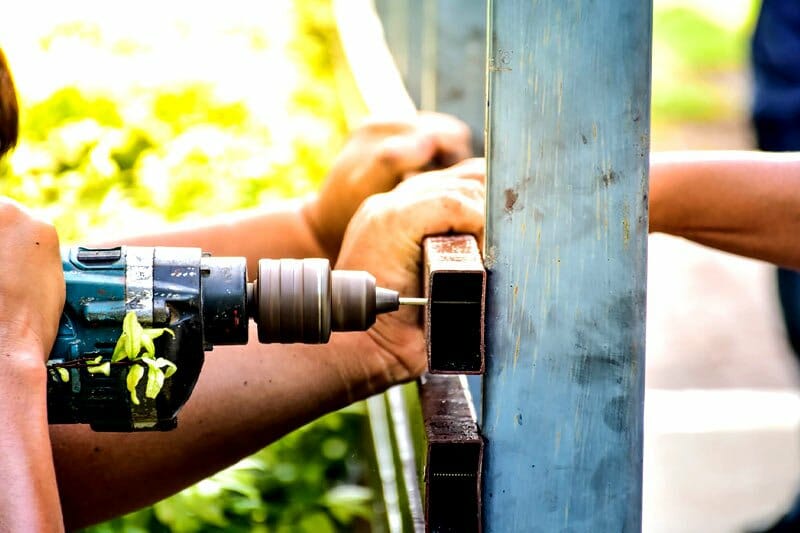 Discuss your fencing plans with your neighbors in case their property lies along your proposed fence line. They may end up splitting the cost with you.
Make sure every part of your fence is on your property.
Check for easements in your deed. An easement is a right of way granted to another property owner or utility company, which may limit the design and location of your fence.
Check local zoning laws, which may determine the size and placement of your fence.
Discuss your plans with your neighborhood association before proceeding with your fencing.
Before any excavation, call 811 so you can stay off of underground utilities.
The posts are drilled for placement at the right points.
(Hint: End posts have holes on only one side and are used as starting and stopping points. Corner posts have holes on adjacent sides and are used to make right angles. Line posts have holes on opposite sides and are used for straight runs for fences. Gate posts are similar to end posts but are stronger in order to support the weight and movement of the gate).
Take time to lay out the fence carefully with accurate measurements. Aluminum fencing works fine with gentle dips in the land. This means if you're planning to install your fence in a sloppy area, you may need to go with another fencing type.
Here's how to plan your fence layout:
Stake out your fence line from beginning to end. This should include corners and gates.
Tie a string taut between the corner post locations. It will help you define the line along which the line posts should be placed.
Use the measurements provided by the fence manufacturer to mark out the line post locations.
Take any gates or openings into account while marking out the line post.
Digging the holes for fence posts
The underground task of digging the holes where you'll place your fence is the most important task in fencing. You can achieve this using a digger.
Following the manufacturer's recommendation, dig the holes with the appropriate depth and diameter.
Dig the hole in a bell shape, with the bottom wider than the top. This will help to stabilize the post.
Backfill each hole with about 6 inches of gravel to drain water that may likely be present at the bottom of the post.
Set the poles in the holes. Remember to use the appropriate post for each point on the fencing line.
Fasten the fence panels between the posts.
Ensure you follow the recommendations provided by the manufacturer.
Finding a good black aluminum fencing contractor
With the flood of self-acclaimed professionals in the market, it may be difficult to get the perfect man for the job.
When you're confused about getting a good contractor for your aluminum fencing job, follow these recommended steps:
Ask around from your neighbors, friends, and families who have done such fencing in the past to recommend a trusted professional.
Get multiple estimates from professional contractors
Verify the warranty
Confirm their experience.
HomeGardenGuides.com matches you with the 3 fencing professionals voted #1 by previous users in your area.
Scroll up to the top of the page and enter your ZIP Code in the blue form at the top of the page.
Give us a few details about your fencing job plus some contact information.
Your fencing details are forwarded on to the closest three fencing contractors all voted best priced who will also price your fencing job.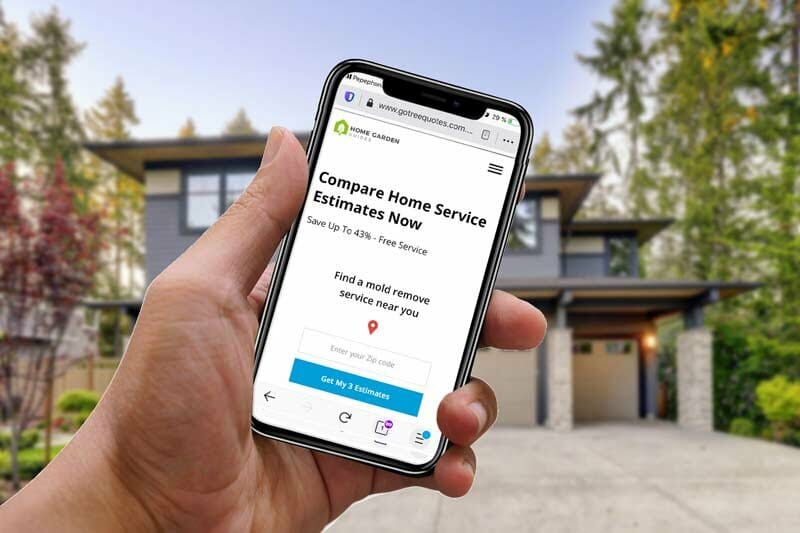 How to maintain black aluminum fences
Black aluminum fences are almost maintenance-free.
Thorough cleaning with water once a year is usually recommended by the manufacturers.
Additional maintenance which may be required after long years may include tightening of the fasteners and concrete of the underground holes.
How long does black aluminum fence last?
An aluminum fence generally remains intact for more than three decades. Meanwhile, it has the potential to last far longer under favorable conditions. Its longevity will vary depending on several factors. Some of these factors are:
Since there's no risk of rusting, cleaning aluminum fences to get rid of external agents such as dust and algae will protect the material and make it last longer.
The close location of aluminum fencing to trees will negatively affect its lifespan. Tree roots or limbs can cause major damage when they come in contact with the fencing.
The location of fences has a direct impact on their lifespan. Aluminum fences located in high-activity areas such as a parking area will likely have a short lifespan. The risk of car accidents and collisions will be accountable for this. Lightening your face area can help to mitigate this risk.
In areas where there is a high occurrence of wind, storms, and other disasters, the longevity of such fencing cannot be guaranteed. This is due to unforeseen accidents that may occur from time to time.
Aluminum vs steel vs iron fence
Aluminum, steel, and wrought iron are the most common fencing materials. Your choice of the appropriate fencing materials depends largely on budget, durability, and a lot of other factors.
The table below shows the comparative features of the three fencing types. It's a guide to follow when you need to make a choice.
Aluminum Fencing
Steel Fencing
Iron fencing
Installation cost
Low
Very High
High
Styling options
Numerous
Limited
Numerous
Cost of maintenance
No
Low
High
Cost of maintenance
No
Low
High
Pros
Affordable
Easy to install
Highly customizable

Very Durable
Secure
Resistant to corrosion

Can be styled into classic ornamental forms
Cons
Not suitable for privacy
Limited styling options
Difficult to install
Prone to rust
Requires frequent painting

Black aluminum fencing is a promising fencing option. Its affordable cost of installation and maintenance makes it budget-friendly. Durability, ease of installation, and resistance to damage are other great advantages that make aluminum fences more acceptable to a large number of people.
If you're wondering about the cost and process of installing your black aluminum fence, this guide is what you need.