A redwood fence is typically beautiful. And since it is made from wood that has a reputation for being durable, it is safe to assume that it is also durable. But exactly how long does such a fence last?
Redwood fencing can last up to 25 years with little to no maintenance. It can easily last up to over 30 years with proper maintenance.
Here is everything that you need to know about redwood fences and their longevity.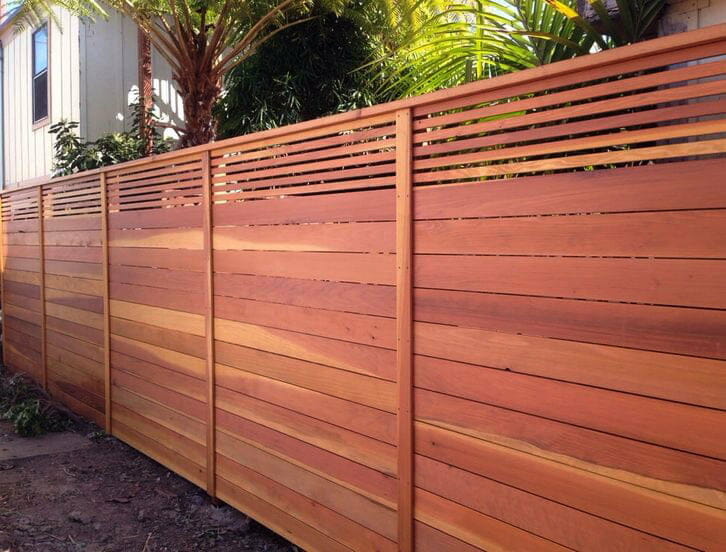 It lasts so long because it has tannins, acids and other natural oils that help to protect it. It is also highly dense. And has a unique cell structure.
All of these things combine to help to shield it from:
Moisture infiltration
Termite and pest damage
Warping and splitting due to temperature changes
Physical damage
Since these are the main causes of damage for almost any wood fence, the fact that redwood has natural protection against them usually goes a long way towards guaranteeing a long lifespan.
How do you prolong the lifespan of your redwood fence?
You can easily get over 2 decades' worth of value from a redwood fence with little to no maintenance. However, if you want to get a wooden fence to last longer, there are a few things that you should do.
Dirt and debris don't just ruin the beautiful appearance of redwood. They can also trap moisture. This then leads to extended moisture exposure. With time, this will accelerate the rate at which the fence wears out.
To prolong the lifespan of your fence, and almost any other wood fence, you will need to clean the fence regularly.
You should:
Use a putty knife to remove debris from seams, gaps and corners.
Use a leaf blower to remove any remaining debris.
Wash the fence with soap and water.
To remove any stubborn stains, mildew or grease, you may have to use diluted bleach, a TSP mixture, or a specialized wood cleaner. Using a brush, instead of a cloth, may also help to remove stubborn stains.
Dents, cracks, missing fasteners and rusting nails are just a few of the problems that will develop over time. You should fix them as soon as they show up. Failing to do so immediately can cause the problem to spread.
Therefore, you should replace any missing fasteners as soon as possible. Reinforce loose or leaning boards. And remove rusted nails.
A good quality stain will protect the wood from moisture infiltration. And if you use a transparent stain, you can give the redwood extra protection without necessarily having to compromise its appearance.
You can also give it better protection by applying a semi-transparent stain. Such a stain will not only shield it from moisture infiltration, but also protect it from the damaging effects of UV rays.
The added protection that the fence will get from a high quality stain will have a significant effect on its lifespan. However, you will have to re-stain the fence after every couple of years so as to guarantee the effectiveness of this extra protection.
If you have vines or shrubs growing next to your fence, you should trim them. Doing so is important as this vegetation tends to:
scratch off the protective layer of the fence — be it a stain or paint
trap moisture, and this constantly exposes the fence to moisture
attract pests and other harmful animals that may cause physical damage
ruin the appearance of the fence by depositing leaves and other debris on the fence
Since vines, shrubs and plants that grow next to your fence can damage it, regular trimming can effectively prolong your fence's lifespan.
Does redwood need to be treated?
No, redwood doesn't need to be treated.
It can last for up to 25 years without treatment because of its tannins, oils, and unique cell structure. A combination of these factors make it naturally:
resistant to rotting
resistant to termite infestations
good at handling moisture exposure
fire resistant, and
resistant to warping, splitting and bulging
However, this does not mean that treating redwood is pointless.
While it may not be beneficial to treat it against termites, staining and sealing redwood will significantly improve its lifespan. It will arm the fence with extra layers of protection against the sun and moisture, and this will definitely go a long way towards increasing its longevity.
Does redwood last longer than cedar?
Yes, redwood lasts longer than cedar.
It is denser. It has stronger concentrations of tannins and oils. And it has a superior cell structure that gives it better protection against moisture infiltration, termite attacks, rotting agents, and fire.
Therefore, redwood fencing tends to last longer than cedar fences.
Is redwood good for fencing?
Yes, redwood is good for fencing.
It contains acids and natural oils that shield it from moisture infiltration. These oils and acids also repel termites and other pests.
Benefits of using it for fencing
These qualities make it a great fencing material because it means that the fence will be able to withstand the harsh external environment. The fence will be:
less likely to become warped
naturally resistant to termites and other harmful pests
naturally resistant to rotting agents
last really long
No need for regular maintenance
And since the fence will have these qualities naturally, a homeowner won't have to worry about regular maintenance.
All these things combine to make redwood one of the best fencing materials in the market. This is so especially when you consider the fact that it isn't treated with chemicals – like pressure treated wood.
The only downside to using redwood is that it isn't as readily available as other fencing options like cedar. And so unless you live on the Northern California Coast, you are likely to have a hard time getting your hands on it.
It is also relatively more expensive. This usually limits its use. And it can make using it uneconomical, especially when you compare it to the cost of typical wooden fences..