Corrugated metal fence installation is usually priced on a per-linear-foot basis coupled with the cost of supplies and labor.
On average, a corrugated metal fence costs $32.50 per linear foot. Because there are a wide range of styles and material qualities, the real range is $25 – $65 per linear foot installed.
One of the pain factors that adds to the price of a corrugated metal fence per foot is the height of the fence.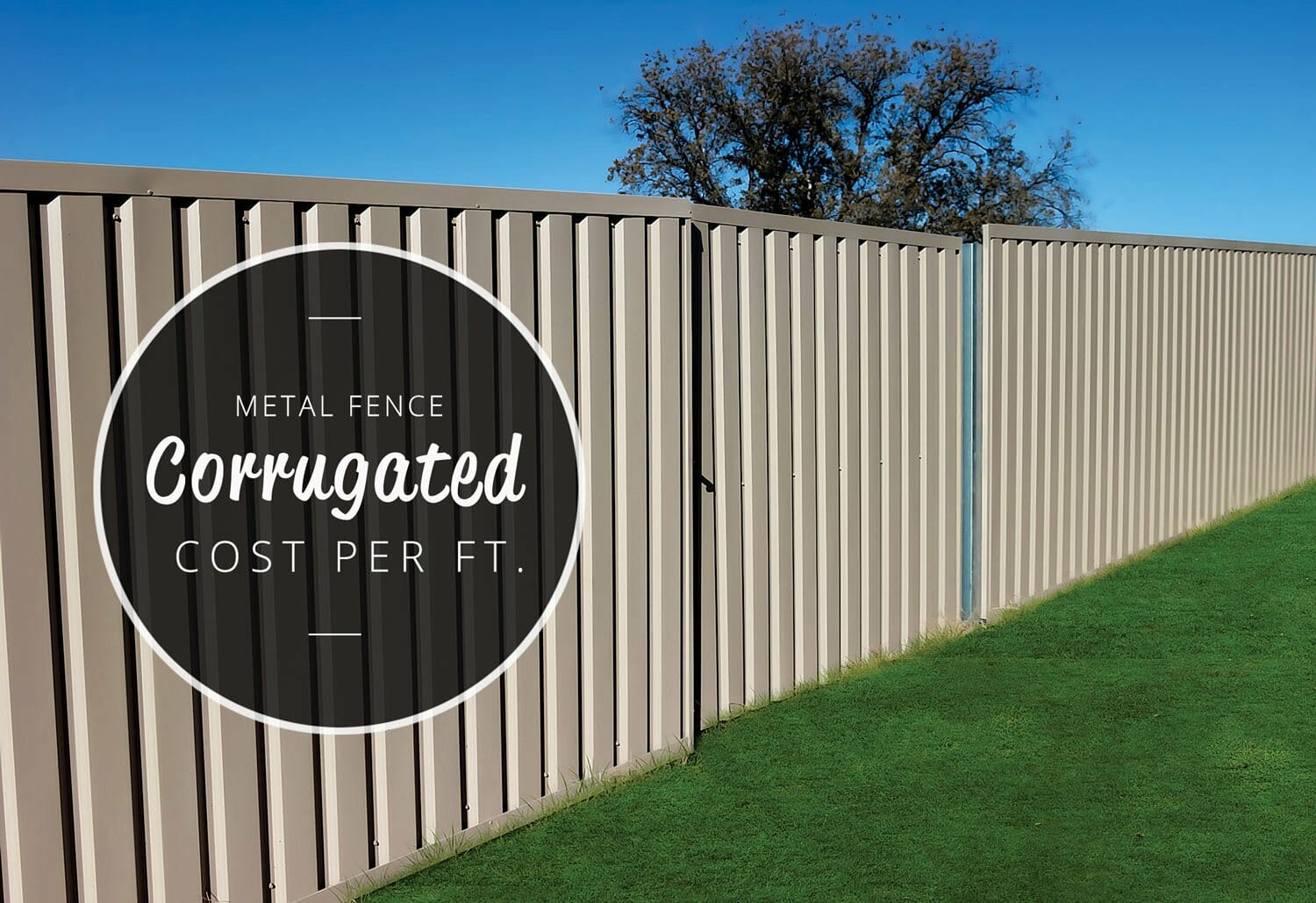 | Service | QTY | Low | High |
| --- | --- | --- | --- |
| Standard corrugated metal Fence (6 ft.) | per foot | $25 | $37 |
| Standard corrugated metal Fence (8 ft.) | per foot | $32 | $45 |
| W/ Wooden frame | per foot | $35 | $65 |
| Material only | per foot | $15 | $28 |
| Per 8ft section (length) | per foot | $200 | $296 |
| Corrugated metal Fencing labor cost | per foot | $5 | $8 |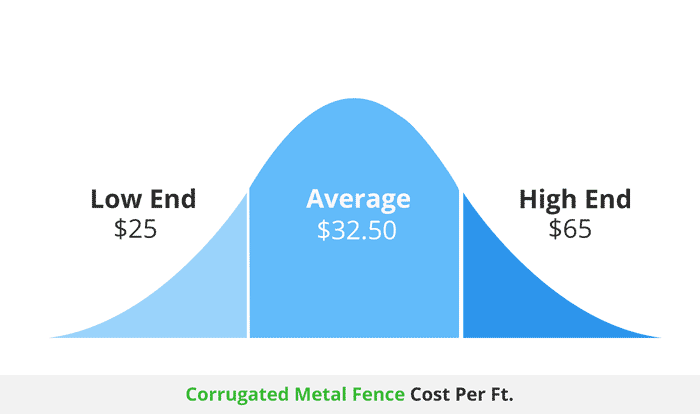 Corrugated metal fencing panel (8 ft. section)
Corrugated metal fences come in panels that are modeled with a ribbed appearance of valleys and ridges. These corrugate give it greater strength than a smooth metal panel. On average you will pay $260 per 8 foot section of fence including materials and labor to install the fence. Each fence panel is galvanized with zinc to prevent corrosion and rust. A corrugated metal fence can easily last from 25 to 75 years depending on the thickness of the panels. Corrugated fencing is lightweight and easy to install.
Labor cost to install a Corrugated metal fence
The cost of labor for corrugated metal fence installation is usually charged by the foot. The labor prices range from $8 – $40 per foot. Factors such as the labor wage in the area you live in and the complexity of the work will determine the actual cost.
A metal fence gate typically have a width in the range of 32 to 36 inches. However, some people may opt to have a driveway gate installed in their metal fence if they are completely fencing the property's perimeter. Automatic gates are another option. If you install a wrought iron driveway gate then dual bollards help define the driveway so you don't inadvertently run into the gate or fence line.
The cost of installing metal gates on your corrugated metal fence is shown in the table below:
| Gate Type | Average cost of gate installation |
| --- | --- |
| Standard swing gate | $100 |
| Standard gate on rollers | $800 |
| Automatic steel gate | $2,300 |
| Wrought iron gate | $2,300 |
| Wrought iron driveway gate with dual bollards | $4,500 |
Additional cost factors of Corrugated metal fences
Metal Fence Posts and Caps
Metal fence posts can be said to be the skeleton of the fence. They offer support to the fence panels and fencing material. The end, corner, and line posts are installed in concrete to ensure the durability of the fence. The cost for metal fence posts averages $7-$10 per linear foot, with costs averaging $30-$60 each depending on size and material. Corner posts are placed in the corner to create the L shape in the fence. Also, end poles can be used at each corner. Line posts are used to build the length of the fence line and provide support. Typically, fence post spacing is about 6 to 8 feet apart.
Wood is more expensive than metal fence posts. And depending on the type of wood you go for and the style of the fence, this is going to add to cost.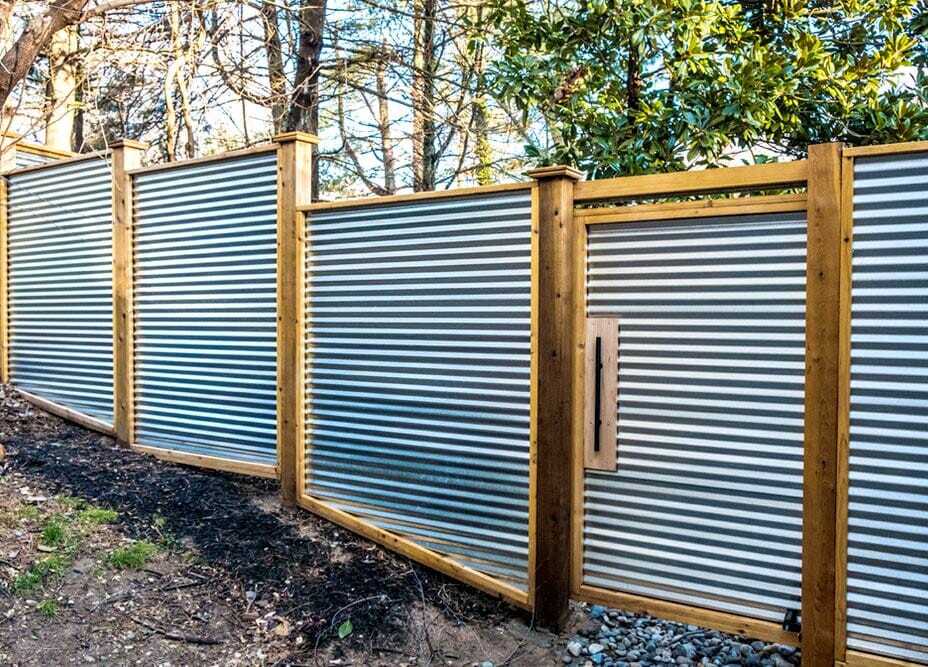 The height of your corrugated metal fence will have a significant bearing on price. An 8ft high fence has twice the materials as a 4ft high fence, so it stands to reason it will cost almost twice as much.
Installing a fence will normally require permits. It's important to check with your fencing contractor to determine if a permit is needed for your metal fencing. The cost of a permit for a fence averages $70-$400 depending on your location.
Benefits of a Corrugated metal fence
When you choose corrugated metal fencing, you are getting a product with excellent longevity. Even though it is expensive, the lifespan of a corrugated metal panel is generally 40-60 years and this compensates for the high cost.
2. Low Maintenance Requirement
Another major benefit of corrugated metal is that it's a durable metal fence panel and will hold up well regardless of the climate you live in. It can handle extreme temperatures, rain, snow, or hail. Corrugated metal is resistant to rust, so it will keep its desired appearance regardless of the weather.
Even amidst biological factors, the corrugated metal material is also resistant to rot and mold, so you won't have to worry about the corrugated fence falling apart prematurely or becoming filled with termites.
A corrugated metal fence doesn't require a lot of maintenance that will be required by other fence types. A wood fence needs more ongoing maintenance to look good; they need to be stained, painted, or have a sealant applied to help prevent moisture issues.
While a vinyl fence does not have these issues, it's not as strong a material as wood or metal and can come apart in the presence of enough pressure.
Almost every corrugated metal fence has a unique look which makes it stand out from the rest on your block. Corrugated metal comes in almost every color you can think of. You can choose something vibrant that will stand out or a neutral tone that will blend in.
There are many ways you can choose to design your corrugated metal fence. You can also combine metal with other materials to add to your unique design. Apart from the different colors and finishes it comes in, there are a lot of ways to be creative in your design with a corrugated metal fence.
4. Corrugated Metal Fencing Is Affordable
Due to the durability of metal panels, metal fencing does not require the thickest metal gauge and this makes it more affordable. Compared to other types of fencing, a corrugated metal fence can be said to be the most affordable considering its durability and low maintenance requirements.
Tips on hiring a fence installer
Installing your fence costs a lot of money. It's important to hire a fence installation company that will do a satisfactory job for the money you'll be spending. The following are the tips to follow in choosing a preferred fence installer:
Referrals: Before you reach out to a random fence installer, it will be wise to ask for referrals from friends and neighbors. It will be easy to get recommendations from companies that offer satisfactory service and whom they have worked with in the past.
Experience: When choosing a fencing contractor, ensure you go for one who has experience. They should also be willing to provide references, be insured, and have a reputation for working with high-quality materials and adhering to safety standards. Take the time to ask your fencing contractor if they have experience installing similar fences or have knowledge of other types of similar projects in the area they live.
Insurance: You should ensure that your fencing contractor is fully insured and licensed. Before choosing a fencing contractor, you'll want to check that they carry the types of insurance required by your state. It's also important to make sure they have employee's compensation and general liability insurance.
Reliable service: It's important to find someone who provides satisfactory customer service and guarantees their work. You can ask for some of the reviews they have from previous contracts.
Quality materials: The type of materials used will vary depending on the specific job, but you must ensure that they're choosing high-quality and long-lasting materials.
Contact information: Ensure you have a good way to contact your fencing contractor throughout the project and after it has been completed.
Team of experts: Hiring a team of experts is important for any kind of project including a fence installation. You should hire a team of experts because they'll have more experience doing the job, which can help to minimize the risk of complications arising.
Rules and Regulations: If you're planning on building a fence around your property, you must make sure that it's up to standard and complies with local regulations.
Get multiple quotes: Getting multiple quotes from three or more contractors will help you know which one will offer the most affordable and quality service.
HomeGardenGuides.com is a free service that quickly matches you with top-voted Fence Installations Specialists.
You can get three estimates fast by real certified experts in your area in just 2 minutes.
Scroll to the top of the page and enter your Zip code.
Answer questions about your fence installation job
Your fence installation details are forwarded to three local experts. They will send you a price estimate for the job and some friendly advice.
IMPORTANT: There is no obligation to hire. This is a free tool and service to be used at your pleasure.