Corrugated metal is an in-demand metal fencing option. It is available as a lightweight metal panel that is galvanized and has a grooved surface. As a fence, the grooves allow water to drain off it quickly. Additionally, it is durable, affordable, and doesn't rust.
Corrugated metal fencing costs $32.50 on average per linear foot. The actual range of price is $25 to $65, depending on the quality of materials and the height of the fence. This price also covers the cost of fence materials and labor costs. You can expect to pay an average cost of about $7,419 for professional fence installation on a 1/4 acre property.
Fences made from corrugated metal are easy to install. You will also find that you pay different prices based on several factors.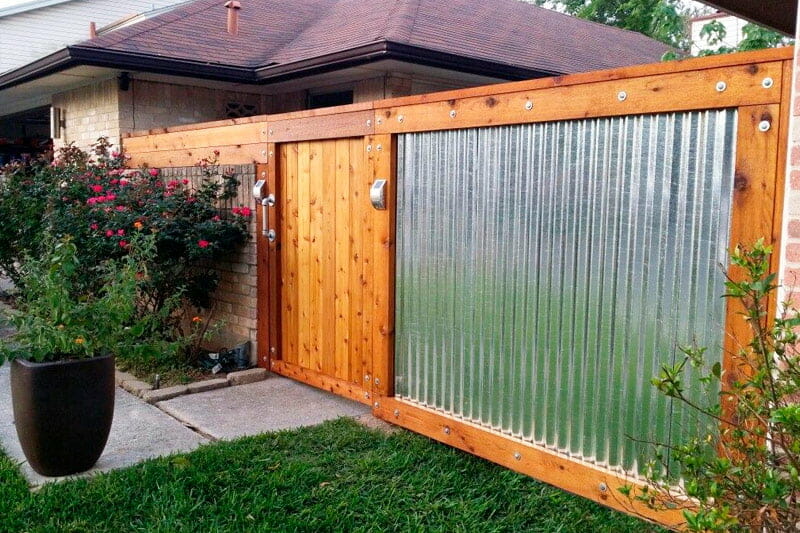 Corrugated sheet fence panels can be made from aluminum or steel. Aluminum corrugated fencing sheets are cheaper than steel sheets. If you use steel fencing panels, you will pay more for your fence installation.
You will pay more if there's an existing fence in the location you want to fence. Your fence installation will also take more time as you need first to remove the existing fence and replace it with a new one. Hiring a fence installation company will cost you more per linear foot.
Fence installers charge for fence removal and a new fence per foot. You can remove any existing fence before you get a fence installer to install your new fence line.
A large piece of land requires you to buy more fence material. Thus, you will pay more for a large piece of land to install a corrugated sheet panel fence.
Installing corrugated aluminum or steel fencing costs less when you do it yourself than when you hire professional fence installers. Metal fence installation is an easy DIY project since you only need to slide and lock the panels in place.
It may take you more time if you do it yourself, but you will save a significant amount on the fence installation cost.
Fence costs are also influenced by location. First, you may live in an area with high labor costs. This will see your fence cost more than another installed in a place with lower labor costs. Fence installation costs in rural areas may be lower than costs in urban areas.
Also, the fence installation location matters. Installation cost per foot in flat land is lower than on hilly and rugged land.
Advantages Corrugated Metal Fencing
Corrugated aluminum or steel fencing panels are long-lasting. Once the fence is installed it can serve you for about 25 to 30 years. This makes it a sound financial investment as you won't have to keep replacing the fence every few years. High-quality panels can survive for up to 100 years.
Fast And Easy Installation
Having the corrugated panels fence properly takes little time and effort. You can do it by yourself or hire a professional. Most homeowners prefer to complete the installation by themselves instead of calling in fence installers.
Corrugated fences are low maintenance and do not need to be painted or stained like wood and other fence materials. It doesn't rust so you don't have to do anything about it.
Disadvantages of Installing Corrugated Metal Fencing
Limited Variety And Availability
Corrugated fencing panels are available in a limited few colors and designs. Unlike other fence materials, corrugated fence panels are all similar in color and look. Your fence can't stand out from the rest.
Depending on your location, you might have to order from the manufacturer or a distributor of fencing material to purchase corrugated fence panels for your yard.
If you are looking for a privacy fence, you will not find it in corrugated fence panels. Depending on the material it is made of, it may be too heavy when produced at 6 or 8 feet high. Thus you will not find high enough corrugated panels to make a privacy fence.
However, they will make good security fences.
What You Need To Know Before You Install
Before starting a fence installation project, you need to calculate and establish the fence installation costs. Installation costs will be determined by the type of fence you want to install, charges per linear foot of installation, the height of the fence, and the material you want to use.
Consult a professional fence installer to provide you with an estimate of the average cost of installation for each fencing material.
Depending on your budget, you will decide on the best fence material for your home.
Depending on your location, you might need to get a permit to install a fence. Paying for a permit increases the fence installation cost significantly.
You may require a permit if you intend to install a high privacy fence.
Before you install a fence, you need to consult your neighbors. You will inform them of your intention to install a new fence in your yard. It is good neighborliness to inform and seek consent from your neighbors as fences have two sides.
Depending on the fence you install, you might need to take care of it well. If your neighbor doesn't let you know how it looks on their side, it may rot and decay without your knowledge. This will increase your fence costs as you may have to replace it if it weakens too much.
With the cooperation of your neighbors, you can reduce fence maintenance costs.
Determine whether you will install the fence yourself or you will need to find and hire fence installers. Find out the best fence installer for the type of fence you want to install. Also, establish how much they will charge you to ensure that you prepare a correct project cost budget.
The height of the fence influences how much you will pay. Determine early whether you want a high privacy fence or security fence.
Other Types Of Metal Fencing You Can Install
Cost Of Installing Aluminum Fence
The average cost to install an aluminum fence is $4,000. You can expect to pay from $2,000 to $6,000. For aluminum fencing materials, you will pay $7 to $32 per linear foot. For labor, the average cost per linear foot to install an aluminum fence is $15 to $40.
Aluminum fence costs vary depending on the size and height of the fence, strength and slope of the land which influences how difficult or easy it will be to install the fence. Another factor influencing the aluminum fence cost is the need to hire fence contractors.
To properly install an aluminum fence, you need a fence installer who can competently handle aluminum fencing.
There are different types of residential aluminum fencing available. Make a decision on the style of fence you need before you order. Aluminum fences are available as different size aluminum panels depending on the design and size of the fence you need.
Cost Of Black Aluminum Fence
Black aluminum fence panels cost $60 for a 4 by 6-foot panel. It is attractive and easy to install.
Cost Of Installing A Wrought Iron Fence
Wrought iron fence materials cost about $25 to $35 per linear foot. Depending on the size of your plot, you can expect to pay $2700 to $5500. Wrought iron fence cost of installation ranges from $600 to $1500. You can also add gates and decoration to your wrought iron fence to increase labor and material costs to over $10,000.
Wrought iron is among the most expensive metal materials used for metal fence installation. It is stronger and more than aluminum fences. It is mostly used as decoration and restoration of historic artifacts.
Wrought iron fencing is not easy to work with unless you are a professional. You will need fence contractors to install the fence for you.
Galvanized wrought iron costs $24 to $32 per foot while ornamental wrought iron costs $29-$34 per foot.
Cost Of Installing A Chain Link Fence
A chain-link fence is a versatile fence that has been in existence for ages. It is easy to install and can be installed anywhere in your compound.
The average cost of a chain-link fence ranges from $10 to $30 per foot. You can expect to pay from $1,300 to $4,000 for a successful installation of a chain-link fence.
You can buy a chain-link fence ranging in height from 3 feet to 12 feet. Also, the wire that comprises the chain-link fence has different gauges. 9 and 11 gauge. The 11 gauge wire chain-link fence is better quality, stronger, and more expensive than the 9 gauge.
You can also purchase a vinyl-coated chain link fence. It is more expensive than the regular galvanized wire chain link fences. This coated chain-link fence costs $11 to $35 per foot for materials.
Chain link fencing offers little privacy. However, they work well to keep your pets from straying and as a boundary marker.
Cost Of Installing Steel Fence
Material costs for a steel fence range from $30 to $50 per linear foot. You can expect to pay from $4,500 to $7,500 for the installation of a steel fence.
A steel fence is durable and will last for about 100 years with little to no maintenance. It provides security and is great for a privacy fence.
Other Fence Material Options
Metal fences are strong and last a lifetime. However, they are also costly. there are other fence materials that you can use for both enhanced security and privacy at much lower fence costs.
These other types of fences are much easier to install. You can easily install them yourself or hire professional fencing companies at a minimal cost.
The cost of installing a wood fence starts from $13 to $27 per linear foot. The average cost of installing a wood picket fence ranges from $1800 to $3290.
Wood fence cost is determined by several factors. One of the most important factors is the type of wood. There are different types of wood used to make fences. A pinewood fence is the cheapest wood fence you can buy. It needs to be pressure-treated for it to repel pests and delay rot and decay for long life. A pinewood fence costs $3 to $7 per linear foot.
Other types of wood naturally repel pests and don't decay. Some of the more expensive wood fences include Redwood and Cedar whose prices range from $4 to $10 per linear foot.
Also, the price of a wood fence is affected by the fence height. The longer the fence you need, the longer the fence posts required and the longer the wood panels needed and the higher the fence cost.
Wood fencing can also be used in agricultural land. A board fence can be made to keep animals from straying away at a ranch. It costs about $1,000 to $1,300 to build a basic board fence.
The cost of installing a vinyl fence starts at $27 to $37 per linear foot. The average cost of vinyl fencing materials and installation is about $4,900.
A vinyl fence needs little maintenance. It only needs to be wiped with soapy water and a soft cloth. It is durable and easy to install. You don't need fence contractors to install a vinyl fence. It is also available in many colors and makes a good privacy fence.
The design and the difficulty of installation influence vinyl fence cost. Vinyl fences are strong are commonly found in urban settings.
A barbed-wire fence is a common fence, especially for agricultural and rural land. It has the cheapest fence cost per foot with prices at just under $2 per linear foot for materials and professional installation.
A barbed-wire fence is easy to install. It is a good pet and animal fence.
DIY v Hiring A Professional Fence Contractor
Depending on the type of fence you want to install, you can DIY or hire a professional fence contractor. When you DIY, you can make significant installation cost savings on fence cost per foot. However, you need to have your tool or hire them out at a low price.
The tools needed to install a fence include a post-hole digger for digging holes to insert the fence posts. You will also need a shovel, gloves, spirit level and circular saw among others. You can use other tools depending on the type of fencing material you will use.
On average, you can save up to $1,500 on the cost of installing a fence if you DIY.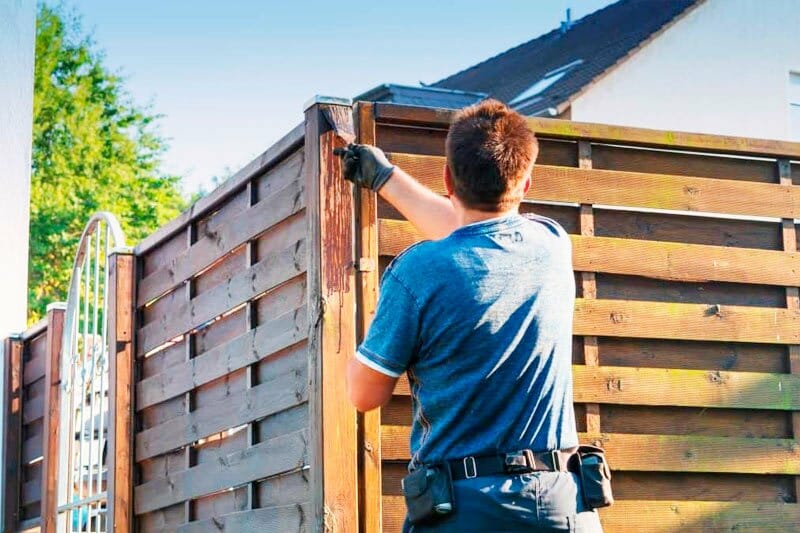 You can also hire a fence contractor to install the fence for you. A wood privacy fence, metal fences, and other difficult-to-install fences need professionals to properly install them.
You can use the homegardenguides.com tool to hire a fence installer.
Enter your zip code and you will receive three quotes from fencing companies. You can choose a fence contractor from either of the three contractors who send you the quotes.
Contractors charge you more per linear foot than it would cost you to fix the fence yourself.
How Much Fencing Do I Need In My Yard
Here are the factors you need to consider to determine how much fence you need for your land per linear foot.
First, how much fencing you need depends on the material of fence you want to use. The number or type of posts you need for a steel fence is not the same as what you need for a wooden fence. When calculating how much material you need, increase this by a 10% factor to reduce your trips to the store.
The other factor you need to consider to decide the amount of fencing you need is the height of the fence. The higher the fence you need the more material you require.
The size of your land is also a major factor in how much fencing you need. An urban 150 to 200 feet plot where you build your home requires less fencing than a farmland property of several acres. The size of your land also determines how many fence posts you require. Fence posts should be 8 feet apart. The larger your land the more fence posts and other materials are needed.
Gates are also a major factor in fencing. Every fence must have an entry point. Some fences need more than one gate. Gates increase the number of materials and needed to complete a fence. Some gates are made of different materials from the fence. Besides materials, gates also increase the fence cost.
Finally, the other major factor is the price of the materials. Find out from a fence installer how much each type of material costs. Calculate how much money you will need to buy materials and pay for labor costs. Then decide on the type of material you need for your fence depending on your budget.
Cheapest Way To Build A Privacy Fence
The most affordable way to build a privacy fence is with recycled material. Most times you can get them for free.
The other cheaper material for your privacy fence is wood. Wood is the cheapest material you can use to build a fence. You can look for free or cheap wood scraps and use them to make your privacy fence.
A chain-link fence is a cheap option to build your privacy fence. When you install a chain-link fence, plant some fast-growing flowers and vines at the base. Once they are grown you will have a beautiful privacy fence in your yard.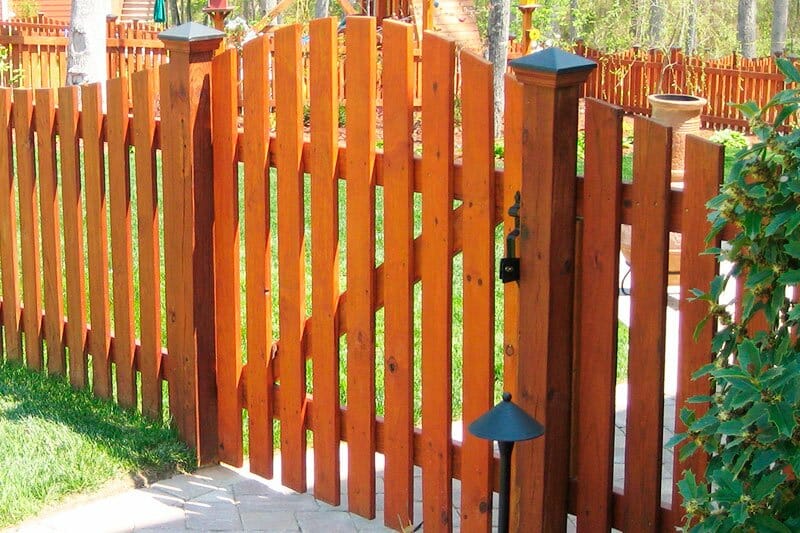 How Can I Make My Fencing Project Affordable
One way to reduce the cost of your fencing project is to hire a professional fence installer. They can get materials at a lower cost for they already have relationships with suppliers and manufacturers. However, if you decide to purchase your materials, it is best to look around to find out the average price of the materials in stores. Additionally, match your fence to your house without getting the high-end options that are higher quality and more expensive.
You can install tubular or sheet metal fences depending on the purpose of the fence. Tubular fences are most preferred for decoration. For a privacy fence, you can install a sheet metal fence.
It is better to hire a contractor than to DIY. While you might make significant savings by installing the fence yourself, a contractor will assist greatly in the installation.
A contractor can provide a better estimate of how much fencing you need and how much it will cost you. You can also get a bargain on materials if you use a contractor. They also install your fence professionally and to a high standard.
How much it costs per linear foot for fencing depends on the type of fence you want to install. Metal and vinyl fencing are more expensive than wood fences.