The term sheet metal in fencing refers to any metal panels you can use to create a fence. The most popular sheet metals for fencing are corrugated metal sheets and aluminum panels.
Installing sheet metal fences on your land costs $17 to $90 per foot. How much you pay depends on the type of material you choose and the type of fence you want to install. On average, you can expect to pay $700 to $8,000 for a sheet metal fence.
Let us look more into the cost of sheet metal fences.
The table below shows the average prices for installing metal fences depending on their type.
| Description | Average cost |
| --- | --- |
| Black aluminum fence | $60 |
| Wrought iron fence | $25 to $35 |
| Steel fence | $30 to $50 |
| Chain link fence | $10 to $30 |
Black aluminum fence panels cost $60 for a 4 by 6-foot panel. It is attractive and easy to install.
Wrought iron fence materials cost about $25 to $35 per linear foot. Depending on the size of your plot, you will pay $2,700 to $5,500.
Cost of installing steel fence
Material costs for a steel fence range from $30 to $50 per linear foot. You can expect to pay from $4,500 to $7,500 for the installation of a steel fence.
A steel fence is durable and will last for up to 100 years. It will require regular sanding and painting for maintenance. It enhances security and is great for a privacy fence.
Cost of installing a chain link fence
A chain-link fence is versatile, easy to install, and can be installed anywhere in your compound.
The average cost of a chain-link fence ranges from $10 to $30 per foot. You will pay from $1,300 to $4,000 for a successful installation of a chain-link fence.
Comparison of sheet metal fences
| | Aluminum | Steel | Wrought iron |
| --- | --- | --- | --- |
| Durability | Yes | Yes | Yes |
| Suitable for humid climate | Yes | No | Yes |
| Corrosion-resistant | Yes | May rust | No |
| Maintenance | Little | Requires sanding and painting | Requires painting |
| Strength | Bends and dents easily | Yes | Yes |
| Available in many designs and colors | Yes | Yes | Yes |
| Cost | Affordable | Affordable | Expensive |
Functions of metal sheet fences
Security
Aesthetics
Boundary demarcation
Keep pets in or out of spaces
Privacy
Safety
Cost factors for sheet metal fences
The larger your land, the more it costs to fence it. You need a large number of metal sheets which increases the cost of materials.
Additionally, the size of your land determines how much time is needed to complete fence installation. The larger it is, the longer it takes. Therefore, the more you pay.
Choice of fence materials
The price of the fencing metal sheets varies. For example, aluminum panels cost $50 to $75 per foot, while corrugated metal fences cost $10 to $12 per foot.
The more expensive your fence material the higher the fencing cost.
There are many types of fences you can install. Privacy fences are the most expensive. They are higher than normal fences. Therefore, you will require more linear footage of the sheet metal, which increases the price of the fence.
Depending on where you live, you may have to apply for a permit to fence your land. Permits increase the cost of fencing.
Consult your local government or pro for more details. The more you pay, for a permit the higher your fencing costs.
You can DIY or hire a pro for the fence installation. DIY saves you money.
The cost of hiring a pro will vary depending on the materials, condition of the land, and the type of fence you need.
Benefits of using sheet metal fences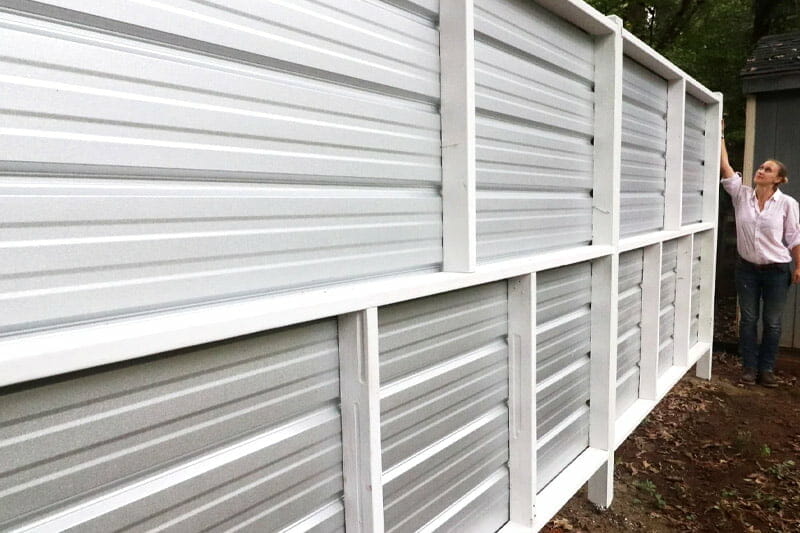 Sheet metal fences have a long lifespan. They have a useful lifespan of between 25 and 75 years depending on the quality.
If you use cheaper and low-quality metal sheets they may survive for 30 years depending on usage and maintenance.
Sheet metal fences do not need as much attention as other types of fences. Most sheet metals used for fencing are rust and corrosion-resistant.
The most maintenance your sheet metal fence will require is regular cleaning of dirt and dust.
You may also have to paint the fence every 5 to 10 years depending on the quality of the metal sheet and the paint you use.
With little maintenance, rust and corrosion resistance, and a long lifespan, it is a good investment to use metal sheets for your fencing needs.
Additionally, metal sheets can be recycled and assigned to other uses in the future.
Fast and easy installation
It takes little time and effort to have a metal sheet fence installed properly. You can do it by yourself or hire a professional.
Cost of installing aluminum fence
The average cost to install an aluminum fence is $4,000. You can expect to pay from $2, 000 to $6,000. You will pay $7 to $32 per linear foot for aluminum fencing materials. For labor, the average cost per linear foot to install an aluminum fence is $15 to $40.
DIY vs hiring a professional fence contractor to install a metal fence
Depending on the type of fence you want to install, you can DIY or hire a professional fence contractor.
DIY ensures that you make significant cost savings on fence installation. However, you need to have the right tools or hire them out at a low price.
You also need some knowledge of fence installation and be handy enough to install the sheets firmly.
Depending on the size of your land, you can save up to $1,500 on fence installation costs if you DIY.
Benefits of hiring a pro to install your fence
Saves you time
Saves you money since you do not have to hire tools.
Professionally done.
There is little room for error. If they do occur, the professional will rectify them at no cost to you.
They have all the right tools for the job.
How to save money on your fencing project
Purchase cost-friendly fencing materials.
Accurate estimates. Ensure you know the exact size of the land you want to fence. It helps you to buy the correct amount of fence materials.
Choose an affordable style for your fence.
DIY. .
You can prepare the land by yourself to save on how much you will pay the professional installers.
Get three quotes from professional fence installers to find out the right price.
Hire a pro to install your fence
Homegardenguides.com is a free tool to hire professional fence installation service providers.
It connects homeowners to professionals in the following easy steps.
Enter your zip code at the top of the tool.
Fill in the form to provide more details about the fence installation service you need.
You will receive three or four quotes and advice from professional fence installers.
Contact and hire a service provider that falls within your budget.