A leaning fence is an eyesore and a safety hazard, to say the least. It also reduces your home's curb appeal and compromises the privacy and security of your home.
The average cost of repairing a leaning fence ranges between $400 and $1,100. The amount you pay will be determined by the extent of the problem but in most cases it requires replacing fence posts.
More detailed costs such as per foot and per post prices are below.
| | LOWER PRICE LIMIT | HIGHER PRICE LIMIT |
| --- | --- | --- |
| Average leaning fence repair cost | $200 | $1,000 |
| Cost per linear foot | $100 | $50 |
| Cost to replace fence posts (per post) | $120 | $400 |
| Cost to replace fallen fence panels | $100 | $500 |
| Cost to repair holes and cracks | $100 | $400 |
| Labor costs (per hour) | $50 | $200 |
| Storm damage repair costs | $300 | $200 |
| Fence reinforcement cost | $200 | $600 |
| Gate repair cost | $100 | $400 |
| Extra cost of emergency fence repair | $100 | $200 |
On average, you can pay between $400 and $1000. The job involves repairing panels and rails and rehanging fallen panels. Typically, it's cheaper to mend leaning fences caused by poor installation or wear and tear than it is to repair a fence that's leaning because of rot, pest infestations, or storm damage.
You will pay less if the posts and foundation are intact and more if they fall because that calls for more effort and time.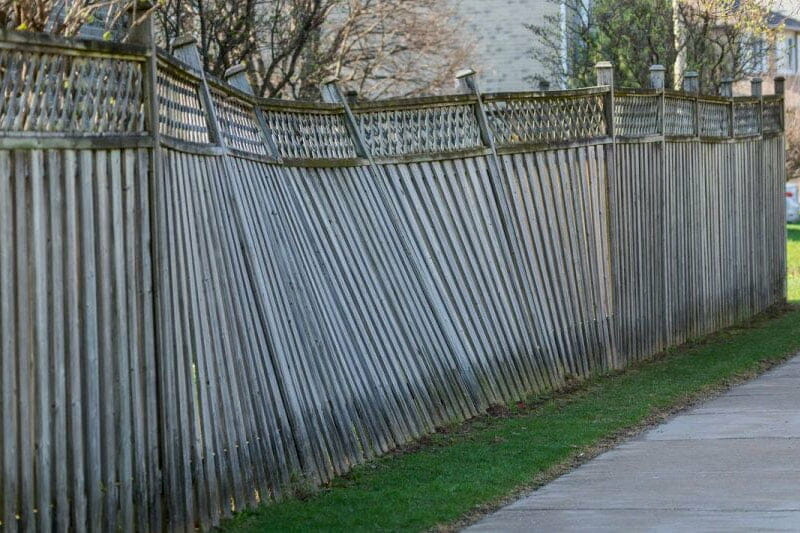 Factors That Determine the Cost of Leaning Fence Repair
Many factors determine how much you pay for your leaning fence repair. Among them:
The cause: Knowing what is causing your fence to lean helps determine a suitable solution and determines how much you pay for the repair of your leaning fence.
The extent of the damage: Some leaning fence repairs only require a few screws to secure and stabilize the fence, while other times, it is necessary to panels posts and hardware. The labor and materials needed for either repair will determine how much you will pay.
The type of fence: You can expect to pay more if your leaning fence is made of expensive materials. For instance, chain link fences are cheap to purchase and repair compared to vinyl fences.
The length: You will pay more if the damage extends far down a fence because you will have to replace multiple panels.
The height: Taller fences require more materials and labor to fix, so you can expect to pay more if you have a fence that's taller than the standard height.
Leaning Fence Repair Cost Per Foot
Professional leaning fence repair costs homeowners between $10 and $50 per linear foot. Unfortunately, most repair companies have a minimum call-out price while others specify charges for certain types of repairs. As a result, they do not always charge per linear foot.
The price varies depending on the fence height, location, fencing material, and extent of the damage. You can get the fence estimate when a contractor visits the worksite.
A DIY repair is often cheaper as you only incur the material cost.
Cost to Replace Fence Posts
Broken, damaged, or shifting fence posts compromise your fence's structural integrity and cause sagging, wobbliness, or leaning.
Sometimes the leaning or wobbliness is a result of improper installation or soil disturbances. In these instances, you won't need to replace the posts; instead, they need to be reset or be reinforced to remain sturdy and upright.
However, other times the posts become weak, shaky, and lean due to water damage, rot, or pest infestation. In these cases, you need to replace the posts to salvage your fence. Replacing the posts costs approximately $120 to $400 per post.
More often than not, you will also find it necessary to replace the posts if they are completely damaged due to collision or shifting ground. Therefore, repositioning or resetting costs significantly less than replacing the posts.
Cost of Replacing Fallen Fence Panels
When a fence starts to lean or sag, it is common for some fence sections to collapse or fall. Fallen fence sections could potentially damage the support posts for your fence and leave unsightly gaps.
If the damage is not extreme, it's possible for your fence contractor to reposition or screw the panels back into place. However, where there's extensive damage, the contractor may need to replace the fallen sections.
Replacing fallen sections, such as multiple panels, a section of fencing, top rails, and support posts, could cost an average of $500 and above.
The cost depends on the type of panels, material, and size. For instance, you will spend more to replace a wrought iron section of your fence than you would pay to replace a simple vinyl panel.
Cost of Repairing Fence Holes and Cracks
As we've mentioned already, your fence may be leaning because of installation issues. These issues could be cracks and holes at the base of the fence. The average cost of repairing these holes and cracks ranges between $150 and $350.
The actual cost is determined by the severity of the damage and the materials used for the fence base.
Posts can also crack due to heavy impact, weathering, or storm damage, causing leaning. But, again, you can cut costs by patching up or treating them with materials like mortar and resin. The price is also about $125 and $370 but could be more for wood and vinyl fences that require repainting to maintain their lustrous appearance.
Labor Cost to Repair a Leaning Fence
Professional fence contractors charge between $50 and $200 per hour. A handyman's rates are on the lower end of the spectrum, while a fence repair expert is likely to charge more for their specialized skills and experience.
The labor costs generally depend on the extent of the damage, fencing materials, and type of repair. Therefore, chain-link, aluminum, and wood fence repairs are cheaper (about $40 to $80 per hour), and metal fences that must be welded cost about $75 to $200 an hour.
It's common to find fence repair companies quoting a minimum fee or call-out rate of around $75 to $100, which may be waived when you hire them to repair your leaning fence.
The labor costs accrue depending on the time needed to complete the job. For instance, resetting or replacing several boards or panels is completed faster than large fence section reinforcements.
Typical leaning fence repairs take anywhere from 24 to 72 hours, depending on the length of the fence.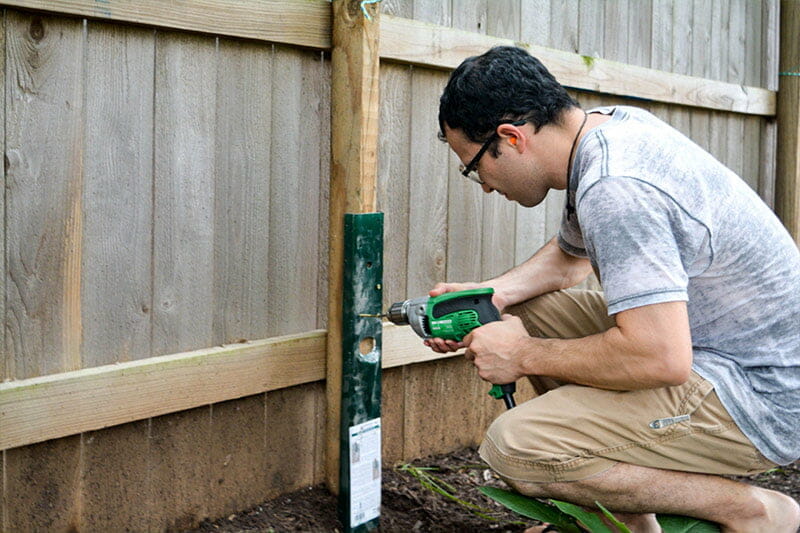 Storm Damage Repair Costs
Storms are a common culprit in the realm of leaning fences. If a storm damages your fence, you can expect to spend between $300 and $2,500, depending on the extent of the damage.
Major damage, characterized by entire downed sections or multiple fallen panels, is more expensive than minor damage, which may involve reinforcement, patching up, and replacing screws.
A leaning and wobbly fence is an accident waiting to happen. Fortunately, you act now by having the flimsy fence reinforced before the worst comes to be.
The cost of reinforcing an existing fence is between $200 and $600. This cost depends on the amount of work required, the reinforcement method, and the material used for reinforcement.
The materials most commonly used to reinforce fences along the rails include aluminum, wood, vinyl, and steel. Sometimes concrete is used to strengthen and secure the base of fence posts.
Gates are technically part of a fence, and often damage extends to them too. For example, when the fence sections closest to your gates are leaning, it's common to find gate hinges are damaged, and the gates themselves are damaged.
The repair needs may vary from the replacement of hinges, screws, and hinges to installing a new gate. The average gate repair costs range from $100 to $400. The price includes the replacements and resetting gate supports to prevent further sagging.
Emergency Fence Repair Cost
A leaning fence could be a looming safety threat. In some instances, when your 8-foot privacy fence leans towards a utility line, it calls for an emergency same-day repair. Many contractors offer emergency services but at an extra $100 to $200.