Chain Link fences are pretty easy and cheap to repair. You can DIY or get a pro to do the job. Both are fairly cheap options.
The average cost of repairing a chain link fence ranges from $8 – $20 per linear foot, including materials and labor. This is for a 6-foot chain link fence. The total cost will depend on the length of the fence that needs repair and the types of chain links used.
Repair costs can become more expensive if you need to dig out and replace posts or on larger eight and 12-foot chain link fences.
| Low End | $100 |
| --- | --- |
| High End | $1,000 |
| Average Cost | $300 - $600 |
| National Average Cost | $450 |
This will be the cost of fixing the bottom of the fence, staking it to the ground, cutting out the hole, and stretching the new chain link mesh to cover it.
At the high cost scale, you can count on cleaning and removing the rust, replacing 4 fence posts, top rail replacement, and straightening out a leaning fence.
National average cost - $450
In the middle of the cost scale or the price that most of homeowners pay, you will meet repairs such as resetting a post, repairing the top rail, and stretching new chain link fencing over the surrounding sections.
Chain link fence repair cost by linear foot
On average, the chain link fence repairs will cost you about $12 per linear foot, including labor and material costs. Of course, many factors affect the cost. These include the type of repair your fence need, what type of chain link fence you have, and the repairman you hire.
Fence Size
Price & Quantity
25 linear feet
Section of the fence
$250 by linear foot
50 linear feet
Section of the fence
$500 by linear foot
100 linear feet
Section of the fence
$1,000 by linear foot
200 linear feet
Small yard
$2,000 by linear foot
300 linear feet
Medium yard
$3,000 by linear foot
Chain link fence repair cost - by material
Chain link fences can be made of different materials, but the following three are the most common, stainless steel, galvanized steel, and vinyl-coated steel. Labor costs associated with metal fence repairs should be the same. However, the cost of the materials will change.
| Fence Material | Avg, Repair Cost |
| --- | --- |
| Galvanized Steel | $12.00 by linear foot |
| Stainless Steel | $13.50 by linear foot |
| Vinyl Coated | $15.00 by linear foot |
Galvanized Steel Chain Link Fence Repair Cost
Galvanized steel chain link fencing has become quite popular in recent times. This is because they are not prone to rusting like traditional chain link fences. They are therefore more robust and appealing.
Zinc is one of the main fence materials used to galvanize chain link fences. Expect to pay $12 per linear foot in materials and $14per linear foot in labor to repair a galvanized steel chain link fence.
Stainless Steel Chain Link Fence Repair Cost
The average cost for repairing a stainless steel chain link fence is $28 per linear foot. Both labor and materials will cost you $14 per linear foot each. Stainless steel is more expensive than galvanized steel because it lasts longer.
Vinyl Coated Chain Link Fence Repair Cost
PVC material chain link fences are quickly becoming popular in residential areas. This is because they are far more visually appealing than galvanized and stainless steel.
Both polymer coatings and PVC provide a rubberized covering on the metal to give it a beautiful look and feel while preserving it from rust and weathering. Typical repairs on a vinyl-coated chain link fence will cost you $29 per linear foot.
Labor cost to repair a chain-link fence
One of the main things that affect the cost of labor is whether you hire local professionals or professionals in the fencing industry. Typical repairs, such as cleaning rust or a hole, can be easily done by either type of repairman; even you can DIY. At the same time, professionals should conduct more difficult repairs.
There are two ways to calculate the labor, by linear foot or by the hour plus materials. If charging is by the hour, expect to pay between $40 and $60 per hour for a handyman and $50 to $75 per hour for a professional in the fencing industry. That translates to about $7 to $10 per linear foot for a handyman or $9 to $15 per linear foot for professional fencing repair. A small hole can take just an hour or two to fix, but a large portion of the fence that is sagging, leaning, or rusted may take a day or more.
Chain link fence repair cost - by type
There are different situations when you will need a fence repair. Type of the repair needed determines the price too. A fence may lean or sag over time and rust may show up, holes are common in the chain-link fences, the top rail is prone to breaking, gates may need an adjustment, etc.
| Type of Repair | Average Cost |
| --- | --- |
| Rust | $7 per linear foot |
| Gate | $130 per gate |
| Holes | $75 per hole |
| Top Rail | $140 per rail |
| Posts | $200 per post |
| Leaning Fence | $570 per fence |
Rusty fence repair cost - $45 - $100
On the first signs of rust on your chain link fence, take action as soon as possible to protect the fence's structural integrity. Cleaning the rust includes brushing off debris, cleaning the fence with water, scrubbing the remaining rust with a wire brush, and applying the rust inhibitor. If you want to restore the fence's appearance, consider using special paint that covers and inhibits rust. Expect to pay around $7 per linear foot to hire someone to clean and paint the fence.
Rusty gate is considered a small project, and it will take a few hours to treat the rust, but if larger sections are attacked by rust, it will take a few days. Rusty gate treatment costs between $80 and $150.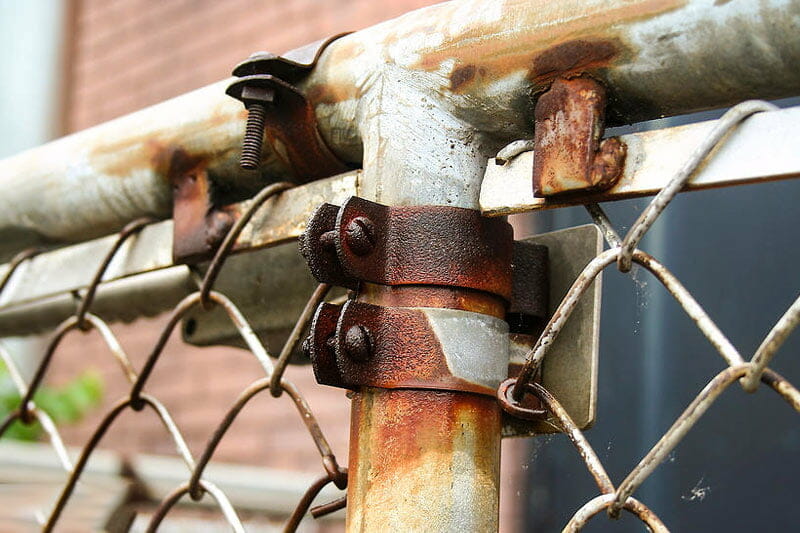 Hole repair in a chain-link fence cost - $50 - $100
A hole in the chain-link fence can easily be repaired by patching the damaged section. The chain-link fence can be cut out around the hole, and a new piece can be cut to fit. Tie wires, usually aluminum ones, can connect the patch to the old fence. For this venture, expect to pay between $50 and $100.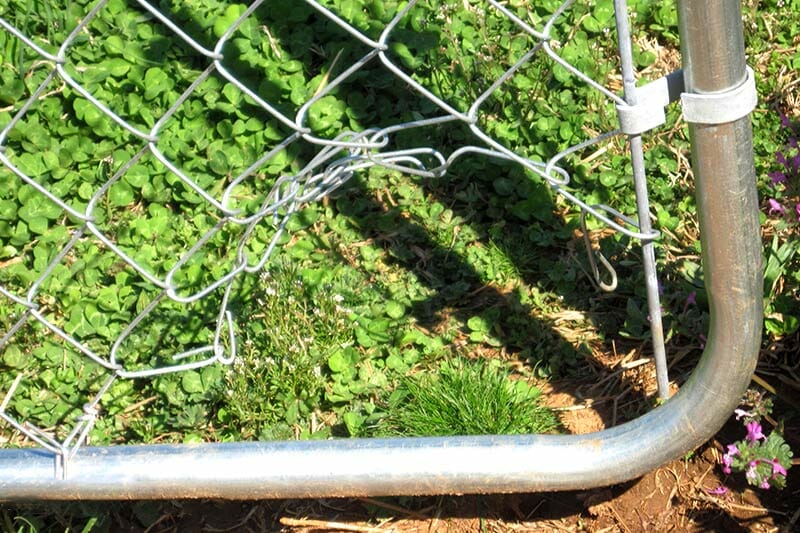 Chain link fence gate repair cost - $80 - $180
Many reasons lead to fence gate damage. If it is used as a kids' swing, mowers may clip the edge, suffer rust, or a tree limb may fall on it. However, chain-link fence repair is usually an easy task. You can easily get rid of the rust by cleaning the gate and adjusting or replacing the hinges. Also, the chain-link mesh on the gate or part of the frame can be changed if needed. The typical range of fence gate repair is from $80 to $180, depending on what should be done.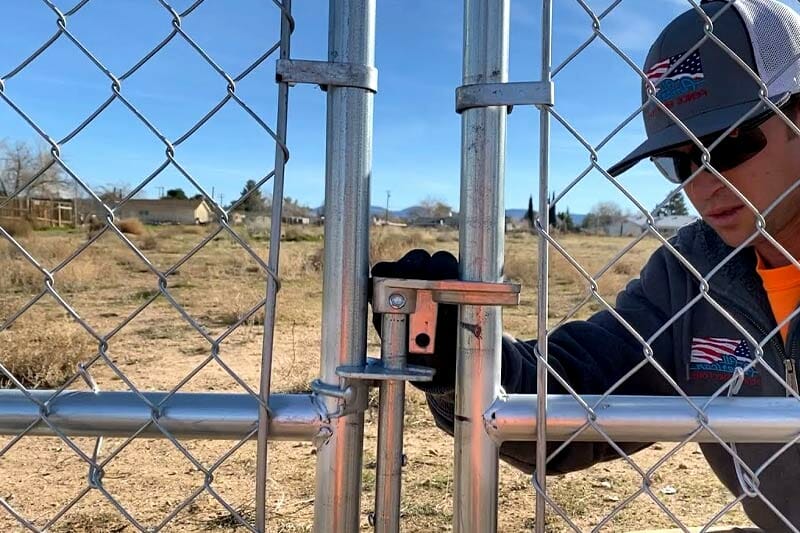 Chain link fence top rail repair cost - $120 - $160
If the top rail experience a tree limb fall or some other damage can become bent. This is a relatively easy task to do. Simply cut out the damaged section and insert a new rail into the old one. The new rail will come with an open end and a crimped end. The crimped end can be inserted into the open end of the existing rail. This repair should cost between $120 and $160.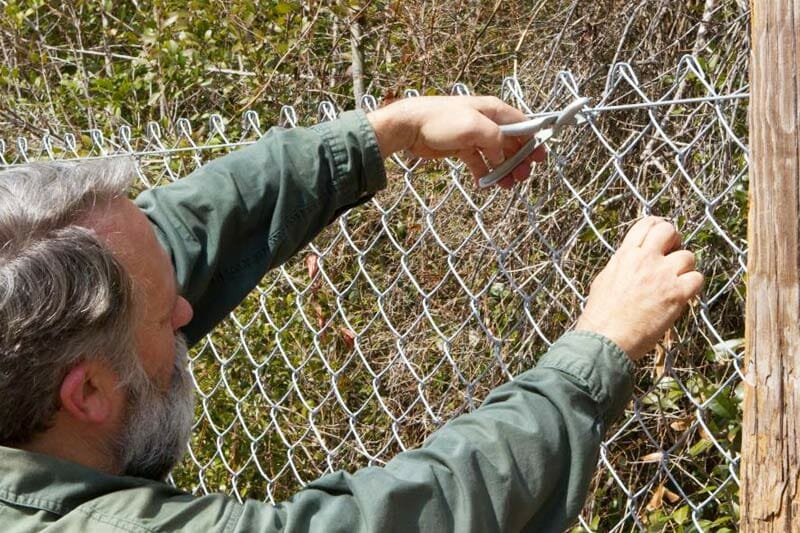 Chain link fence post repair cost - $150 - $250
Over time chain link fence posts can become damaged. Many factors can cause damage to the fence posts if they are not properly set in the concrete from the beginning due to rust, damage from weather, a falling object, or something running onto the fence. Chain-link fence post repair can sometimes occur in place, as with a leaning post. Repairing the post is possible, but the best solution is a new post.
To set the new post, first, dig out the old post, pour new concrete, set the new post, and reconnect the fencing. This will cost you between $150 and $250 to remove and reset a fence post.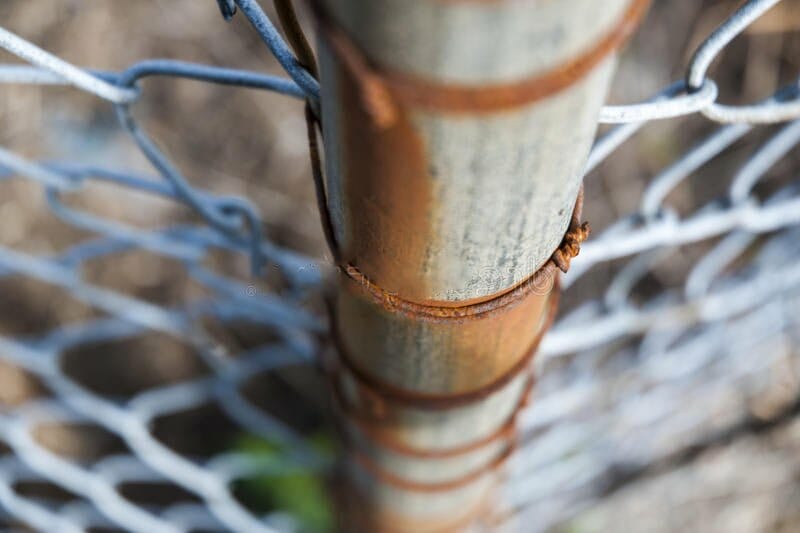 Fix a leaning chain-link fence - $150 - $300
The main problem when a chain-link fence leans is the post. In most cases, a fence is leaning because the fence posts were not properly set. Also, tree roots or an object like a tree falling on the fence can cause it to lean. The posts must be reset correctly to fix the leaning fence, and it generally costs about $150 to reset a fence post.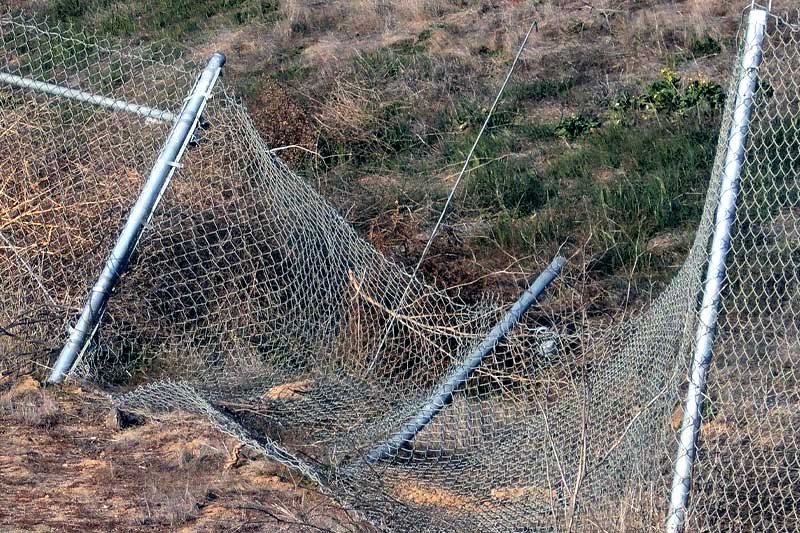 Additional Fence Repair Cost Factors of a Chain Link Fence
Changing the Height and Location of Your Chain Link Fence
Property owners may want to increase the height of their fences to ensure more security on their premises. This normally involves covering the existing short fence posts with longer ones. A new, taller mesh can then be installed with the same rails.
The project cost for such a fence repair depends on the size of the fence you choose to install. Increasing the height of your chain link fence from 4 feet to 6 feet will cost you $18 per linear foot on average.
Many of the same materials used to change a chain link fence's height can modify your fence's position. To move a chain link fence, expect to pay an average of $21 per linear foot to an expert.
Privacy Slat Installation
Privacy slats are another great way to enhance the privacy of your chain link fence. They act as wind screens and sound barriers while also beautifying your fence.
They are available in a wide range of colors and are more durable than fabric screens. A box of slats that will cover 10 feet of a 6-foot-tall fence will cost an average of $80 to purchase and professionally install.
You do not require any formal permit to repair your chain link fencing. You, however, need to consult your local authorities if you plan to replace your wood, chain link or picket fence. Expect to pay an average of $60 for a fence replacement permit.
You should also consult your local utility providers before digging new holes. This is because they can send professionals to mark out any underground utility lines or gas pipes which are out of bounds.
Many chain-link fence repairs do not require the services of a licensed fencing expert. However, some property owners opt for licensed fencing firms despite being rather expensive. This is because they guarantee high levels of competence which can save money in the long term.
Repair vs Replacement Cost
Small holes can be repaired for as low as $100 while large fence sections can cost up to $400 to repair. When major sections of the fence have been damaged beyond repair, a chain link fence replacement is the best option.
In such cases, expect to pay an average of $1950 as your chain link fence cost for labor and materials. Keep the following in mind when choosing between a fence repair and a fence replacement:
If your total fence repair cost goes beyond $1500, a fence replacement is probably the best option to take. In such cases, it is advisable to get free estimates for both the fence replacement and the fence repair cost. You can then compare the two and decide on the best option.
Even professionals find it hard to repair chain link fence parts that have been functioning for over 20 years. This is because they are prone to recurrent damage from rusting and age. Replacement is therefore recommended in cases where the fence has outlived its usefulness.
Before deciding whether to repair or replace your fence, ensure you engage certified fence professionals to inspect your fence. This is because experts can identify underlying issues that can help you in making your decision. Paying a little more for a new installation could save you money in the long run.
HomeGardenGuides.com is a free service that quickly matches you with top-voted local Fencing Specialists.
You can get 3 estimates fast by real certified experts in your area in just 2 minutes.
Scroll to the top of the page and enter your Zip code.
Answer questions about your fence project
Your fencing job details are forwarded to three local experts. They will send you a price estimate for the job and some friendly advice.
IMPORTANT: There is no obligation to hire. This is a free tool and service to be used at your pleasure.
Chain link fence repair - reasons
Chain link fences are popular because of their durability, 15 to 20 years lifespan, and they are affordable and require minimal maintenance. By taking care of your fence, cleaning it, and making repairs when needed, the fence could last even longer. Many things can happen to a chain-link fence during its career that can be considered as a reason for repairing the fence.
Severe weather, flooding, strong winds, and falling trees or limbs can damage a fence. These natural forces can cause bent top rails, make fences lean, or make holes.
Cars or lawnmowers can run into fences and sometimes vandalism occurs, creating holes in chain-link fences.
Children may be rough with chain-link fences, especially gates, causing them to sag.
Rust and corrosion may also happen over time. It is important to take care of rust and corrosion as soon as it is spotted to maintain the structural integrity of the fence.
Maintaining the chain-link fence
Maintaining the chain-link fence compared to the other types of fence is a piece of cake. Inspection should be conducted at least every three months and react as soon as you notice some damage or signs of rust on your fence. That way you will have your fence for many years to come.
Look for broken or missing links and rust, ensure gates are swinging properly, check the top rails, take a close look at each post to make sure that post is still forming a right angle with the ground and free of rust.
Cleaning the fence in a timely manner, once or twice a year is also very important. In most cases, a high-pressure spray from the garden hose or power washer will get the job done. If you face more built-up dirt and debris, a bucket of soap or a borax solution and a rag can be used. If your chain link fence is attacked by mold, you can use white vinegar.
Cleaning the chain-link fence is a DIY job, but if you don't want to get your hands dirty you can hire a professional cleaning service. For these services expect to pay $20 to $40 per hour, depending on the level of dirt on your fence.
Cost to replace an existing fence
When the chain-link fence is so severely damaged and the maintaining costs are higher than usual, it is time to replace your chain-link fence. Start with the removal of the existing fence. Normally the company that replaces the fence will take care of the removal too. Removing the chain-link fence cost will be about $2 to $4 per foot. In many cases, this price will include hauling it away.
Check with the local scrap yard if they want to take the fence and what's the price for scrap at the particular moment. The price is changing on daily basis but it is around $3.00 per hundred pounds of material or a facility may just take the material for no charge. If you chose the scrape yard option keep in mind that they don't accept posts with concrete on them. Another option is posting the fence for free or for a small price on the local sales sites. Sometimes gardeners or homeowners look for extra fencing.
Chain link fence installation cost
The average cost for chain link fence installation is $3,000. This price refers to the professional installation of 200 linear feet of 4-foot fencing, with the gate. This price can vary due to several cost factors such as the size of the property, the height of the fence, and the type of chain link fencing you choose.
Any improvement that you will make on your fence will increase the actual project costs.
Altering the chain-link fencing's size and location
You can increase the height of the existing fence to contain a jumping dog, for more security, or for vines to grow on. You can do this by covering the fence posts with longer posts and a new chain link mesh can be attached, with the same rails going back on top. This task will cost you almost like the new fence installation. Expect to pay about $18 per linear foot to increase a 4-foot chain-link fence to a 6-foot.
If you want to change the location of the chain-link fence expect to pay a professional between $15 and $26 per linear foot to alter the location of a chain-link fence.
Fabric screens are a good option if you want extra privacy. These screens can add color to your yard and are made of lightweight material that can be hung on the outside of the fence. Their design allows air to go through but they block light. For standard fabric screens, you will have to pay around $1 per linear foot, while for custom-made designs price can go up to $6 per linear foot.
Privacy slats are another option for adding privacy to your chain-link fence and last more than fabric screens. They are usually sold by the box and can be woven through the fence. For a box of slats that will cover 10 linear feet of a 6-feet tall fence, expect to pay about $55. Labor costs about $2 to $3 per linear foot if you choose a professional to insert slats.
Few more things that will affect the cost of the chain-link fencing reparation.
Cleaning the area around the fence
Before the process of reparation starts, the area around the fence will need to be cleared. If there are trees, bushes, or other plants, care will need to be taken to protect or remove them. The average cost to remove a tree is $1,150. If trimming is needed expect to pay an average price of $423 for a professional trimming service. On the other hand, if light trimming is all your tree need try DIY and save some money.
For chain link fence repairs you don't need a permit. But you will likely be needed for a chain link fence replacement. Check with your local council before beginning the project and expect to pay about $60.
For most chain-link fence repairs you will not need a licensed professional, but it is always better to hire a licensed professional due to their experience and expertise. If there is a need to dig post holes, it is important to contact the local utility company to come out and mark underground utility lines and gas pipes before starting.
In this modern age in which we live it is very easy to perform chain-link fence repairs yourself due to the plenty of tutorials and instructions available on the internet. You can DIY the chain-link fence repairs, but remember that professional fencing contractors have the proper tools and experience to perform repairs quickly and correctly, ensuring the repair will last.
Chain-link fence alternatives
It is good to mention and get familiar with the chain-link fence alternatives and their features.
Type
Cost per linear foot
Features
Wood Fence
$12 - $30
Natural, painted, or stained;

Easy to repair;

Offers privacy;

Requires annual maintenance;

Short lifespan

Prone to rotting and wrapping if it is not resealed regularly.
Vinyl/PVC Fence
$15 - $40
Maintenance-free;

Easy to clean;

Quick installation;

Waterproof;

Difficult to repair;

Limited color options;

Cracks in extreme temperatures;

Not stand well against high winds.
Aluminum Fence
$13 - $55
Rust-proof;

Variety of designs;

Budget-friendly;

Low maintenance;
Wrought Iron Fence
$34 -$50
Longest lifespan;

The most expensive;

Strongest of all;

Weather-resistant;

Pest proof

Most difficult to install.