Not all fence materials and types are durable and invulnerable to the elements. They get rusty, damaged, or destroyed. If you ever notice your fence's condition has declined, it may be time for a fence repair.
Whether it's a DIY or professional fence repair, you must be aware of the factors you have to consider. There are many advantages and disadvantages to both options that will help you decide which is best for you.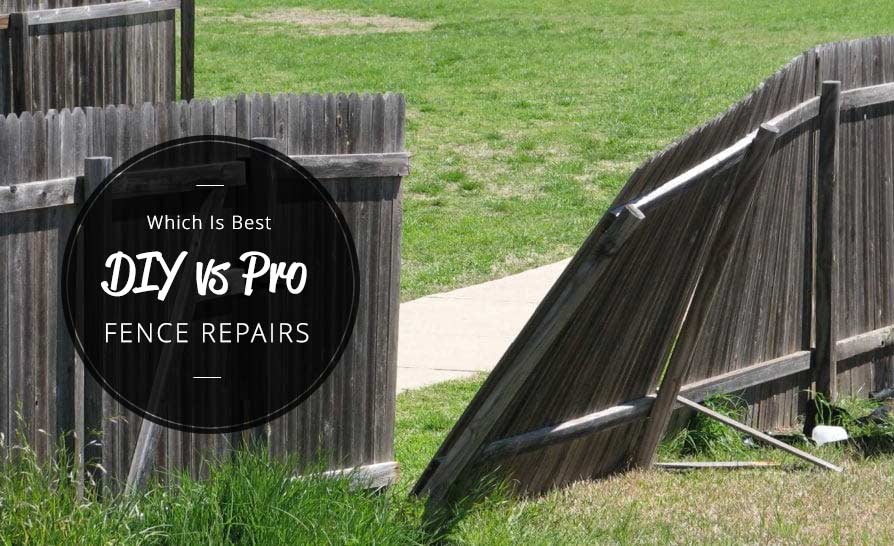 A DIY fence repair job can be quite challenging, especially for a first-timer. But it definitely has many benefits considering you have full control of the project.
When it comes to repairing your fence, doing it yourself can help you save on labor costs. This can be a huge financial benefit for you, especially if the adjustment is simple and doesn't require the assistance of an expert.
Typically, homeowners spend from $215 to $720 on fence repairs depending on how difficult the task is. If you need specialized services like welding, the expense may be even greater.
However, it is important to consider that DIY fence repair comes with its own expenses. A large job usually requires specific equipment which you may need to rent, and you will need to buy materials.
Nevertheless, contractors may be able to get discounts because they frequently purchase supplies in bulk. Although you may save money on labor by doing the job yourself, you'll still be paying in other ways.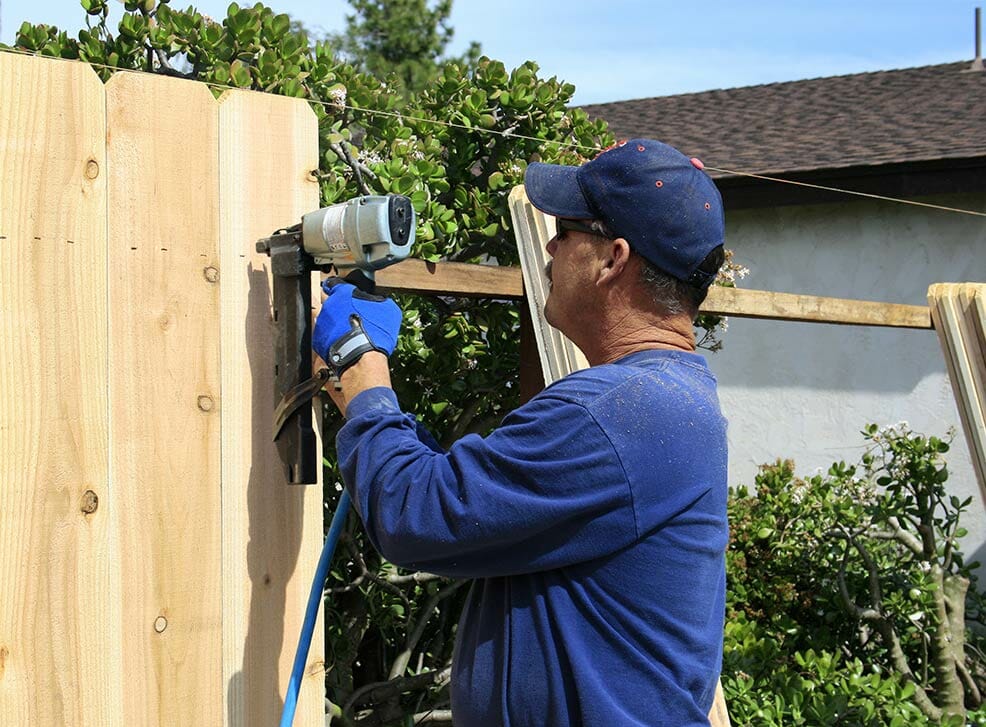 You have full control of the schedule of the fence repair work. You can work on it on your own time. While it could take a few weekends out of your schedule, at least you will be doing it at your own pace.
You have the final say over the final appearance of your fence if you fix it yourself. Some professionals might not be able to accommodate all of your needs, but if you have the right equipment and persistence, you can accomplish it on your own.
There are numerous customization options available for DIY fence repair. For example, you can:
Choose your own fence design
Pick your preferred fence material
Personalize your fence with accessories like lights or planters
Add gates, arbors, and trellises to enhance the overall look
Decide on the size, height, and shape
There's nothing quite like the feeling of satisfaction that comes from a job well done. It's a tangible result of your hard work that will stand the test of time and be a source of pride for years.
Plus, building a fence can be a fun and rewarding bonding experience. You can call a spouse, a friend, or the whole family to help out. That way, you'll also make lasting memories and have a sense of pride in the finished product.
DIY fence repair disadvantages
There are certain repair jobs that are just not easy to do even when you're used to fixing things yourself. There are three (3) main disadvantages to DIYing your fence repair job that affect your time and money.
Fence repair jobs are most likely to be time-consuming when you're doing it yourself. Whether it's a big project or not, it will definitely take time, especially if you're new to repairing fences.
Some repair jobs only take a few days or weeks, but if your availability is an issue, then you're probably looking at a work in progress that could last for months.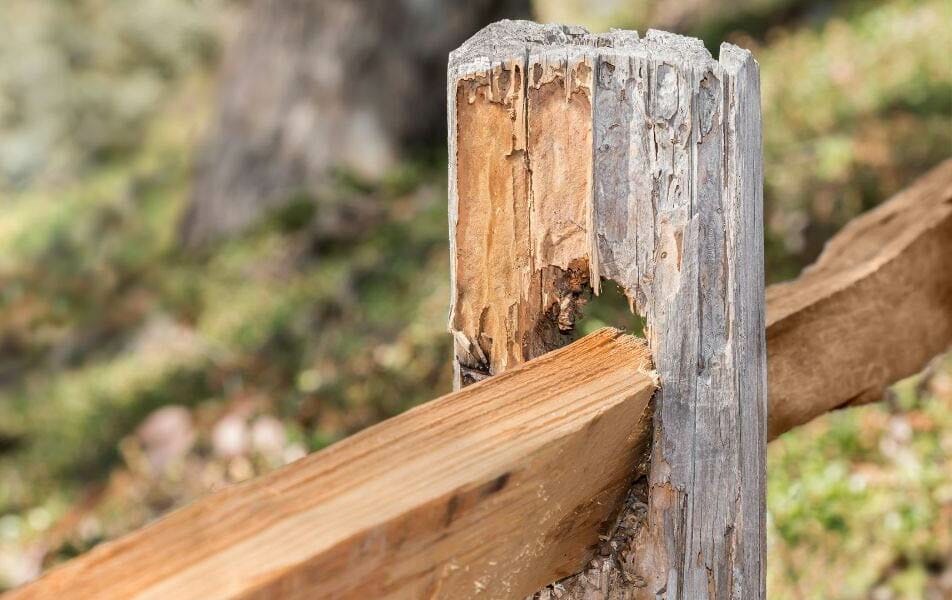 If you're not an expert, then you probably don't have all the necessary tools and equipment needed to fix certain types of fences. While it could be good to buy more tools, you need to make sure your budget allows you the expenses.
Furthermore, your lack of expertise could lead to unnecessary mistakes, costly problems, and possible injuries. Fence repair is a laborious task that not simply anyone can do as it requires precision and experience.
No warranties or guarantees
Since you are doing it yourself, your repair won't be backed by warranties or guarantees. Should you ever make an error or fail in repairing your fence, it will be your responsibility to pay for fixing the mistake you made.
How much does it cost to repair your fence DIY
The benefits of performing your own fence repairs are undeniable. By performing the work yourself, for instance, you can reduce your labor expenses.
However, you still need to account for the expense of supplies and equipment, which can add up very quickly. The price of a DIY fence repair project can start at $160 and go up from there, depending on its size.
Remember that DIY projects frequently come with unforeseen difficulties that you might not be able to handle. These obstacles may need you to eventually hire an expert to assist you in the end, which will raise the entire cost of your job.
Professional fence repair advantages
The advantages of hiring a fencing company for repair services are something you won't get elsewhere. You will be guaranteed quality work and a safety net in case some things go wrong.
With warranty or guarantee
When hiring a contractor for repair, it's important to make sure they're licensed and insured, and offer a warranty or guarantee. This will give you peace of mind knowing that your fence will be in good hands and any mistakes will be covered.
Homeowners often opt to hire a contractor to save time and hassle as it can be very inconvenient to set aside a certain number of days to spend fixing a fence. And even if we do have the time, we'd rather be doing something we enjoy.
That's where a fencing company can help. With a team of experts, they can efficiently repair or install your fence, leaving you with more time to do the things you love or prioritize.
When you hire a fencing company, you want to be confident in their professionalism. Professionalism often comes with years of experience and expertise, resulting in fewer mistakes, issues, and injuries.
With a team of experts, they'll be sure to have the necessary, quality tools and equipment to handle the job smoothly and easily.
Professional fence repair disadvantages
Despite the undeniable benefits of hiring a professional for fence repair, there are things you have to give up like saving money and time and having full control of the process.
While there are benefits to hiring a fence repair company, there are also some drawbacks to consider. One of the biggest downsides is the labor cost.
With DIY jobs, you can save more money by doing the labor yourself, especially if it's just a minor repair job. A professional fence repair service can be more costly even when the damages are not severe.
Contractor hunting and scheduling
Whether it's pest control or lawn care, it can be challenging to look for the right contractor to do the job. If you're looking for a fencing company, there are several things to keep in mind:
Look for a company that is licensed, as this indicates that they have the necessary knowledge and expertise.
Consider the company's specialty, whether it's residential or commercial fencing, privacy or professional installation, or specific types of fences like chain-link or iron.
Choose a company that is insured to protect you and the company in case of accidents or mistakes.
Compare labor price ranges between companies to find one that fits your budget. Just remember that most of the time, quality work often comes with a higher cost.
Look for companies with good reputations by reading reviews. Compare them and look for common threads to avoid biased reviews.
Word-of-mouth recommendations from friends and neighbors can also be a valuable resource in finding the right fencing company for you. Ask for advice from those who have already hired a fencing company before.
Furthermore, scheduling is also a disadvantage because you would have to fit your schedule with the contractor's. Homeowners prefer being at home when a repair job is ongoing to monitor the situation.
This could cause inconvenience to you and the professional both, especially if you lead a busy life or the company is already booked for weeks or months.
Since you will be hiring a professional, you can expect that you will have less control over the repair process compared to DIY.
Additionally, you won't be able to customize the fence to your preference. Most fencing companies specialize in only a few types of fences because each requires special skill sets and knowledge.
How much does a professional fence repair cost?
The cost of hiring a professional fence repair service can differ depending on several factors.
On average, homeowners can expect to pay around $460, with prices typically ranging from $255 to $685.
However, keep in mind that some repairs may only cost as little as $50, while others can cost upwards of $2,500 or more.