Finishing your basement is a great way to expand the livable area of your home.
On average it costs $27,000 to finish a 1,500 sq ft basement. It costs $7 – $23 per square foot depending on the level of drywall finish and type of framing and insulation.
How much you will pay to finish your basement will depend on factors such as labor, materials, and the size of the basement.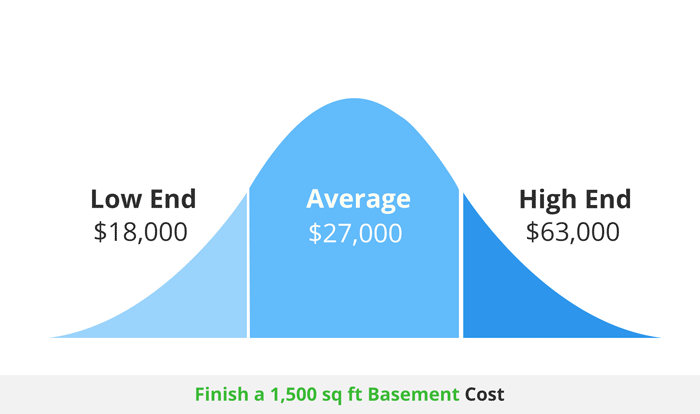 The larger your basement, the more you will pay to finish it. You will pay less to finish a basement smaller than 1500sq feet.
You will need more materials for a large basement than for a smaller one. Also, you will pay more for labor to finish a larger basement.
The larger the basement, the more time and materials are required to finish it. Consequently, the higher the cost of finishing.
The type of materials you use to finish your basement determines how much you will pay for the project. High-quality materials cost more than low-quality materials.
However, better quality materials provide for a more appealing basement and high-quality structural finish. You can decorate your basement in any way you want if you use better materials to finish your basement.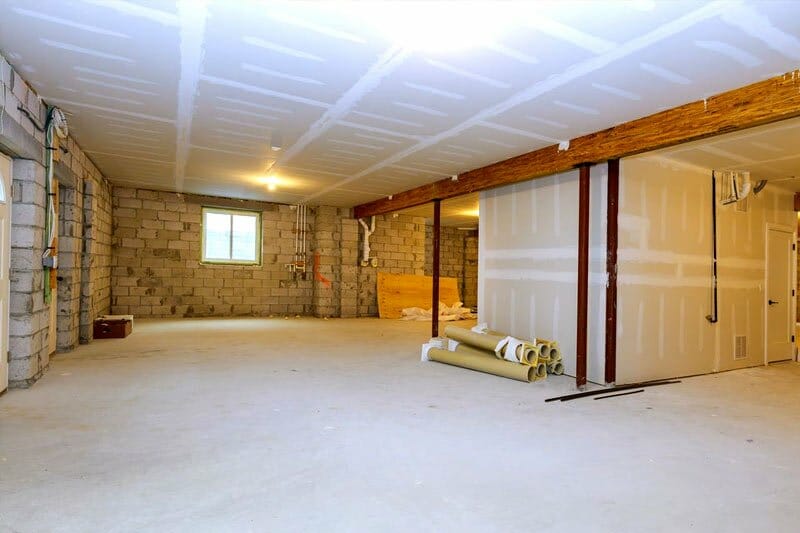 Hiring a professional contractor to finish your basement impacts the cost.
Professional charges for basement finishing vary. Get at least three quotes to ensure that you hire within your budget.
How much you pay a professional depends on the number of people you will need to work on your basement and the level of finishing you require.
Additionally, the better the finish and the more time spent on the project, the more you will pay.
You can save on the cost of labor by finishing the basement yourself if you have the skills and tools for the job.
The amount of work required to make your basement usable determines how much you pay to finish it.
Insulation, flooring, and electrical installation will need additional materials. Consequently, the cost of your project will rise compared to when you finish it only with drywall.
Also, the cost will vary depending on the materials you use and the size of your basement.
You can expect to pay more money if your basement needs a lot of work.
Depending on where you live, you will need a permit to finish your basement. Different states consider your basement part of your home. Therefore, you have to finish it according to the building code in the state. Basement finishing permits are also necessary when selling your home.
When hiring a professional to finish your basement, ensure they are licensed. They will know what your regional building code requires for a finished basement.
Depending on how you want to use the finished basement, it may need fireproof drywall, an emergency door, windows, or insulation. Your contractor will know and will advise you to ensure that you are compliant with your region's building code.
How to save money when finishing a basement
If you have the skills and tools, you can DIY your basement finishing project.
Use mid-quality affordably priced materials.
Go for a level 3 drywall finish and just paint. Level 5 is more expensive.
Use regular drywall and not sound or mold proof.
Get multiple estimates
Set a budget and stick to it.
Hire a pro to finish your basement
Homegardenguides.com is a free tool to hire professional contractors to finish your basement.
It connects homeowners to professionals in the following easy steps.
Enter your zip code at the top of the tool.
Fill in the form to provide more details about the drywall service you need.
You will receive three or four quotes and advice from professional drywall installers.
Contact and hire a service that falls within your budget.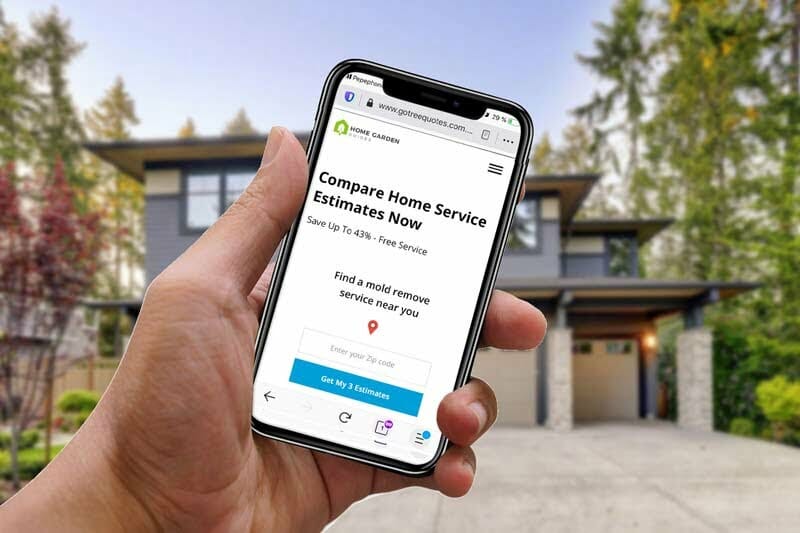 Benefits of finishing your basement
Increases the value of your property.
Increase your usable space.
Enhance the safety of your home.
Make your home more energy-efficient as all the walls are insulated.
Provide rental income.
DIY steps to finish your basement
Clean out the basement. Remove everything in the basement in preparation for finishing the basement.
Conduct a moisture test. It helps you decide whether you need to waterproof your basement.
Apply for a permit. Find out which permits you will need in your location to finish your basement. You can get a professional to assist you to apply for a permit.
Gather tools and materials needed. The materials you need depend on the scope of your project and the finish level you require.
Finish the walls. You will begin by installing insulation on the walls. After insulating the walls, frame them and install drywall.
Finish the floor with your preferred flooring material.
Finish the ceiling of the basement.
Decorate if you want.
Benefits of hiring a pro to finish your basement
They have insurance to cater to accidents and injuries that happen when working.
Little room for errors.
Have the right tools for the job
Faster completion of the job.
You will get warranties and guarantees.
Saves on costs.
Quality work from a pro increases the value of your property.
How much value does finishing a basement add to your property?
Finishing a basement adds up to 64% of the cost of the project.
Finishing a basement increases the space in your home. You can use it as an office, or storage space or rent it out. If you get tenants for your basement you can earn rental income from it.
You can ask for more money when selling your property than other properties without finished basements.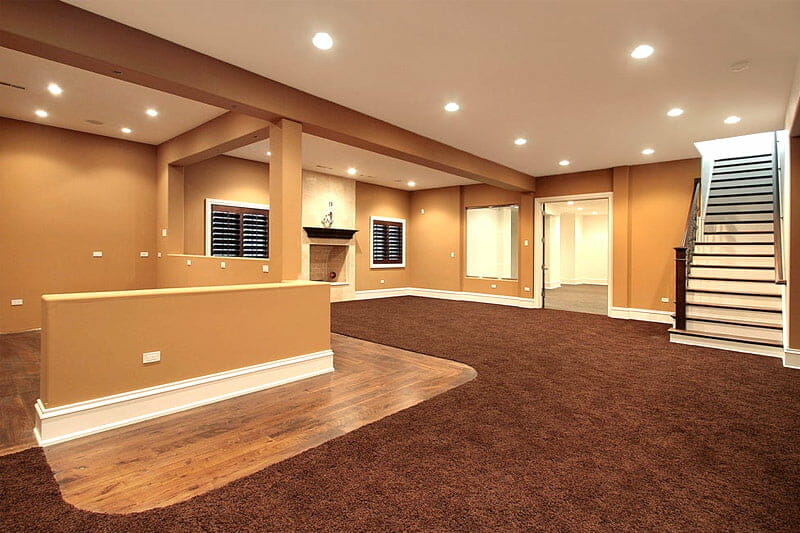 Types of basement finishing
A finished basement is an extension of your home. It is a usable space that you can rent out, and use as an extra room or office.
When selling your home, a finished basement increases its value. The cost of finishing your basement is more than covered by the selling price of your house when you sell it.
Depending on the quality of the finish, it enhances the energy efficiency of your home.
Partially finished basement
There are several levels to basement finishing. Levels 0-4 are considered partially finished. The basement may have drywall installed on the walls, yet it is not livable.
Levels 5-6 imply a finished basement.
Unfinished basements are common. Basements are left unfinished due to the high finishing costs.
Unfinished basements are used as storage. You cannot use it in any other way as it may be a safety hazard.