Drywall is an affordable and reliable material and that's why it is popular among homeowners and builders.
Drywall finish can cost from $1.00 to $1.65 per square foot just for a finish if drywall is already installed. You can expect to pay from $560 to $742 for an average-sized room with labor and materials included.
Eventually, the right answer to this question varies based on several factors: the square footage of the area, the height of the ceilings, and the general layout of the room.
Cost to finish drywall - extended answer
Finishing per square foot typically ranges from $1.00 to $1.65 plus labor. For an average 12' x 12' (144 square feet) room expect to pay from $144 to $238 plus labor.
Even though it is cheaper to just finish drywall than to install and finish, finishing is the most expensive part of the project. It takes time, attention to detail, and multiple coats of drywall compound.
It's not particularly a must to be an expert to finish drywall, but the more experienced the worker is the better the result will be. On average labor costs from $36 to $40 depending on your location and the hourly rate of the workers hired.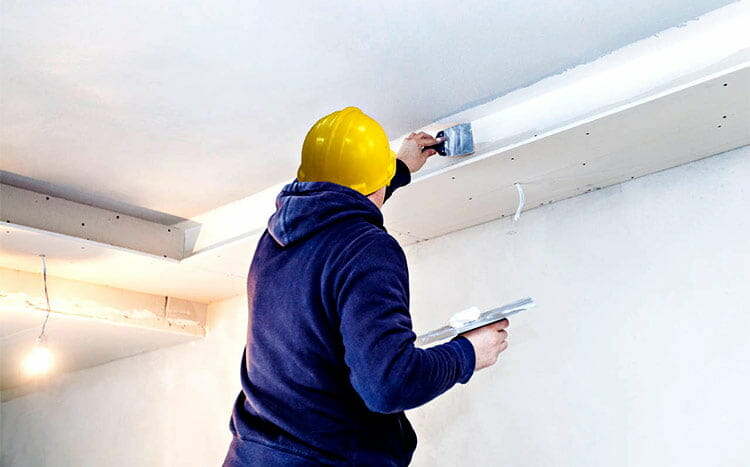 The duration of the process
The duration of the process can significantly affect the final cost. An experienced worker can complete active work relatively quickly. Drywall compound takes from 12 to 24 hours to dry before it can be sanded and the next coat applied.
Drywall finishing takes on average 3 days with using 3 coats of drywall mud. The workers will need to return each day to sand dried mud and apply the second and third coats. In the end, you can expect to pay around 6 hours of labor.
When you put it all together, finish plus labor, for an average-sized (12' x 12') room you will pay from $560 to $742.
How to reduce the cost of finishing drywall?
Few things can help you reduce expenses of finishing drywall:
Use longer sheets of drywall because it requires less work to hang and finish with fewer seams.
Cover any furniture or areas to avoid damage.
Choose the lowest level of finish according to your taste and needs.
Level 4 is the most common finish for many rooms.
Level 2 or 3 finish can be used for attics and areas that will be covered with tiles or hidden behind cabinets.
Keep in mind that the contractors often offer lower prices per square foot for larger jobs.
HomeGardenGuides.com is a free service that quickly matches you with top-voted local Drywall Specialists.
You can get 3 estimates fast by real certified experts in your area in just 2 minutes.
Scroll to the top of the page and enter your Zip code.
Answer questions about your drywall finishing job
Your drywall details are forwarded to three local experts. They will send you a price estimate for the job and some friendly advice.
IMPORTANT: There is no obligation to hire. This is a free tool and service to be used at your pleasure.
Different drywall types cost to finish
Several types of drywall are available. Different conditions require different types of drywall to be used. For example, you have to choose moisture and mold-resistant types for damp areas in your home such as the bathroom or basement. Different types affect the cost of the finishing process. We will quickly go through this together.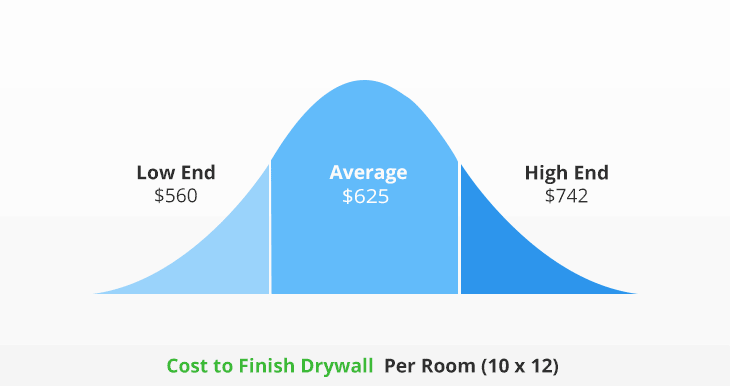 Eco-friendly drywall
Type of drywall that contains a lot of recycled materials in the core. Perfect for people who are caring for the environment. With this type of drywall expect to pay from $14.00 to $20.00 for finish per sheet.
Fire-rated
Some building codes dictate to use of fire-rated drywall or Type X drywall in certain areas of your home. For finishing this type of drywall, you will have to pay from $12.00 to $21.00 per sheet.
Moisture and mold resistant
Purple drywall should be your choice if you want something that is both moisture and mold-resistant. This type of drywall will cost you $13.00 to $15.00 per sheet to finish.
Paperless
Unlike traditional drywall which has a core coated with a paper layer, this type of drywall has a fiberglass coating. The rough texture makes it more difficult to finish and the cost per sheet will be $15.00 to $22.00
Plaster BlueBoard
Technically this isn't a type of drywall, but it is a popular substitute. Compared to drywall, plaster blue board can support heavier weight better. $11.00 to $14.00 per sheet will be the price for the finish.
Soundproof
If you're not worried about your cost to finish drywall and you want to deaden the sound between rooms, this is a nice choice. It's very challenging to install and cut, and this increases the price significantly. The price starts at $50.00 a sheet and goes up to $75.00.
Finishing drywall is a project you can certainly take on as a homeowner, and it does reduce the cost by taking away the price of the labor. For smooth walls without showing the seams between the panels or sunken holes where screw heads are, it's better to pay a little more and go with a professional.
In most cases, you won't need a permit to have someone finish drywall in your home. Permits may be required if you are doing drywall in a new addition to your home. Make sure to check local and state codes and standards for your area.
Calculate how many drywall sheets you will need by dividing the total square footage of area by 32 (if you are using 4 by 8 sheets) or by 48 (if you are using 4 by 12 sheets). If you want to get the cost, just multiply the total number of sheets by the price per sheet. Remember to add local taxes and delivery charges.