Regular drywall and blueboard are popular among homeowners. Knowing the differences between the two will come in handy in helping you to select the type of drywall that is perfect for your needs.
Blueboard is blue in color while regular drywall is usually brown or grey. Blueboard is also specifically designed for veneer plastering, something that regular drywall isn't. And while regular drywall shouldn't be used to cover moisture-prone areas like kitchen backsplashes, once finished, blueboard can easily handle these environments because it has a higher degree of moisture resistance than drywall.
Here is what you need to know about the differences between regular drywall and blueboard.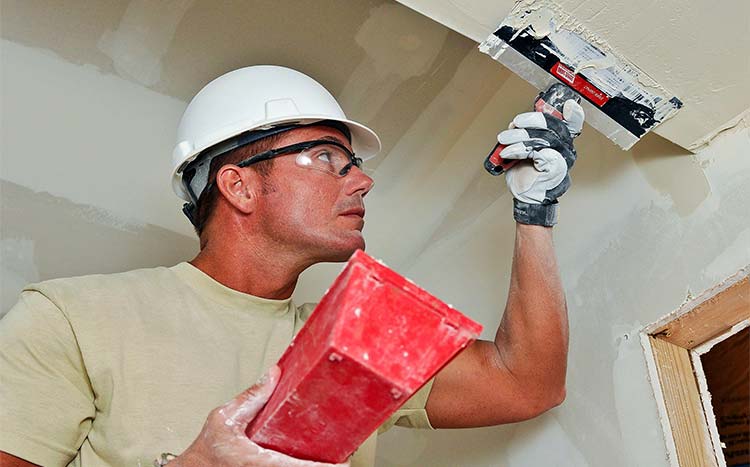 Blueboard drywall is a type of drywall that is designed for veneer plaster coating. It is blue in color, and it has an absorbent surface. Once finished, it tends to have a smoother and cleaner finish when compared to regular drywall. As a result, it is a go-to solution for people who are looking for moisture-resistant drywall.
While regular drywall panels and blueboard panels are both made of gypsum, they are different. Here are the main differences between the two materials.
Ease of installation
Blueboard panels are easier to install than regular drywall panels. It also takes a shorter time to install them. Here are the reasons why.
Sanding
When hanging regular drywall, you need to use several coats of joint compound. On drying, this material can form bumps. These bumps need to be sanded in order to create a smooth and aesthetically pleasing finish.
Hanging blue board doesn't involve using joint compound. All that is needed is a special type of tape. As a result, you won't need to sand it in order to get a beautiful finish.
Installation period
When hanging regular drywall panels, you have to allow the joint compound enough time to dry before applying a subsequent coat. This usually stretches the installation time. In most cases, it takes more than 3 days to properly install drywall.
As a result, installing blue board drywall usually takes less time because the process does not require mudding or using a product that needs to dry up.
Appearance
Blue board is blue in color while regular drywall is usually gray or brown in color. The difference in appearance has to do with the color of paper that they are usually covered with.
Blueboard drywall is covered with specially designed blue paper sheets, while regular drywall has a gray or brown paper covering.
Blueboard also tends to have a smoother final finish. It also has a more refined and cleaner look since its joints are usually not as obvious as those of regular drywall.
Purpose
Blueboard's surface is designed to make it easier to apply veneer plaster. Its surface is more porous. And it is specifically optimized to make it easy to smoothen and texture the surface after application.
Durability
Blueboard tends to last longer than regular drywall. Once finished, its surface handles denting and scraping way better than regular drywall. Therefore, it is a tougher alternative to regular drywall.
Painting
Regular drywall cannot be painted directly. It needs to be primed, sealed, or mudded before it can take paint effortlessly.
Blueboard can be painted directly. This is because it has a more absorbent paper layer. Therefore, you are likely to get more satisfactory results when you paint blueboard drywall — when compared to painting regular drywall directly.
Even after plastering, blueboard will still be better at taking and holding paint. This is because of how good plaster veneer is at taking paint. Therefore, blueboard is not just better at taking paint directly. It is also better even after plastering.
Noise cancellation
Finished blueboard tends to be thicker than regular drywall. Therefore, it is ideal for use in areas where noise cancellation is a priority.
Can you paint directly on Blueboard?
Yes, you can paint directly on blueboard. It is made of a special paper that allows it to be more absorbent than regular drywall. It is thus better at taking paint. And it can be painted without having to use a special primer or undercoat.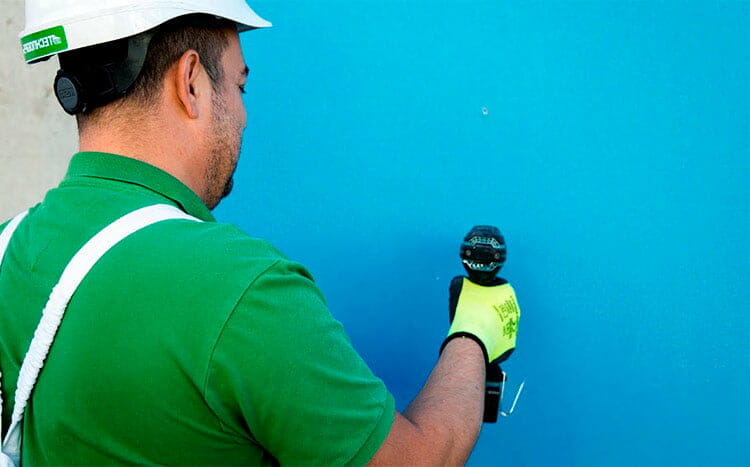 Is blue board waterproof?
No, blue board is not waterproof. However, when it is plastered with veneer plaster, it tends to have a high degree of moisture resistance. This is a quality that makes it ideal for use in covering the entire wall surface of any room that is moisture-prone. This includes bathrooms and kitchen backsplashes.
Blue board and greenboard are popular types of special drywall. They differ in terms of appearance, moisture resistance, and use.
Blueboard has a blue paper cover, hence the name, while greenboard has a green one. Greenboard's paper tends to be water-resistant, while blueboard has a uniquely absorbent paper layer.
Greenboard is essentially moisture resistant drywall — it has a water-resistant surface — it is usually used in moisture-prone areas. This includes kitchen backsplashes and bathroom interior walls.
On the other hand, blueboard is primed for accommodating wet plaster (veneer plastering). It is thus the ideal drywall for use in cases where one is looking for a way to effortlessly apply veneer plaster in their home.