By insulating and drywalling your garage you will have lots of benefits such as increased home value and energy efficiency. The cost to insulate and drywall your garage will depend on the type of insulation you choose and the size of the garage.
The cost to insulate and drywall a 2 car garage will range from $1,940 to $6,120. While most homeowners pay around $4,550 for the full insulation, including walls and ceilings.
A single car garage will be about half the price as a two car garage..
Several factors, such as the size of the garage, and insulation method, will determine the project's overall cost. Let's have a look.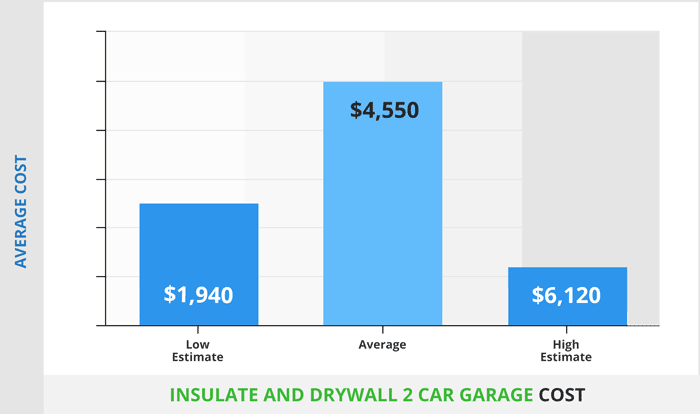 | Insulation method | Cost per sq ft (materials only) |
| --- | --- |
| Fiberglass insulation roll | $0.88 - $1.64 |
| Cellulose insulation | $1.20 - $2.50 |
| Wet-spray cellulose insullation | $0.6 - $1.80 |
| Dense-pack cellulose insulation | $2.00 - $2.50 |
| Rigid foam insulation | $0.25 - $1.40 |
| Open-cell spray foam insulation | $0.45 - $0.65 |
| Closed-cell spray foam insulation | $1.00 - $1.50 |
Fiberglass insulation cost
Ideal for: Unfinished ceilings, floors, and, and also for DIY projects.
The cost of this insulation method will vary according to the area that needs to be covered, labor, and a few other factors. However, the average cost ranges from $0.88 to $1.64 per square foot. For labor expect to pay between $25 to $50 per hour of labor. Since this is not an extremely difficult home improvement project, most homeowners choose to install it themselves.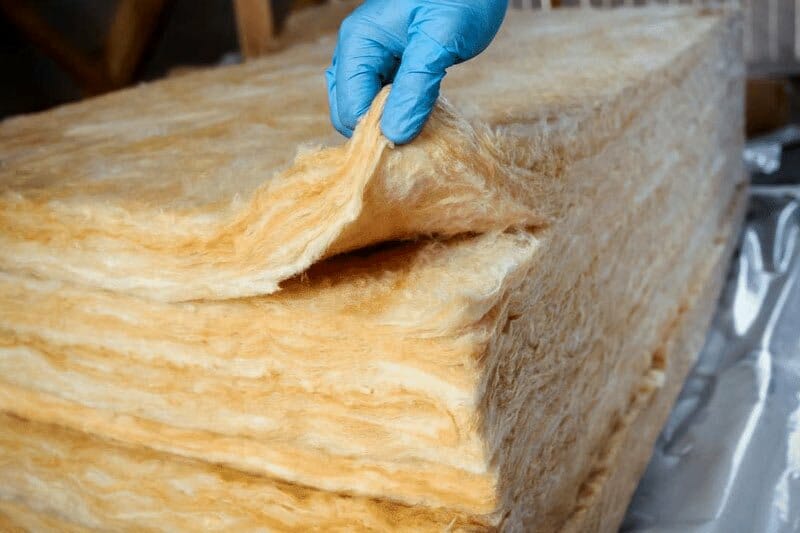 Cellulose insulation cost
Ideal for: Unfinished attic floors and existing enclosed walls.
Depending on the type of cellulose necessary, the cost of installed insulation will vary. This is the average cost of different types of cellulose insulations:
Cellulsose roll insullation $1.20 – $2.50;
Wet-spray cellulose insulation $0.6 – 1.80;
Dense-pack cellulose insulation $2.00 – $2.50.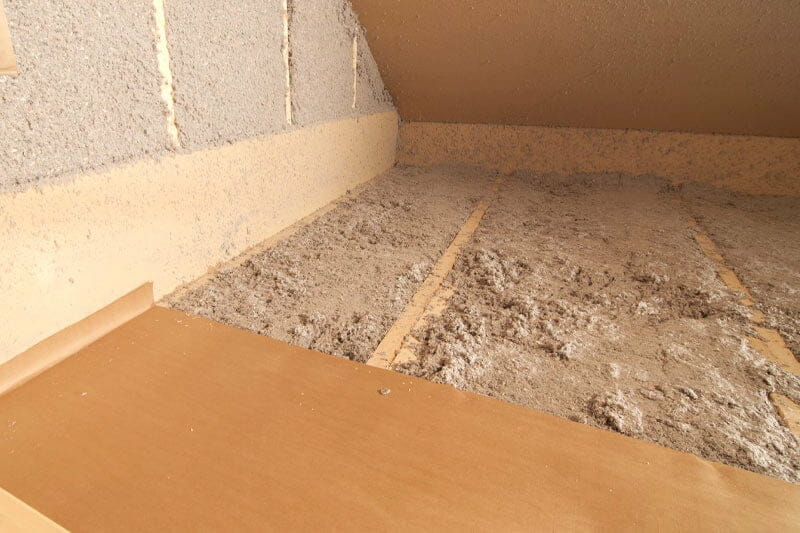 Ideal for: Insulating thin walls and garage doors.
Rigid foam insulation will cost you around $0.25 to $1.40 per square foot for materials only, and the cost of the labor varies from $0.25 to $0.50 per square foot. Rigid foam insulation is usually sold in 8-by-4 foot boards and the total cost depends on the thickness of the board and its R-value.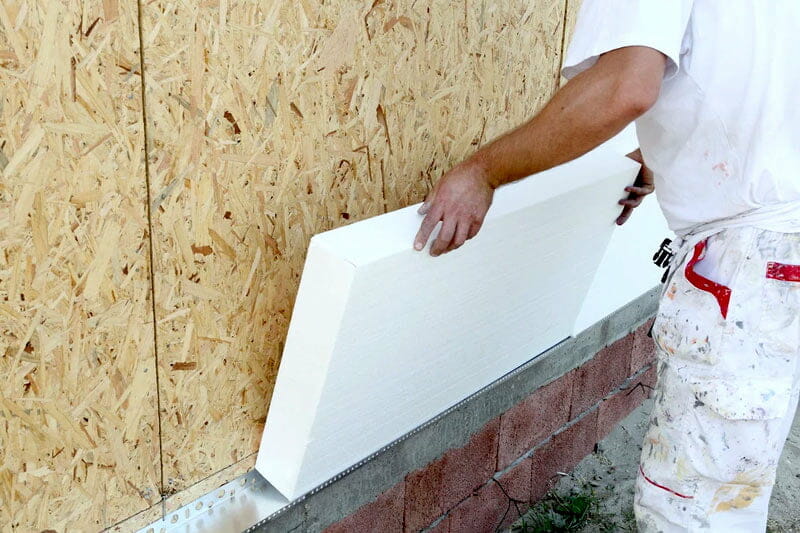 Ideal for: Open cavities of the walls and ceilings to create an air seal.
Spray foam insulation is used as an alternative to fiberglass insulation and is applied during construction. There are two types of spray foam insulation available, open-cell and closed-cell. For open-cell insulation, expect to pay $0.45 to $0.65, and for the closed-cell from $1 to $1.50 per board foot.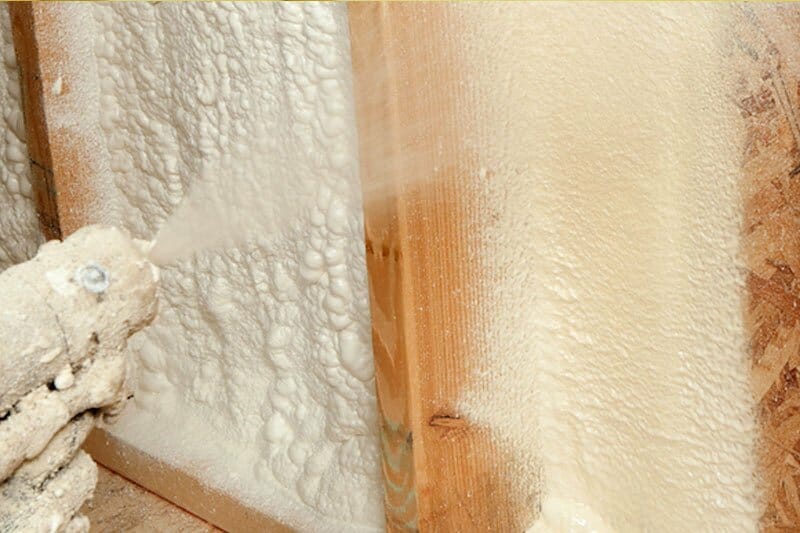 Pros and cons of different insulation methods
As we already mentioned there are different insulation methods available. All of them have some advantages and disadvantages. They are listed below.
Fiberglass insulation roll
| Pros | Cons |
| --- | --- |
| DIY project | Possible irritation of eyes, skin, and lung |
| Budget friendly | Inappropriate installation can cause fire |
| | Prone to moisture accumulation |
| Pros | Cons |
| --- | --- |
| Made from recycled paper so it is eco-friendly | Not a budget friendly |
| Fire-resistant | Must be used with drywall |
| Insect-resistant | Not suitable for DIY because it is inflexible |
| Pros | Cons |
| --- | --- |
| Poor heat conductor | Not insect resistant |
| Budget friendly | Too airtight |
| Soundproof | Rigid and difficult to fit |
| Pros | Cons |
| --- | --- |
| Good R-value | Not a budget friendly |
| Easily fill cracks and corners | Not a DIY project |
| Mold and insect resistant | Shrinks over time |
Factors that determine the cost to insulate and drywall the garage
Several factors will determine the project's overall cost. Here is an explanation.
Garages come in different sizes depending on the number of cars they can accommodate. Insulation cost will vary depending on the insulation method, and how insulation material is used. Also, it is very important what you will insulate, the whole garage or only the walls, ceiling, or garage door. Anyway, expect to pay between $0.50 to $1.25 per square foot.
For example, if your garage can accommodate three cars, it implies that the floor's total surface area would be around 240 square feet multiplied by three cars. That would be considered when calculating the amount of material used per square meter of walls. 
Number of cars accommodated
Most homeowners and contractors prefer to measure the area of the garage by the number of cars that can be accommodated rather than by the total square footage.
When you know the size of the garage in square feet then you can easily calculate the insulation cost. 
For example, a one-car garage is 240 square feet in size. So if the specific insulation method used costs $1 per square foot the insulation cost will be $240.
Why to insulate your garage?
The garage is one of the most frequently used places in the home and must be in good condition. Here are some of the reasons why you should insulate your garage:
You can use your garage as a comfortable place to carry out different types of activities and works;
In case of fire, instillation will prevent toxic fumes from getting into the house;
In severe humid seasons, insulation can help prevent rust in your car, tools, or some valuable equipment;
Make your home more energy-efficient, and will reduce electricity bills;
Soundproofing;
Protect your walls, pipes, and other fittings. 
Most essential parts of the garage to insulate
The insulation of the whole garage is an important task, but I think that a list of the most vital parts to insulate will be helpful for you:
Garage door;
Attic;
Garage walls;
Garage floor.
You have two options available for garage door insulation, you can install insulation material on the existing door, or you can replace the door with a new, already insulated door. 
If you choose to insulate the existing door it is very important to determine what type of door your garage uses. For steel doors, you should use foam made for steel frames for steel doors. You should use stiff insulation material for wooden garage doors, and rigid foam boards are perfect for flat garage doors. 
If you manage to provide decent insulation to your attic area you can significantly reduce your heating bills. A variety of insulation materials such as fiberglass, cellulose, and many more can be used for this project. However,  the insulation material would be dependent on how airtight your attic is.
Garage walls are maybe the most important part to insulate in the garage. Proper insulated garage walls can exterminate noise, and provide a pleasant atmosphere without the coldness of a bare wall. When choosing material for garage wall insulation choose a solid material with a higher R-value per inch of thickness. 
Garage floor insulation is very important if your garage serves a multipurpose function. A well-insulated garage would make all the difference when it boils down to comfortability and energy efficiency.  
You can choose to DIY or hire a pro. If you have time and the right skills to insulate and install drywall in your garage, you can DIY.
However, garage finishing is a job best left to professionals. Drywall installation is a two-person job. Further, you may need to get a permit to finish your garage.
Depending on where you live, you need a license to perform home improvement tasks that require a permit.
Hire a pro for error-free work. Without the right skills and tools, you will likely to make mistakes if you DIY.
You can use this FREE tool if you are looking for a reliable and affordable garage finishing service provider.
Homegardenguides.com is a free-to-use tool that connects homeowners to garage finishing service providers.
To use this too:
Enter your zip code at the top of the tool.
Fill in the form to provide more details on the service you require.
You will receive three quotes from professional builders.
Contact the provider who falls within your budget and hire them to insulate and install drywall in your garage.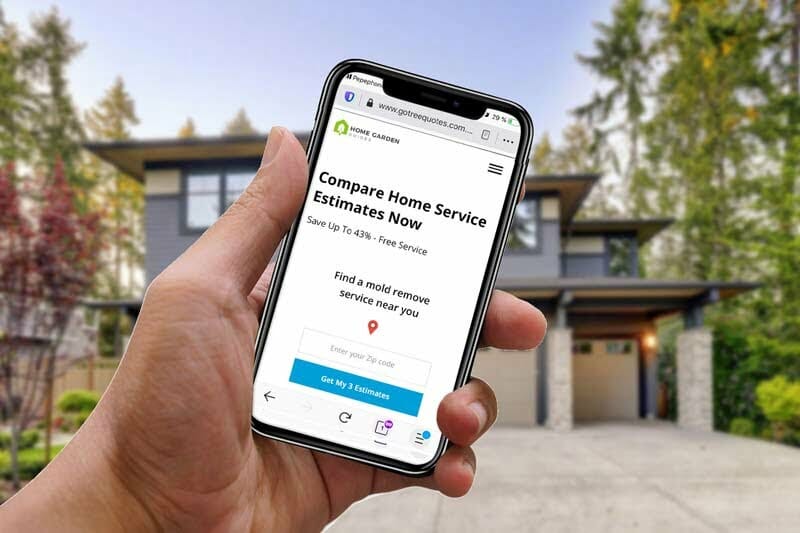 What does R-value mean in insulation?
The R-value of a material indicates its insulation effectiveness. The higher the R-value of a material, the better it enhances energy efficiency in your home.
Materials with a high R-value have a higher resistance to heat transfer. If you live in a cold region, you need insulation materials that prevent heat loss. The higher the R-value, the warmer they will keep your home. Hence, the better insulation they provide.
Spray foam has the highest R-value compared to other often used insulation materials.
Factors to consider before adding insulation and drywall to your garage
Depending on where you live, the building codes will specify the type of drywall needed to finish a garage.
Building codes focus on safety. Therefore, they will recommend that you use a drywall that is fire resistant.
Building inspectors in your region will have to approve the drywall installation before you can use the garage. If you do not follow the building codes, you will have to repeat the job or keep the garage unused.
The weather in your location determines how you will finish your garage. In high-temperature regions, you will have to insulate the doors and walls to keep the garage cool.
In low-temperature areas, insulate the walls and ceiling to keep the garage warm and usable.
The weather also determines the type of drywall you will use. In humid locations, avoid drywall that cannot resist moisture.
Determine earlier whether you will hire a pro or DIY. Most people will destroy many sheets of drywall before they can hang it correctly. To avoid this and save money and time, hire a pro.
Before you hire, make sure you know how much you will pay for the project. Collect at least three quotes from professionals to compare and hire one within your budget.
However, if you have the tools, skills, and time to finish the task by yourself, you can save money by hanging the drywall yourself.
How you will use the finished garage
How you will use the garage once it is finished will determine the type of drywall and insulation materials to use.
Yes! Insulating even an unheated detached garage makes sense because it will improve the conditions inside the garage and provide extra protection for your car and valuable tools, machines, and belongings. 
Heating the garage is worth it because you will eliminate the following problems that are caused by cold:
Your vehicle won't start: Keeping your car in a cold garage can lead to mornings where it just won't start because of the cold.
Dead car batteries: Freezing temperatures can easily kill car batteries and cause damage to other parts eventually.  
Radiant heating systems are considered the most efficient for garage heating. They are installed under a floor or as panels in the walls or ceiling. This system uses infrared radiation to heat the surface itself rather than the air of the room.