Homeowners and contractors often apply plaster to building walls to create smooth surfaces that can be painted. It is a popular procedure for finishing walls and ceilings and is a common form of interior decoration. Plastering costs vary according to the options you choose and the size of the room. Average prices for plastering homes with high walls and elaborate decorations can be around fifty percent above regular rates.
Professionals charge between $4.50 and $14 per square foot to plaster a wall. Plastering a standard 16 X 20 feet living room (320 square feet) costs $1,440 to $4,480, excluding the ceiling. In contrast, the cost to plaster an average-sized bedroom measuring 11x 12 feet (132 square feet) ranges from $594 – $1,848 minus the ceiling. Prices are determined by wall size and type, types of plaster material, equipment required, and work difficulty.
Although homeowners can DIY plaster walls, plastering requires high-level skills and experience. Thus it is imperative to hire a professional. You can search nearby plasterers online for an estimate.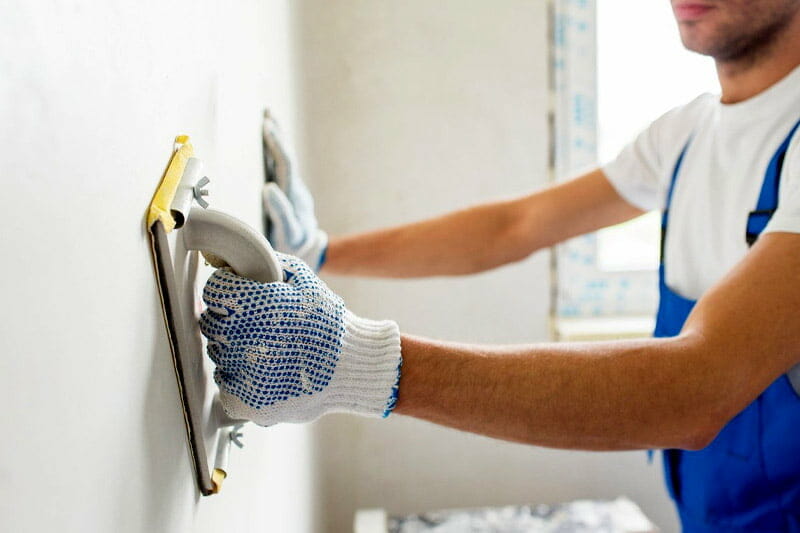 The national average to plaster walls is $4.5 and $14.00 depending on the wall condition, height, access and plaster material. 
Re-plastering a wall costs significantly more than applying fresh plaster due to removal costs of the old plaster and preparation and finishing work involved.
The table below shows plastering costs per wall size.
| Square Feet | Wall Plaster Cost (labor inclusive) |
| --- | --- |
| 50 | $225 - $700 |
| 150 | $675 - $2,100 |
| 250 | $1,125 - $3,500 |
| 350 | $1,575 - $4,900 |
| 450 | $2,025 - $6,300 |
| 550 | $2,475 - $7,700 |
| 750 | $3,375 - $10,500 |
| 900 | $4,050 - $12,600 |
| 1000 | $4,500 - $14,00 |
Cost to plaster by room size
Homeowners should understand that it costs more per square foot to plaster a room or two than plastering an entire house. Also, certain rooms in the house, like kitchens and bathrooms, require more expensive heat-resistance or water-proof plaster types, which may increase the project cost for those rooms over others.
Attics, crawl space, basements, and garages may require different finishes due to the wall types and moisture issues. Also, the job complexity when working in these areas can increase labor costs.
Below is a table showing the cost to plaster each room within a 1,500 square feet home. The prices below are inclusive of labor.
| Room Type | Average Square Feet | Per Square Foot Plaster Cost | Total Cost |
| --- | --- | --- | --- |
| Bedroom | 132 | $4.5 - $14 | $594 - $1,848 |
| Living Room | 280 | $4.5 - $14 | $1,260 - $3,920 |
| Kitchen | 123 | $11 - $20 | $1,353 - $2,460 |
| Dining Room | 117 | $4.5 - $14 | $526 - $1,638 |
| Bathroom | 81 | $11 - $20 | $891 - $1,620 |
| Nursery | 132 | $4.5 - $14 | $594 - $1,848 |
| Utility Room | 47 | $4.5 - $14 | $211.5 - $658 |
| Garage | 459 | $12 - $20 | $5,508 - $9,180 |
The cost to plaster a bedroom measuring 132 square feet ranges between $594 and $1,848, depending on the plaster material used and work complexity. Some bedrooms may have decorative features requiring intricate finishing. Some homeowners using higher quality paint for their bedroom walls may need a higher quality finish, increasing plastering costs.
Living rooms are larger and have more decorative features than bedrooms resulting in higher plastering costs. Applying plaster on 280 square foot living room walls will cost a homeowner $1,260 for standard projects and $3,920 for more expensive materials. High ceilinged living rooms with decorative trims can command a significantly higher price than low ceilinged rooms with standard walls.
Kitchens are generally more expensive to plaster per square foot versus other rooms in a house due to the type of materials required. Professionals recommend heat and water-resistant plaster for kitchens. These are very expensive, and the cost to plaster a 123 square foot kitchen runs between $1,353 and $2,460, which makes it relatively high relative to the size of the area.
Dining rooms in 1,500 square foot homes have smaller dimensions than dining rooms in larger houses. Homeowners can use relatively inexpensive and easy-to-clean plaster for their dining rooms. The average cost of installing plaster on 117 square foot dining room walls ranges from $526 to $1,638.
Contrary to popular opinion, you can install plaster on your bathroom walls. However, be sure to install mold and mildew-resistant plaster to avoid expensive future replacement jobs. The cost to plaster an 81 square foot bathroom is between $891 and $1,620, inclusive of labor costs.
Installing plaster on nursery walls is becoming commonplace because of the high durability of modern plaster materials. However, be sure to use easy-to-clean materials that can be wiped with a cloth or cleaned with soap. The cost to plaster a 132 square foot nursery is from $594 – $1,848.
Utility rooms are smaller than other rooms within the house, and they typically cost less to plaster. The average costs to plaster a 47 square foot utility room range from $211.5 – $658.
Although unfinished garages are typical in most homes, homeowners can gain immense advantages by finishing their home garages in plaster. Installing a plaster finish on a garage can be expensive. A typical two-car 459 square foot garage costs $5,508 to $9,180 depending on the type of plaster material and level of finish.
Cost to skim plaster walls
The skim plaster approach is a quick and inexpensive alternative to the traditional three-coat plaster method. It allows homeowners to give their walls a smooth and uniform finish at a fraction of the original cost. This is done by applying a thin (eighth-inch thick) layer of plaster to a wall surface. It is an excellent way to restore cracked, uneven existing plaster walls and damaged drywall for repainting or texturing.
The average cost to skim coat a wall is $1.32 per square foot, and it ranges from $1.08 – $1.45 per square foot depending on the location, job size, difficulty, and finish options. Prices can go higher if significant repairs to the existing wall are required. Sometimes, professionals may need to apply two skim coat layers to achieve the desired effect.
The table below gives a breakdown of skim coating costs for a 500 square foot wall.
| | Cost Per Square Foot | Total Cost Per 500 Square Foot |
| --- | --- | --- |
| Material Cost | $0.43 - $0.49 | $215 - $245 |
| Labor Cost | $0.65 - 0.96 | $325 - $480 |
| Total Cost | $1.08 - $1.45 | $540 - $725 |
The average material cost to skim coat 500 square feet is $230, while the average labor cost is $402.5.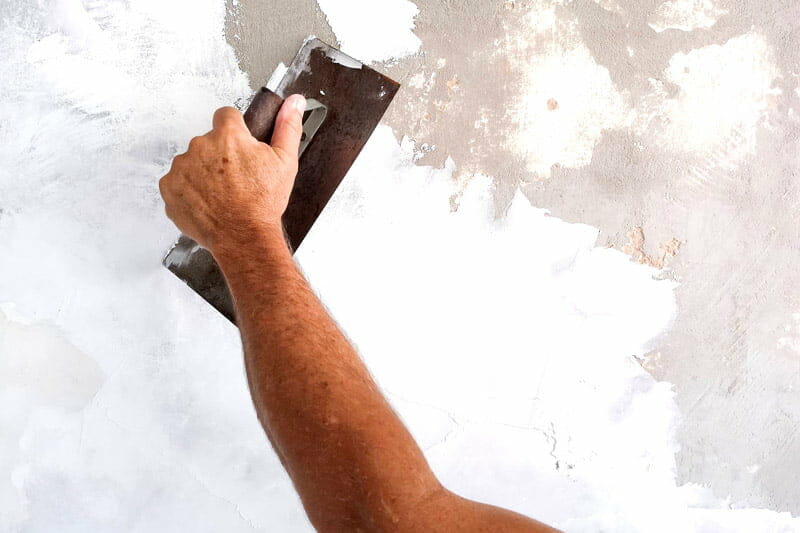 Labor cost to plaster a wall
Hiring a professional for plastering will set you back $3.5 to $10 per square foot, or around $45 to $90 per hour for a standard job depending on the work scope. Projects involving special decorative features, distinctive textures, and unique finishes will add an extra $2 to $5 per square foot to the project cost.
Homeowners with high ceilinged homes should be prepared to pay higher labor rates and rent special equipment like scaffolding.
Factors affecting plastering cost
When determining the cost of plastering your home, several factors can influence how much you pay. These range from labor-related expenses to the cost of plaster type necessary to complete the job successfully. There are a few examples below, which we will examine.
Equipment – The equipment cost plays a big part in how much professionals charge for a plastering job. For example, typical items like trowels, mixing buckets, brushes, e.t.c can be reused for different projects at no extra cost. However, renting scaffolding for a home with high walls or buying special plasterboard types for unusual wall shapes are additional costs that professionals add to the project costs.
Level of prep work required – preparation is a vital part of the plastering process, which typically costs extra. It can involve washing or sanding down wall surfaces before plaster is applied, masking decorative and electrical features like crown molding and wall sockets with tape, moving furniture or covering up items of value with nylon sheets, and repairing holes and cracks in an existing wall. Preparation typically adds about $2 to $4 per square foot to the total project costs.
Scope of work – homeowners who want a room or couple of rooms plastered, may pay out more per square foot than having a job done on the entire house. Professionals will charge you more per square footage if the work is minimal, and homeowners expecting standard prices are often in a rude shock.
Accessibility – areas with limited access like basements, attics, and garages often pose a problem for professionals who typically charge higher prices for working those areas.
Level of finishing required – areas with textured surfaces or rooms with bright lighting which may reveal wall imperfections require a higher finish level than other rooms. Wall finishing is ranked from level 0 – 5, and professionals will charge higher fees to plaster rooms requiring glossy paint finish like formal dining rooms, foyers, and living rooms.
Areas requiring special plaster – certain rooms within the home are prone to higher temperatures and moisture than other areas. Places like kitchens, bathrooms, and basements can experience extreme temperatures or high humidity, necessitating more expensive heat or moisture-resistant plaster.
Job complexity – homes with curved walls and corners require additional skills to plaster, and they present a challenge for professionals during the plastering process. The cost of the special plasterboard allowing contractors to plaster curved walls and corners and the skills required during the process add an extra $500 to $1,500 to the total project costs depending on the difficulty.
Plaster type – there are different types of plaster available for homeowners, and which plaster type you choose determines your project costs. Plaster varies in quality and price, e.g., Veneer plaster, a cheaper plaster type, costs between $7 to $15 per square meter. And the most expensive plaster, Tadelakt, costs between $18 to $20 per square foot.
Pros and Cons of plaster walls
Plaster walls have their pros and cons, just like other wall types. Homeowners with little knowledge about plaster walls are often advised to seek information before proceeding with the procedure. Below are a few benefits and disadvantages of plaster walls.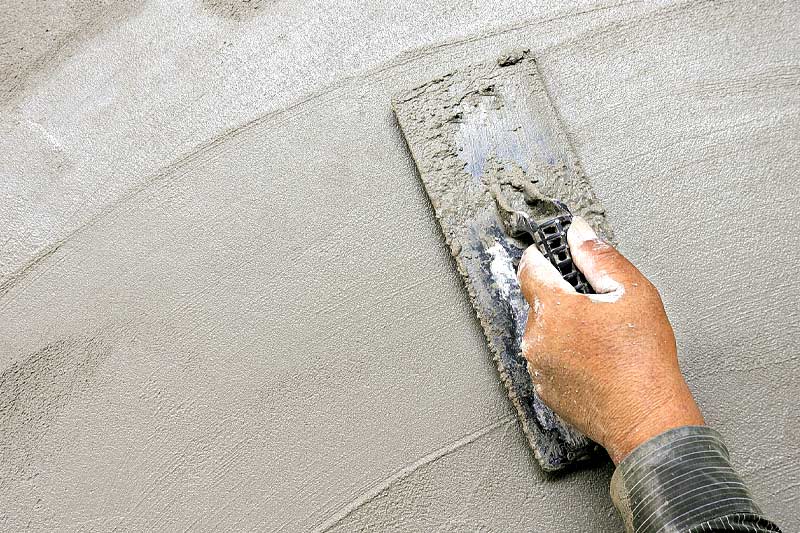 Plaster walls are among the most durable wall types. It forms a stiff and strong wall surface after hardening.
Plaster walls have a longer lifespan than most wall types, e.g., drywall.
Plaster walls are more energy-efficient than most wall types. The thicker plaster walls have a higher R-value than drywall, and they are effective at trapping heat during winter months, significantly reducing your energy bills.
You can clean plaster walls easily.
Plaster walls have excellent sound blocking capabilities.
The high cost of installing plaster is among the highest of all wall types.
Installing a plaster wall requires a professional. DIY plaster installation is generally not encouraged because of the high skills and experience needed to perform the procedure correctly.
Plaster is a porous material, and walls covered with plaster tend to absorb moisture. However, certain plaster types have moisture-resistant capabilities.
Plaster walls can be costly and difficult to repair.