Skim coating a textured ceiling is usually preferred by homeowners who would rather smoothen their ceiling instead of a more costly method of removing the popcorn ceiling.
The entire process of skim coating textured ceilings, also known as popcorn ceilings, can cost over a ballpark average cost of $1 to $1.5 per square foot if you hire a professional plasterer to do it.
The process of skim coating a textured ceiling involves applying a layer of plaster directly onto the surface, instead of removing it first. This method drastically cuts down on the removal expenses that other methods do.
On average, skim coating the ceiling of a room can range between $300 to $450, which translates to a range of $1 to $1.50 per square foot. Usually, a skim coat is followed by painting, which could incur the final cost of the project.
| Description | Low Cost | High Cost |
| --- | --- | --- |
| Average Cost | $300 | $450 |
| Cost Per square Foot | $1 | $1.50 |
Other Alternatives to Covering a Textured Ceiling
Most homeowners would stay away from the option of removing textured surfaces because of the costs, including the complexity of the project since it deals with tricky chemicals.
If you prefer to have an alternative to the removal of textured surfaces, aside from skim coating, you can expect to spend around $300 to $2,500 in alternative methods.
Installing a Drywall Over Popcorn Ceiling
Composed of paper and gypsum, installing drywall is an ideal option if you want your ceiling to be mold and moisture resistant
Drywalls can also be applied with special coating if you want for specific purposes
Drywall installations are relatively easy compared to other materials
An average cost of:
$1.50 to $3.50 per square foot
$450 to $1,050 for a 300-square foot area
Beadboard Ceiling over a Textured Ceiling
A beadboard is a type of manufactured wood that is less costly compared to hardwood
Beadboard can offer a modern and stylish look as it comes in various designs and finishes
An average cost of:
$1000 to $1500
Other costs can be added if it requires trimming to complete the installation
Wood Plank installation over Popcorn Ceiling
Wood can offer an upscaled and classic look for your ceiling
You can choose over several wood types and finishes
An average cost of:
$1,000 to $2,500
The price can vary on the type of wood and the considerations over the installation (ceiling height, pitched ceilings, etc.)
These alternatives are best for when you would rather not have the mess and inconvenience of removals and want a smooth and cleaner finish, not to mention the cost of removing textured ceilings
Cost Factors in Skim Coating a Ceiling
As mentioned, several factors can affect the total cost of skim coating. This includes, but is not limited to:
The size of the room: Typically, skim coating the ceiling of a large room will cost more than a smaller room. However, if you skim coat an entire house, the overall per-square-foot-cost could be lower.
The initial condition of the surface: If the surface is in good condition, it will be cheaper to skim coat than a damaged or stained surface.
The location of your home: homeowners living in urban areas where the cost of living is high tend to pay more for home remodeling projects than those living in rural areas.
Additional labor costs: Some additional labor costs could be incurred if your hired contractor needs to work at a specific height if your home has a high ceiling height, this is because it is generally more difficult to skim coat at height.
Old house: If you recently moved into an old house or are currently living in one, it might need lime plastering. This could add more to your total cost since lime plastering is time-consuming and is sometimes necessary before a skim coat is applied.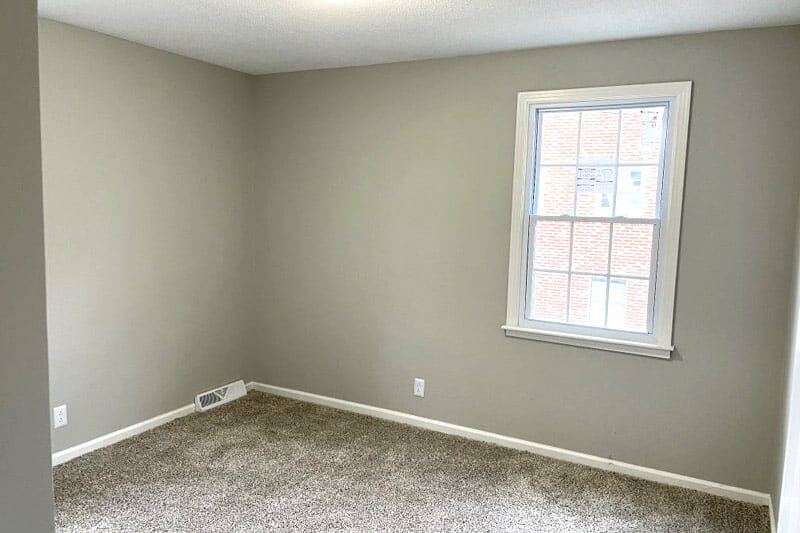 Skim coating is a labor-intensive and time-consuming process that needs a professional's touch to ensure quality work. Although homeowners can do it on their own, it can easily become messy and disastrous.
Hired plasterers or contractors, in calculating the labor cost, would take into account:
The procurement of the materials
The preparatory work
The application of the joint compound
The specific finish that you want
The clean-up work
Usually, if your walls have imperfections or beg for minor repairs, the hired contractor will fix them first before applying the skim coat. They will also be the ones to sand and fix uneven surfaces.
Labor costs are usually billed by the hour, ranging from $50 to $100 per hour. However, depending on the factors mentioned, it can still vary.
Basic Labor
Prepping the material, mixing of compounds, sanding initial imperfections on walls, professional application of a skim coat, etc.
An average cost of $287 to $348
DIY vs Hiring a Professional Contractor
If you want to rest assured to have a skim coat that is done with expertise, sourcing out to do the labor can be the smarter choice. Doing it on your own can become more difficult, especially when your home has high ceiling heights.
Hiring a contractor with the necessary tools and experience can assure you that it will be done professionally to achieve quality results. This consequently saves you money from buying the tools that you will less likely need after the skim coating.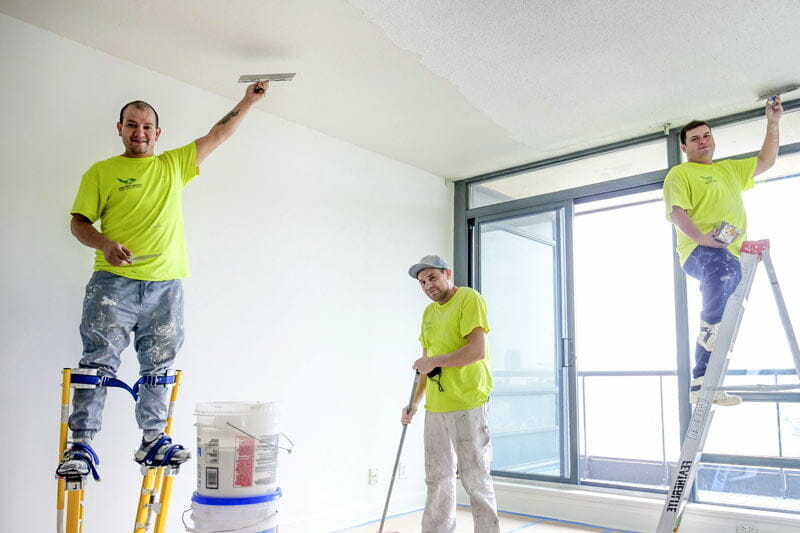 How to Prepare Your House for a Skim Coat?
Here are some steps to guide you as you prepare your home for skim coating.
You should first move and clear out furniture in the space to allow a conducive space for the contractors to work. This would also come necessary for you if you want to avoid making a mess of your items.
If you have wall and ceiling items such as frames, smoke alarms, ceiling fans, and others, you should make sure that they are covered with plastic. The space directly before the working area should also be covered.
If the ceiling has any wiring involved, you should also make sure that they are secure and turned off. After which, they should be covered with tapes and plastic to keep them safe from mess and spillage.
If you are hiring contractors to skim coat your ceiling, they will most likely do all of these services for you. If not, you can ask them, and they should be all right to do it to make sure that there is not much clean-up to do.