Drywall is available in different sizes. You can choose the best size to fit the task at hand.
The most common size of drywall is 4ft by 8 ft, but you are are able to by them half the size at 2ft x 4ft for smaller jobs. ½ inch thickness sheets are also available and used for interior walls and ceilings.
You can buy drywall in different sizes and thicknesses. You can use thicker boards for busy parts or for soundproofing, or thinner drywall normally for ceilings.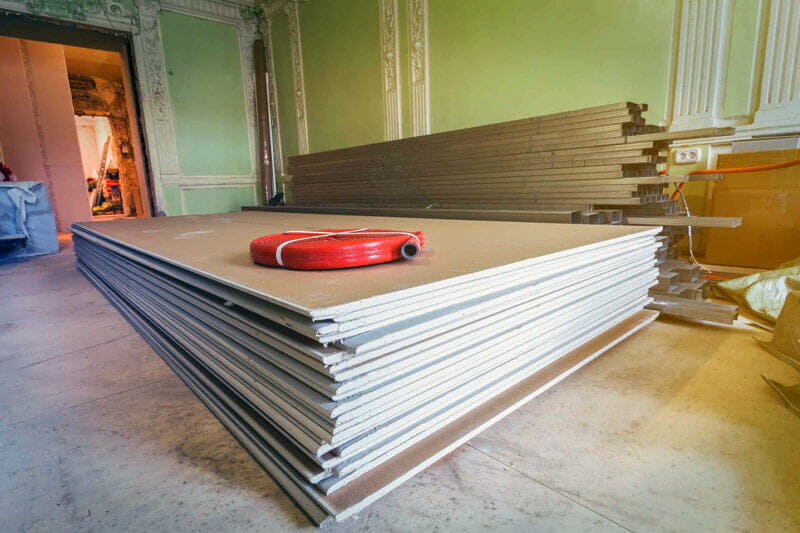 4 Foot By 8 Foot Drywall Sheet
The 4 foot wide by 8ft long drywall sheet is the most common sheet you can buy. It comes in pairs.
Half sheets of this board are popular for DIY projects. You can carry and install them by yourself easily.
4 Foot By 12 Drywall Sheet
The 4ft by 12ft drywall sheet is longer than the 8ft sheet. It is suitable for tall and long walls and ceilings. Using it ensures that you have fewer joints on your walls or ceilings.
You can also purchase a 16ft long sheet.
2 Foot By 4 Foot Drywall Sheet
If you have a small drywall job, the 2 foot by 4-foot drywall sheet is the best to use. You can buy them at a local home improvement center.
½ inch drywall sheets are the most common drywall panels you can buy. The ½ inch drywall is used for interior walls and ceilings. They are light, easy to carry, and work on DIY projects.
If building codes in your area require that you install fire-resistant drywall, the ⅝ inch drywall is the drywall panel to use. You can texture this drywall panel to make it more attractive.
It is thinner than ordinary drywall sheets. You can use it for drywall repairs and installation on slightly curved surfaces.
Why Use Lighter Drywall Half Sheets
They are lighter and easy to carry
It makes DIY projects easier
Durable
Harder to damage
Easier to fix when damaged
Meets all international building codes
How To Cut And Hang Drywall
Before installing drywall, you need to measure and cut it to fit the ceiling or wall to install.
Here is how to go about cutting drywall appropriately.
Create space. Make sure you have more space than the size of the drywall panel.
Lay your drywall panel on the space created
Measure the drywall and mark the point at which you want to cut the drywall. Mark with a pencil along the length you want to cut.
Cut the drywall paper.
Break the drywall along the line you cut.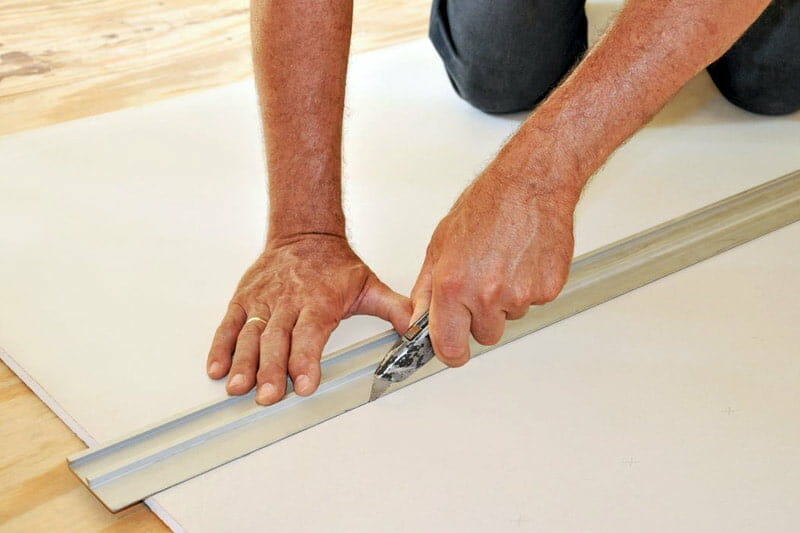 You will need the following tools to properly hang drywall: utility knife, taping knife, tape measure, T-square, ladder, safety glasses, hammer, level, screwdriver, level, and other tools.
You need the following materials: drywall, drywall nails, and screws fit for the thickness of the drywall you have.
Measure and cut the drywall to fit the installation space. Then, smooth the edges of the drywall for easier installation.
Check that the wall studs are flat and properly aligned.
Fix your drywall screws or nails into the wall studs. They will hold your drywall onto the ceiling or wall you are installing. Do not drive them too far into the ceiling frame.
With help, lift the drywall into the ceiling and align it to the screws or nails. Fasten the drywall in place.
Start your drywall installation on the ceiling when you have to install it also on the walls.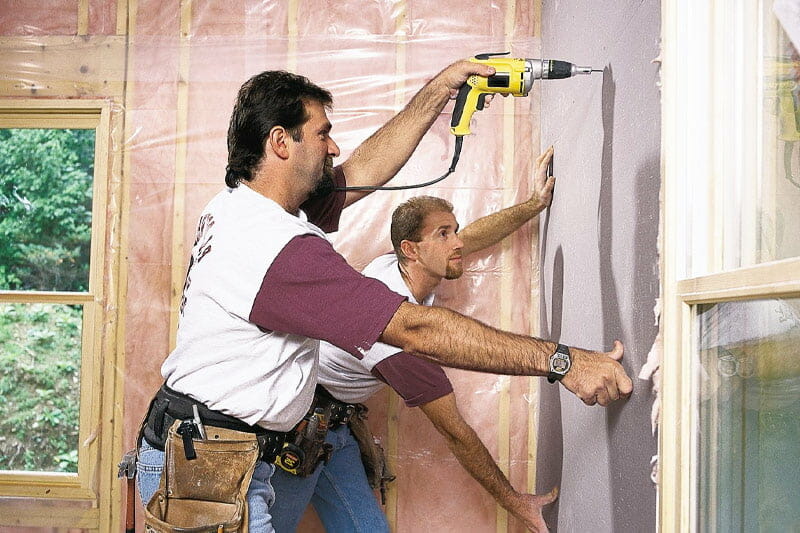 Why Hire A Pro To Install Drywall
Perfect results
You don't have to purchase or hire out tools.
Guaranteed work
Fewer errors
Save time and energy.
Have more experience, knowledge, and skills.
Safety
Homegardenguides.com is a free tool that connects you to professional drywall installers. In a few easy steps, you can hire a professional drywall installer.
Enter your zip code
Fill the form
Submit
Receive an email with three or four quotes and advice from professional installers.
Hire one to install the drywall in your home.
For a 4ft by 8ft panel of drywall, you will need 28 screws. For a 4ft by 12ft panel of drywall, you will use 32 screws. How many screws you need depends on the spacing on the drywall panels. When installing drywall, the screws are 16 inches apart. When fastening drywall on the ceiling board, use four screws at the top of the sheet.
Vertical hanging is the most common method to hang the drywall. Hang drywall vertically when working on commercial walls.
In residential houses with walls up to 9ft in height, you can hang drywall horizontally. Horizontal hanging reduces the number of seams on the drywall, hides uneven studs, and makes work lighter.
You can also hang drywall perpendicular to the joists. It enhances the structural strength of the drywall and hides seams.
To effectively work with drywall, cut it for a perfect fit on the ceiling boards and walls. You can use several tools to cut drywall. A utility knife, drywall saw, reciprocating saw, and an oscillating multi-tool are some of the items you can use to cut drywall.
Make sure to follow all the steps above when cutting your drywall. Errors when cutting drywall may result in many wasted drywall panels.