Foam board insulation is a great alternative to the most common insulation material, the fiberglass batt insulation. Foam board insulation has a higher R-Value per inch of thickness than fiberglass, and it is moisture resistant and quite easy to work with.
Because of its resistance to moisture, foam board insulation is an ideal choice for basement walls. The foam board insulation can be used throughout the home, but because it is more expensive than traditional batt insulation use it only when moisture is an issue, like in a basement.
Let's insulate…
What is foam board insulation? Foamboard, or rigid foam, insulation is a great alternative to fiberglass insulation. Even can be used everywhere in your home, foam board as the insulation material is mostly used in the basements.
One of the methods used to install this type of insulation is to continuously run 4 x 8-foot sheets of foam across the basement walls between studs.
Types of Foam Board Insulation
There are three types of foam board insulation that you should know about. They are presented below:
Expanded polystyrene (EPS)
Next time you take a coffee to go, take a look at your disposable coffee cup, or when your package with fragile items arrives the material that protects them is expanded polystyrene.
The R-value of 4 per inch of thickness and the friendly budget price make this type the most commonly chosen for basement and under the roofing insulation projects.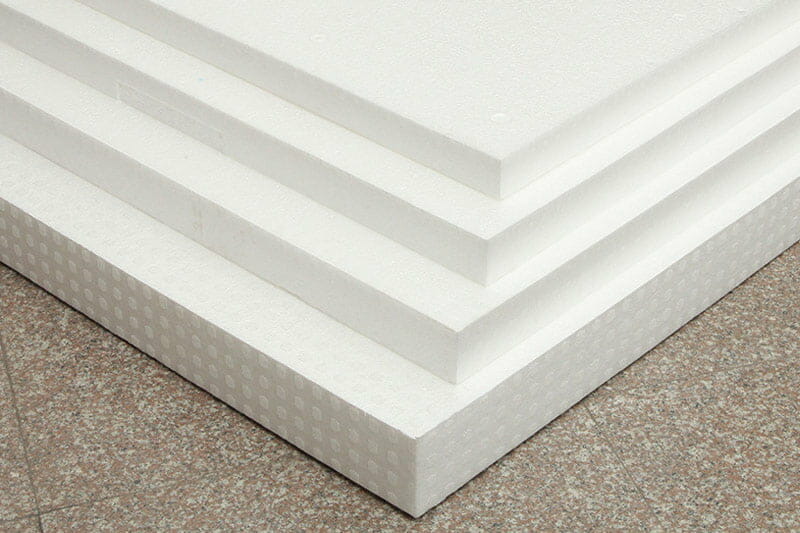 This type of foam board insulation can be found in many different thicknesses and comes in pink or blue panels. Its R-value is 5 per inch of thickness. Extruded polystyrene foam board insulation is available with straight or tongue-and-groove edges to help limit air movement.
Because it is available in all different sizes and configurations, it can accommodate lots of different applications. The most common usage of extruded polystyrene foam board is for foundation insulation.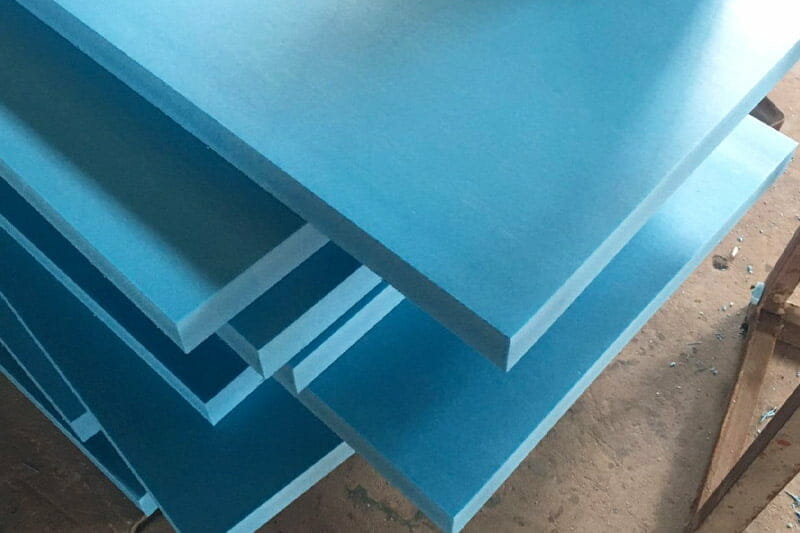 Polyiso (Polyisocyanurate)
I will start with the densest and most expensive type of foam board insulation, polyiso. Polyiso provides an R-value of 6 per inch of thickness and it comes foil-faced which provides a reflection of the radiant heat.
Polyiso is used underneath the siding, over house sheathing, or in attic spaces where its reflective properties are very effective.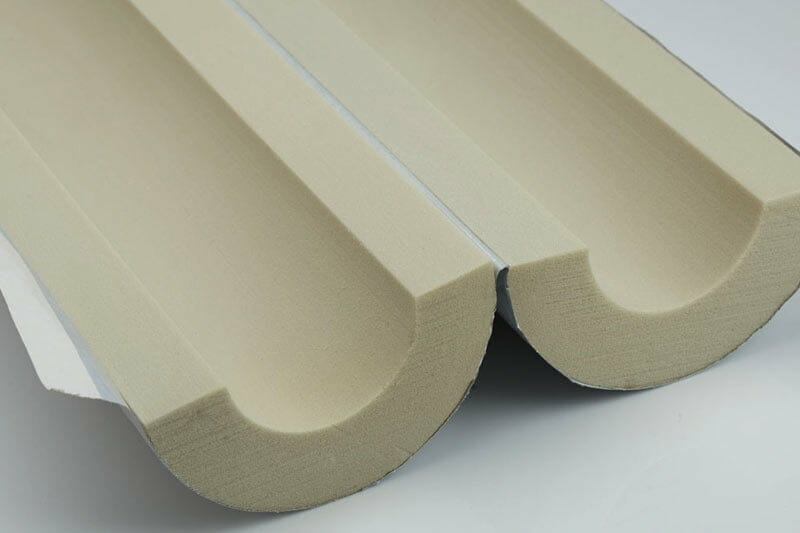 No matter what type of foam board insulation you choose for your basement walls insulation, you must know that they must be covered with drywall or another code-approved fire barrier.
Interior VS Exterior Basement Insulation
There is a chance if you insulate your basement for the first time to encounter this dilemma. I will try to make it easier for you.
My research and talks with the homeowners and contractors made me conclude that insulating the interior is usually a better option, and here is why:
If you insulate the exterior of your basement there is a risk of damaging the foam board during backfilling, and at the same time it is difficult to protect above ground. There are numerous insulation systems for your exterior other than foam board.
Interior insulation sometimes is the only option, especially with retrofits, and it is easier to install and usually results in a better overall job.
Exterior foam insulation is an easy obstacle for termites and carpenter ants.
If you live in a termite-prone area my recommendation for you is to leave an inspection gap no matter if it is interior or exterior foam.
Foam Board Insulation Essentials
The foam board insulation system excels in its purpose in below-grade areas such as basements. Fiberglass insulation is not recommended for such areas as they are prone to moisture and fiberglass soaks up moisture.
Maybe you can make an exception if you are insulating a heated basement because you are expecting that the interior walls will stay dry due to the heating, but not with the unheated below-grade space.
Foam board insulation sheets come as 4-foot by 8-foot panels for fast end effective coverage of the walls. Also, smaller and more manageable 2-foot by 8-foot and 4-foot by 4-foot can be specially ordered, as well.
Foam Board Water Resistance
Foam board has a reputation for being waterproof and it is far better at mitigating mold than fiberglass insulation. Unfortunately, mold and mildew can still grow on the insulation surface but the good news is that infestation can not penetrate the foam board.
How To Install Foam Board Insulation?
You can install foam board insulation in just three steps:
First, place the foam board directly against the concrete or blocks and secure it with adhesive or concrete fasteners. Always use an adhesive formulated for use with foam boards.
Proceed with the installation by sealing the foam boards together with canned foam or high-quality building tape. Also, seal the foam at the top and bottom seams with a small bead of canned foam.
If you are planning to finish the basement, you can use fewer fasteners and help hold the insulation in place with furring strips nailed through the foam or 2×4 studs, which provide nailing for the drywall and space for wiring.
Whatever approach you take, do not use a vapor barrier anywhere in the wall as it will do more harm than good, potentially trapping moisture and promoting mold and mildew growth.
HomeGardenGuides.com is a free service that quickly matches you with top-voted local Drywall Insulation Experts.
You can get 3 estimates fast by real certified experts in your area in just 2 minutes.
Scroll to the top of the page and enter your Zip code.
Answer questions about your drywall insulation job.
Your drywall insulation details are forwarded to three local experts. They will send you a price estimate for the job and some friendly advice.
IMPORTANT: There is no obligation to hire. This is a free tool and service to be used at your pleasure.
Pros and Cons of Foam Board Insulation
| Pros | Cons |
| --- | --- |
| Maintenance and replacement free | Allow air leakage if not correctly fixed |
| Support interior air barrier | Does not prevent airflow when boards are not correctly fixed. |
| Resists water flow and limits moisture build-up | |
How To Insulate Your Basement Walls
We already know that the basement walls insulation is not good just for the basement itself but for the whole house. Before you invest money in foam board insulation I want to let you know some essential things:
The first thing you have to do before getting the work done is to ensure no water leakage in your basement. If there is water leakage in your basement area that will be a total waste of money, time, and energy for you. The basement must be 100% dry before starting and you must be sure that there is not even a potential for water leaking in the future, otherwise don't start.
Adopt the Foam Board Insulation
The interior side of the walls is the most important to fix properly while insulating your basement.
Ensure your foam is supported by a layer of gypsum drywall because this would go a long way in protecting the concrete. Also, it is recommended to install fire blocking at the top of your wall.
If you have stone walls in your basement don't use foam board patterns for insulation. The best type fit for a stone wall is closed-cell spray polyurethane.
Ensure the insulation of the interior part of your basement wall permits vapor. Your concrete wall can stay for decades without any fault or damage on it.
One of the biggest mistakes you can do when insulating the interior basement walls is adding a polyethylene material vapor barrier. No form of poly goes well with the concrete wall and foam board insulation. The polyethylene would be trapping moisture and this would in turn cause rot or mold in the basement.