A cable railing system will vary in price depending on the posts and cable used. The most common posts are wood, aluminum and stainless steel.
Cable deck railing will cost you about $55 per linear foot on average. For a standard 400 sq ft. deck with 60 linear feet of decking edge, you can expect to pay $3,300 to $4,500. 
Below we have some more in-depth cost info on each style and style of cable deck railing.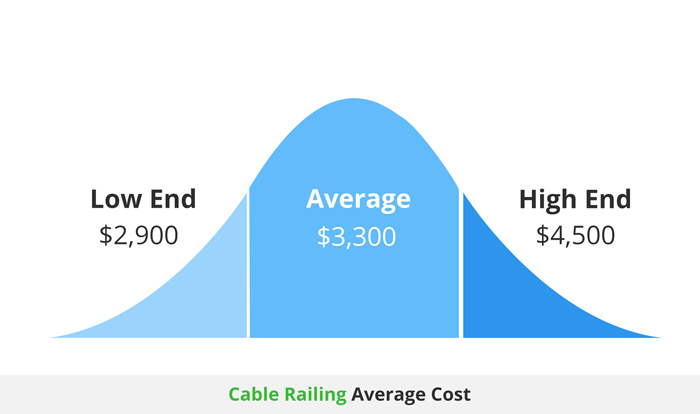 The cable railing system will cost you about $55 per linear foot. At this price, the installation process participates with around $23 per linear foot while the material costs are a bigger part of the price of around $32 per linear foot.
The average cost for materials and installation of a basic cable railing system based on 60 linear feet of railing for a 400 square foot deck is $3,300 – $4,500.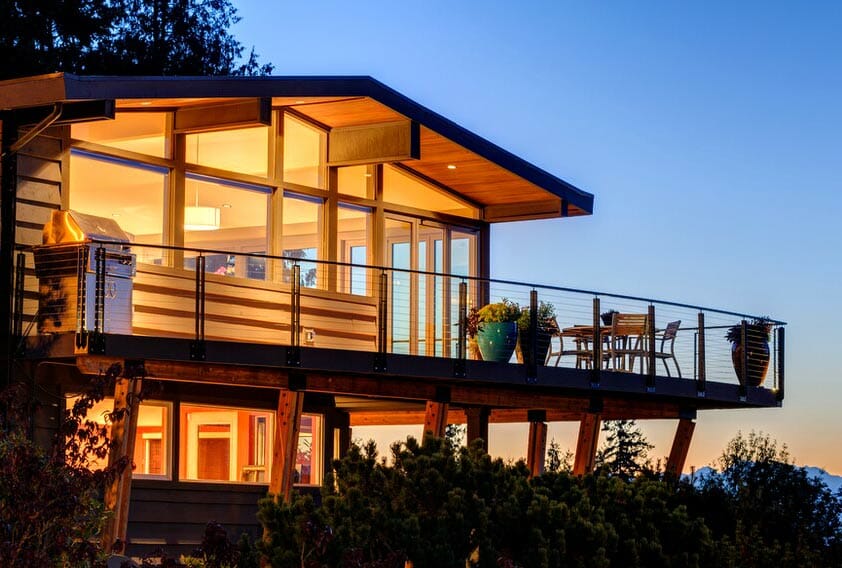 Average cost per linear foot
| Component | Cost (per linear foot) |
| --- | --- |
| Cables | $1.00 - $2.20 |
| Posts | $12.5 - $55.00 |
| Top Rails | $12.5 - $25.00 |
| Labor | $25.00 - $35.00 |
| Total Cost | $55 + |
Steel cables deliver a modern aesthetic to decks and balconies. Always hire a certified contractor and experienced professional proper installation according to code and safety regulations.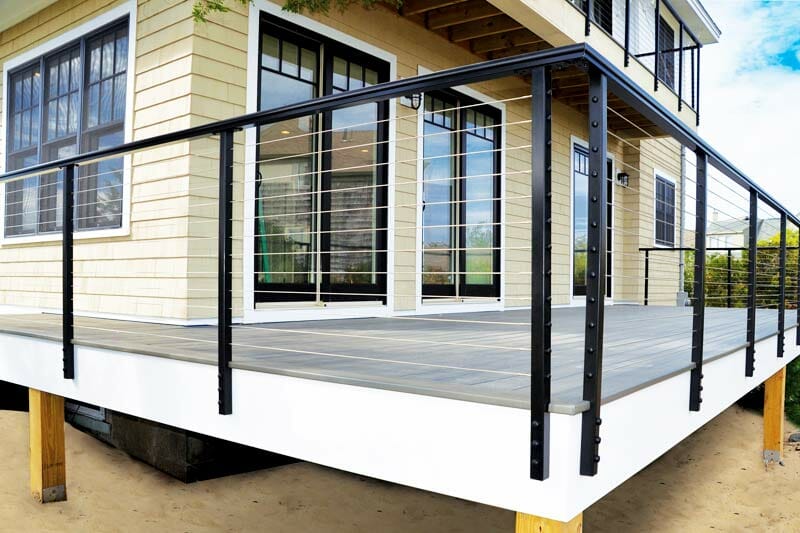 Cable railings cost by type
| Type | Price per linear foot |
| --- | --- |
| Galvanized carbon steel | $0.35 - $0.45 |
| Stainless steel wire | $0.70 - $1.70 |
Galvanized carbon steel comes with an average price of $0.35 – $0.45 per foot.
This cheap option, cable coated in zinc, is a favorite among homeowners since it is a budget-friendly choice. But the bad news is that the upfront savings are less worthwhile over time since the cable will corrode over time and as the wire breaks down it may lose tension. Because of this frequent railing repairs may be needed.
The average cost of stainless steel wire is about $0.70 – $1.70 per foot.
The popularity of the stainless steel wire is due to its rust resistance, durability, and resistance to cracking and fading. It is also very attractive and shiny, which gives the railing an ornamental quality.
Stainless steel wire comes in different types for various applications.
Post and handrail cost comparison
Cables are held in place within the framework thanks to posts and handrails. The more of these components in a railing design, the more expensive the whole project will be.
Many factors such as height, position, and holes for cable, affect the cost of the posts.
| Material | Price Range |
| --- | --- |
| Squared stainless steel posts | $140 - $210 per post |
| Rounded stainless steel posts | $110 - $200 per post |
| Aluminum posts | $75 - $80 per post |
| Wood posts | $80 - $150 per post |
| Aluminum or wood handrails | $10 per foot |
Squared stainless steel handrails and posts
Handrails cost $20 per foot, while $140 – $210 is the price for squared stainless steel posts. Squared posts are more expensive than rounded because they require more steel.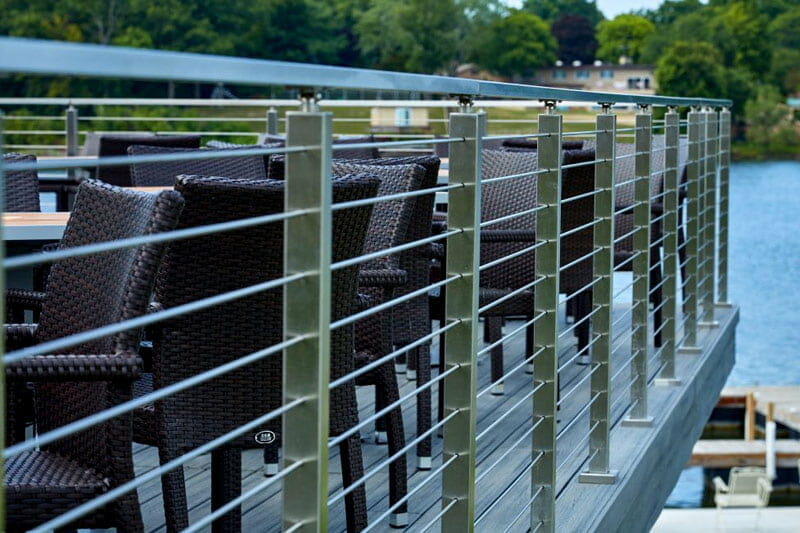 Rounded steel handrails and posts
This is a popular type among homeowners who want stainless steel within the budget. The typical price for rounded stainless steel posts is $110 to $200 per item, while the handrails are around $20 per foot. If you are seeking a decorative look, then rounded versions are your choice.
Aluminum parts come in square, rectangular, and custom shapes so you can easily satisfy your needs and it is less expensive and require less maintenance than stainless steel. The typical price for aluminum posts is $70 – $80 per part, while the handrails cost around $10 per foot.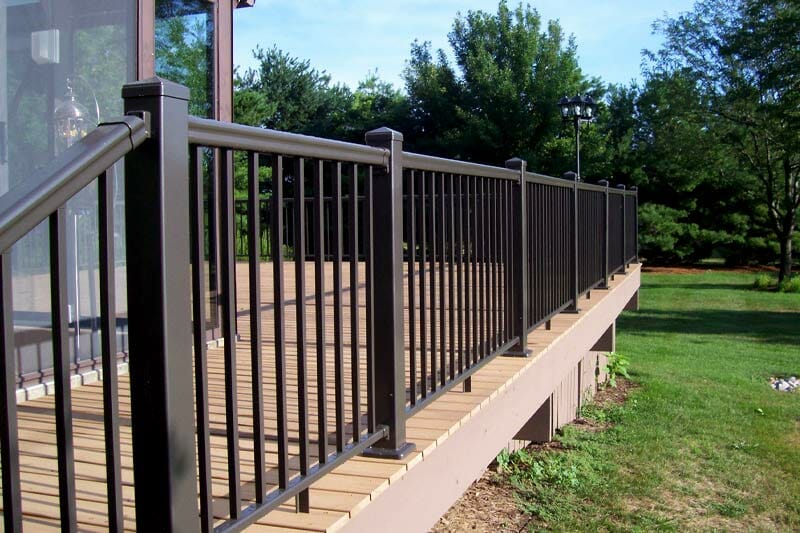 The type and the thickness of the part determine the price of the wooden posts, but typically it ranges from $80 to $150 per wood post and handrails cost around $10 per foot. Cedar, mahogany and some hardwoods are the most common types of wood used for making these frames.
Homeowners can choose between two shapes, square or rectangular. This option is not the best for those who don't want to stain or refinish their railing on a regular basis especially if it is installed outdoor.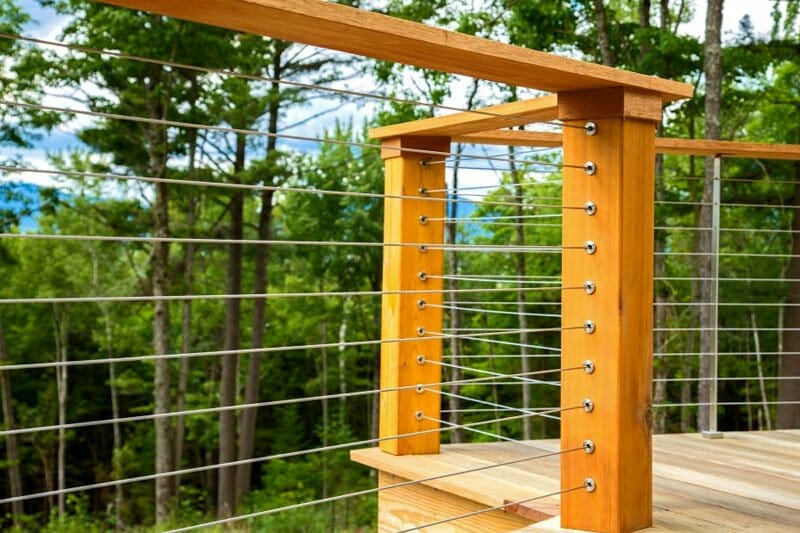 Homeowners pay between $25 to $35 per post and handrails cost about $10 – $20 per foot. Vinyl and composite materials are popular because they are easy to maintain and highly durable. Both materials should last for years without needing replacement.
Composite materials are meant to look like wood. This gives them the aesthetic appeal of wood without the maintenance of it.
Vinyl is shaped or sculpted to mimic wood's texture. However, most paint vinyl in a solid color. This gives it a more manufactured look than composite.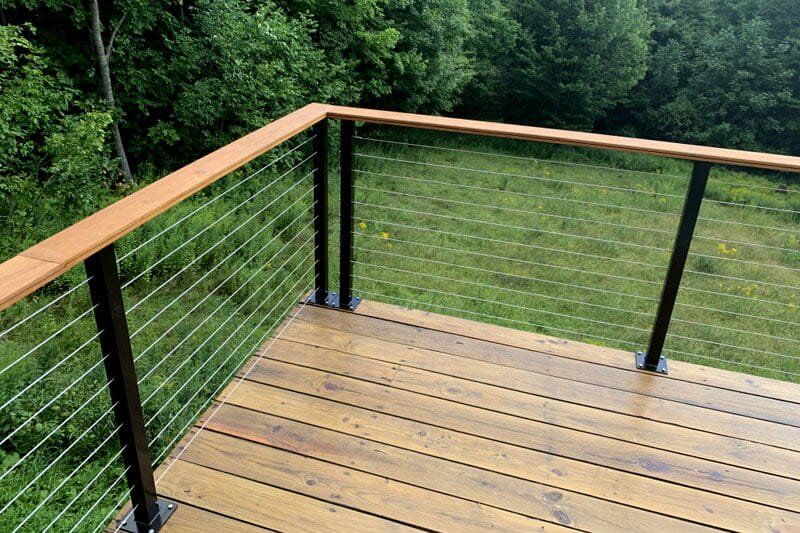 HomeGardenGuides.com is a free service that quickly matches you with top-voted local deck railing specialists.
You can get 3 estimates fast by real certified experts in your area in just 2 minutes.
Scroll to the top of the page and enter your Zip code.
Answer questions about your railing project
Your deck railing job details are forwarded to three local experts. They will send you a price estimate for the job and some friendly advice.
IMPORTANT: There is no obligation to hire. This is a free tool and service to be used at your pleasure.
Deck railing cost comparison
| Material | Cost per linear foot |
| --- | --- |
| Wood railing | $40 - $50 |
| Vinyl/PVC railing | $20 - $40 |
| Aluminum railing | $40 - $70 |
| Composite railing | $15 - $30 |
| Trex | $20 - $35 |
| Glass railing | $100 - $600 |
| Wrought iron | $50 - $120 |
| Stainless steel | $30 - $80 |
| Poly or plastic | $25 - $70 |
Cost to install cable railing
Most contractors charge up to $110 per hour for cable railing installation. If you go around and compare bids may be able to get a better price, but remember that the lowest price is not always the best.
Check references and contractor reputation before you make a final decision. The best option is to meet with a contractor in person since they all offer a free consultation and try to get the best price and it will be easier for you to decide who is the best for your project.
You can reduce the project cost by a third or one-half if you do the installation by yourself. If you do not have the necessary tools for the task, buying them will add hundreds of dollars to the final cost of the project. Also, corrections caused by mistakes during the installation process will cost you more money or even hire a professional to get the job done. Sometimes a repair is more expensive than hiring a professional company from the start.
The U.S. building code requires support posts for the rail structure to be no further apart than 6 feet on a deck with 4×4' deck rail posts and no more than 8 feet apart for decks with 6×6' deck rail posts. The post should be no further apart than 5.5 feet on stairs.