An aluminum deck is a cost-effective way to build an appealing deck for your home. How much you pay for your aluminum deck railing depends on the size of your house, the cost of materials, and labor.
Aluminum deck railing costs $48 to $95 per linear foot to install. On average, you can expect to pay $80 per linear foot for both materials and labor to install an aluminum deck railing in your home.
You can use a range of materials for your deck railing. Factors such as cost, visual appeal, size, and location of your home will dictate what materials you will use.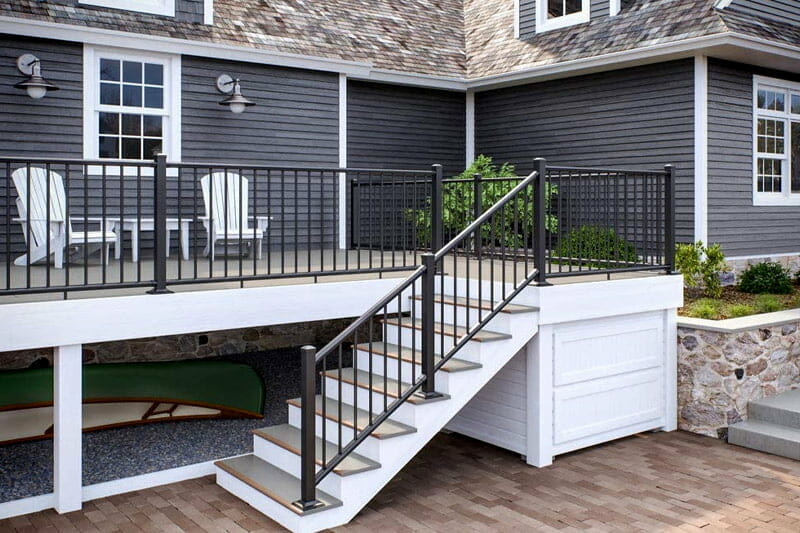 Quality Of The Aluminum Railings
The cost of aluminum deck railings depends on the quality of the railings you purchase. High-quality railings are strong and thick. They will cost more than poor-quality railings.
The quality of the railings you buy will determine the durability and appeal of the railings once you install them on your home.
Depending on where you live, the standard height of deck railings is between 36 and 42 inches. The longer the railings you need or purchase, the more you will pay.
The aluminum deck railings come with decorative caps. The cost of your aluminum deck railings rises or falls depending on the quality and style of the decorative caps on the railings.
The style and design of the aluminum railings you choose will determine how much you pay for them. If you order custom-made deck railings with special colors, you will pay more. You will pay less by purchasing easily available and common deck railings.
A rectangular deck is the common shape of decks. You can affordably pay for installing and purchasing deck railings for a rectangular deck. If your deck has a different shape from the ordinary, you will spend more time and money installing the deck railings.
You will save on labor installation costs when you DIY your deck railing installation. Hiring a pro to advise, purchase, and install aluminum deck railings will increase how much you pay for your deck railings.
Cost Of Aluminum Deck Railing V Other Materials
| Material | Cost/linear foot |
| --- | --- |
| Wood | $40-50 |
| Composite | $50 |
| Cable Deck Railing | $90 |
| Stainless Steel | $80 |
| Wrought iron | $130 |
| Plastic | $70 |
| Glass | $150-850 |
Wood deck railing costs range from $40 to $50. This cost includes both materials and labor. There are many types of wood railings you can choose from. How much you pay is determined by the type of wood you choose for your deck railings.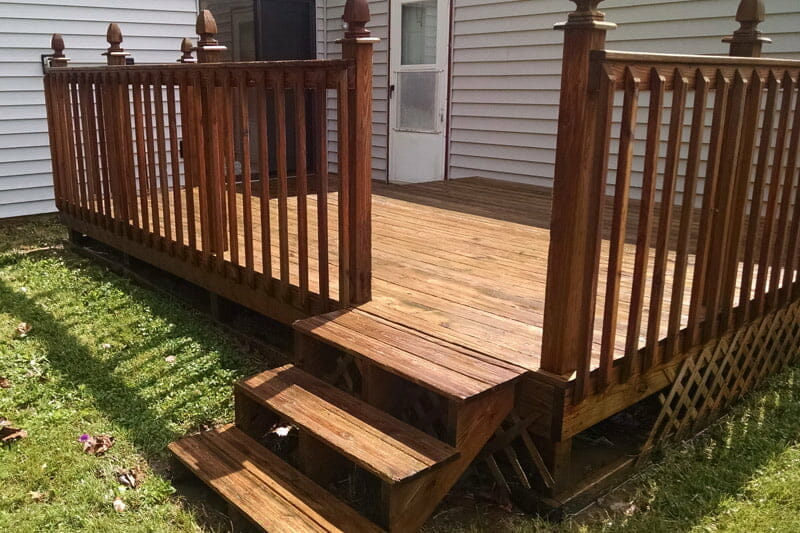 Composite deck railing is a favorite option for many. You will pay $50 per linear foot to install composite deck railing on your deck.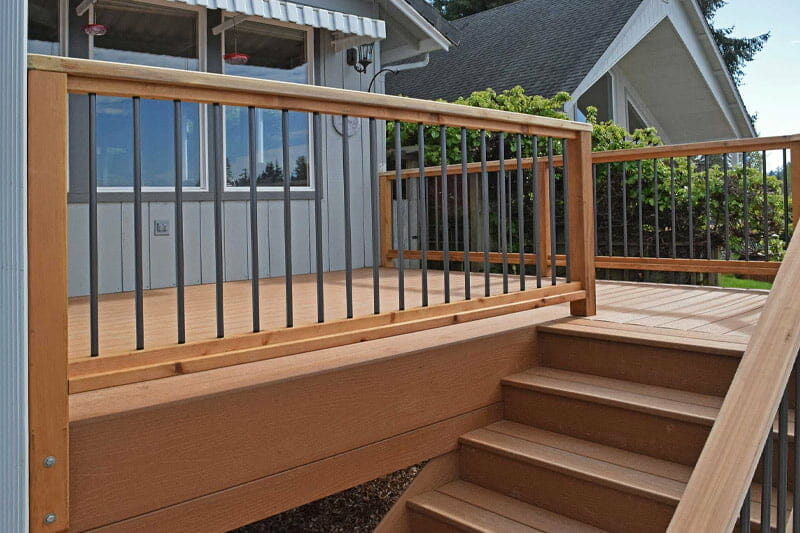 If you choose to install a cable deck railing, you will pay $90 per linear foot.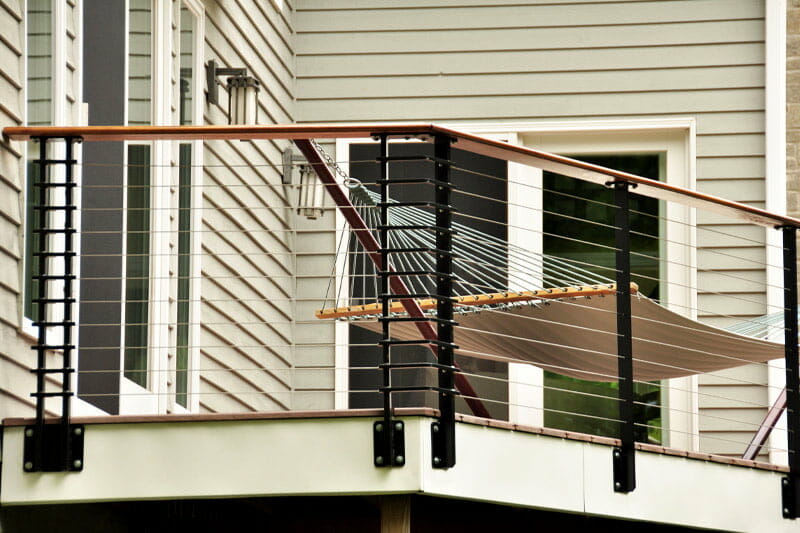 Stainless Steel Deck Railing
Stainless steel deck railing is a proper alternative to aluminum deck railing. You will pay $80 per linear foot to install the stainless steel deck railing. A similar amount to the aluminum railing. Stainless steel is as durable and as strong as an aluminum deck railing.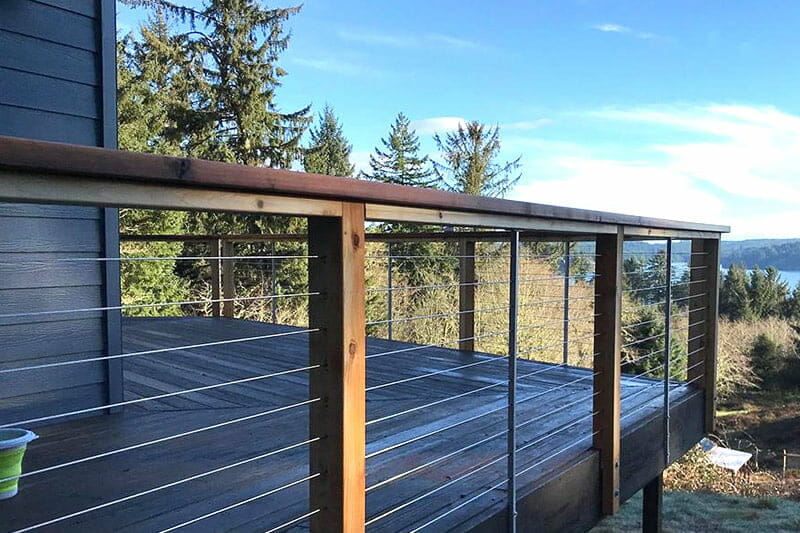 Wrought Iron Steel Deck Railing
Wrought iron is an alloy of steel. It makes strong deck railings that similarly don't corrode. They are also visually appealing and durable. It costs $130 per linear foot to install wrought iron deck railings for both materials and labor.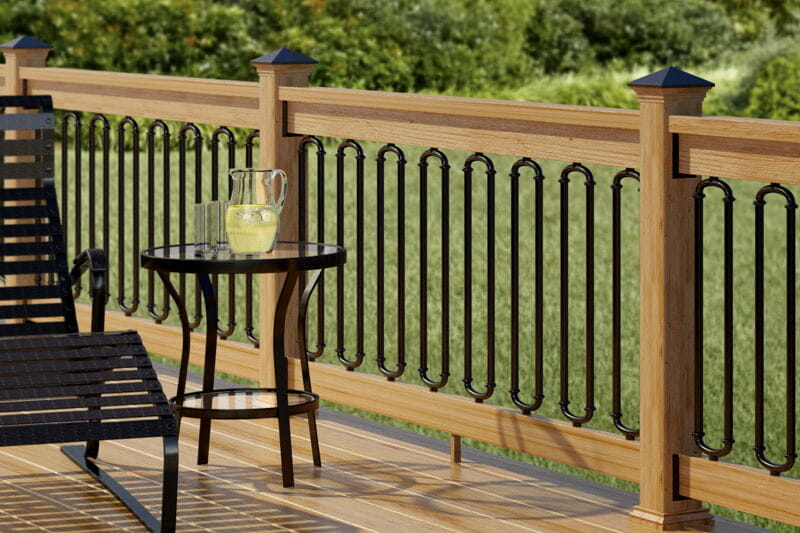 You will pay $70 per linear foot to install polyethylene deck railings. The plastic deck railing is strong and durable. It may fade over time due to exposure to the sun's UV rays. It is a little to no maintenance deck railing.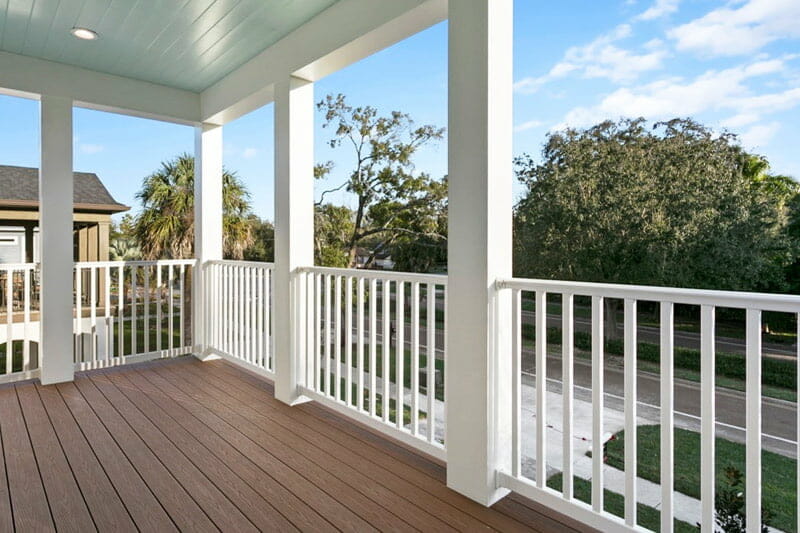 The glass deck railing is beautiful and elegant. It enhances the visual appeal of your home and enhances its value. It costs $150 to $850 to install a glass deck railing. How much you pay depends on the size and shape of your deck.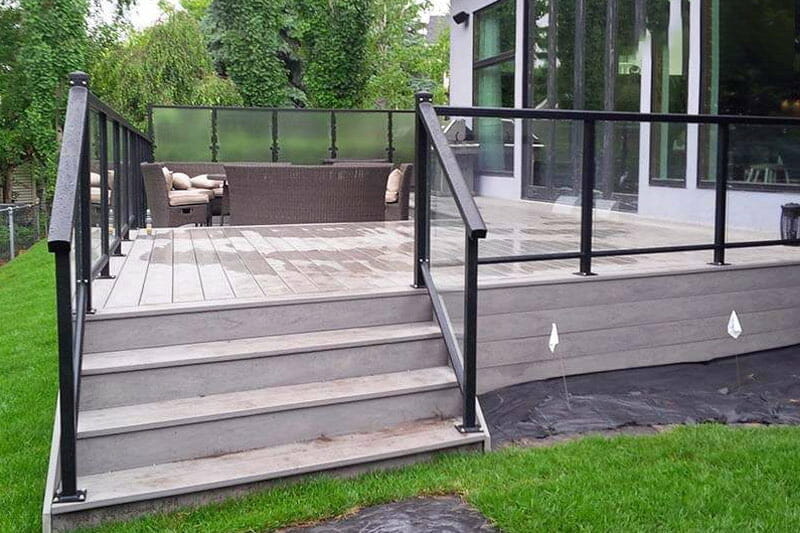 Benefits Of Installing Aluminum Deck Railing
The aluminum deck railing enhances the appeal of your home. It is available in as many colors as you like. You can choose colors that match your home to make your home and the railing blend and look more beautiful.
The aluminum deck railing lasts a lifetime. They are highly resistant to corrosion which means that they don't rust and will not need to be changed regularly. Once you install your aluminum deck, you will not need to change it.
Aluminum is a strong metal material. An aluminum deck railing will protect and hold anyone on your deck regardless of weight or age. Also, the aluminum deck railing maintains its strength over its lifetime since it doesn't rust. It also doesn't warp or twist.
Little To No Maintenance Needed
Once installed, the aluminum deck railing requires little to no maintenance. They do not need to be painted as they retain their original color over their lifetime. Lack of maintenance for aluminum decks enhances their cost-effectiveness. You don't need to spend money regularly to look after the deck railing.
The aluminum deck railing is available in a variety of colors. You can order your aluminum deck railings in your preferred colors, height, design, and thickness. You can also buy your preferred deck railing from home improvement shops or have your contractor order for you.
If you prefer to DIY your deck railing installation, the aluminum railing is one of the best materials to use. Aluminum railings are cut easily with tools that are easily available compared to stainless steel deck railings. You can save significant costs when you DIY deck railing installation.
Aluminum deck railing can withstand extreme weather. The sun and its UV rays don't affect the aluminum deck railings to cause them to fade. They are strong enough to withstand strong winds and rain. It further ensures that your railings can last longer than other types of railings that will weaken and need replacing due to the effects of the weather.
When it comes to aluminum deck railing installation, you can easily DIY or hire a pro. Aluminum is easy to work with and with the right skills, tools, and time you can DIY your aluminum deck railing cost. A DIY project ensures that you save on installation costs. If you decide to DIY, you still need to consult a pro to ensure safety and visual appeal.
If you hire a pro, you will spend more to have your aluminum deck railings installed. However, it will be done faster and better.
Use the homegardenguides.com tool to hire a pro to install your aluminum deck railings.
At the top of the page, enter your location zip code.
Then, proceed to fill the form asking for more details on your deck railings project. Provide as much information as you can.
You will then receive three quotes and advice from pros. Go through the advice and the quotes and pick one within your budget.
Disadvantages Of Installing Aluminum Deck Railings
The prohibitive cost of aluminum deck railing materials keeps many people from purchasing them. The labor costs of the installation of the aluminum deck railing are also high.
Once installed, however, aluminum deck railings don't have any additional costs. They are also long-lasting compared to cheaper alternatives such as wood and vinyl. With little to no maintenance costs, the overall cost of aluminum deck railings over their lifetime is minimal.
You can buy aluminum deck railings of different qualities. The higher the quality the better the railing. The lower the quality of aluminum railings you buy, the more challenges you can expect. Low-quality aluminum deck railings can expand during summer and contract in winter. Making your deck railings less effective in their functionality.
High-quality deck railings are not as affected by the weather. They will cost more than low-quality railings.
Aluminum deck railings are clean and strong, However, aluminum deck railings are not the if you are looking for elegance and visual appeal. For style, aluminum deck railings provide either wide or straight pickets. Other materials provide a wide range of elegant and beautiful styles for your deck railings.
If you have an elaborate deck design, aluminum deck railings will not provide the expected finish. Similarly, they are also available in a limited range of colors.
Aluminum railings once scratched retain the easily visible scratch marks. If the top layer of paint on aluminum deck railings is glossy, a fingernail or key can easily add a scratch to the railings. The unsightly scratch marks make the railings look old and dated even when they are new.
To lower the visibility of scratches, manufacturers will either powder coat or make a rough finish on their aluminum railings.