Deck railing costs less than deck installation. How much you pay for deck railing depends on the size of your deck and the materials you choose for your railing. Installing rails on your deck makes it safer to use and more attractive.
It costs $1,000 to $6,000 to install railings on a deck. The design, style, and materials you choose for your railings determine how much you will pay. Deck railing materials only cost from $150 to $6000. With labor charges between $30-$40 per linear foot, depending on your location.
You can use any material you like and afford to make your deck railings. The most popular deck railing materials are wood and aluminum.
| | Cost per Linear foot |
| --- | --- |
| Wood | $60 - $80 |
| Vinyl | $40 - 50 |
| Aluminum | $50 - $70 |
| Stainless Steel | $80 - $120 |
| Plastic | $40 - $50 |
| Wood Composite | $50 - $70 |
If you choose wood as your preferred deck railing material, you will $40 to $50 per linear foot for materials. The average installation cost, including labor and materials, is $80 per linear foot.
The cost of a wood deck railing varies depending on the type of wood. The cheapest wood you can use for your deck railing is pine. The best and most expensive wood types you can use for your railings are cedar, mahogany, and redwood.
An advantage of using wood is that it is inexpensive. On the other hand, wood railings need extensive regular maintenance. Depending on the type of wood you choose, you may have to replace your deck before it gets to its expected expiration. Making it an expensive material to use in the long term.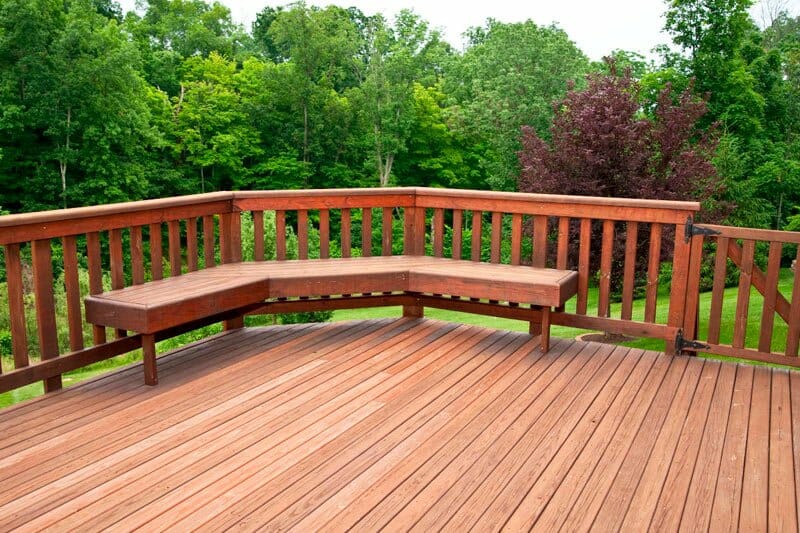 If you choose to use vinyl railings, you can expect to pay $30 to $40 per linear foot.
Vinyl is strong and long-lasting. However, it fades fast when exposed to the sun. Thus, you can expect to repaint or also replace the vinyl deck railing at least once over its lifetime.
Vinyl doesn't rot or rust, making it a good material choice for deck railings.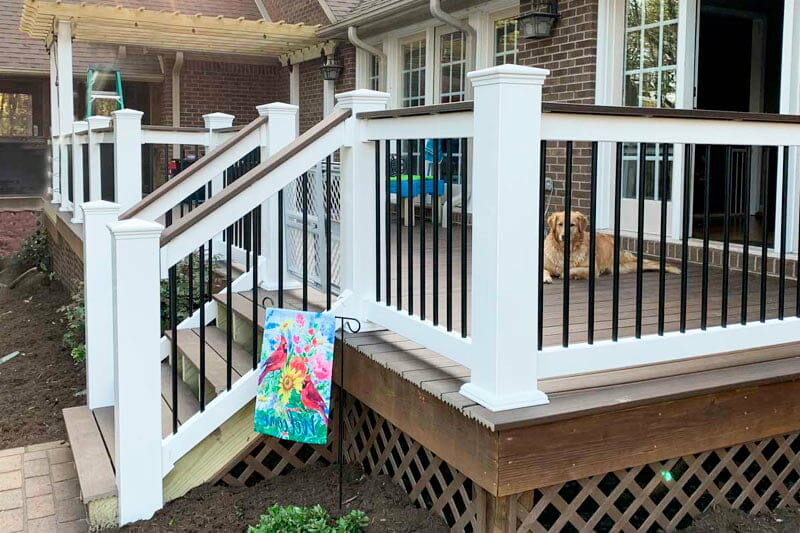 Aluminum is a strong material. It is attractive and strong. Thus, it makes your deck appealing and safer as it can hold any weight.
Aluminum materials cost $50 -$70 per linear foot. It is much easier to install than wood rails, which come in prefabricated sections.
Aluminum deck railings require little to no maintenance. It will only need a regular wipe to keep it clean. It is also easy to install, and you can easily install it yourself.
Further, aluminum doesn't rust. Thus, your deck railings can last a lifetime before you need to replace them.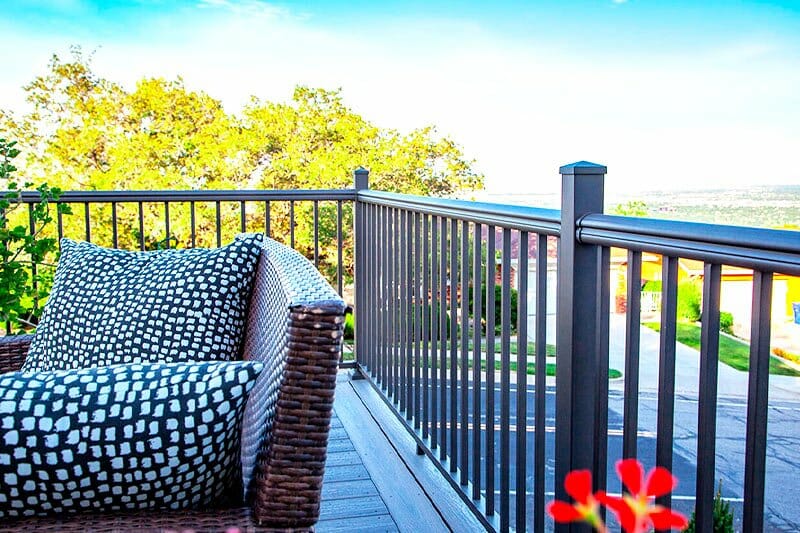 Stainless Steel Deck Railing Cost
If you choose to install stainless steel, you can expect to pay $80-$120 per linear foot for installation and materials.
Stainless steel railings are attractive and will not rust. They will also last a lifetime and provide the utmost safety for everyone who uses the deck.
Stainless steel deck railings are easy to install and will not take much time. They are also environmentally friendly as they can be easily recycled into a different product when you change them.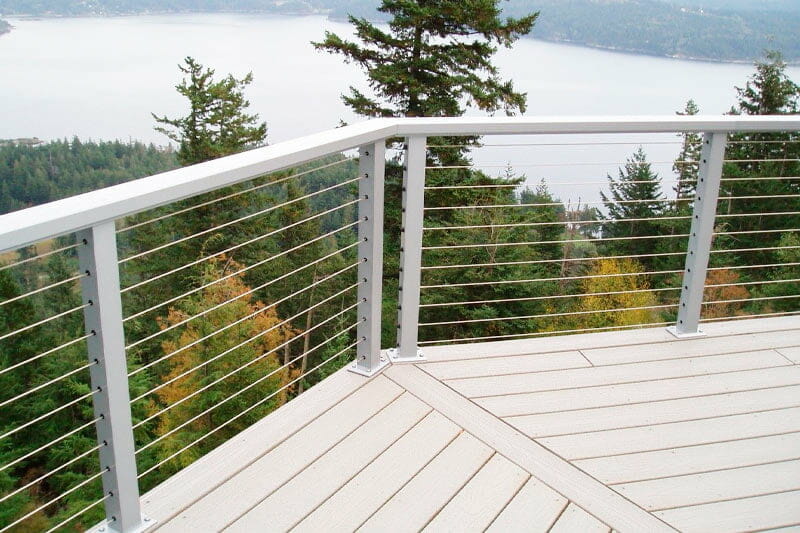 Plastic Deck Railing Cost
Plastic deck railing costs $40 – $50 per linear foot for materials and installation. The plastic deck railing is cheap and easy to install.
Plastic is a low-maintenance material. It doesn't need painting and is available in many colors. All you need to do is to wash it regularly to keep it clean. It doesn't scratch and is insect resistant.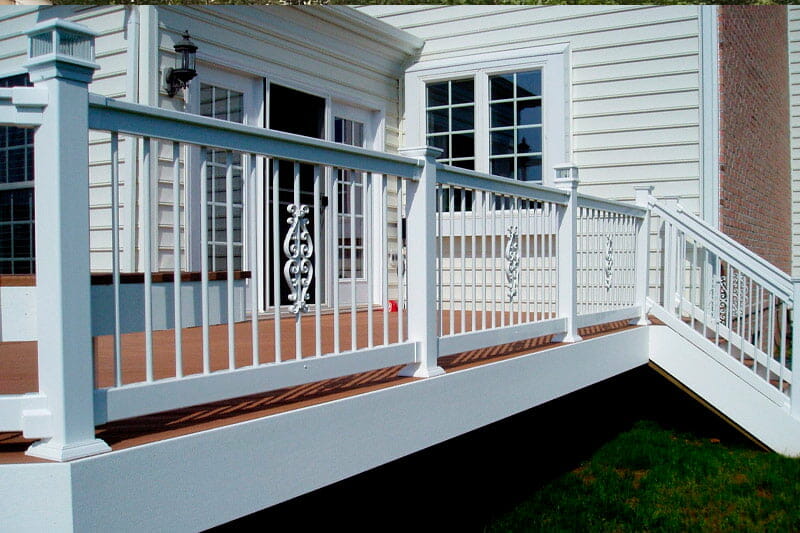 Composite Deck Railing Cost
Composite deck railing costs $50 -$70 for materials and installation. The composite railing is low maintenance. It is also strong and will not fold or bow. It also maintains its allure over a long time since it doesn't rust.
It is eco-friendly, easy to work with, and can be shaped to fit the deck's design. It also allows you to add lighting to it easily.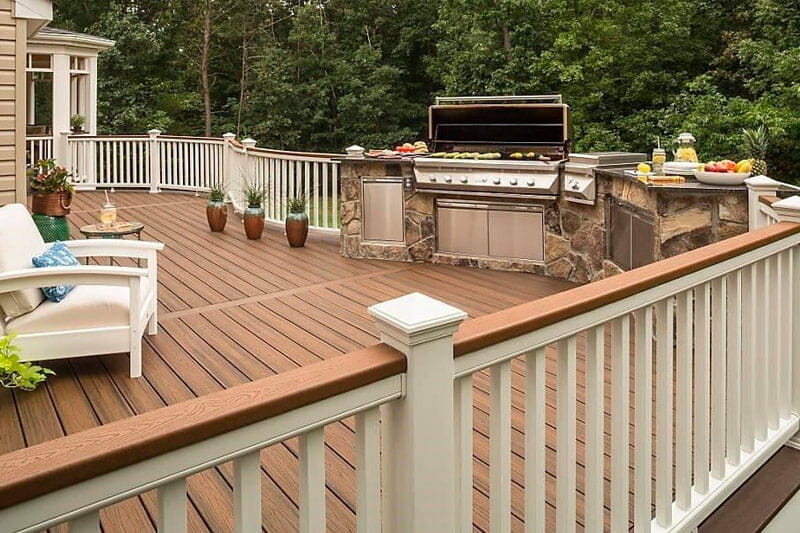 DIY Deck Railing Installation v Hiring A Pro
To DIY your deck railing installation, you need to count the cost. First, do you have the skills to install deck railing? If you are handy enough to install the railing by yourself, do it.
Another consideration is the availability of tools. Do you have the required tools, or will you hire or buy them? If you have to hire or buy the tools, you will increase the deck installation cost.
Also, consider the manufacturer's instructions on the warranty. You may not get a warranty on your railings unless they are installed by a professional.
Lastly, consider your time value. Would you rather work on your railings or hire a professional?
You are better off hiring a professional to install deck railings for you. It will save you money and time. The work will be completed to professional standards. If an accident happens, professionals are insured thus, there won't be a cost to you.
Hiring a professional is the easy way to have your deck railing installed. One factor to consider when hiring a professional is your budget. Hire a professional who will charge as much as you are willing to pay.
How do you hire a professional deck railing cost?
You can use the homegardeguides.com tool.
At the top of the tool, enter your zip code. Then, fill out a form with the details of your deck. Enter the size of the deck and your preferred materials for railings.
You will then receive three free quotes and advice from professionals on how to carry out a deck installation project.
Scrutinize the quotes you have received and choose one of the professionals to install the deck for you.
Factors That Determine Deck Railing Cost
The materials you choose to build your deck railing will determine how much you will pay. Wood, one of the most popular and attractive railing materials is also one of the cheapest. While aluminum, another popular railing material is on the higher end of the price spectrum.
DIY Or Hiring A Professional
If you have the tools and skills to install deck railings yourself, you will save a lot on labor costs.
When you hire a professional, you will forego your labor cost savings. How much you will pay depends mostly on the size of your deck, your location, and the materials you choose for your railings.
The size of your deck also determines how much you will pay for the deck railing. Professional installers charge per linear foot of the deck. Thus, the larger the deck, the more materials you need and the higher the labor cost.
If you do it yourself, a large deck will need more materials thus making it more expensive to install railings on than a smaller deck.
Labor costs vary with location. If you are in a neighborhood with high labor costs, it will cost more to install deck railing when you hire professionals. If labor costs in your location are lower, you could save a significant amount when your railings are installed.
The design of the railing also determines how much you will pay to install the deck railing. Plain deck railing material is affordable. Intricately designed materials are more expensive. You have to pay for the work done to design the railings.
How much you pay for the design of the railing will also depend on the material you choose for your deck railing.
Depending on the material you choose, some materials such as vinyl are available in different designs, styles, and colors straight from the manufacturer. This helps to lower the cost of the purchase of the unique design deck railing.