Vinyl railings are a great alternative to wood railings since they don't require staining or painting every few years.
The overall cost to install vinyl deck railing, installed by a professional, varies from $18.00 to $39.00 per linear foot with an average price of $28.5 per linear foot. If you consider all the cost factors that I will present to you in this article, for a 50 linear foot project you will have to pay from $900 to $1,500.
Besides the cost factors for installation, materials, and labor, in this article, you will also find a price comparison and the pros and the cons of vinyl deck railing. Enjoy.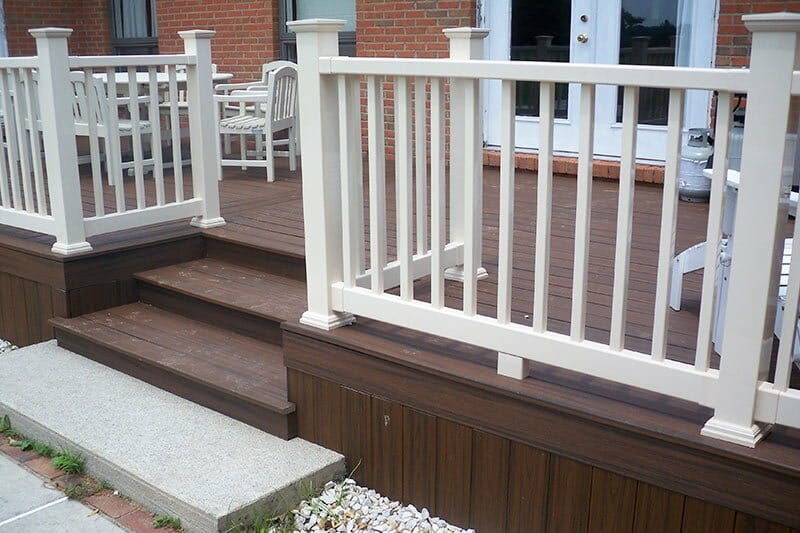 To have a vinyl railing installed by professionals will cost you around $30.00 per linear foot on average, while DIY installation will take around $25.00 per linear foot from your budget.
For pro-jobs, the cost of vinyl deck railing includes the materials and installation labor costs plus the cost of a permit. If there is a presence of a railing already, removing the existing railing, and disposal of the waste will raise the cost of the project. You can save money on this by doing that part of the work yourself.
| Average Cost | Quantity | Price Range |
| --- | --- | --- |
| Do It Yourself Cost | per linear foot | $23 - $28 |
| Contractor Installed Cost | per linear foot | $29 - $36 |
| Typical Cost | per linear foot | $33 |
Factors That Affect The Cost
There are basic costs that determine the cost of this project, but there are also several cost factors that will affect the overall price. These factors will help you narrow your costs.
Quality of The Deck Railing
The thickness of the vinyl, its anti-fade or anti-stain properties, brittle resistance, are the main characteristics that determine the quality of the deck railing vinyl. On the market, you can find panels for less than $8 per linear foot to some premium brands with the price up to $30 per linear foot.
Every other option other than white will raise the cost by about 15%. For example, a 6-foot panel in white from Weatherables costs $110, while a tan version is $127.
Most brands offer all-vinyl panels and vinyl panels with steel or aluminum balusters, or pickets. Metal raises costs slightly, especially if it is aluminum.
There are two types of panels, straight and stair. Depending on the brand, angle panels for stairs are slightly more expensive.
Heavy-duty steel post inserts are sold, but quite costly. Most homeowners choose treated woods posts at a fraction of the cost.
Deck gates are very expensive compared to the rest of the decking materials. So if the gate is included that will significantly raise the cost.
Solar lights within caps or the ones that can be attached to stairs will improve the curb appeal of your home but they will raise the cost too.
If you choose decorative vinyl rail post caps, expect to pay more money because they are more expensive than standard flap caps.
If you DIY this project, you will save money that normally will on labor installation if you hire a professional.
Logically, the more linear feet of deck railing you have, the overall price will go up. However, installation cost per linear foot usually goes down a little bit as the number of linear feet goes up.
For complex decks degree of installation difficulty increases and with that labor costs raises too.
Materials and Supplies Costs
| Supplies | Quantity | Price Range |
| --- | --- | --- |
| Straight Panels with Vinyl Rails and Pickets | per linear foot | $9.00 - $18.00 |
| Straight Panels with Vinyl Rails and Steel or Aluminum Pickets | per linear foot | $14.00 - $27.00 |
| Stair Panels with Vinyl Rails and Pickets | per linear foot | $12.00 - $22.00 |
| Stair Panels with Vinyl Rails and Steel or Aluminum Pickets | per linear foot | $18.00 - $33.00 |
| Gates with All Vinyl or Vinyl with Metal Pickets | per linear foot | $40.00 - $100.00 |
| Pressure Treated Pine Post Insert | each | $2.00 - $3.00 |
| Steel Post Insert | each | $40.00 - $75.00 |
| Vinyl Post Sleeves or Jackets | each | $12.00 - $50.00 |
| Vinyl Post Caps | each | $4.00 - $15.00 |
| Vinyl Post Caps with Lights | each | $38.00 - $60.00 |
| Vinyl Post Base Trim | each | $4.00 - 6.00 |
| Post and Rail Bracket Kits | each | $12.00 - $22.00 |
HomeGardenGuides.com is a free service that quickly matches you with top-voted local fencing Specialists.
You can get 3 estimates fast by real certified experts in your area in just 2 minutes.
Scroll to the top of the page and enter your Zip code.
Answer questions about your fencing job
Your fencing project details are forwarded to three local experts. They will send you a price estimate for the job and some friendly advice.
IMPORTANT: There is no obligation to hire. This is a free tool and service to be used at your pleasure.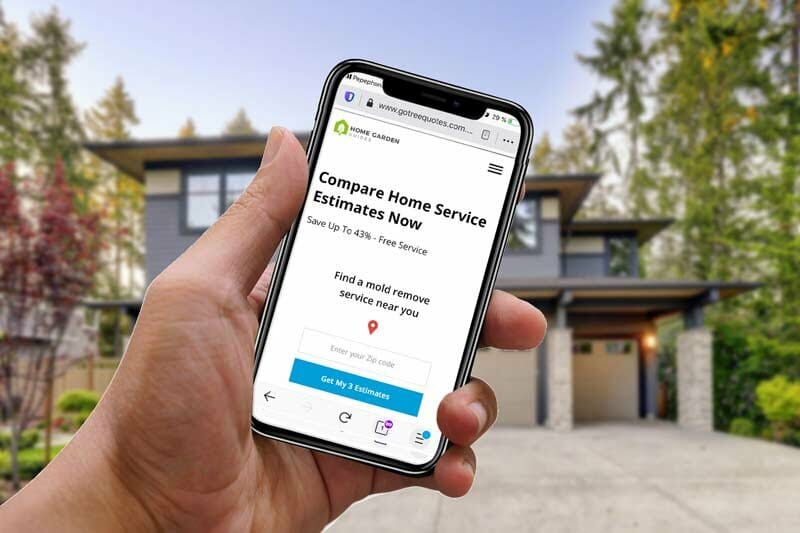 If you got an old and damaged deck you will have to get rid of it before making a new one. You can rent a dumpster for around $300 and do it yourself. You can also ask your local recycling facility to take the waste.
For decking planks, a dumpster or larger roll-off container is a good option. They come in a range of sizes from about 4 to 5 cubic yards and can answer your disposal needs.
Contractors usually charge from $5.00 to $7.50 per square foot to remove and dispose of the old decking, while if just the railing is removed the cost will be $2.00 to $3.00 per linear foot.
The cost per cubic yard of space often goes down a little the larger the container is.
Vinyl Deck Railing Project Cost
These are the three most common samples of deck railing projects. The prices shown are for 500 square feet.
Rectangular, Single-level Deck, 65 Linear feet of Railing
Basic quality railing: $1,170
Better quality railing: $1,475
Best quality railing: $1,820
Installed cost range: $18.00 – $28.00 per linear foot
Non-rectangular, Single-level Deck, 80 linear feet of Railing
Basic quality railing: $2,080
Better quality railing: $2,450
Best quality railing: $2,720
Installed cost range: $26.00 – $34.00 per linear foot
Two-level Deck with Stairs between levels, 115 linear feet of Railing
Basic quality railing: $3,680
Better quality railing: $4,135
Best quality railing: $4,485
Installed cost range: $32.00 – $39.00
Permits, Inspection, Related Costs, and Installation Time
A permit including an inspection is required to ensure that the deck is safe and that meets the building code. The size of the deck and where you live determine the exact cost of the permit but usually ranges from $30 to $150.
When it comes to installation time it will cost you $8 to $14 per linear foot for labor cost to install vinyl deck railing. For example, a team of two experienced installers can install 15 to 40 linear feet of vinyl deck railing per hour based on job complexity:
3 to 5 Hours 80 feet of "Easy" railing installation
4 to 7 Hours 80 feet of "Average" railing installation
6 to 8 Hours 80 feet of "Complex" railing installation
Vinyl VS Other Materials: Compare Prices Now
Let's take a look at the prices of different materials compared to vinyl.
| Material | Cost per linear foot |
| --- | --- |
| Vinyl (PVC) | $20 - $40 |
| Wood | $40 - $50 |
| Aluminum | $40 - $70 |
| Composite | $15 - $30 |
| Cable | $50 - $200 |
| Glass | $100 - $600 |
| Wrought Iron | $50 - $120 |
| Stainless Steel | $30 - $80 |
| Poly or Plastic | $25 - $70 |
Wood deck railing cost range is from $40 to $50 per linear foot including labor. The price depends on the type of wood used. The most common types of wood for this job are Pine, Cedar, Mahogany, Ipe, and Redwood.
Aluminum railings average about $80 per linear foot installed. Materials make up $50 per linear foot of this total.
Composite deck railing installation cost runs about $50 per linear foot of which around $20 goes in materials. The most common type of composite decking is Trex.
$90 per linear foot, including labor, will cost you the installation of the cable deck railing. These systems include wood, aluminum, stainless steel, vinyl, or composite post which holds up a metal cable. This runs either from post to post or through a hole in each post as a single band.
Glass deck railing installation prices range between $150 to $850 per linear foot total. Labor is substantial in this total at a minimum charge of $75 an hour. While it sounds like the handrail itself is glass in this system, it actually is a metal frame that holds glass sheets that forms its face.
Wrought Iron and Stainless Steel Deck Railing
Wrought iron railing costs an average of $130 per linear foot to install, while stainless steel is a more budget-friendly option and comes with the price of $80 per linear foot. Wrought iron is very durable and can be very ornate, which explains the higher price.
Polyurethane railings will cost about $70 per linear foot, including labor. This is a less common type which some consider composite material. It is similar to PVC pipe.
When you answer the following questions to yourself, you will solve the dilemma of whether to hire a professional or DIY:
Are you a skilled carpenter or do at least you have some average skills at working with the material?
Your availability?
Find out the prices of your local professionals, use our free service!!!
Be sure that the product warranty is valid if the product is not installed by a pro because some manufacturers will not warranty a product if it is DIY.
While a skilled carpenter or craftsman could easily complete this project, the average homeowner should consult a pro to ensure safety and good looking.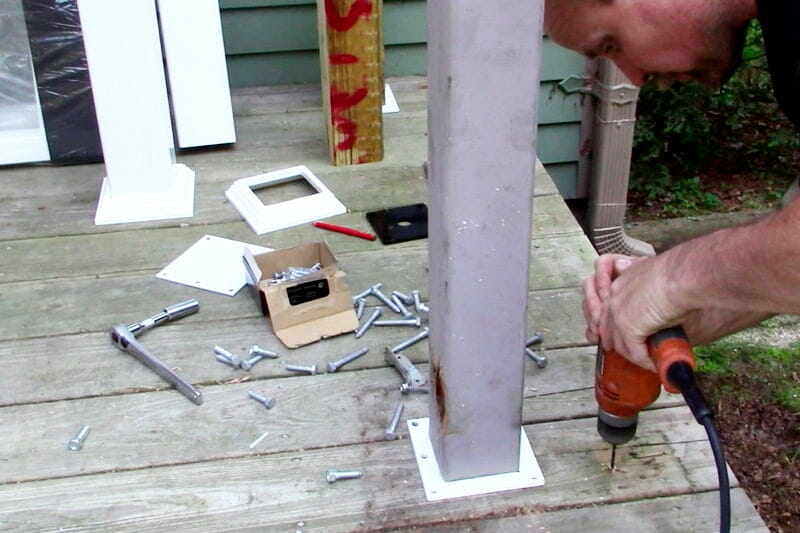 Pros and Cons of Vinyl Railings
Keep on reading to get a complete image of the pros and cons of vinyl railings for your deck or fencing project.
One of the biggest reasons homeowners choose vinyl railings is because they require very little maintenance. Unlike wrought iron railings, vinyl railings won't rust.
Vinyl railings are also a great alternative to wood railings since they don't require staining or painting every few years. In fact, the vinyl railing can look great for years without maintaining it at all. Plus vinyl railing isn't susceptible to dry rot or insect damage that often damages the wood railings beyond repair.
Vinyl railings design provides resistance to UV damage caused by the sun, so railings won't fade or become yellow over time. You can count on your deck railings to retaining their color for years.
While wood railings crack and splinter over time, vinyl railings are smooth and comfortable on your hands which makes them a great choice for homes with small children and pets.
A standard pressure washer can remove most dirt and even algae, mold, and mildew from vinyl railings quite easily. Pressure-washing wood fencing often removes the paint or stain that protects the wood, along with the dirt, mold, or mildew.
Stronger Than Wood Railings and Fire Resistant
Vinyl railings that are made from premium, commercial-grade vinyl are stronger than their wood competition.
Unlike the wood railings, which are highly flammable and can be dangerous near an open fire, vinyl railings are fire-resistant. This means more protection for your home if a fire starts in your yard or on your deck.
Vinyl railings don't fade or change color over time, but a natural patina that is common for wrought iron and wood can not be formed on the vinyl surface. The natural discoloration is very attractive to some homeowners so if you are one of them consider other materials for your deck that naturally discolor with age.
Doesn't go Well With Older Homes
Undoubtedly vinyl railings are attractive but they don't always offer the same elegance that traditional wood or metal railings do. Some vinyl styles can look too new when used for older homes or homes with vintage styling.
Styles that work well with older homes aren't unavailable but they are limited.
Wood and metal railings can be painted in many colors, but because of the smooth surface of the vinyl that does not take paint well, the color choices for vinyl railings are limited.
Deciding whether vinyl railings are right for your home depends on a number of factors. If you are looking for attractive, durable railings that are easy to clean and don't require much maintenance, vinyl railings might be the perfect fit.
On the other hand, if you have a specific color in mind, want railings that naturally weather over time, or love the elegance and style of wood or metal railings, vinyl railings might not be the best choice.
The total cost of this project varies depending on the material, length, height, fees, and permits. For a 10-foot length, for example, you will expect to pay from $420 to $6,480.
Some safety standards require a railing when:
Steps with more than 4 risers;
Steps with widths greater than 44 inches;
Patios over 30 inches high, measured from the next level down.
Railings should be between 34 and 38 inches tall, and because state and city codes change based on the location, talk to a local contractor before installation. There are also regulations on the size of the gap between pickets and between the bottom of the railing and the deck.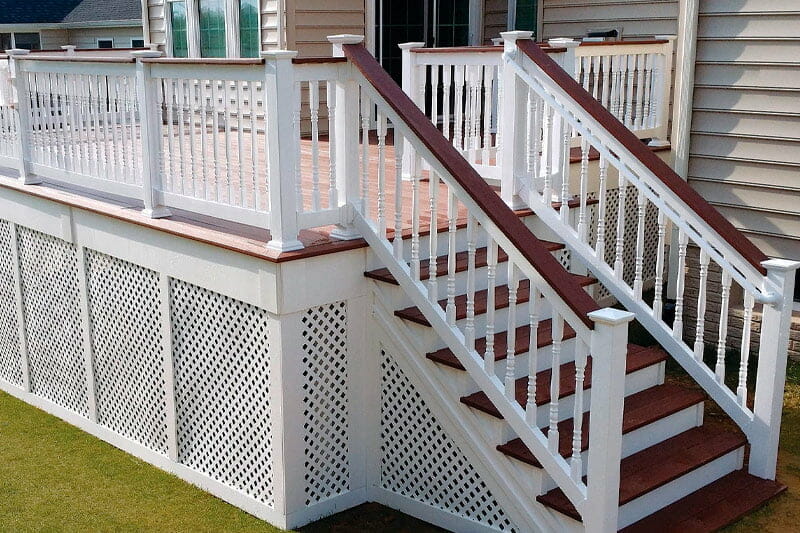 Check with your local city for rules in permitting because some will require an easily-obtained "quick permit", while others have no requirements.