While there are many options available in the market, glass railings are by far one of the best materials you can install if you're looking for a low-maintenance yet modern look.
The national average for installing glass railings stands at around $485 per linear foot. The actual price, however, ranges between $250 on the low end, and $765 on the higher end of the spectrum.
In this guide, we'll go into details on how much you'll spend to install a glass deck railing and show you how the costs come about.
Compared to other railing materials like wood or vinyl, glass railings aren't cheap.
The cost to install a glass railing on a 20 linear foot deck will range between $5,000 – $15,300.
These costs are relatively high due to the cost of glass and the difficulty of working with it to install. Most are custom-made to fit.
| | Minimum cost per linear foot | Maximum cost per linear foot |
| --- | --- | --- |
| Material cost | $100 | $500 |
| Labor | $50 | $200 |
| Supplies cost | $50 | $100 |
| Permits | $50 | $300 |
| Total cost | $250 | $1,100 |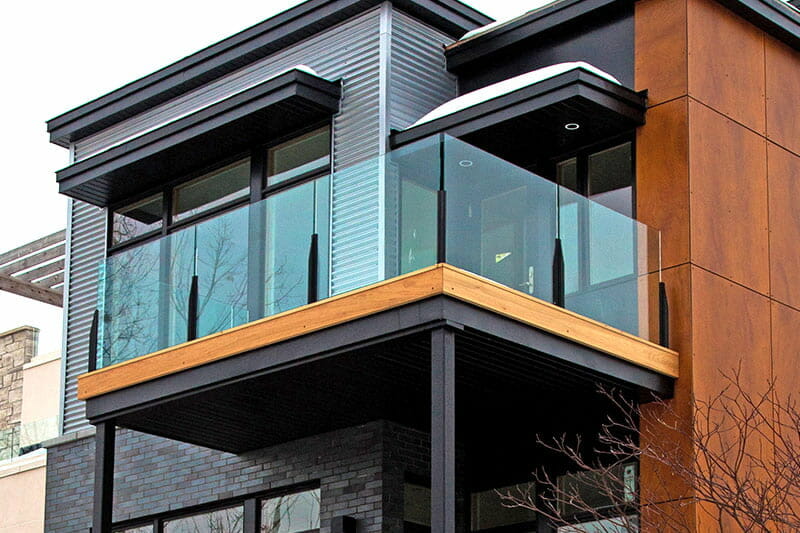 Glass railing cost factors
The average cost to install a glass railing on your deck will fluctuate depending on some of the following factors:
Quality of glass
Thickness
Railing height
Frameless or with posts
Shape of deck
Gates and other hardware
Labor costs
Like most other materials, glass is manufactured in different qualities with the higher quality glass being more expensive than regular glass. Among the best quality glasses you'll find in the market include tempered glass and laminate glass.
For the thickness, most glasses come in ¼" (6mm), and ⅜"(9mm) as the standard thickness for the 4 feet glass panels. The ½"(12mm), ¾" (18mm), and 1" (24mm) are considered thick glasses.
The thicker glasses are generally considered stronger and safer for most American homes. They're, however, more expensive compared to the standard glass.
Keep in mind; your local town's building code may have some regulations regarding the standard glass thickness to be used in your area.
The glass size (height and length)
The bigger your glass is, the more you'll spend on it. Most manufacturers produce their standard glass to 6 feet in height. Anything larger than this may add up to $5 per linear foot to your total costs.
In terms of length, you'll find that longer glass (more than 5 feet) is much cheaper per linear ft. However, you may have to use thicker glass which raises your expenses.
Pre-drilled Holes, notches, and edge treatments
If you require any customizations for your glass railing, your costs will significantly increase. This includes if you need pre-drilled holes on the glass, treated glass panel edges (i.e., rounded, beveled, or polished), or if you need them frosted and tinted.
If the manufacturer also has to make bracket notches on the glass, the total price may increase by more than 5%.
The shape of the deck determines the complexity of the glass railing installations. Rectangular and square decks are usually the easiest and cheapest to install (since they require straight rail installation) while the odd-shaped decks become much harder and expensive.
The more complex installing the glass railing becomes, the more labor and material will be required. All these means added costs for your project.
Glass gate and other hardware
Other factors like a glass gate, glass top or bottom rails, metal posts (whether aluminum or stainless steel), post lights, post caps, mounting hardware, among other accessories will significantly add to the total glass railing project cost.
Adding glass stairs to your railing system will also increase your costs.
Glass deck railing labor costs
The labor costs you'll incur during this installation will largely depend on the time required to complete the job. Most contractors charge you anywhere from $50 – $250 per linear ft or between $65 – $250 per hour for the project.
For a team of two installers, you can expect them to complete the installation of 40 feet of glass railing in 2 – 5 hours depending on the complexity of the deck railing.
Glass railing material and supplies cost
For the glass rail, there are two main material options for homeowners to choose from i.e., full glass panels, or glass balusters. Your decision to go with either of these materials will be determined by the style you want for your railings.
If you choose to go with full glass panels, expect to spend anywhere from $50 – $600 per linear foot, or around $10 – $80 per square foot.
The glass panels are a great addition to an outdoor living setup, ensuring you get the best views from your porch. It's, however, more expensive to install a glass panel compared to glass balusters.
The other alternative is using glass balusters for your deck railings. The balusters are usually about 3 – 4 inches wide and are spaced around 3 feet apart. This ensures they can allow free flow of air through its spaces into your deck.
It's often used alongside wood to provide that classic-contemporary feel to your home. Glass balusters are also much cheaper than glass panels.
Expect to spend anywhere from $20 to $55 per linear foot for the material. Its installation is, however, higher than that of glass panels since each baluster has to be installed separately.
The labor costs for these installations could range from $60 – $200 per hour depending on the contractor.
Additional materials and hardware
Other supplies and hardware materials you may need for the installation include:
| Extra supplies | Cost |
| --- | --- |
| Top rail | $10 - $50 per foot |
| Clamps | $18 - $40 each |
| Handrail bracket | $70 - $150 each |
| Posts | $200 - $700 |
| End Caps | $25 - $65 |
| Handrails | $5 - $40 per foot |
| Shoe molding | $45 - $60 per foot |
Glass railing cost by style
The style of your glass railing systems will also be crucial when estimating your final project cost. When you visit your local hardware store, you're likely to run into these three popular glass railing styles:
Frameless glass railing system
In this glass railing type, the installer uses no posts or beams as the support system for the glass. From afar, the glass railing will have an invisible 'frameless' appearance.
However, it usually has a shoe base and top cap to secure the glass in position.
This style makes your deck appear more spacious and is perfect for anyone whose claustrophobic.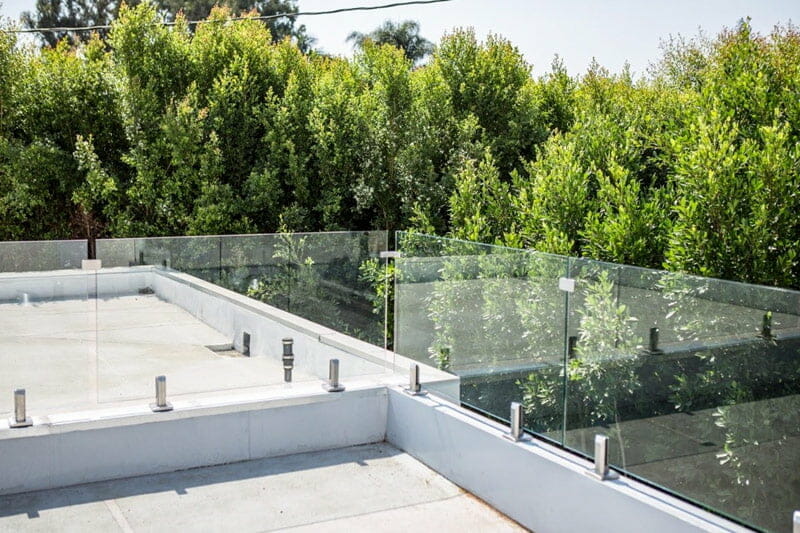 Point glass railing system
Point glass relining refers to a system that comes with a defined attachment or fixing point for the glass, top rail, and handrails. This could be along the side of the stairs, balcony, porch or deck.
The biggest advantage of this system is that installation is easier, and it creates a lot more space on the deck compared to when the glass is fitted to a profile.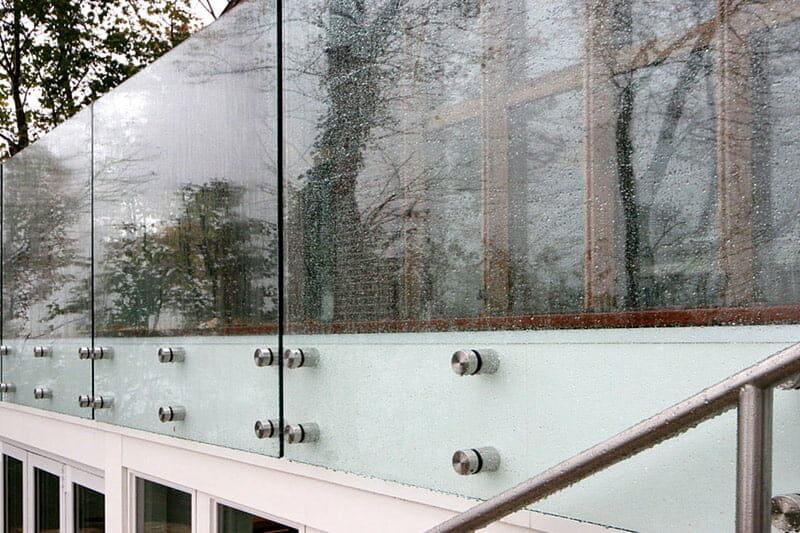 Post glass railing system
Right from the name, post glass railings use a post, either stainless steel or wood, as the support for the glass. The posts hold the glass infill firm in position and can be easily modified to support handrails and other relevant fixings.
The price difference between these three systems is pretty similar, with the cost ranging from $150 – $900 per linear foot.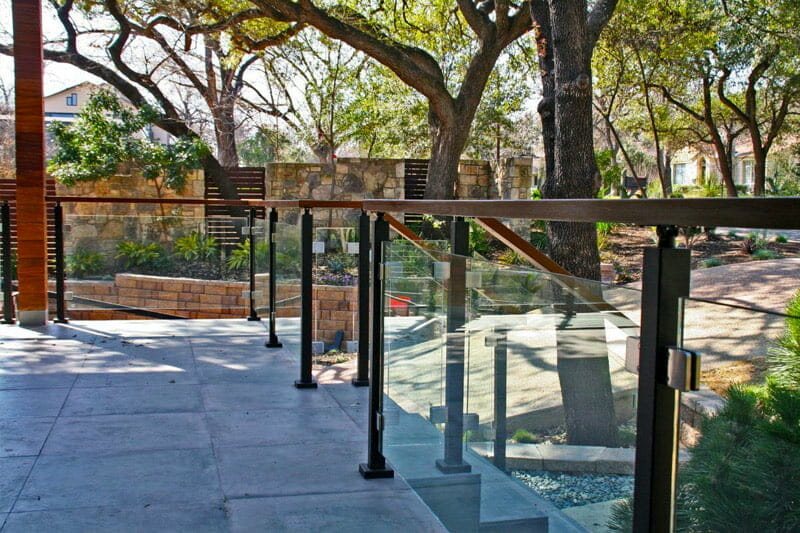 Tempered glass railing cost
If you intend to work with tempered glass, your costs will increase to around $15 – $30 per square foot. This toughened glass can be as thick as 1¼" which is miles tougher than the ¼" thick ordinary glass.
However, before you install tempered glass, ensure you consult your contractor to find out if it's the right move. In many cases, tempered glass is used on commercial buildings.
Other options for commercial properties and exterior applications include laminate glass and tempered laminate glass. Both of these options are much stronger than tempered glass and cost anywhere from $30 to $70+ per linear foot.
Cost to install glass railings by the size of deck
| Size of deck | Type of glass | Standard quality railing | Medium quality railing | High-quality railing |
| --- | --- | --- | --- | --- |
| Single-level deck, Rectangular (25 feet of glass) | ¼" or ⅜" Tempered glass | $4,125 | $5,560 | $7,000 |
| 20' x 25' deck (65 linear feet glass) | ½" or ¾" Tempered or laminated glass | $18,525 | $24,850 | $30,875 |
| Double-level deck with stairs and rails (115 linear feet glass) | ½" or ¾" Tempered or laminated glass | $66,700 | $73,600 | $80,500 |
Glass railing permit and inspection costs
Depending on the local regulations of your area, you may have to seek a permit before installing your glass railings. An inspector from your local building codes office may also need to make an inspection of your site before the permit approval.
On average, expect to spend anywhere from $50 – $300 depending on the size of your deck and your location to cover both the inspection and permit costs.
Deck glass railing cost: glass vs other materials
| Material | Minimum cost per linear ft | Maximum cost per linear ft |
| --- | --- | --- |
| Glass railing | $150 | $800 |
| Wood railing | $40 | $50 |
| Aluminum railings | $40 | $70 |
| Composite railing | $15 | $30 |
| Cable railing | $50 | $200 |
| Vinyl or PVC railing | $20 | $40 |
| Wrought iron railing | $50 | $120 |
| Stainless steel railing | $30 | $80 |
| Poly or Plastic railing | $25 | $70 |
Cost of disposal for damaged decking
If your existing deck is damaged and first needs removal, your contractor can charge you around $5 per linear ft for removal and disposal. However, if it's just the glass railings that need replacement, you can save money by removing them yourself.
Pros and cons of glass deck railing
With all the facts about glass railing installation costs in mind, it's understandable if you're still uncertain if this is the best railing for your deck.
So, below we've highlighted a few pros and cons of glass railing to help you make an informed decision.
Pros of installing glass railings
They offer high aesthetic appeal – It has become the gold standard for most modern contemporary homes.
They're quite versatile – It's easy to find a glass railing that matches the colors and decor of your home.
Being transparent, the glass railings don't obstruct your views from the deck or balcony.
The glass railings require minimal maintenance. They're not affected by bugs, rust, and most other problems common with other materials.
The glass railing installation is relatively easy even though they're not DIY-friendly.
Thanks to modern technology, glass such as tempered glass is very strong and can't break very easily. This makes it extremely durable and allows the railing to handle heavy loads and stressors.
Cons of installing glass railings
Having the glass railing installed is more expensive compared to other options like wood, vinyl, or cable railing.
Installation requires an expert to ensure proper installation of your glass railings.
Even though the glass railings are low maintenance, they still require cleaning regularly
While the transparent glass doesn't obstruct your view, it works both ways, meaning other people can also see you. This means you won't have any privacy on your deck.
Depending on your location, the glass railings can also cause a greenhouse effect. They can do this by reflecting heat back causing the space to become warmer.
DIY glass deck railing installation cost vs hiring a Pro
For homeowners who choose to take on glass railing projects as a DIY, they stand to save anywhere from $50 to $300 per linear foot on labor costs. But truth be told, glass railing installation is no DIY project.
You'll need to work with many specialized hardware and understand how to work around different railing styles and systems. The price to purchase the tools needed might also be quite high.
The best decision you can make is to hire a professional. They have the experience and expertise to do the job faster while guaranteeing top-notch results.
Looking to install glass railings?
HomeGardenGuides.com has a great tool that quickly matches you with trusted glass deck contractors in your locality. You can get three estimates from local railings professionals in just under two minutes.
All you have to do is follow the three simple steps below:
Scroll to the top of the page and enter your zip code
Answer questions about your glass railings project
Your glass railing project details are forwarded to three local experts who will send you a price estimate for your job with some friendly advice.