Wood is still the preferred material for deck railings among most property owners. This is because it offers a unique visual appeal at a very affordable cost.
A 10-foot deck railing made of wood will cost you an average of $300 to professionally install. This translates to about $30 per linear foot. This price can however vary depending on the type of wood selected and the quality of labor used during installation.
DIY contractors will therefore incur only $14 per linear foot on average to install wood deck railing. Other cost considerations include installation equipment and old deck railing removal. Elaborate deck railing designs are also more expensive to install than simple ones.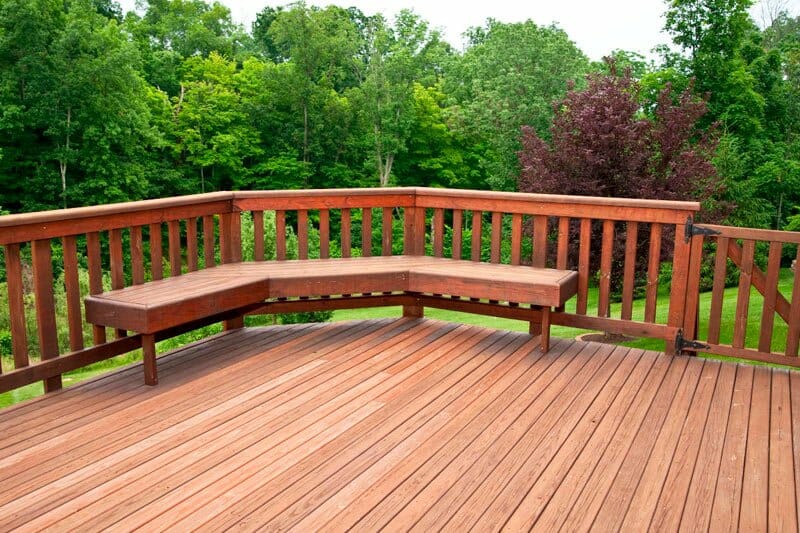 Factors to Consider When Installing Wood Deck Railing
Pine is arguably the cheapest wood deck railing option available. Lower grades of cedar are also quite affordable. Exotic wood varieties such as redwood and high-quality cedar can however cost up to $45 per linear foot.
Ipe, mahogany and tiger wood are the most expensive wood deck railing alternatives. The usually up to $75 per linear foot to purchase and install.
| Material | Average Cost |
| --- | --- |
| Balusters | $10 each |
| Posts | $3 per post |
| LED Lighted Caps | $68 per cap |
| Drink Rails | $13 per linear foot |
| Gates | $32 per gate |
| Deck Screws | $5 per pound |
Balusters are also referred to as infill materials. Most infill materials used for wood deck railing are made of wood, steel and aluminum. Baluster pressure treated deck railing panels cost an average of $10 per linear foot.
Buying a post for wood deck railing will cost you an average of $3. Most posts used for wood deck railing are 39-inches tall. Posts with a height of 45 inches are however also available for 42 inch rails.
Posts are extremely critical to the railing's structural stability because they offer support to the rail structure. On a flat deck, these posts should be no more than six feet apart.
On stairs, they should be no more than five and a half feet apart. For enhanced rail strength, your local building department may mandate closer post spacing.
Installing LED lighted caps is a great way to enhance security and aesthetic beauty to your wood deck railing. Expect to pay an average of $68 for caps with solar powered LED lights.
Expect to pay an average of $17 per linear foot for straight wooden rails with pickets or metal balusters. Stair railing made from treated wood, with pickets or metal balusters will cost you $21 on average. Cedar railing is a rather expensive alternative at $39 per linear foot.
The standard height for guardrails as stipulated by the International Residential Code (IRC) is 36 inches. 42 inch rails are however also applicable for posts with a height of 45 inches. They are mostly used for commercial buildings adjacent to multifamily structures.
Rail height is measured from the deck surface to the upper part of the rail. You can install extra-wide drink rails with large ornamental caps to increase your deck's visual appeal. This may however prove to be quite costly.
The cost of wood gates is mostly double the cost of the whole length of the railing. This is particularly the case if the gate is constructed on site and not assembled beforehand. Expect to pay an average of $32 for cedar and treated pine deck gates.
Deck screws will cost you an average of $5 per pound to purchase. 3-inch length coated deck screws are the most preferred for wood deck railing. This is because they hold the rails and deck panels much better than smaller 2.5-inch screws.
A deck screw with a diameter of #8 is optimal, because a larger one would split the wood. If you are working with cedar, you should employ a hidden fastening technique because the coated screws will stain the wood.
A rectangular deck with only one level and no stairs is certainly cheaper to install than a more intricate deck with multiple tiers. This is because labor costs usually vary depending on the complexity of a project and the time spent in its completion.
All decks with railing require permits before construction. Such permits are normally issued by homeowners' associations and local government authorities. Although they are cheaper than building permits, they still contribute to the overall deck railing cost.
Expect to pay an average of $25 for deck railing permits. This cost normally varies based on the size of your deck and your place of residence. It is therefore advisable to consult a local decking professionals for the most up-to-date information on the rules and fees in your locality.

https://homegardenguides.com/siding/ is a great tool that quickly matches you with the best deck railing experts in your locality. You can get three estimates from local deck railing professionals in a matter of two minutes. Kindly follow the steps below to enjoy this great service:
Scroll to the top of the page and enter your zip code
Answer questions about your deck railing job
Your deck railing details are forwarded to three local experts who will send you a price estimate for your job with some friendly advice.
DIY Vs Professional Wood Deck Railing Installation
The following factors should be considered when deciding whether to hire a professional deck railing contractor or install your wood deck railing system by yourself:
Professional wood deck railing costs about $30 per linear foot installed. DIY wood deck railing costs an average of $14 per linear foot installed. DIY wood deck railing is therefore much cheaper than professional installation based on initial costs.
Professional installation may however prove to be cheaper in the long term. This is because it guarantees a high degree of efficiency that keeps the railing durable for a long time. If done wee, professional installation also reduced the need for frequent maintenance.
Level of Skill and Experience
If you are a highly skilled DIY contractor with experience in handling similar projects to your wood deck railing installation, you can save a lot of money by doing the project yourself. If you are relatively new to DIY installation, hiring a professional deck railing expert is the best option.
This is because it guarantees a level of effectiveness and efficiency that your little skill and experience cannot offer. It can therefore save you from making costly mistakes that would be expensive to remedy in the long-term.
Making time for a large and complex wood deck railing project may be difficult if you have to put it alongside other vital daily tasks like work. Professional installation is therefore the best option if you cannot be consistently available to complete the project.
Some manufacturers do not warranty DIY installed deck railing materials. It may therefore be wise to hire a professional expert to install your wood deck railing because this guarantees a product warranties that may be useful in future repair and replacement projects.
How Much Does Disposing Damaged Wood Decking Cost?
Expect to pay deck railing experts and handymen an average of $2.5 per linear foot to get rid of your old deck railing. You can also opt for DIY wood railing removal and disposal at little or no extra cost.
It can be more cost-effective to rent a dumpster if you are either removing the entire deck or have additional cleanup jobs.
Smart homeowners understand that increased dumpster sizes lower the cost per cubic yard. Cost sharing with neighbors who have a lot of trash to get rid of, is also a good idea.