Disputes and wars about fences between neighbors are very common situations. Painting the fence is one of the things which can be an occasion for argument.
Your neighbor can not paint your fence on his side unless his side of the fence falls on his side of the property line. In any other case if he paints his side of your fence without your permission he could be sued for vandalism.
If you want to maintain a decent relationship with your neighbor, you have to know boundary rights. In this article, we will go through them together.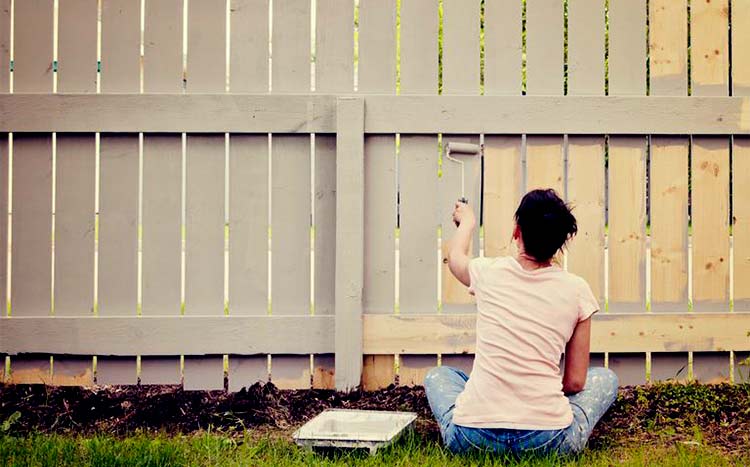 If the color of your fence does not suit the neighbors entire property can he paint his side of your fence? Is this acceptable and is it legal to be done?
Depending on the situation the answer can be both yes and no. If his side of your fence falls on his property line, then, by all means, he has the right to paint it. On the other hand, if his side of the fence falls entirely on your property line, then he shouldn't touch your fence as that is against fence painting etiquette. Legally he can not and he should not paint his side of the fence that didn't even touch his property line without your permission, because that will be considered vandalism.
What is a property boundary?
When you want to build a fence to increase the security of your property, to have your privacy, to separate your side from your neighbor, or just to replace the existing fence that is rotting and taking away the aesthetics of your property.
Before you start to build your fence you have to understand the property boundary laws, and fence laws in general, to avoid problems with your neighbors. The boundary lines are usually precisely indicated in your property deeds and you have to study them well before building a dividing fence.
Each state may have different requirements, but in general, they are similar in many aspects. Anyway, if you have any ambiguities consult a solicitor for clarification specifically for your state.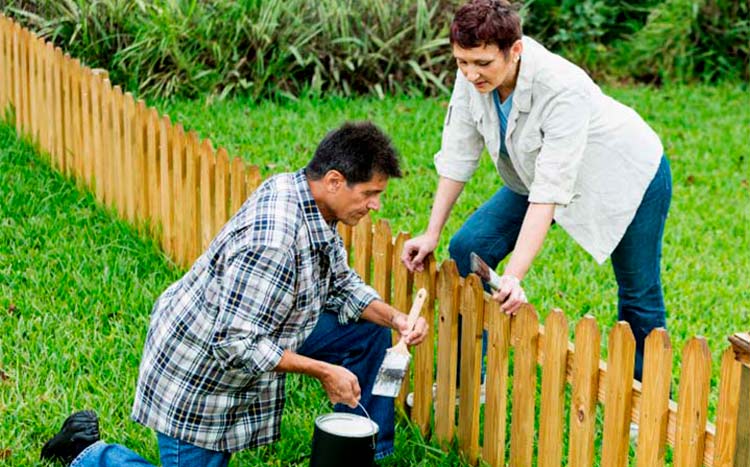 Get familiar with your rights before erecting a fence
With fences between properties, disagreements arise regularly and for all sorts of reasons. There may be a dispute over where the boundary actually is or who is responsible for maintenance or repairs of an existing fence.
Complex situations with regard to boundaries came up with older properties. Old by-laws, rights of way, and historically altered gardens may all contribute to the arguments which sometimes arise.
If there is an ongoing dispute over who owns how much land and this is affecting your ability to replace fences, it is important to refer to deeds in order to establish what was originally set out when the properties were established and then to compare that to what is evident.
Boundaries may change over the years. This is due to one householder in the past having encroached on their neighbor's property by stealth and if this has happened on your property it is then necessary to take steps to regain your land. In most cases, this is only possible through a solicitor.
Negotiating with neighbor
The first thing to do is approach your neighbor in a kindly manner if you want to build a fence, make a reasonable proposal of what the fence should look like, and give your neighbor a chance to make a proposal.
Usually, the easiest way is for both sides to agree on something. Very important thing is that the agreement reached, should be put in writing and signed by both parties. The care and the maintenance of the dividing fence should be the responsibility of both property owners.
On the other hand, if you do not achieve agreement with your neighbor and he doesn't accept your fence proposal, then the most painless option is to make a fence that ends on your property line.
Can I paint both sides of my fence?
This is acceptable when the fence ends on your property line and doesn't fall on your neighbor's property line. That means the fence is all to yourself and you don't have to explain and ask for permission because it is your right to build on your own property.
The neighbor painted my fence without permission. What to do?
If you have neighbors with rude and inconsiderate characters you can end up with a painted fence without being informed about that. Strange but true, and you must be prepared for that to know what to do.
Always stick to the fact that your neighbor doesn't have the right to paint your fence, especially if it is on your property. And they certainly can't paint it their own color just because yours was distasteful to them and didn't match the color theme of his entire property.
What to do if the neighbor stains your fence?
We already know that is unacceptable when a neighbor paints your fence without permission and you may choose to ignore it, but it will be hard for you to shrug it off if he stained the paint job you work so hard on.
Assuming that the fence in question is on your property line there may be several ways to approach your neighbor who has painted or stain your fence without permission:
Talk to your neighbor and try to convince him to remove the color or ask him to pay part of the fence because it is only your construction on which you have spent time and money;
If you don't want to go down without a fight, take it to small court claims. You could claim damage but the consequences will be fall out on your neighbor, and that is the person who lives right next to you;
In the end, you can choose to ignore it. I know that this will be hard for you since you have spent time, money, and effort on your fence. But think if it is worth getting into a fight with your neighbor about something that maybe doesn't make much difference, and maybe even you can not tell that the other side of the fence is a different color.
Disputes over fences are common and will always exist. If both parties sit and discuss thoroughly, they should arrive at a compromise and everyone wins.
You should know that painting your side to someone else's fence is only legal when the fence falls in your property line. But it's a more appropriate step to ask permission from the person who spent time, money, and effort to build that fence.
If the fence is completely someone's property then the other person doesn't have the right to touch the fence or change the color. That fence is solely owned by that person.