The enclosure method is another lead paint remediation method. The enclosure method is the process of fixing solid objects like paneling, drywall, plywood, aluminum adding, tile, acrylic sheets, etc. to cover surfaces where lead paint is present.
Like encapsulation, the enclosure method is not a permanent means of remediating lead paint. The risk of exposure to lead paint returns if the enclosure is removed.
Yes! In Georgia, as long as the fence is about a foot or two inside your property line, you can safely build it. You won't have to consult with your neighbor for permission.
But if the fence is just a few inches away from the property line, some counties still consider that a boundary fence. In such a case, you'll need to first talk with your neighbor.
Moreover, you'll still have to adhere to the Homeowner's Association rules regarding your fence's construction maintenance and appearance.
Keep in mind, spite fences are considered a nuisance and illegal by the Georgia laws. If the purpose of the fence is to injure or annoy your neighbor, he/she can take you to court and have it removed. 
Do I need a permit to build a fence in Georgia?
Yes. In most Georgia counties, you'll need a permit to build a new fence on both residential and commercial properties. Homeowners will also need an inspection and a permit to erect fences taller than 7 feet.
In other cities, like Mariette, you won't need a building permit to build most fences. However, you'll still have to know the location, material, and decorative regulations of the town. For instance;
  The fence should be constructed around 2 feet from the right of way.
  The finished side of the fence should face the exterior
You also won't need a permit if you're building a temporary fence. But always check your local municipality zoning laws to be safe. 
Can I replace an existing fence without a permit?
No. In most municipalities, you'll need a permit to replace an existing fence.  If you avoid it, the zoning laws will quickly find you out, and you'll incur hefty penalty costs.
Even if you intend to replace the fence with a similar structure, the building inspectors will first have to review your building plans and ensure that you comply with the local laws then grant you a permit.
How tall can a privacy fence be in Georgia?
The height restrictions in most Georgia municipalities and towns are set at 4 feet for the front yard fence and 6 feet for the backyard. Depending on the grade of your property, the rear-side fence can extend up to 8 feet.
Exceptions are also acceptable in unique situations, e.g., if you live in a noisy neighborhood or there's too much lighting next to your property.
Who owns the fence on property lines in GA?
Any fence on the property lines of two neighbors is recognized as their joint possession. Therefore, both neighbors are responsible for the fence, and none can remove, repair or replace it without the other's permission.
You'll both have to part with one-half of the total costs for the maintenance of the fence.
If one neighbor doesn't intend to use the fence, both neighbors can negotiate and document their agreement. This will help settle any future disputes, but it'll be void once that neighbor moves out.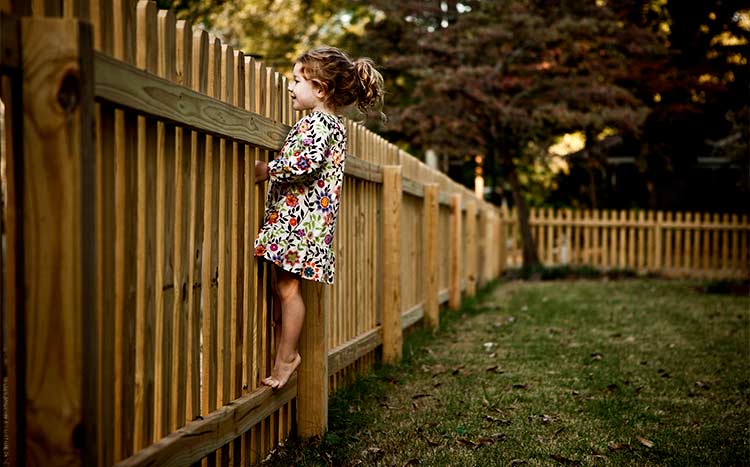 Do I need a survey to determine the boundary?
In many cases, yes! If you don't know the actual position of your property lines, you expose yourself to the risk of encroachment.
If that neighbor has used part of your land for a long time (around 7 years), the laws in Georgia under adverse possession can grant the neighbor rights to that portion. 
Additionally, even the smallest inch of your neighbor's encroachment is enough reason for a title company to deny you insurance when selling the property.
To avoid such issues, you need to pay for a survey to determine the boundary.
Does the fence determine the property line?
Not really. Although some fences are built directly over the property lines, some local jurisdictions demand that fences be built around 2 – 8 inches from the property line.
Moreover, most states, including Georgia, may sometimes presume that a fence built near the boundary is the property line. If this presumption is inaccurate, it may cost you a portion of your land through the principle of adverse possession.
To accurately determine the position of your boundary lines;
Check your title deed for accurate details of the boundaries
  Visit the local county assessor's office or their website for your property line map
  Hire a professional surveyor to measure the property
  Look for any property line marker (For newer properties).
Can my neighbor build a fence on the property line?
Yes! Since there are no clear fence laws to refer to, most of the fencing decisions are based on your agreement with your neighbor.
For them to build a fence on the property line, they should first ensure that you agree to that decision. Having it written down is also crucial to protect you if you're ever in a legal row regarding the fence.
The local ordinances in your county and city, as well as the Home Owners Association laws in your area, may also dictate how to go about a boundary fence.
Georgia boundary fence laws at a glance
This table provides an overview of some of the state laws governing Georgia's fence law and links to their original documents.
Statues
Partition Fences
Max heights
Spite Fences
Partition fences: Georgia §§ 44-4-1 through 44-4-10
Georgia Code Title 44. Property § 44-5-161
Encroachment laws: Georgia § 16-7-21(Considered trespass)

Partition fences are recognized as the property of both adjoining neighbors unless otherwise agreed.

Both parties are responsible for the maintenance and repairs of the fence.

One neighbor can lose part of their property based on the adverse possession law if the partition fence encroached into his/her land for an extended period.
Front yard fences are restricted to 4 feet.

Back yard is restricted to 6 feet, but it can be extended to 8 feet

Fence height exceptions are allowed depending on your reasons
The Georgia Supreme court ruled that you can't build fences with no practical purposes but to annoy or injure your neighbor.
Keep in mind: These laws are bound to change with time depending on the new legislation, federal court decisions, and other initiatives. Use the information provided above as a guide and research the latest regulations in your municipality.
Who owns and maintains trees on the property lines in Georgia?
For a tree with its trunks on your property line, it's owned by both neighbors. Each neighbor is required to contribute to the maintenance of that tree and one neighbor can't decide to remove the tree without the consent of the other.
If the tree's trunk is on your neighbor's side of the property, but the branches extend to your property, it's considered their property. 
You'll, however, have the right to trim the branches that hang on your property.