Property line fence disputes are very common for homeowners in the state of Nevada and the USA in general. Each state, county, or municipality has statutes and local ordinances that specifically target property line usage. Understanding these seemingly insignificant laws can help you avoid unwanted disputes with your immediate neighbors.
Unlike many other states in the USA, Nevada does not have specific state-level statutes for property line fences or fences in general. However, county or municipality-level statutes and local fence and property line ordinances do exist across the silver state. It's important to find out what these ordinances say and how to use them to avoid property line disputes.
There are no state-level laws or regulations in Nevada on fence usage or construction. However, individual counties and municipalities in the state have local fence ordinances and building regulations. You may be required to apply for a fence permit or administrative zoning permit based on these local ordinances and building regulations.
As an example, Clark County, NV, has local building ordinances that require residents to apply for a permit to build a fence above six feet in height. Residents can obtain an application form from the Clark County Department of Building & Fire Prevention or download the form online and fill it with the help of their contractor.
All the other counties have similar or slightly different requirements regarding fences and other constructions. Some, such as Washoe county, do have some exemptions on their building ordinances based on the type of fence and where it is located. For instance, you need a permit to construct a fence that is above six feet in your front yard in the county.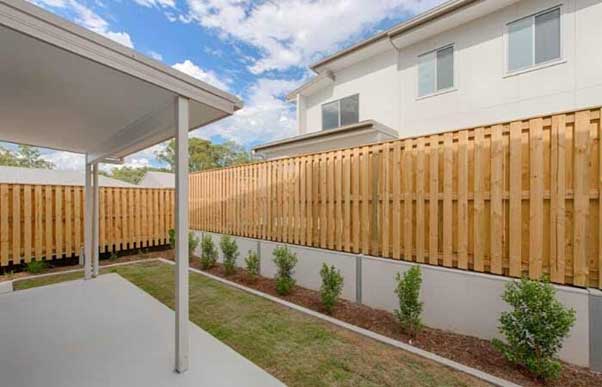 Can I Replace an Existing Fence Without A Permit?
You will be required to apply for a fresh permit in most counties in Nevada when you want to replace or do significant alterations to your existing fence. This is because replacing an existing fence can mean using different specifications (such as height) and materials that may or may not be in line with the local building code of ordinances.
Be sure to ask your contractor if you need a permit or visit your local building department when you want to replace a fence or build a new one from scratch. Replacing a fence without obtaining the relevant permits could either mean attracting fines or inadvertently violating local building ordinances and having to demolish the fence later.
How Tall Can A Privacy Fence Be in Nevada?
The average residential fence height allowed in the state of Nevada is 6 feet in front yards and 8 feet in backyards. This is based on local county-level and city building ordinances and zoning district requirements. However, each county or municipality in the state has its fence requirements. Refer to local building ordinances with the help of a licensed contractor to get the required fence specifications.
The table below contains sample fence height restrictions from the state of Nevada based on effective local building laws or ordinances:
| County/ Municipality | Maximum Fence Height (Residential) |
| --- | --- |
| Clark County | 6 Feet |
| Washoe County | 6 Feet outside front yards |
| Carson City | 6 Feet for front yards- special permits for taller fences. |
| Mesquite | 8 Feet on Rear yard, and side yards, 3 ½ feet on front yards |
| City of Las Vegas | 3 Feet on front and side yards, 8 feet on rear yards |
Who Owns the Fence on Property Lines In NV?
Local ordinances and building codes may differ from one county to another in Nevada but any fence built on the property line belongs to both neighbors. This is because the property line is taken as common or "no man's land in most places and allowing one person absolute rights over it could be unfair.
The property line refers to the space separating your lot from the next one. It is rarely identified or measured with precision even in a survey and can be a source of conflict for most neighbors. The best, and recommended pre-emptive solution to property line disputes is to have a property line agreement. This agreement should be signed with all the neighbors that you share a boundary line.
Another approach to property line dispute avoidance is to build your fence a few inches from the identified line. Your neighbors will also erect their fences on their side of the land leaving unused space on the property line. It's important to be wary of property line encroachment or adverse possession and seek legal advice as soon as you can when you cannot agree on property line usage.
How Do You Know Where the Property Boundary Is?
The best way to identify and mark a property boundary or line is to have a professional survey done. The surveyor will not only do an onsite survey and measurement of your land but also refer to available plat maps and land records to determine the correct property line.
Neighbors are also encouraged to have a legally binding property line agreement in place to avoid disputes arising from property line usage and encroachment. It's best to draft and sign the property line agreement as soon as you purchase any lot in Nevada and before you build a fence.
Can My Neighbor Build A Fence On The Property Line?
Land usage laws at the state and county level allow neighbors to agree on the usage of the property line. As of today, there are no clear restrictions even at the local level on the usage of boundaries in the state of Nevada. This means your neighbors can build a fence on the property line as long as it complies with local building laws and a permit was obtained where needed.
In addition, local fence laws and county-level ordinances are not clear on who owns or should be responsible for property line fence maintenance. This, therefore, means that you are not compelled to repair or take care of your side of the boundary fence even though it is generally expected that you will keep it in good shape. Having a property line agreement with your neighbor can help prevent disputes.
Can I Put Up A Fence on My Side of The Property Line?
Yes, you are allowed to put up a fence on your side of the property line provided it complies with local fence laws and building regulations. Refer to local fence ordinances or property line usage laws on ownership of fences put directly on the property line to avoid disputes.
That said, it is always advisable to identify the property through a survey and put your fence a few inches from the boundary if there is no property line agreement in place. This way, you can be assured you are the sole owner of the fence and avoid encroachment or private nuisance lawsuits from your neighbors.
Nevada state may not have specific laws on fences but it does have a law especially addressing spite fences. As the name suggests, a spite fence is a fence put up that is an annoyance to a neighbor or inconvenience them in some way. For instance, the fence could be blocking a view, direct sunlight, or just ugly on the neighbor's side.
Spite fences are illegal in the entire state of Nevada and can be brought down if a complaint is laid by the affected neighbor. Any fence erected without purpose is also considered a spite fence under the state statutes. Neighbors can raise a private nuisance complaint with the local authorities or through the court system.
Clark county is, perhaps, one of the few places in the state of Nevada that has comprehensive fence laws or ordinances. Residents of Clark County are required to obtain a permit to erect a fence above 6 feet in height depending on the zone and also follow the strict guidelines contained in the county's code of ordinances.
For instance, Clark county fence laws only allow chain link fences on commercial and industrial applications or undeveloped vacant lots.
Nevada boundary fence laws at a glance
Statues
Boundary Fences
Spite Fences
Boundary fences: Local
Nevada ordinance


Spite fences: Nevada Revised Statutes section 40.140
Local laws in many Nevada counties require permits before building fences, and that fences conform to local building codes and ordinances.
A property owner may be legally liable for nuisance for building a "spite fence" that serves no legitimate purpose other than to annoy a neighbor.

A "nuisance" as defined by Nevada law includes any structure that obstructs the free use of the property of your neighbor or interferes with your neighbor's "comfortable enjoyment of life or property."