Shadowbox fences are popular fencing types with alternating pickets on both sides, guaranteeing privacy and a uniform look. Also known as a board-on-board fence, shadowbox fences look similar to classic picket fencing, but they are more expensive to install. A shadowbox fence is perceived to be of better quality than a standard privacy fence, and homeowners highly value it for its aesthetics.
The national average cost to install a shadowbox fence is $4,500, depending on fence height, and quality of wood used. Labor costs are between $35 – $45 per hour, depending on the fence size and job complexity.
Homeowners can install shadowbox fencing in either full or partial privacy configurations, which is a significant benefit of shadowbox fences.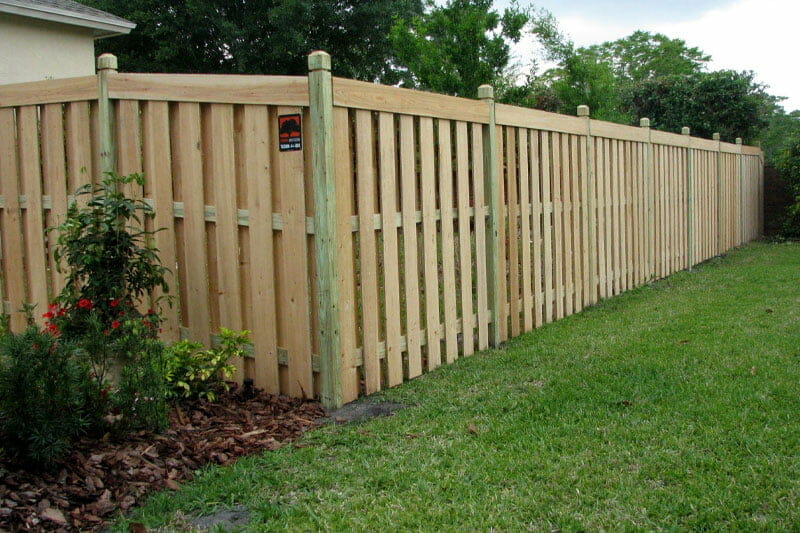 The average cost of installing a shadow box fence ranges from $12 to $22 per linear foot. Hourly labor cost to install a shadow box fence starts from $35 per hour and can reach up to $45 per hour depending on the scope of work. Material costs for a shadow box fence are between $9.25 to $14 per linear foot.
| Shadowbox fence cost | QTY | Low | High |
| --- | --- | --- | --- |
| Shadow-box fence materials cost | per linear foot | $9.25 | $14 |
| Shadow-box fence cost (installed) | per linear foot | $12 | $22 |
| Shadow-box fence cost labor cost | Per hour | $35 | $45 |
| Shadow-box fence cost (installed) | 400 linear ft. | $1,200 | $2,200 |
Shadow-box fencing cost by type
A shadowbox fence is available in various styles, materials, and wood types. The cedar shadowbox fence is the most popular wood type because of its durability, low maintenance, and excellent water-resistance properties. The table below shows the cost of each shadowbox fence type.
| Shadowbox fence type | QTY | Low | High |
| --- | --- | --- | --- |
| Pressure-treated Pine | Per linear foot | $12 | $15 |
| Basic Cedar shadowbox | Per linear foot | $13 | $17 |
| Quality Cedar shadowbox | Per linear foot | $14 | $20 |
| Vinyl shadowbox | Per linear foot | $18 | $22 |
Installing a 400 sq. ft, 4-ft high pressure-treated pine shadowbox fence costs between $1,200 and $1,500, or $12 to $15 per linear foot depending on materials quality. A shadowbox picket fence has pickets on both sides of the fence rails/runners resulting in additional material and labor costs.
It costs between $1,300 and $1,700 to install 400 sq. ft of 4-ft high basic cedar shadowbox privacy fence. A basic cedar shadowbox fence consumes twice as many materials as a traditional cedar privacy fence of similar dimensions. Low prices of unfinished 1×6-inch by 8-ft and 4×4-inch by 8-ft, cedar lumber range from $24.98 to $31.98, making a basic cedar shadowbox fence a more expensive fencing option. However, a cost-saving advantage of basic cedar shadowbox fencing is the absence of stain or other protective coatings, which adds to lumber costs.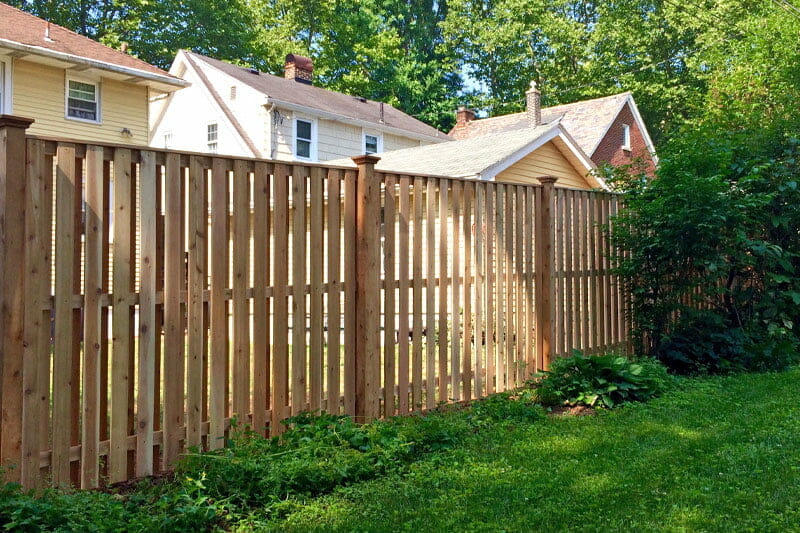 The cost to install a quality cedar shadowbox fence ranges from $14 to $30 per linear foot or $1,400 to $3,000 for a 400 sq. ft fence, depending on the quality of materials used. Pre-finished cedar boards cost more than basic cedar boards, and these, along with the design of the shadowbox fence, increase material costs significantly.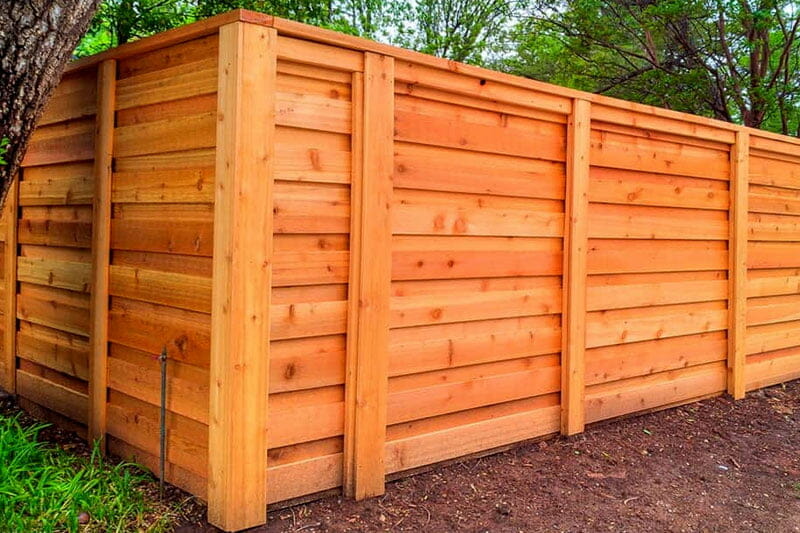 Vinyl shadowbox fence costs between $18 and $22 per linear foot to install and $1,800 to $2,200 for a 400 sq. ft 4-ft high fence, depending on the quality of materials used. Vinyl fencing comes in pre-produced panels that are available at hardware and home improvement stores.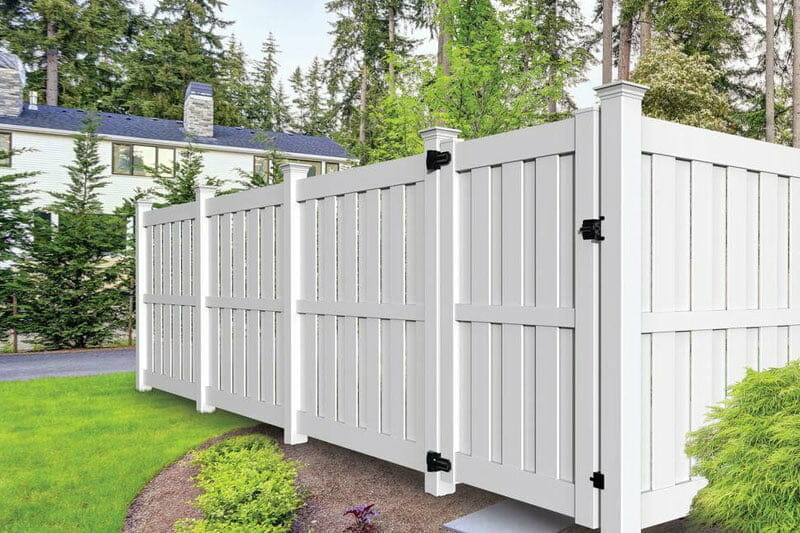 Additional cost factors of shadow-box fencing
As illustrated in the table above, installing a shadowbox fence is an expensive project that quickly runs into several thousands of dollars. The cost estimation and installation process can be tricky, and inexperienced contractors and DIYers often run into trouble due to inaccurate board measurements and insufficient materials. There are several additional cost factors involved in erecting a shadowbox fence, and if you are contemplating putting up one. Here are a few things you should know.
Yard landscape – leveling properties with uneven terrains such as ditches, steep inclines, or slopes to make them suitable for shadowbox fence installation is labor-intensive, increasing overall installation costs. When preparing an estimate, contractors consider your yard topography and layout, including trees and thick shrubs that need to be removed before construction.
Fence height – shadow fence boards come in standard 4-ft tall panels. However, manufacturers also produce 5 and 6-ft pickets and privacy panels, with prices averaging a third above the cost of standard panels.
Property size – properties with large perimeters require more material compared to smaller properties. Generally, contractors estimate their material and labor costs per linear foot. And homeowners with larger properties may find out their costs escalate faster than people with smaller properties.
Fence types – your overall shadowbox fence installation fence costs will depend on the material you choose for your fence. There are different types of shadowbox fences ranging from wood to vinyl, and the cost for each type varies significantly. For example, a vinyl shadowbox fence can cost between $4 to $18 extra over a pine shadowbox fence of similar length and height.
Design – manufacturers produce shadowbox fences in a variety of styles and shapes ranging from flat top, straight or dog-ear, scallop top, cut or rolling arch top e.t.c, to match your home design. More attractive designs cost more than simpler designs and often feature accessories that include elegant top rails, ornamental post tops, and expensive gate hardware. For example, fixing a lattice top design on top of your privacy shadowbox fence can increase your costs by $3-$25 per linear foot.
DIY shadow box fence cost
There are several cost considerations to contend with if you are planning to build your very own shadowbox fence. Estimating the costs of a DIY shadowbox installation involves several cost factors, including:
Permit fees: these range from $20-$60 depending on where you live and the size of your fence. How fence permit fees are calculated varies per municipality. While some areas charge a flat permit fee, others base the fee on a percentage of the total project costs.
Equipment purchase or rent: the reality is that you won't have all the tools necessary to perform a DIY shadowbox installation. You may need to purchase a powered hole digger to insert posts if your soil is hardened from little rain. Some homeowners can avoid incurring the extra cost by borrowing tools from friends or neighbors. Also, renting equipment from specialized hardware stores can reduce your overall costs compared to an outright purchase.
Material costs: cost of material for shadowbox fencing ranges from $9.25-$14, depending on the shadowbox fence type and material quality. Remember that you might be paying premium retail prices compared to professionals who typically get wholesale deals.
Accessories: buying shadowbox fence accessories such as a gate with locks and ornaments post caps increases your total costs by $200 to $1,200, depending on your fence size, fencing type, quality of accessories, and the quantity you require. Gates are typically priced according to dimensions and quality, and prices range from $250 for cheaper 4-ft pine gates to over $1,000 for high-quality 12-ft vinyl gates. Post caps cost $10 on average, depending on the material (wood or vinyl).
Third-party help: you may need extra help with labor if the job demands become overwhelming, and most DIYers can count on neighbors and family to lend a hand. However, you may need to hire a handyperson for temporary help to install the problematic sections of the fence.
The unexpected costs of a DIY shadowbox fence installation can quickly add up and overwhelm an inexperienced DIYer. However, building your shadowbox fence can be a cost-saving option if you are already familiar with the process.
A typical shadowbox fencing looks identical on both sides to create what is generally called a "good neighbor fence." A standard shadowbox fence configuration uses 1X6 inch pickets spaced 4 inches apart on one side. During installation, 1X6 inch pickets cover the 4-inch space on the other side of the fence, guaranteeing privacy and effectively protecting the exposed rails. When installing a shadowbox fence, getting equal spacing between each picket can be challenging (especially for DIYers). A trick is to use a 2X4 jig that hangs on the top backer rail to ensure consistent spacing throughout the fence.
Difference between shadow-box fence and board on board fence
There are no differences between shadowbox and board-on-board fencing. Both terms refer to a particular privacy fencing type with an overlapping pick pattern on each side of the rails. The overall effect is a privacy fence with a pattern resembling a classic picket fence. Professionals often refer to a shadowbox fence as a board-on-board fence and vice versa.
DIY vs. professional shadowbox installation
Homeowners planning on installing a shadowbox fence generally contemplate hiring a contractor, but you can choose to install your fence as a DIY project and save money. Installing a shadowbox fence as a DIY project involves more complexity and consumes more time and materials than a conventional fence. So, it is essential to carefully consider both options and decide which one is best for you. Below is a list of pros and cons for professional and DIY installation.
Cheaper than hiring a contractor.
It allows homeowners the freedom to customize their fencing in the most exquisite shapes and designs.
You get satisfaction from building your fence regardless of the cost savings or quality of workmanship.
A DIYer pays more for shadowbox fence materials than a professional would.
A longer than average learning curve for inexperienced DIYers could lead to delays, extend the fence completion timeframe, and abandon the project altogether.
The build quality of a DIY shadowbox fence is poorer compared to a fence installed by a professional.
Lack of knowledge of local building ordinances and experience with the permit process may result in code violations and fines from local authorities.
Professional installation
It saves time.
The homeowner is guaranteed high-quality workmanship.
Proper shadowbox installation leading to higher property value.
Professionals have the knowledge and experience to build without incurring fines.
Professionals offer a limited range of customizations.
A professional shadowbox fence installation is more expensive.
Essential tips to know before hiring a professional to install a shadowbox fence
Hiring the right professional to install a shadowbox fence can save you a ton of problems ranging from build quality issues to budget overruns. We have compiled a list of helpful tips to help you make the right decision.
Request for free quotes from at least four experienced contractors. You can expect each professional to charge different prices when bidding on the same job.
Schedule your projects during the "off-season" between late fall and early winter when new projects are scarce, and contractors offer significant discounts to attract new jobs and pay off overhead.
Ensure that the professional has considerable experience installing shadowbox fencing by asking for references and evidence, including pictures of previous work.
Licensing and insurance are proof of reliability and professionalism; a reputable contractor you hire must possess these requirements.
Inquire whether the contractor can offer advice on whether you need a permit and help obtain the necessary permits from the city.