When hiring a fencing company to install a fence in your home or property, they usually bill you by the length coverage or by the hour.
You can expect to spend between $0.40 to $1.50 per linear foot of woven wire fencing as a ballpark cost. While this can be a reliable cost expectation, the final expense can still be higher, especially if you choose high-end materials.
The cost of installing a woven wire fence can depend on the length and height of the desired fence, the size of the mesh, its quality and durability, and the other considerable costs that come with the installation.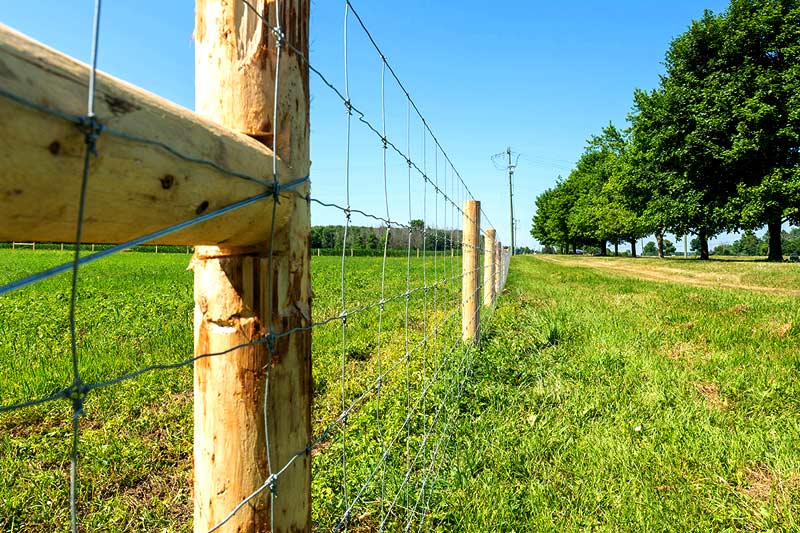 Depending on the expected quality that you want for your fence needs, and the purposes that you want it to serve, the cost range to have a woven wire fence installed can vary.
For reference, below are the estimated average costs per acre depending on the quality of work:
| Description | Average cost per acre |
| --- | --- |
| Low-end Average Cost | $334 per acre |
| Mid-end Average Cost | $1,670 per acre |
| High-end Average Cost | $3,940 per acre |
Woven wire fencing cost per foot
When getting a quote for a woven wire fence installation, most companies would estimate the project by foot. To have a final estimated cost, they would take into account the materials, the labor cost, and the size of the project.
Since the cost may vary depending on the quality of the material, and the specific mesh you want, the average cost to have a woven wire fence could fall in the range of $0.40 to $1.50 per foot.
Usually, fencing professionals can charge you an average range of $1.10 to $2.50 per linear foot for the woven wire fence installation.
Considering the mesh variations, a woven wire with a 2-inch by 4-inch if you want to safeguard hoofed animals since it can be difficult for them to pass through the holes. A 6-inch by 6-inch mesh can be suitable for larger animals.
Woven wire fence cost per hour
If your hired professional fencer bills you by the hour, the cost will consider the location, the type of fence, and the terrain conditions that you are installing it over.
Usually, fencing projects can take 1 to 3 days or more, if the project is large-scale.
The cost to have a contractor to install a woven wire fence can typically cost between $40 to $60 per hour. Since most contractors can finish a fencing project in 1 to 3 days, the total cost can be rounded up to $320 to $1440.
Woven wire fence labor cost
Typically, the labor cost to install a woven wire fence would range between $0.92 to $5 per linear foot. This, of course, is dependent on the specific type of woven wire fence, the terrain, and the total size of the project.
An additional factor to consider in the labor costs is the condition of the terrain. Normally, if the target area is uneven, the hired professional will need to "reslope" it. This would consequently add to the time and labor considerations.
The average cost for a resloping would be $1,300. If you wish to have an area to install a woven wire fence and the ground has a significant slope or is inaccessible, you may have to pay for this additional cost.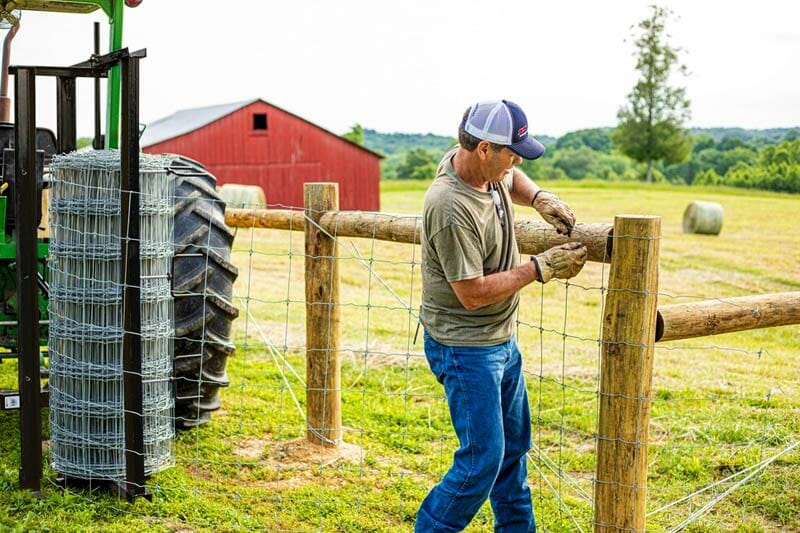 Woven wire fence other costs
The cost of a woven wire fence could differ depending on the mesh, the length, the height of the fence, and the quality.
Considering all the factors that could affect the costs mentioned above. The average rate could fall between $0.40 to $1.50 per linear foot.
In other areas and other variations of woven wire fences, the average price range could be from $1.50 to $5.90.
Depending on the material, height, and thickness, the cost of fence posts could vary. Usually, the most common choice for posts is metal and wooden posts.
Generally, wood posts are more affordable, averaging from $20 to $50 each. While it may be affordable for most, the downside is they are less durable and may require replacement periodically.
Metal posts are more durable and can offer more visual appeal compared to wood fence posts. Metal fence posts could cost up to $25 to $60 each.
At a minimum, you should have one gate to access your fenced property. However, some property owners prefer to have multiple entrances/exits for additional accessibility.
Typically, gates can cost you $150 to $600, depending on their material, height, and decorative aspects.
There can be several other materials that you'll need to successfully have your fencing project done successfully. This depends on how you specifically want your fence to be done.
Other costs such as staples and nails to attach to fence posts can come necessary, and this could cost around $20 to $50 on average.
Other materials including concrete can also come necessary to add a good foundation to your fence posts. Cement would cost around $3 to $6 per bag.
Factors considered in woven wire fence cost
Regardless of the location of your desired area to install a fence, initial preparation must be done before the project takes place.
Initial preparations can include but are not limited to registration of a permit or property grading.
Usually, different locales or municipalities would require property owners to secure a permit before installing upgrades such as fences. These permits will assure are in line with building codes and laws.
Generally speaking, securing permits could cost $25 to $50. However, this estimate can balloon depending on your area. To determine the actual cost, you can contact your local zoning office.
Avoiding obtaining a permit can cost you hundreds more than securing one.
The final expense of the woven wire fencing installation can be heavily dependent on the materials and their quality.
Most of the time, property owners have to deal with terrain that's not level. Having uneven ground can make the fencing more difficult and taxing.
Depending on the required leveling of terrain, resloping projects can cost between $500 to $5,000.
Usually, woven wire fences are sold in rolls, with lengths of 100 to 330 feet per roll. These can be purchased at local hardware stores.
The height of these fences has 4, 6, and 8-feet variations. Each for their specific purposes.
The material strength of a woven wire can be measured by the gauge of its wire. Typically, 18-gauge wires are the thinnest, and the strongest wires are 6-gauge wires.
Usually, property owners can have effective woven wire fences with 18 to 12.5-gauge wires.a
If you want your woven wire fence to keep livestock from going in and out, you'd want a 2 by 4-inch mesh.
If you want to install a woven wire fence for residential purposes, a 6 by 6-inch mesh can be ideal.
Depending on the purposes you want your woven wire fence to serve, various mesh types can cater to your needs. Their prices, of course, can also vary.