Crawl spaces tend to have high levels of moisture and humidity, which is why these spaces are highly prone to mold growth. It is crucial to get rid of the mold immediately to prevent it from spreading all around your home.
Crawl space mold removal cost is around $3,500, ranging between $1,500 and $4,000. At the lower end of the spectrum is a bathroom with the price of $1,000 for mold remediation, while for the whole house of 2,000 sq. ft., the price can go up to $15,000 or more.
Several factors will affect the final cost of your battle with mold in the crawl space. The factors include the location and type of the mold colony.
Let's clean up your mold!
| Description | Average cost |
| --- | --- |
| National Average | $3,500 |
| Average Range | $1,500 to $4,000 |
| Low-end | $1,000 |
| High-end | $15,000 |
| Cost Per Square Foot | $15 to $30 |
| Mold Inspection and Testing | $450 to $800 |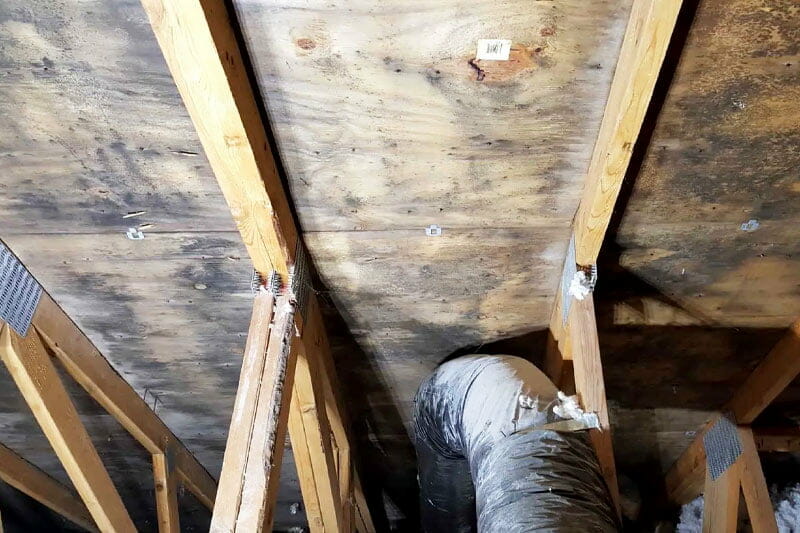 Crawl Space Mold Remediation Cost per Square Foot
For mold removal expect to pay from $15 – $30 per square foot or from $500 to $4,000 for the crawl space with the average height.
If your project includes more extensive jobs such as removing mold in crawl space, walls, air ducts, and replacing the contaminated insulation you will have to pay from $2,000 to $6,000 depending on the size and type of the mold, reasons for mold growth, and accessibility.
Mold Removal by Complexity Cost
| Type of the mold removal | Average Cost |
| --- | --- |
| Crawl space removal - only | $500 - $4,000 |
| Crawl space, Air ducts, Walls, Insulation | $2,000 - $6,000 |
| Structural damage | $10,000 - $30,000 |
If there is a need for mold testing expect to pay from additional $200 to $400 for a visual inspection and taking samples. Also fixing leaky pipes applies additional fees.
Mold on concrete beams, wood joists, and insulation indicates that water has started to leak or a high level of humidity is present, and you should react immediately.
Crawl spaces are rarely inspected for mold, mildew, and bacteria presence. Most often when the problem is already huge. Spores spread into the walls and HVAC system and penetrate your living space.
It is a well-known fact that exposure to mold can have far-reaching serious consequences and can cause serious health problems such as asthma, allergies, and respiratory issues.
Types of Mold Found in the Crawl Space
Some mold strains are harmless, more or less. While others are highly dangerous to people. Crawl spaces provide perfect conditions for mold to invade and thrive there. The following mold strains are the most common in the crawl space:
Black mold, also known as Stachybotrys, is definitely the most toxic mold strain on the earth. It tends to grow in areas that have been exposed to water or moisture. Mold remediation companies can ascertain the type of mold in your crawl space.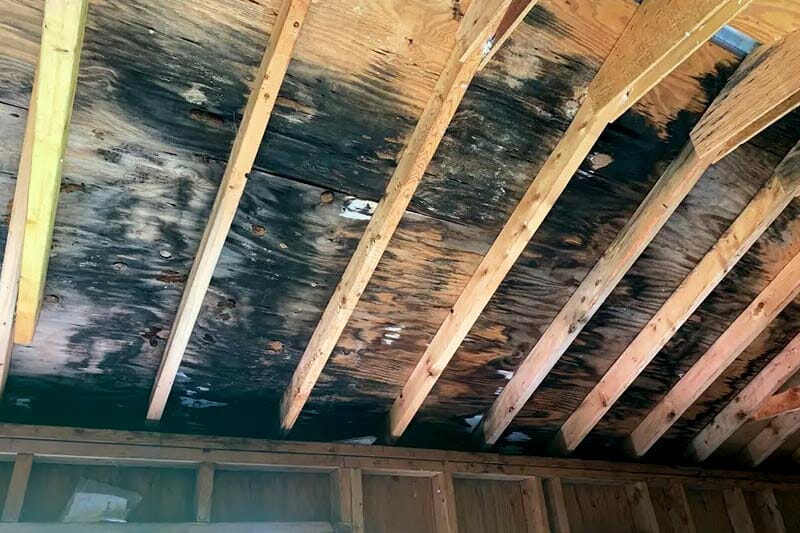 This type of mold is very susceptible and difficult to spot because of its white color. Penicillium, Aspergillus, and Cladosporium are among the most common species that grow in the crawl space. When white mold is in a developmental stage it will change color after some time.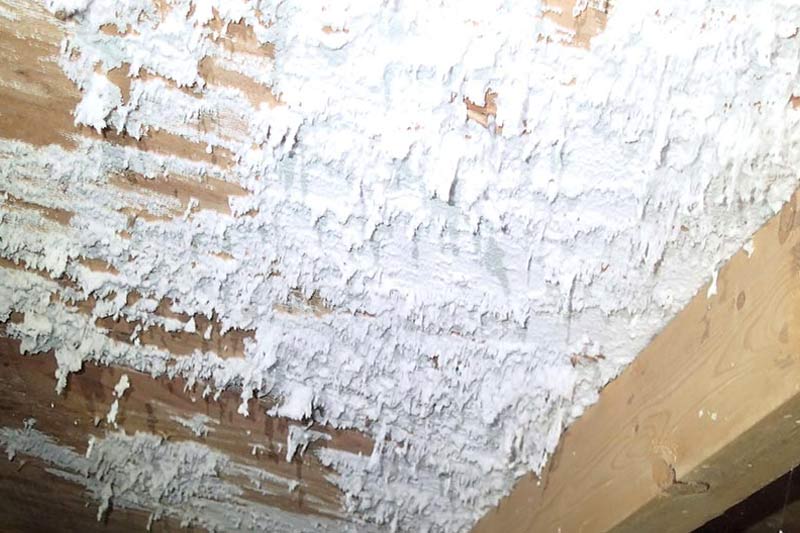 Organic materials such as moisture and oxygen are the perfect food for yellow mold. These materials exist in your crawl space and they create a perfect environment for this strain to grow. Yellow mold vigorously attacks wooden structures, causing them to decay and fall apart. That's why when you notice it growing, call a mold remediation specialist to eradicate it.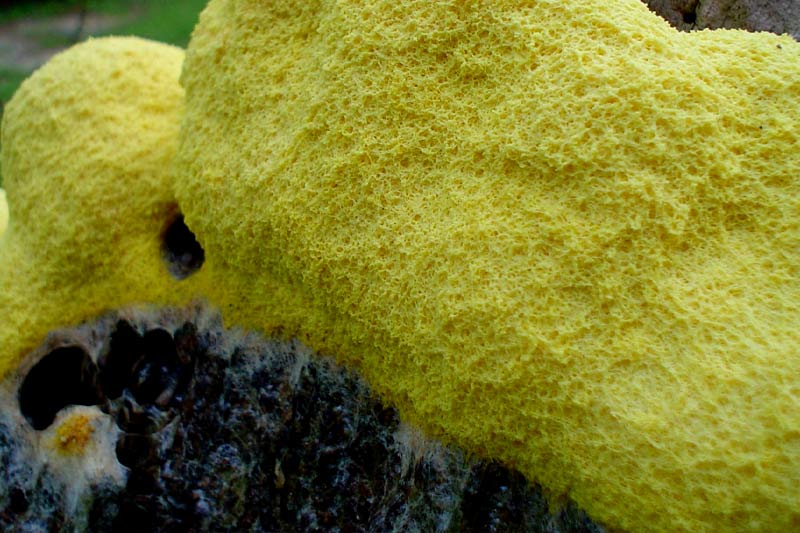 Professional Mold Removal Cost by Type
More than 100 different types of mold exist, each of them differing in appearance, location, side effects, and cost for removal. The more toxic the mold is the higher the price for mold removal will be due to the need for safety equipment.
The table below highlights the most common types of mold and the removal cost, including labor and materials:
| Type of mold | Removal Cost |
| --- | --- |
| Chaetomium mold removal | $500 - $3,500 |
| Ulocladium mold removal | $1,000 - $4,000 |
| Alternaria mold removal | $1,500 - $5,000 |
| Aspergillus mold removal | $1,500 - $5,000 |
| White mold removal | $1,500 - $5,000 |
| Cladosporium mold removal | $1,500 - $5,000 |
| Green mold removal | $1,500 - $5,000 |
| Black mold removal | $2,000 - $6,000 |
| Serpula Lacrymans mold removal | $2,000 - $6,000 |
| Fusarium | $2,000 - $7,000 |
Four Signs of Mold in a Crawl Space
A humid crawl space provides the perfect environment for mold. It quickly affects the wood, causes structural problems, health issues, and many more damages.
The following four clues are signs of mold presence in your crawl space:
If you notice that unpleasant mold odors continually migrate upward and through the foundation wall, and also low indoor air quality, then you have to inspect.
It is very common for mold in the crawl space to cause allergic reactions, running nose, itchy eyes, headaches, and respiratory problems.
As mold spreads from the crawl space it will affect baseboards on the floor above.
Crawl Space Components Discolorations
The following color-coded clues will definitely indicate mold:
Black – Most common molds
Green – Maybe Aspergillus, Cladosporium or Penicillium
Greenish Black – Slimy in appearance
White – Variants of Aspergillus, Cladosporium or Penicillium
Brown – Common Aureobasidium pullulans or Pithomyces chartarum
Yellow – Wood-damaging Serpula lacrymans or Epicoccum nigrum
Orange – Variants of Serpula lacrymans
HomeGardenGuides.com is a free service that quickly matches you with top-voted local Mold Removal Specialists.
You can get 3 estimates fast by real certified experts in your area in just 2 minutes.
Scroll to the top of the page and enter your Zip code.
Answer questions about your mold job
Your details are forwarded to three local experts. They will send you a price estimate for the job and some friendly advice.
IMPORTANT: There is no obligation to hire. This is a free tool and service to be used at your pleasure.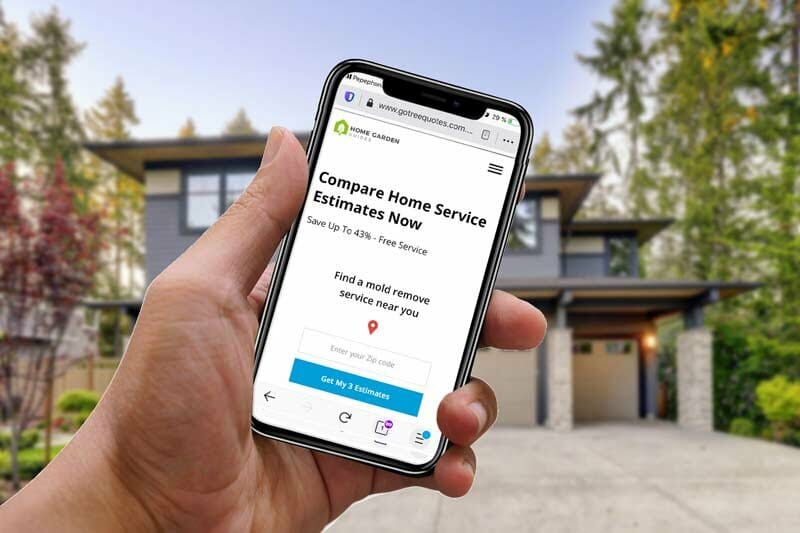 I think that this might be valuable information for you, my reader. If you need to remove mold from your crawl space then repairing and cleaning will be needed too. For cleaning costs, you can read a little below in this article. First, let's repair your crawl space:)
Foundation repair – $2,000 – $8,000
Wet crawl space repair – $1,500 – $5,000
Structural damage repairing – $1,500 – $4,000
Crawl space insulation replacing – $900 – $3,600
Encapsulation – $1,500 – $15,000
When you reach this point my recommendation for you and your home is a full treatment that includes cleaning, pest control, and installing a dehumidifier, drainage system, and encapsulation. This will help you prevent mold growth in the future.
Foundation repairing may require replacing piers or underpinning to raise or increase strength, fixing cracks, releveling the house using mudjacking, or other repairing methods. Foundation repair contractors can charge you from $2,000 to $8,000 or even more for fixing sinking or settling.
| Repair | Average Cost |
| --- | --- |
| Pier and beams replacing | $1,000 - $2,000 per pier |
| Cracks repairing | $250 - $800 per crack |
| Mudjacking costs | $2,000 - $6,000 |
| Foundation walls stabilizing | $5,000 - $10,000 |
Wet Crawl Spaces Repair Cost
Regular clean-up of water-damaged crawl space costs from $1,500 to $5,000. On the other hand, severe flooding in a crawl space can cost you up to $10,000 for removal and repairs. To prevent further issues waterproofing and encapsulation will be needed and for that, expect to pay between $5,000 to $15,000.
| Repair | Average Cost |
| --- | --- |
| Wet crawl space repairing | $1,500 - $5,000 |
| Severe flooding repair | $3,000 - $10,000 |
| Damage restoration | $500 - $5,000 |
| Drainage system | $800 - $3,000 |
| Crawl space encapsulation | $5,000 - $15,000 |
If additional things such as replacing the wet insulation, walls, or remediating mold are needed it can add up to $5,000 or more.
Replacing Support Beam Cost
| Task | Cost |
| --- | --- |
| Engineer's plan | $250 - $400 |
| Beam replacement | $1,500 - $4,000 |
If you need to replace a support beam in the crawl space you will have to pay between $1,500 and $4,000 for structural repairs. The overall cost depends on the beam's size, weight, material, what it supports, and accessibility. If it can be replaced in place it will cost you 50% less.
A structural engineer's inspection and design plan for the replacement is required in most locations to get a building permit and start construction
Insulation Removal and Replacing Cost
| Type of insulation | Cost per square foot | Average cost |
| --- | --- | --- |
| Board/Batts | $1.50 - $2.50 | $900 - $3,000 |
| Spray foam | $2.50 - $3.50 | $1,500 - $3,600 |
*Prices refer to both removal and replacement of the insulation.
Old and wet insulation is a perfect host for a mold of all types, mildew, and rodent excrement. If your crawl space is properly insulated the energy efficiency of your home will increase. Also, the entry of moisture and outside air will be reduced.
Before you replace the insulation it is very important to perform proper moisture control so trapped moisture is removed and rotting of the wood framing is avoided.
Spray foam insulation is your best option. Its costs range from $1,500 to $3,600 it lasts longer, and it is more moisture-resistant than other forms of insulation. But there is one drawback with spray foam insulation when installed in the crawl space. It can prevent future pipe or electrical repairs and may not be suitable for your crawl space.
Crawl Space Cleaning Cost
The basic crawl space clean will cost you from $500 to $2,000 while deep cleaning that includes mold removal, fungus treatment, sewer water cleanout, or extensive pest control will cost you from $500 to $4,000. Several factors will affect the overall cost of the crawl space cleaning, those are size, condition, accessibility of the crawl space, and type of the cleaning.
| Clean up | Cost |
| --- | --- |
| Basic cleaning | $500 - $2,000 |
| Mold removal | $500 - $6,000 |
| Fungus treatment | $500 - $4,000 |
| Asbestos removal | $1,200 - 2,800 |
| Sewer water cleanout | $1,000 - $5,500 |
| Minor pest removal | $200 - $700 |
| Extensive pest control and cleaning | $1,500 - $4,000 |
Get Rid of the Crawl Space Mold Like a Pro – Six DIY Steps
Crawl space mold removal process can be a DIY project. But, it is very important for your safety to be fully protected. That includes a face mask (with OSHA-rated respirator recommended), non-vented goggles, heavy gloves, and throw-away coveralls. I hope that the following steps will help you.
Step 1 - Assess the Situation
When you are fully equipped and protected assess the extent of mold in the crawl space. Set up lights in the crawl space and lay down plastic sheets to catch mold as it's cleaned from the surfaces. While you are still at this point call in the professionals if the job seems too big.
Step 2 - Use a Foaming Spray
Spray the affected areas with a foamy spray specially formulated for mold. Let it work its magic and loosen the mold, and then begin carefully cleaning the surface.
Step 3 -Soak With a Mold Killer
Soak any remaining thin coats of the mold with a homemade killing mixture. On the other hand, commercial products are more effective, and they will provide you with better mold stains removal.
Step 4 - Scrub Off Residue
First let affected areas dry, and then with a stiff bristle brush scrub away any remaining mold. This can take you some time, but it is very important to remove as much mold as you can.
Step 5 - Dispose of Everything
Fold up all the plastic sheeting that you have used and seal them properly in a heavy thrash bag. Do the same with the rest of the contaminated protective gear such as coveralls and brushes you have used.
Step 6 - Control Crawl Space Climate
Few possibilities are there for you to settle the crawl space climate, but a dehumidifier is in most cases the most effective and most affordable solution for you. It doesn't kill the mold but it can prevent further growth by reducing the humidity.
Tips for Saving Money on Mold Removal
Act fast and don't consider whether or not to remove mold;
A small mold infestation is manageable;
Large mold colonies can be devastating both financially and healthwise;
Once your mold is removed, schedule regular cleaning to prevent new mold spores from settling in again;
Mold remediation professional service can save you money in the long run;