If you are a home or property owner encountering indoor mold for the very first time, it can be a somewhat daunting prospect. Even if you decide to engage a professional to remove the mold for you, this itself can throw up many questions.
Engaging a professional mold specialist can be beneficial in a number of ways. They can test and inspect your property or home, and can also remove the mold and repair any damage it might have caused. Familiarising yourself with some of the basics of home mold removal can help you choose the best mold inspector or mold remediator for your individual job.
There are many considerations to take into account when selecting a mold inspector or mold remediator. By educating yourself about what exactly a mold inspector or remediator does, you will be able to ask them questions about the mold problem to better understand how this particular problem might be solved.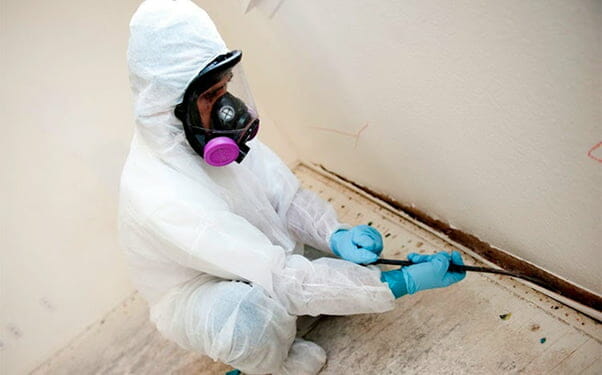 Unfortunately, there is no straightforward answer to this question, as the cost of a mold specialist will very much depend upon your individual circumstances and the mold growth in your home or property.
On average, mold remediation (removal of mold growths and repair of any damage) can cost between $500 and $6,000. The majority of mold remediations tend to fall somewhere in between the $1,500 to $3,000 range, averaging out to approximately $15 to $30 per square foot.
The cost of a mold inspection will depend upon the size of your home. This is because a mold inspector will examine your entire home for mold growth. The average cost for a mold inspection of a small to medium-sized home (less than 4000 square feet) falls between $300 and $400. Larger homes and properties typically cost more and can run you anywhere up to around $900.
When do I need a mold specialist?
The United States Environmental Protection Agency advises that you will need to engage the services of a mold specialist if you have a visible mold growth in your home that is larger than 3 feet by 3 feet or ten square feet in total.
This, of course, is just a guideline. If you wish to consult a professional on your small mold growth, then go right ahead! This may be a wise course of action if there is a sizable moisture problem that is causing the mold growth in the first place, or if you suspect you may have some hidden mold lurking in your home.
If you have large mold growth in your home, or simply want the peace of mind that comes with consulting a professional, then you should get in touch with mold specialists in your area.
The fastest and easiest way to get fast, reliable cost estimates for your mold removal or inspection job, all from reputable mold removal specialists near you, is to use this FREE service.
Homegardenguides.com quickly matches you with three mold professionals who have been voted #1 by previous users in your area.
Scroll up to the top of the page and enter your ZIP Code.
Provide a few details about your mold removal or inspection job, plus some contact information.
Your details are forwarded to the best three mold specialists in your area, who will be in touch with a quote and some helpful advice.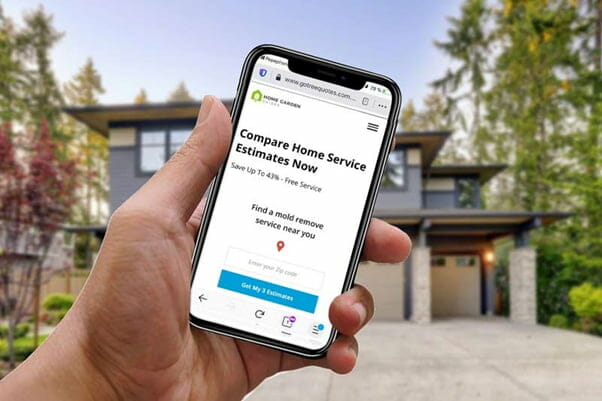 How do mold specialists remove mold?
While the specific means and methods that mold specialists use to clean up mold will differ depending on a number of factors (the type of mold growth, the extent of the mold growth, whether the mold is growing in a hard to reach location), one thing remains constant: the need to address and remedy the root cause of the mold growth.
In most domestic situations, the root cause of the mold growth is usually a leaking pipe, a broken roof tile, or inadequate clean up after a flooding event. In short: the root cause of mold growth is due to an excessive amount of dampness or moisture in your home.
It is important to remedy any dampness or moisture issues in your home, otherwise, the mold is very likely to simply grow back.
As mentioned, the exact process used by mold professionals to remediate your mold growth will differ, but all mold specialists will follow the same basic principles and guidelines. A summary of these is set out below:
Your mold remediator will dry the water-damaged areas and assess the extent of the mold growth.
Your mold remediator will use containment methods (sprays, sheeting, etc.) to limit the further spread of mold spores.
Your mold remediator will select the level of Personal Protective Equipment required for your mold removal job – minor jobs will obviously necessitate fewer items than more major works.
Your mold remediator will select and utilize the proper cleaning and drying methods to remediate your mold problem – this will differ from job to job.
Your mold remediator will dispose of any unsalvageable materials or items that have been damaged by mold.
What certification do mold specialists have?
There is no nationally accepted standard license or certification that mold remediators and inspectors need to hold. Some states may require mold specialists to hold certain qualifications, and it is always worth checking the requirements of the state you live in prior to engaging any home improvement specialists.
The EPA offers a mold course that is suitable for a wide range of professionals who may deal with mold exposure in their day-to-day, not just professional mold remediators or inspectors. This course covers the basics of mold prevention and remediation, based on the EPA's own guidelines when it comes to remediating mold in commercial and public buildings.
There are also other industry bodies that offer similar courses and qualifications. The National Organization of Remediators and Mold Inspectors is one such industry body. They offer two examinations for mold professionals and provide qualifications for both mold assessors and mold remediators.
What tasks can a mold specialist perform?
Broadly, mold specialists perform two categories of tasks: inspection and remediation. While the first is perhaps slightly more obvious in its scope, the second can cover a wide variety of actions and tasks.
Mold inspections are often the first port of call for mold specialists when it comes to removing mold from your property. These inspections can either be done simply with a flashlight and ladder, where the mold inspector examines every inch of your home for mold, or can also be done with air tests to determine the levels of mold spores in the air inside your home.
These inspections are useful in helping your mold specialist determine the severity of the mold problem in your home and plan their remediation accordingly.
Although most often understood as 'mold removal', mold remediation is a broad-ranging process that covers a number of activities and actions. These can include:
Containment procedures to prevent the further spread of mold spores
Drying damp areas to stop mold growth
Repairing areas of moisture and water ingress
Physically removing mold growths
Use of mold inhibiting sprays and paints to prevent future mold growth
Removal of airborne mold spores via HVAC vacuums
Disposal of mold-infected items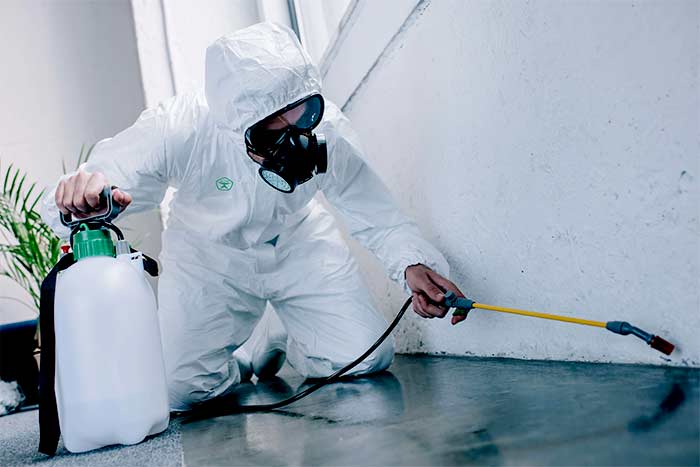 Do mold specialists give free mold inspections?
Some mold remediation companies will often offer a free mold inspection as part of their services. In some circumstances, particularly if you have not seen any mold in your home, to begin with, these offers are too good to be true.
You should be wary of a mold remediation company that offers a free mold inspection, as it is obviously in their interest to find mold in your home and convert their free inspection into a paid removal!
If you wish to err on the side of caution, always use a certified, specialized mold inspector to examine your property. The fee you will pay is nominal in the grand scheme of mold removal, and you'll have peace of mind knowing that you are receiving a fair, unbiased report.