Molds are common culprits in every American home. If they're not growing on your walls or ceiling, you'll find them in your HVAC ducts.
And even when you can't see them, you or someone in your house will surely smell them. They might be responsible for your nose irritation, increased coughing, sneezing, or wheezing.
Once you suspect that you have molds in your house, you need to take firm action to identify and remove them.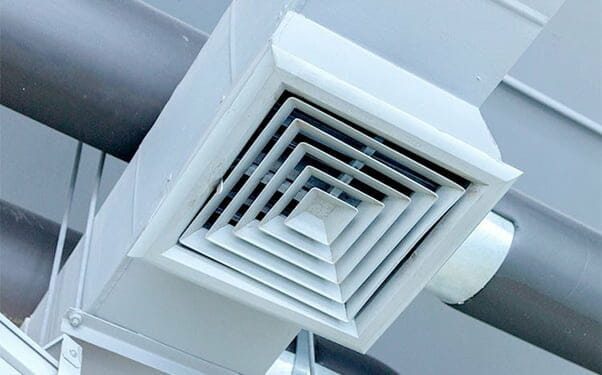 The national average cost for HVAC mold removal stands at around $2,272.50. Most experts charge between $10 to $30 per square foot for the removal, depending on the type of molds, size of the growth, and the state of the AC ducts.
Most homeowners spend between $2,000 – $8,000 for the complete HVAC mold removal. This is because air ducts require a special cleaning, which increases the overall costs, but is essential to avoid contaminating the air in your house.
However, some owners who only had a small area infected spend as low as $500, while those with rampant growth can spend as much as $10,000 for the job.
For mold growth in areas smaller than 10 sq. ft, you can remove them as a DIY for around $50.
| Service | Quantity | Lowest price | Highest price |
| --- | --- | --- | --- |
| HVAC mold removal material prices | Per sq. ft | $10 | $17 |
| HVAC mold removal labor cost | Per hour | $75 | $105 |
| HVAC mold removal costs | Per sq. ft | $20 | $26 |
| Total Mold Removal costs | Per Sq. ft | $30 | $43 |
Cost factors influencing cos of HVAC Mold removal Besides the cost of materials and labor, many factors affect the total costs of HVAC mold removal. Among them include:
Type of Mold – There are more than 100 molds, each different in appearance, toxicity, and side effects. You'll therefore spend more on the removal of more toxic molds like the black mold and Fusarium mold.
Stage of Detection – It's generally easier and cheaper to remove molds in your HVAC if they're detected early. Later on, mold grows exponentially and increases the areas to be covered. This means increased costs.
State of the HVAC Unit – Corroded air vents may require some repairs or replacements of different structures. This may cost you up to $38 per sq. ft extra depending on the vent structures.
How to check for HVAC mold
The key to cutting down HVAC mold removal costs is detecting the mold early. Generally, molds are very conspicuous and easy to spot on walls and ceilings. But in your HVAC system, it's easy to miss the early signs of a mold infestation.
Here are three crucial steps you should follow to check for HVAC mold in your house.
Step 1: Conduct a visible inspection
Put on your face mask and grab a step stool and a screwdriver. Open up the vents screens and look for small dark spots on the air ducts – these indicate colonies of mold. Be sure to also check the exterior of the vents. Molds may also build-up right at the entrance of the vents if there's enough moisture.
Step 2: Test for the musty mold smell
Mold has a peculiar musty smell that makes it easy to identify. If there's an infestation in your HVAC unit, you should notice a heightened musty mold smell whenever your AC is on. Try turning it on and off, and focus on the smells in the air. In severe cases, you may experience some noise and throat irritation when the AC is turned on.
When you're not sure whether the dark spots in your vent are mold or just dust and dirt, getting a mold test is the best decision. Consult a local mold inspector to carry out the test and confirm the substance in your air ducts. If there are molds, lab results will specify which type of mold it is, and its expected growth rate in your ducts. The mold inspector can also give you an estimate of how much it would cost to remove it.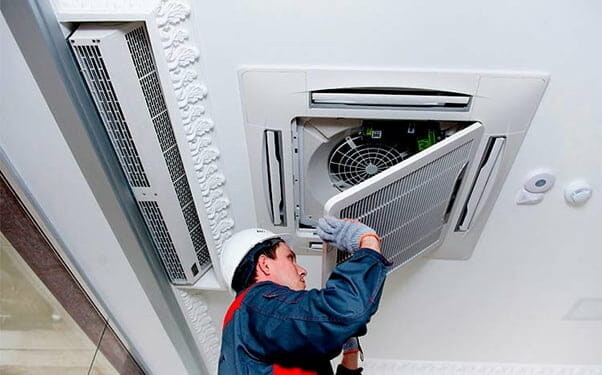 HVAC Mold cleaning service near me
Once you've identified the mold in your HVAC unit, professional cleaning is your next step. With the right cleaning experts, you can save up to 20% on energy bills and improve air quality in your home.
But you can't trust every professional you find when you google 'HVAC mold cleaning service near me.'
You have to ensure that the experts are certified and licensed, have some experience in the field, and have a good reputation in the area. The professionals should also have insurance and offer warranties for their services.
That said, there are hundreds of mold cleaning professionals in the United States who match this description – making it hard for you to choose the best.
That's why we introduced this FREE service! HomeGardenGuides.com is a free service that quickly matches you with top-voted Mold Inspection and Cleaning Specialists in your area.
In just three easy steps, you can get three estimates fast from real certified experts near you.
Scroll to the top of the page and enter your Zip code.
Answer questions about your mold job
Your mold cleaning details are forwarded to three local experts, who then send you a price estimate for the job and offer some friendly advice.
The entire process takes just 2 minutes!
IMPORTANT: There is no obligation to hire. This is a free tool and service to be used at your pleasure.
Do pro mold remediators need to be EPA registered?
No! EPA doesn't register or certify mold remediators in the country. They only register and approve mold cleaning products.
Every professional mold remediator is, however, expected to follow the guidelines and use the products approved by the Environment Protection Agency (EPA).
Nonetheless, businesses that wish to do business with EPA can still register their company on the new database site.
Do HVAC mold test kits work?
Sadly, not very accurately. Over the years, numerous studies have shown that mold test kits can't be trusted and are, in fact, a waste of money. Most stakeholders in the mold industry warn against using these kits, citing that they're designed to increase fear among homeowners while boosting the manufacturer's profits.
Among the key problems with mold test kits include:
Contradicting results – Most homeowners report receiving both positive and negative mold results from the kits. This indicates wild inaccuracies.
No visual inspection – Visual inspections are crucial in identifying molds' growth and spread in your HVAC. Test kits only use a sample portion and miss out on other affected areas or other factors causing the infestation.
Poor handling and calibrations – Most mold test kit manufacturers are more focused on making profits than producing quality test kits. They rely on their marketing to make the products appear very effective. In reality, most kits come with poor calibrations due to poor handling.
No expiration dates – Most test kits don't have expiration dates, and so homeowners have no idea of how long the kit has been on the shelf. Old mold test kits might already be contaminated at the point of purchase and hence give false results.
Mold growth in the HVAC is quite prevalent in most homes. Unfortunately, most homeowners don't discover this issue until it's too late! Your HVAC provides the perfect growth conditions for your mold, thanks to the constant heating and cooling.
Water droplets or moisture quickly builds up and attracts molds that spread rapidly through the vents.
Yes! The presence of mold spores in your air can cause severe respiratory health problems to everyone living in your house. According to the CDC, the effects of mold in your HVAC ranges from simple coughing and sneezing to severe infections like bronchitis, Asthma, and Pneumonia.
It's also dangerous for people with mold allergies or underlying respiratory illnesses like lung cancer. Some allergic reactions you may observe include trouble breathing and rashes.
In worse cases, toxic molds such as black mold are known to result in extreme health problems. Homeowners have reported issues like lung bleeding, eye infections, and depression.
The problem with mold in the HVAC is that it easily spreads the mold to the entire house. You, therefore, can't take these health issues lightly.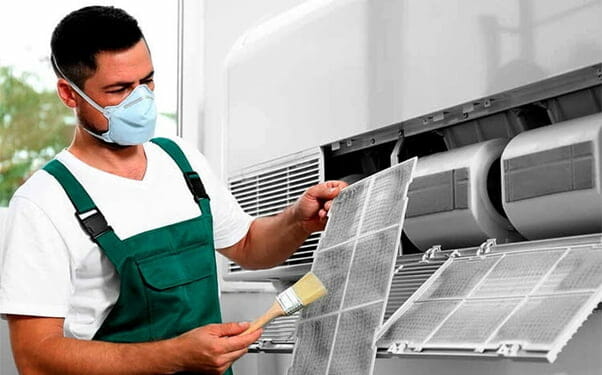 How to DIY treat HVAC mold
While it's recommended that you seek a professional's help to clean your HVAC mold, some homeowners still prefer to DIY treat their system.
As long as you understand your HVAC system and have some experience cleaning molds, you should be able to do a great job. Here are some crucial things you should remember if you've chosen this option.
First, protect yourself with the appropriate gear: face masks, gloves, an overall, and safety glasses. Next, find the equipment you'll need for the job. You'll need the following:
A cleaning agent (bleach or detergent)
An HVAC mold inhibitor
Pressurized water
mold fogger
Air conditioner mold spray
Air conditioner mold tablets
Ensure that each of the products you choose is approved by the EPA.
How to clean mold from air conditioner vents
With your full protective gear on;
Step 1: First, choose the cleaning agents
You can go for sodium carbonate or bleaches with sodium hypochlorite. But, avoid using bleaches on light surfaces like metal sheets. If the cleaner you choose also emits harmful fumes, ensure that your room is adequately ventilated.
Step 2: Apply your cleaning agent and scrub
Mix your chosen cleaning agent with water and spray it using a spray bottle on the affected surfaces of your AC vents. Let it settle for a few minutes, then scrub it with a low-abrasive brush in a circular motion. Once you've covered all areas, wipe out the vent with a dry towel.
Step 3: Apply the HVAC mold inhibitor
Once the vents are dry, treat them with an EPA-approved HVAC mold inhibitor. The inhibitor prevents the growth or spreading of the molds in your vents again.
Step 4: Let the vents dry
Once the vents are mold-free, disinfect or dispose of every item that was in contact with molds. This includes the towels you used to dry the vents. You can also try a dehumidifier if your location is very humid.
Step 5: Use a mold bomb fogger
Should you choose to go with a fogger, it should be the last thing in the process. The fogger helps remove the terrible earthy mold smell and eliminates any lurking mold spores in your HVAC.
Step 6: Inspect your vents
The final step to cleaning your HVAC is conducting an inspection after a week or two. Mold grows relatively fast, and in two days, you can find some regrowth. If this happens, try to find a way of reducing the moisture in your vents. You can do this by improving the circulation of your HVAC or insulating the affected area.
HVAC mold remediation tips
Mold on HVAC vents
First, turn off the HVAC system
Find the source of mold growth; in most cases, it's usually a low spot in your air duct or too much condensation in the vent.
Keep the ducts as dry as possible and clean them with a cleaning agent like baking soda or bleach.
Use an EPA-registered mold inhibitor to prevent mold regrowth.
HEPA vacuums everything that's been in contact with the molds.
Mold on HVAC filter
Check if your air filter is clogged
Replace any HVAC filters that have become wet
Inspect the vent to see if there are any visible molds
Get a mold test if you're not sure whether there's a mold infestation
Tip: Go for high-quality filters if you have pets, elderly persons, or someone with respiratory problems. They offer better air purification.
Mold on HVAC coils
Get rid of any humidity in the coils. You can do this by ensuring proper airflow in your HVAC systems and keeping the lines and condensation pipes clear.
Clean the HVAC coils with a cleaning agent or a biocide that will kill the molds in your system and leave a good smell.
To remove the surface dirt, use a soft brush or vacuum the coils – but be careful around sensitive coil fins.
Treat your HVAC coils with approved and registered mold inhibitors to ensure the molds can't find their way back to the coils.

The secret to maintaining clean and mold-free HVAC coils, filters, or vents is regular maintenance. Be sure to inspect your HVAC system for molds at least once a year, and you'll save more money, time, and have a healthy home!