Cathedral ceilings add beauty, drama, space and enhance natural light to your home. They draw the eye upward in a room, making it look and feel bigger. If you wish to open up your space or design your new home with a cathedral ceiling, here is everything you need to know.
It costs about $19,200 to install a cathedral ceiling. This cost ranges between $16,000 and $24,000. The cost can be as low as $10,000 for smaller projects, while larger projects can cost up to $30,000.
Note: This calculation is taken from an average 320 square foot room in a 2,000 square foot house. The actual cost depends on the size and age of your home, roof type, labor and material cost in your area, etc.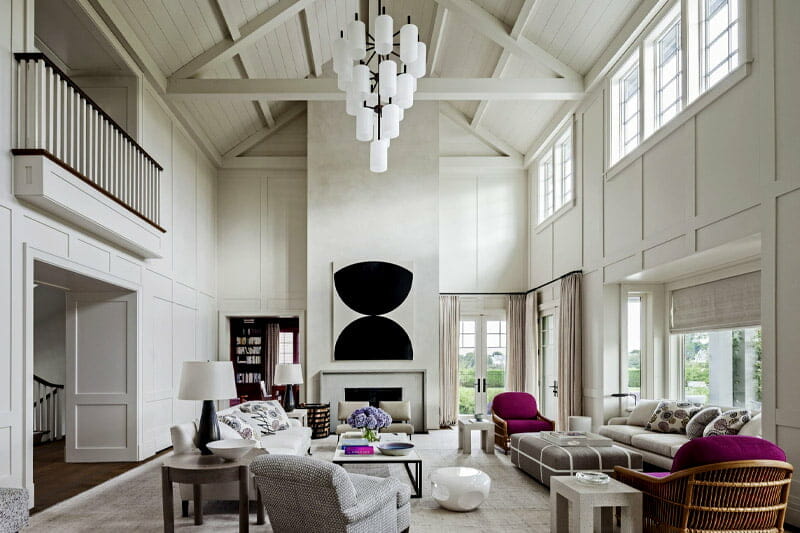 | Description | Average cost | Low cost | High cost |
| --- | --- | --- | --- |
| Cathedral ceiling installation cost | $19,200 | $10,000 | $30,000 |
| Cathedral ceiling cost per square foot | $60 | $50 | $75 |
| Cathedral ceiling labor cost (per hour) | $75 | $50 | $100 |
Cathedral Ceiling Cost per Square Foot
On average, installing a cathedral ceiling costs around $60 per square foot, ranging between $50 and $75 per square foot. This cost varies depending on several cost factors that we will discuss below.
Labor Cost To Install a Cathedral Ceiling
The labor cost to install a cathedral ceiling ranges between $50 and $100 per hour.
However, some contractors offer a flat fee for long-term and technical projects. This is advantageous to the homeowner because there will not be additional or unexpected costs during the project.
Hourly rates can be quite costly for the homeowner because the project can take longer than intended and, thus, higher labor costs.
Cost Analysis for a Basic Cathedral Ceiling Project
Below is a simple cost analysis for a cathedral ceiling project to give you an idea of what the project entails and the costs involved.
| Description | Average cost | High cost |
| --- | --- | --- |
| Engineer | $500 | $800 |
| Architect | $4,000 | $6,000 |
| Permits | $400 | $1,900 |
| Insulation | $1,500 | $4,000 |
| Painting | $2,000 | $4,000 |
| Electrician | $3,000 | $5,000 |
| Demolition and disposal of materials | $4,000 | $8,000 |
| Drywall | $4,000 | $9,000 |
| Reinforce roof framing, remove ceiling joists | $4,500 | $10,000 |
| Additional materials | $1,500 | $4,000 |
Cathedral Ceiling Cost Factors
Installing a cathedral ceiling is a complex job. Below are several cost factors you should consider before you start the project.
Material removal. Removing old ceiling material costs around $1 to $2, while disposing of the debris costs around $0.35 to $0.50. This will increase the overall cost of the project.
Framework or reinforcement. The new ceiling will need to be reinforced to provide additional strength and stability at an additional cost.
Labor and material costs. The cost of labor and material may differ from region to region. Booming metropolitan areas tend to have higher labor rates than in rural areas.
Age of home. If your home is older, more caution will be required during the installation of a new ceiling. Also, old ceiling materials will be removed and disposed of at an additional cost.
Roof type. The type of your roof will influence the overall cost of the project. Homes with complex roof designs are harder to work with; thus, the cost of installing a cathedral ceiling will be higher compared to houses with simple roof designs.
Ceiling size. If your ceiling is large, it will cost more to install a new ceiling.
Painting. The new ceiling will need to be painted to match the house's theme—a professional painting contractor costs between $1 to $3 per square foot.
Permits and planning. Home improvement projects that change the structural design of a home require permits. The cost of a building permit ranges from $400 to $1,900. Your contractor can help you know what kind of permit you need for your project.
Roof removal. You may have to remove your entire food to install a cathedral ceiling, which may increase the overall project cost. If the roof is framed the traditional way (with large lumber rafters), it may stay in place.
Plumbing, HVAC, and electrical work. Upgrading your plumbing or HVAC will increase the overall cost of your project.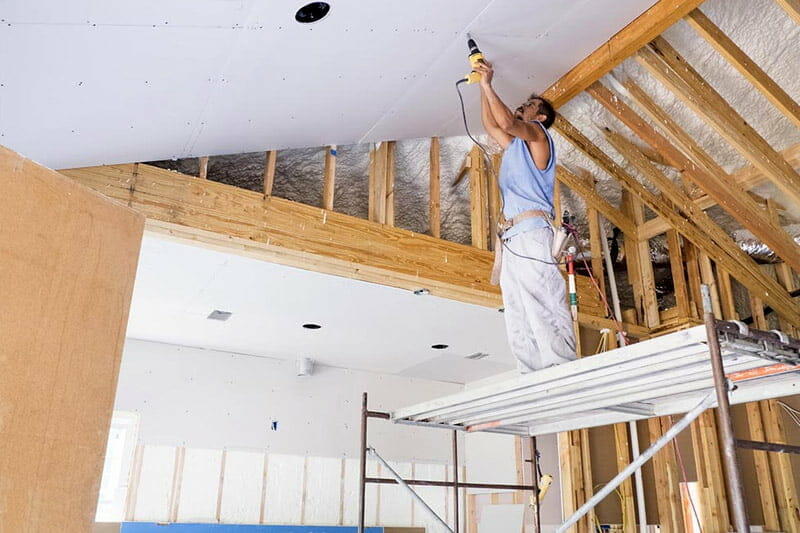 Pros and Cons of a Cathedral Ceiling
Like any other ceiling type, cathedral ceilings also have their advantages and disadvantages.
Cathedral Ceiling Advantages
Creates an Illusion of More Space
Cathedral ceilings do not technically add floor space, but they give a home a grand and airy feel. These ceilings draw the eye up, creating an illusion of more space.
Cathedral ceilings make a room look brighter and airy. Once the ceiling is raised, the additional space can be fitted with windows and larger light fixtures such as rod chandelier pendants.
Adds More Character to the Space
Cathedral ceilings give a home the mid-century modern look. These ceilings add more character to the room than a simple flat roof.
The wood beams increase the home's visual appeal and provide ample space for installing light fixtures. Cathedral ceilings also give the home a vintage and rustic look and feel.
Cathedral Ceiling Disadvantages
One of the biggest drawbacks of cathedral ceilings is the cost. Installing such a ceiling requires special roof trusses, usually built off-site, and are costlier than standard trusses.
Basic framework for this kind of ceiling can increase the project cost by about 5% to 20% for a 20 x 20-foot room.
Installing a cathedral ceiling in an existing home is very costly. You will need to hire an architect and structural engineer to determine the load-bearing walls that will support the ceiling and roof structure, and figure out how to open up the space for the new ceiling.
Installing a cathedral ceiling, especially in an existing building, is quite a hassle. This project is not suitable for DIYers, as your home will need a significant engineering modification to raise the ceiling. Consequently, you will have to hire professional contractors to handle the job.
Difficult To Maintain and Repair
Maintaining and repairing a cathedral ceiling are factors you should consider before installing the ceiling. After some time, you will need to clean, repaint, change light fixtures or repair minor cracks or holes in the ceiling.
Due to the ceiling height, usually 20ft to 30 ft, you may need to use special ladders or call in a professional to do the tasks for you.
Cathedral ceilings are famous for their energy inefficiency, especially if you have mounted additional windows and skylights. Typically, the heat rises naturally up the empty space in the room and offers no benefit at all.
Also, the ceiling makes the room drafty, which means additional insulation or ceiling fans may be required, which may increase your monthly energy costs.
A cathedral ceiling adds space, character, light, and beauty to a room, significantly benefiting a home. However, raising the ceiling will cost you usable living space on the second story, which may lower your home value.
For instance, you may be forced to trade one bedroom for the ceiling, which may add more value to your home if you wish to sell it later in the future.
DIY VS. Hiring a Professional
Installing a cathedral ceiling is not a simple DIY project as it involves a significant structural change to your home. Therefore, you have to follow local laws, meet local building codes and engineering specifications.
Some of the potential issues you may encounter if you decide to DIY the project include:
Bowing or sagging of the roof
Structural warping
Walls may bend outwards
Injuries and damage to the structure
Due to the complexity of the project, it is best to hire a professional contractor to manage the project. You will need an engineer, architect, plumbing, electrical, and HVAC contractors.
When looking for a contractor, it is recommended to get at least three quotes to compare the cost. This will help you to know the market cost of the project. Also, you will be in a better position to choose a contractor that fits your needs and budget.
This FREE tool will help you locate home remodeling contractors near you.
HomeGardenGuides.com is a free service that quickly matches you with top-voted local home remodeling experts.
You can get 3 estimates fast by real certified experts in your area in just 2 minutes.
Scroll to the top of the page and enter your Zip code.
Answer questions about your home remodeling job
Your details are forwarded to three local experts. They will send you a price estimate for the job and some friendly advice.
IMPORTANT: There is no obligation to hire. This is a free tool and service to be used at your pleasure.
Is a Cathedral Ceiling Right for You?
If you like elegance, coziness, and open spaces, a cathedral ceiling may be right for you. Also, if you want to revamp your space to make it look bigger and brighter, a cathedral ceiling will help with that.
However, you must be ready for the high budget that comes with the ceiling, from installing to maintaining and repairing it. Also, you may have to deal with the draftiness that the empty space comes with, and of course, the high energy costs.