Building a new property or just remodeling your home, in both cases, you will reach the point where you have to choose whether to install drywall or to install a drop ceiling. In most cases, it all comes down to personal preference.
Drop ceiling, aka suspended ceiling, is a grid system that holds tiles in place on the ceiling. On the other hand, drywall ceilings are pieces of sheetrock that are screwed together, taped, and mudded to provide a smooth surface and are often found in office buildings and commercial buildings.
For you, we made some researches on which option is suitable for different rooms and also the cost comparison.
Drywall ceilings require massive labor during the installation process. The drywall sheets are very heavy and naturally require strength during installation so they can be attached properly to the ceiling beams. When drywall sheets are attached the job doesn't end because there is finishing work that needs to be done. That includes covering screw heads, painting, sanding, and cleaning.
Drop ceilings, on the other hand, are quite simple to install. If you have good hands you can easily make this project a DIY task because of the simplicity of handling the suspended tile ceiling. The suspended ceiling installation process doesn't create a mess that requires a lot of clean-up work and can be completed over the weekend.
Also known as a suspended ceiling, drop ceiling covers damaged ceilings, provides noise suppression, hides duct work, plumbing pipes, and wiring. They are composed of two basic parts: the grid and the tiles. The grid attaches to the walls in a crisscross pattern of ceiling beams. The ceiling beams have a small ledge that supports the tiles and holds them in place.
Drop ceiling tiles gives you easy access after you have installed them. This is one of the biggest advantages of the suspended tile ceiling compared to the drywall ceiling. With a suspended ceiling, you have easy access to the electrical junction boxes and plumbing works. Simply just pop up a few tiles and you are in.
With a drywall ceiling, you have to be 100% sure that everything is in the right place before closing up because is extremely difficult to access after it's installed.
No matter if it's water damage or you have a problem with the electricity, drop ceilings are easy to fix, just pop up a ceiling tile and put in a new one. No time-consuming, fast, and DIY repair. This is one of the main reasons why homeowners choose drop ceiling tiles.


The look of a drop ceiling is pleasing to the eye. With so many ceiling types available, finished basements and the living space can be transformed into something unique and cool.
Installing lighting fixtures, pot lights, or recessed lighting, is much easier with drop ceilings. Also, you can move the tiles around if you don't like how the lightning is to get a flash of better lighting set up.
A suspended ceiling is a great way to insulate the sound in the room. This is great for a movie room, media room, or just simply to muffle the sound.
Someone Doesn't Like the Look
This was actually an issue in the past when different ceiling types were not available. But now you can get so many different tiles and layouts that it can really add to the overall look of the living space. But, if you prefer a smooth-looking ceiling over a tile ceiling grid, then this option is not for you.
If you have looked in the floor joists, and plumbing for a long time then any changes will be welcome, and you will love the look of the grid.
Suspended ceilings usually require 4-6 inches below the floor joists to install them, so if you have a low ceiling height, these extra inches can make a big difference. Drop ceilings are typically a few inches lower than a drywall ceiling. If you have a low ceiling then a drop ceiling can be a big problem.
Installation of a drop ceiling is not so complicated process, but definitely, the setup for the install takes a good amount of time and thought even for the professionals
Installing a drop ceiling costs $5 to $28 per square foot for labor and materials. Add $2 per square foot if you want insulating panels that go behind the ceiling tiles and up to $1 per linear foot for decorative rail covers.
Labor typically costs up to $5 per square foot. Grid rails and ceiling tiles are $13 per square foot on average, mostly depending on the tile material you want. Fiberboard tiles are the cheapest with a price of $2 to $7 per square foot, while wood could cost you up to $20 per square foot.
Tools needed for drop ceiling installation
These are needed for just a small area on the entire ceiling.
Drop ceiling tiles
Wire and wire hanging eyelets
4-foot cross T's, T channel, L channel, and 2-foot cross Ts
Tin snips
Screws
Cordless drill
Drill eyelet adapter
Utility knife
Drywall Ceiling - Overview
Drywall is one of the easiest-to-use and cheapest construction materials. Even a serious mistake will make you chuckle, knowing you've wasted little time and probably a few bucks. And the money you save handling the task yourself will come in handy when furnishing the new room.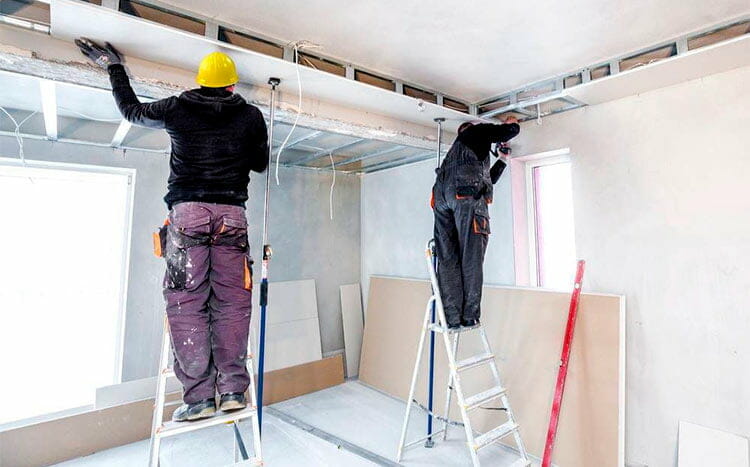 Pros of a drywall ceiling
Drywall provides a nice and smooth surface to the entire ceiling that is pleasing to the eye. It blends into the room and gives an easy aesthetic to the room.
The drywall is thin and light, which is helpful when installing. But it also makes it slightly prone to damage. A great benefit is that drywall repair is an easy task.
Drywall ceilings usually suffer from chips and holes that are easy to repair by patching dings with simple spackling paste and paint. Even the replacement of some drywall sheets is a relatively easy task.
Certain materials, such as drywall, are the perfect green option for building materials. Drywall sheets are made from gypsum and there are many eco-friendly options, even waste is easily recyclable.
Drywall is a budget-friendly option with a wide range of price ranges when it comes to drywall sheets. Labor costs are also reasonable but you can eliminate them if you are able to mount drywall boards yourself and just pay a contractor to finish them. Anyway, there are many options to find a labor budget that works for you.
Drywall will provide you extra protection in the event of a fire because it is a fairly fire-resistant material and many manufacturers add additional processes to make their sheets more resistant to flames.
In addition to fire resistance, drywall is also mold and mildew-resistant. Some types are even specially formulated for areas with a high level of humidity and exposure to water like the kitchen sink or laundry room. Drywall can help control moisture and prevent mold from forming in your home.
Cons of a Drywall Ceiling
The hardest part of this process is lifting up the drywall. Adequate upper strength is required for mounting the drywall boards. If you are DIY this then you will cut some expenses. You can do the finishing by yourself too, but it is better to hire a pro. Mudding the drywall, for example, is an art. If you get wrong you will have to see the seams all the time. Better consider hiring a pro at least for the finishing process.
Drywall shifts over time and this can make the screws protrude through the drywall and screw heads will ruin the initially smooth surface. This is an easy repairable issue but it is time-consuming, and if you are dealing with extreme temperatures throughout the year, you can end up dealing with them several times over the years.
You do a drywall ceiling for many reasons, for example, in the basement you don't want to lose ceiling height that you normally would with suspended ceilings. So when you have a drywall ceiling, you want to put in pot lights (or recessed lighting). This type of lightning requires boxing in the light and can cost you a lot of time and effort.
Another factor of lightning in a drywall ceiling is permanent. If you are DIY your basement ceiling, then you want to make sure that your ceiling lights are placed properly before the drywall goes up.
When you have water damage on a ceiling tile you just change the ceiling tile, but when you have water damage on drywall, you will have to cut out the whole damaged area, put in a new piece of drywall.
That includes screwing it in, mudding it constantly, and repainting it. New fresh paint will cause a huge difference compared to the rest of the surface.
There is no easy access with a drywall ceiling. Drywall ceilings are really hard to run wires, and cutting into them is hard even for professionals.
Drywall VS Suspended Ceilings - Decorations
When it comes to decoration, a drop ceiling is an absolute winner over drywall. With drop ceilings, you can choose a ceiling type that will fit the rest of the house. If you are tired of the old and traditional look, suspended ceilings are the best addition. Ceiling tiles in the suspended ceiling comes in so many different colors and textures and for sure you will find something that blends perfectly in your basement walls or living space.
Dropped ceilings can be customized to fit any room, but the drop ceiling vs drywall battle is always on. I will try to help you decide according to the room type when to choose dropped ceiling or drywall ceiling, and also a few words about the cost of both drywall and drop ceiling. Let's start!
What is a Cheaper Option?
In general, drop ceilings are more expensive than drywall, but when you consider that you can install a drop ceiling by yourself and you don't have to paint it and finish it, in the end, comes that the drywall ceiling is the more expensive option.
Because drywall can be repainted there is not much to worry about maintenance, and if it is painted with washable paint is also easy to clean.
Also, drop ceiling tiles are easy to replace if they become damaged, but you should be aware that some drop ceiling tiles are suspected of mold and water damage.
Both drywall and suspended ceiling are winners in this category.
HomeGardenGuides.com is a free service that quickly matches you with top-voted local Drywall Specialists.
You can get 3 estimates fast by real certified experts in your area in just 2 minutes.
Scroll to the top of the page and enter your Zip code.
Answer questions about your drywall job
Your drywall job details are forwarded to three local experts. They will send you a price estimate for the job and some friendly advice.
IMPORTANT: There is no obligation to hire. This is a free tool and service to be used at your pleasure.
Make Your Choice by Room Type
Since every room is different, and the choice of finishing them will be different. Let's see which ceiling might be a better option.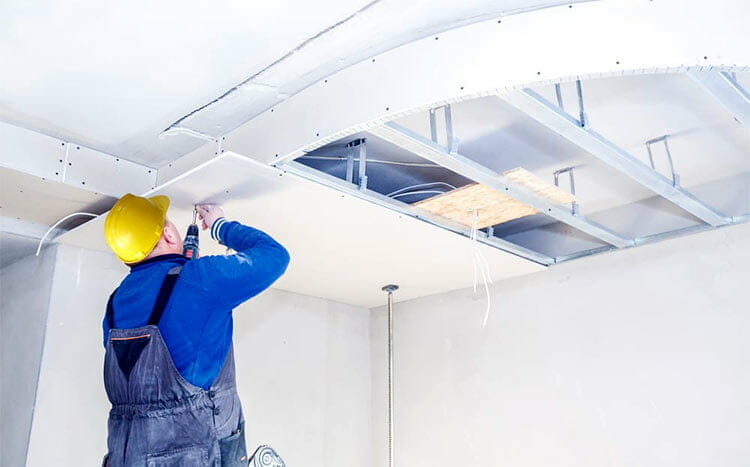 Both drywall and drop ceiling can work well in a living room. If you go with a drop ceiling then consider investing in more expensive ceiling tiles. Also, drywall with a good performance of crown molding can make your living room look pretty cool.
Drywall is the most common option for the bedroom since this room is more for relaxing than making a statement like other rooms in the house. Drywall ceilings are easy to keep neutral and simple for a relaxing environment.
Most of the garages have an unfinished ceiling, but when they have they usually have drywall because it is a cheap option and it is a good base if you choose another ceiling material in the future.
A drop ceiling is also a good choice for the garage. Your garage definitely doesn't require a fancy-looking ceiling so you can go with some simple and cheap ceiling tiles. The dropped ceiling gives you easy access to any wires, plumbing, duct work, and electrical junction boxes that are above your garage. You must be aware that dropped ceilings cannot withstand a lot of weight, so they are not a good option if you plan to create an extra storage place in your garage.
There are many arguments about what goes in a basement ceiling, drywall, or drop ceiling. Both work well so it comes down to personal preference, but finished basements usually have drop ceilings. The reasons are simple, easy access, and noise suppression ability of the ceiling tiles which is useful if you want to transform your basement into a movie room for example.
Building codes require certain materials to be fire-rated, so they can withstand fire for a certain time so you can react properly in case of fire.
There is well-known Type X Drywall. This type of drywall is not fireproof, it is fire-rated which means that it will take longer for fire to degrade it. Some building codes require fire-rated drywall to be used.
Are Drop Ceilings Fire-Rated?
Drop ceilings can be fire-rated. Drop ceiling tiles, and the grid will list whether they are fire-rated and for which class. Some tiles will have a higher fire rating than others.
Can You Drywall Over a Drop Ceiling?
Yes, it is possible to install drywall over a drop ceiling by attaching the drywall to the drop ceiling grid, but there are some disadvantages to look out for.
Removing the Drop Ceiling First
If you remove the drop ceiling and then apply the drywall you will increase the room height and give yourself more headspace. Dropped ceilings already lower the ceiling height by several inches, so if you are going to install drywall be smart and take advantage of that several inches by removing the dropped ceiling first.
Building Codes Requirements
It's also imperative to ensure installing drywall over a drop ceiling doesn't comply with the building code. Dropped ceilings often provide access to critical electrical areas, so you'll need to make sure you can still access those areas if the building code requires it.
Installing drywall over a drop ceiling can be risky because the grids might not be able to withstand the weight of the drywall and then your ceiling could collapse. So the best option is to decide which one to use or to remove the dropped ceiling first.
There is a large variety of materials with ceiling tiles. Acoustic tiles work well in a movie room and dens because they can absorb some of the noise. Metal tiles are heavy but corrugated tin tiles can add an industrial look to any room. PVC tiles are lightweight, easy to clean, come in an assortment of designs and colors.
Drop ceilings are more expensive to install than drywall making drywall the cheaper option. However, if you can install a drop ceiling by yourself, you can save on labor costs. You should also factor in paint costs for a drywall ceiling and whether you are hiring a professional to install and paint for you.
If the home's mechanical elements, such as plumbing, drainpipes, heating, and duct work, and wiring, run between but not below the joists, the ceiling grid is installed approximately 4 inches below the joists. The acoustic panels, depending upon the type, may reduce the ceiling height by another one-quarter inch. The height from the concrete floor to the dropped ceiling is about 7 feet 5 inches.
Although coffered ceilings draw the eye upward, the beams extend downward into a room, taking up some overhead space. Given this construction, coffered ceilings work best in rooms with high ceilings, nine feet tall or more. Rooms with lower ceilings may feel too claustrophobic or cluttered with the addition of coffers.