When renovating your basement, one of the aspects that can easily change its overall appearance is the ceiling. With the right ceiling style, even the darkest of basements could turn into a beautiful space in your house.
But there being tons of ceiling ideas to choose from, many homeowners find it hard to pick one option that's stylish and within their budget range.
For that, we've decided to help you make a decision. Here are 7 cost-friendly basement ceiling ideas you can consider for your remodeling project.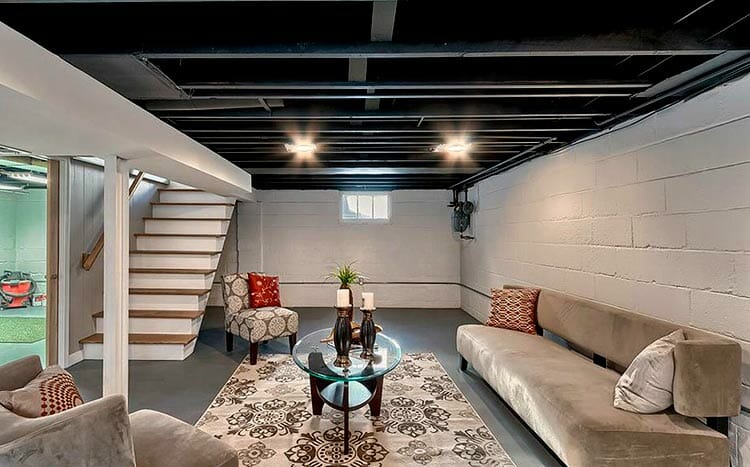 | Material | Height | Budget (500 sq. ft) |
| --- | --- | --- |
| Tin tile ceiling | Low - Mid | $2,250 - $4,750 |
| Corrugated metal ceiling | Low | $2,000 - $4,000 |
| Simple drop ceiling | High | $2,500 - $15,000 |
| Painted wooden plank ceiling | Low | $2,500 - $10,000 |
| Painted exposed beams and pipes | High | $1,250 - $2,500 |
| Beadboard ceiling | Low | $1,500 - $3,000 |
| Drywall | Low | $1,475 - $1,825 |
Note: Over the past year, there has been a sporadic rise in the costs of most home improvement appliances and materials. This is due to the increasing demand for these goods by the people now working from home, the rise in shipping costs, and the shortage in supply of the materials.
Therefore, expect to spend around 5 – 10% more on the ceiling materials and installation supplies from the prices mentioned in this article.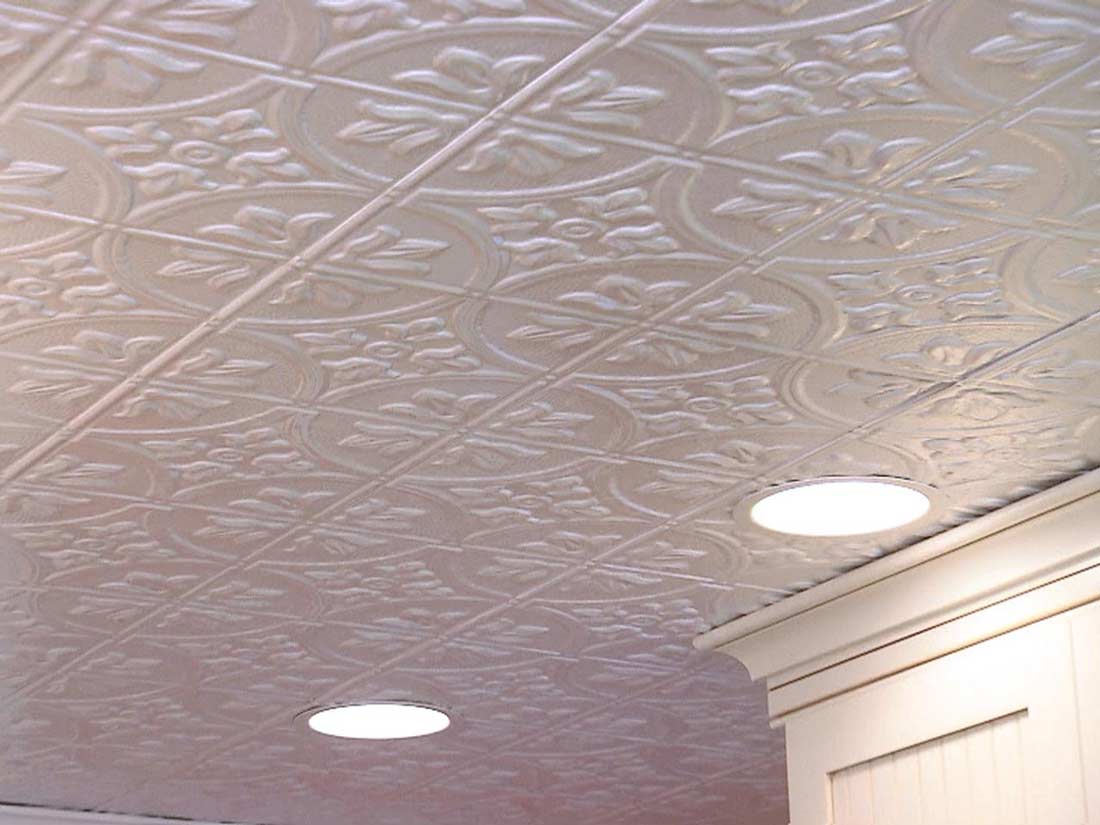 If you're going for a unique ceiling design that'll make your basements stand out, tin tile is the one for you. It features authentic and intricate metal tiles, that give your basement a classy or vintage look.
The ceiling tiles are also very thin, but you wouldn't know that unless you touch them. This makes it easier for installers to add insulation without degrading the height.
Tin ceilings come in three major types i.e.,
The Nail-up ceiling – One of the most popular types of tin ceiling. It usually requires a plywood grid that acts as a base for the installation.
Snap-Together ceiling – These types of ceilings fasten to most ceiling materials using its interlocking system. It offers a seamless look with no view of the fasteners. It's usually the most expensive per tile.
Drop-In ceilings – This ceiling features a metal grid system that drops down from the basement ceiling joists. The tin tiles are then dropped and secured onto the grid using clips.
Each of these three types of tin tile ceilings comes in three different finishes; Uncoated, artesian, or powder-coated finish. Here's how much each cost per tile:
| Type of tin ceiling | Uncoated tile | Powder-coated tile | Artesian tile |
| --- | --- | --- | --- |
| Nail-up | $6.50 - $8 | $11.50 - $25 | $35 - $45 |
| Snap-together | $8.50 - $12.50 | $14.50 - $30 | $38 - $48 |
| Drop-in | $5 - $8 | $12 - $24 | $35 - $45 |
This ceiling idea is perfect for basements at standard height. Its installation costs averagely $4.50 and $9.50 per sq. ft while the material itself costs anywhere from $1.50 to $4 per sq. ft.
Advantages of tin tile ceilings
Being metal, they're durable and long-lasting
Resistant to rot, cracking, and peeling
Moisture and fire-resistant
Gives homeowners a wide range of finish options e.g., powder-coated, polished, and bare
Comes in a variety of material options including copper, steel, brass, aluminum, etc.
Disadvantages of tin tile ceilings
Some types of tile ceilings can be expensive
Difficult to change styles once it's installed
Requires extra coating to prevent rust and corrosion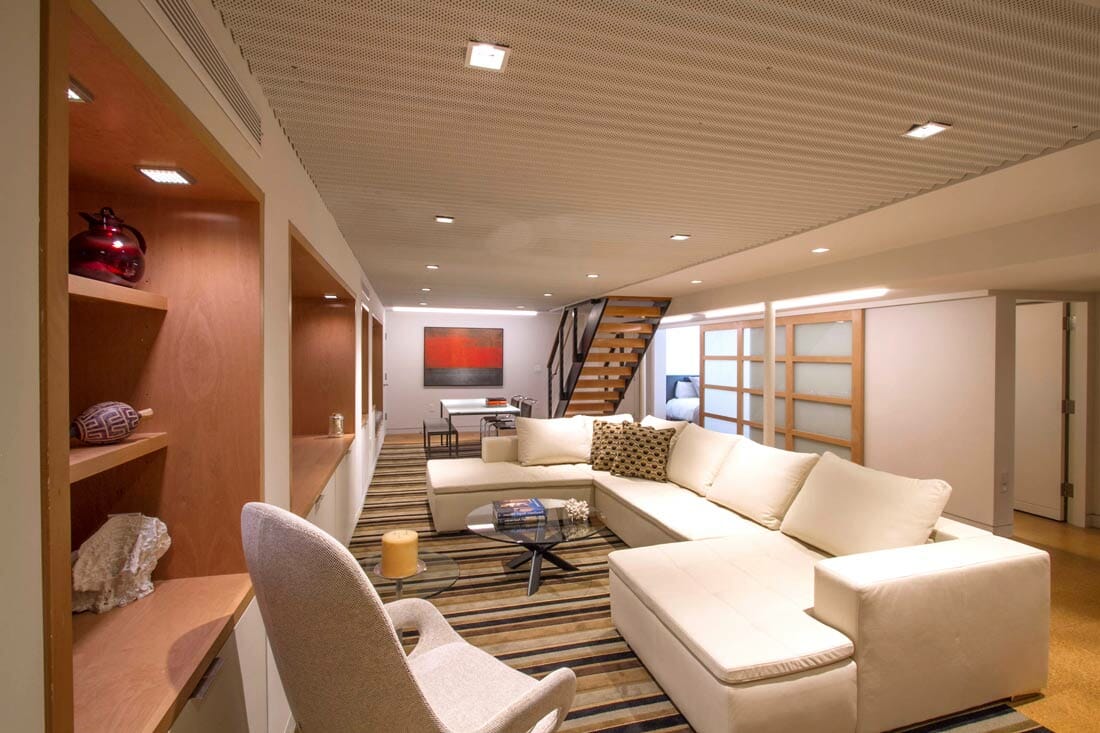 Corrugated metal ceilings may look old-school but they're still quite popular for basements across the country. They're particularly very cheap due to the availability of corrugated metal, which can be recycled for almost nothing.
This ceiling design is perfect for basements with low ceilings as it can reflect the light, brightening the room while still adding a new texture to the space.
It also works well if you need to cover the exposed beams or pipes on the basement ceiling.
Installing this ceiling idea will cost you between $1 – $3 per sq. ft on materials alone and around $4 – $8 per sq. ft if you include labor. If you DIY the job, you can expect to spend way less than $1,500 for the entire project.
Advantages of corrugated metal ceiling
It's cheap and easy to install
Easy maintenance, doesn't require painting
Offers a wide of finish and color options to match the interior
The industrial look is unique and aesthetically pleasing
Resistant to mold and mildew, rotting, cracking, and chipping
Strong, durable and can last a long time
Non-flammable
Disadvantages of corrugated metal ceiling
Its unique look may not appeal to everyone
Needs a protective coat to prevent rusting
Simple drop ceiling (Suspended ceiling)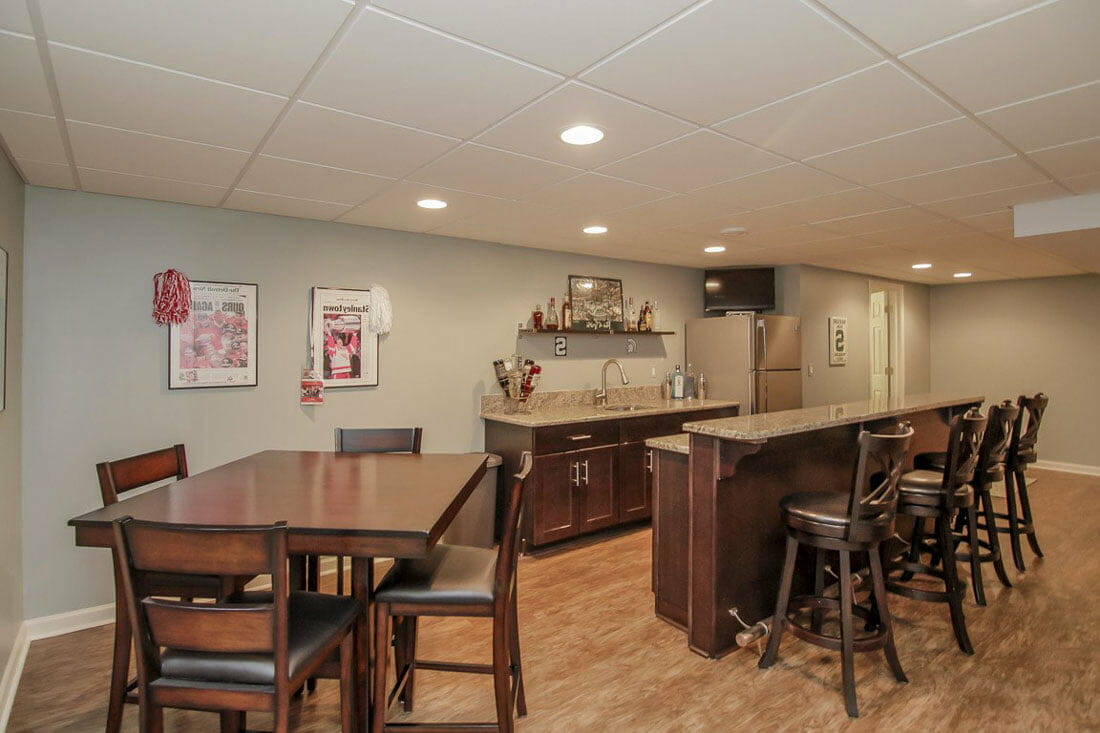 Drop ceilings are one of the most popular basement drop ceiling tiles for older homes. It generally refers to a series of ceiling tiles or panels installed just a few inches below the main structural ceiling.
Some people also know it as a suspended ceiling that forms an overhead grid-like design covering all the exposed utility pipes, ductwork, and more.
The most popular tile option used for the installation of this basement ceiling idea is the acoustic tile (Fiberboard).
The tile is very attractive thanks to the numerous finish and color options available. It's also quite versatile allowing you to combine colors for a stylish and beautiful design.
Other popular tile options include plastic, tin or metal, and wood.
The average cost to install a drop ceiling in your basement ranges between $5 to $30 per sq. ft depending on the material you choose.
If you choose to hire drywall contractors, labor will cost you around $2 – $5 per sq. ft and materials anywhere from $3 – $25 per sq. ft. If you go for a DIY, your costs could be as low as $2 per sq. ft.
Factors such as the number of exposed wiring or plumbing pipes and any extra decorations will also drive up the installation costs.
Advantages of drop ceilings
Effectively hides the pipes, wiring, ductwork, peeled paint, and stains
Easy to install and repair
Provides good soundproofing properties
Available in a myriad of colors and materials
Makes installation of lighting fixtures easier
Most people find it visually appealing
Cheaper than making a full renovation
Disadvantages of drop ceilings
Won't last long and may quickly deteriorate (stain, discolor or sag)
Significantly reduces the height of a room
Not everyone loves this look
Lightweight making it less sturdy compared to other design options
Painted wooden plank ceiling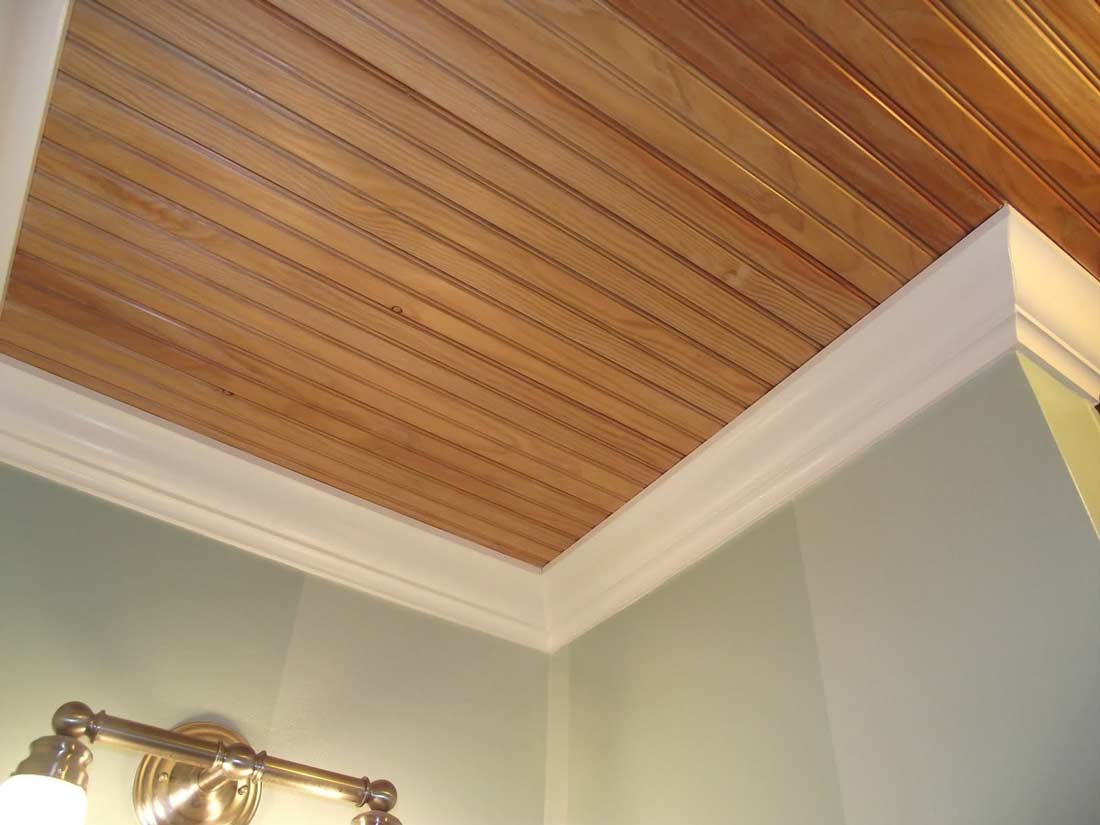 If you have support beams in your basement, a wooden plank ceiling should be at the top of your ceiling ideas list. This option may not be the cheapest but it's still affordable, easy to install, and gives you the freedom to explore the artist in you through paint.
Many homeowners opt for a shiplap installation and prefer painting the wooden planks white. This makes the basement feel more airy, warm, and modern.
If you prefer a rustic appearance instead, you can opt to use old wood that's just slightly polished. The wooden planks can be installed directly to an existing ceiling or used to hide your exposed ceiling.
To install this ceiling, expect to spend anywhere from $5 – $20 per linear ft depending on the type of wood you use. Painting the wooden planks will add an extra $3 – $6 per sq. ft to the total estimate.
Advantages of painted wood plank ceiling
Durable and can lasts long
Easy to install and repair as a DIY
Slightly cheaper than most other ceiling options
Flexibility to paint the ceiling the colors you prefer
Looks great and appealing
Disadvantages of painted wood plank ceiling
Affected by moisture and water damage
Prone to mold and mildew attack
Planks can crack, rot or warp without proper care
Can be expensive depending on the type of wood
Painted exposed beams and pipes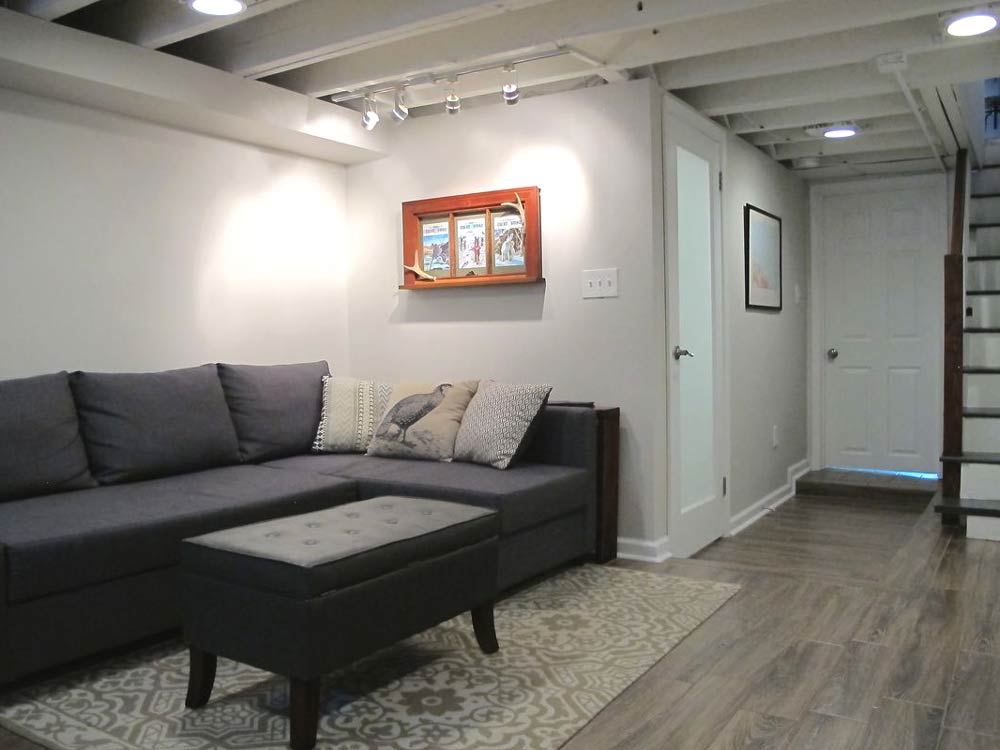 If you're looking for contemporary and rustic architecture for your basement, this is the ceiling idea for you. It's one of the most popular designs in coffee shops and many modern commercial spaces.
By simply adding a coat or two of paint to your beams, plumbing pipes, lighting fixtures, and ductwork, you will easily transform the atmosphere of your basement.
The big and bare structural wood or metal planks complete white panels perfectly giving of that farmhouse feel.
If you don't like the painted pipes and beam surfaces, you can also gloss polish them to get a nice contrast, fit for a modern-day basement. Exposed beam and pipe ceilings work best in basements with high or vaulted ceilings.
The average cost to install this ceiling idea ranges between $2.50 – $5 per sq. ft but it can be much higher depending on your contractor. If you DIY, you can expect to spend between $300 – $500 on this ceiling depending on the size of your basement.
Advantages of painted exposed beams and pipes
High ceiling makes the basement feel spacious and bigger than it is
Beautiful and appealing when correctly painted
Makes it easier to install lighting fixtures
Wide range of paint colors and shades to choose from
Better at cooling the basement during the hot summers
Offers freedom to be creative i.e., it's easy to install chandeliers, extra windows, etc.
Disadvantages of painted exposed beams and pipes
The extra height offered makes it harder to heat the room thus increasing your energy costs
You may need extra help during cleaning and maintenance
Can be expensive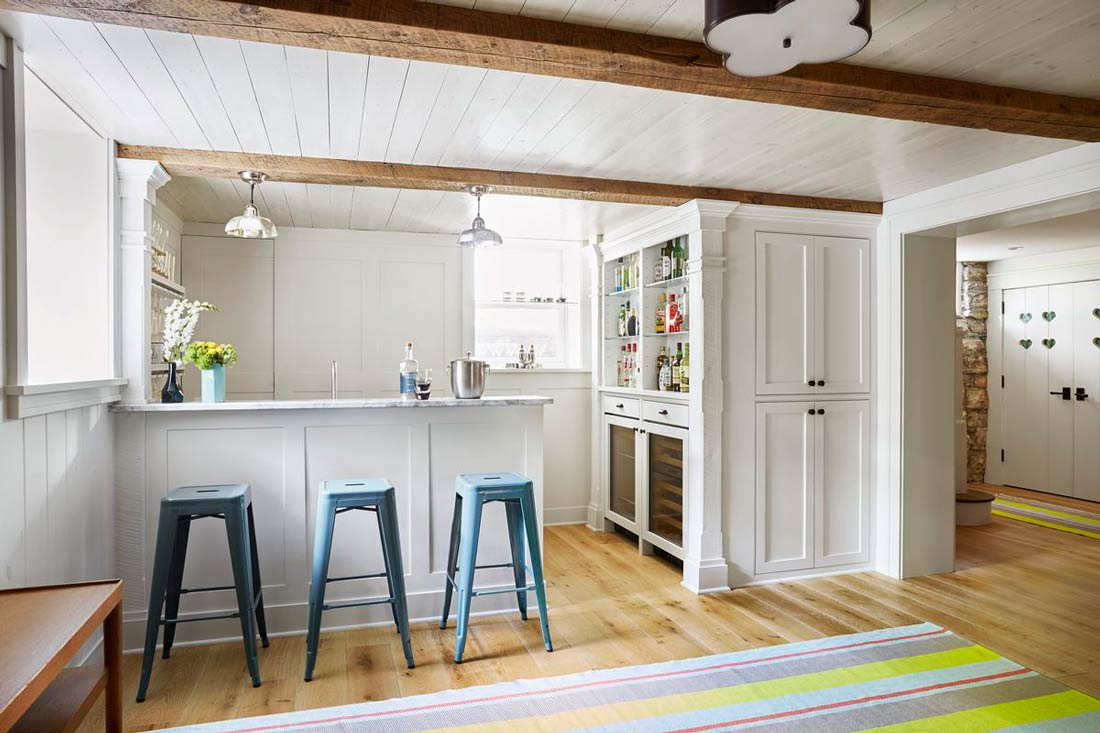 While Beadboard is mainly used vertically on basement walls, it still works perfectly for a basement. The ceiling comprises flat planks of wood with one or two semi-circular ridges or 'beads' that are milled into the face of each board.
On installation, they create an interlocking reinforcement that maintains a flat and level ceiling. That's why many homeowners use it to level their uneven ceilings.
Each ridge is usually around 6 inches long and is made from pine or MDF (Medium-density fiberboard). Vinyl and PVC are also often used due to their warp and water-resistant properties respectively.
Some people also know this as a narrow tongue and groove wood paneling. The average cost of this ceiling idea is between $3 – $6 per sq. ft including labor and materials. If you choose to DIY, the job will cost around $2.50 per sq, ft.
Advantages of beadboard ceiling
Cheap compared to other popular ceiling options
Easy to install and repair
Levels uneven basement ceilings and any other structural eyesores
Relatively inexpensive since it can be done as a DIY
Visually appealing and attractive option
Variety of material, paint and finish options to choose from
Has good insulation properties and will keep the basement warm during winter
Durable and resistant to impact damage.
Disadvantages of beadboard ceiling
Installation is time-consuming
Can rot or be moldy when exposed to moisture
Makes it harder to access your utility pipes, ductworks, or wiring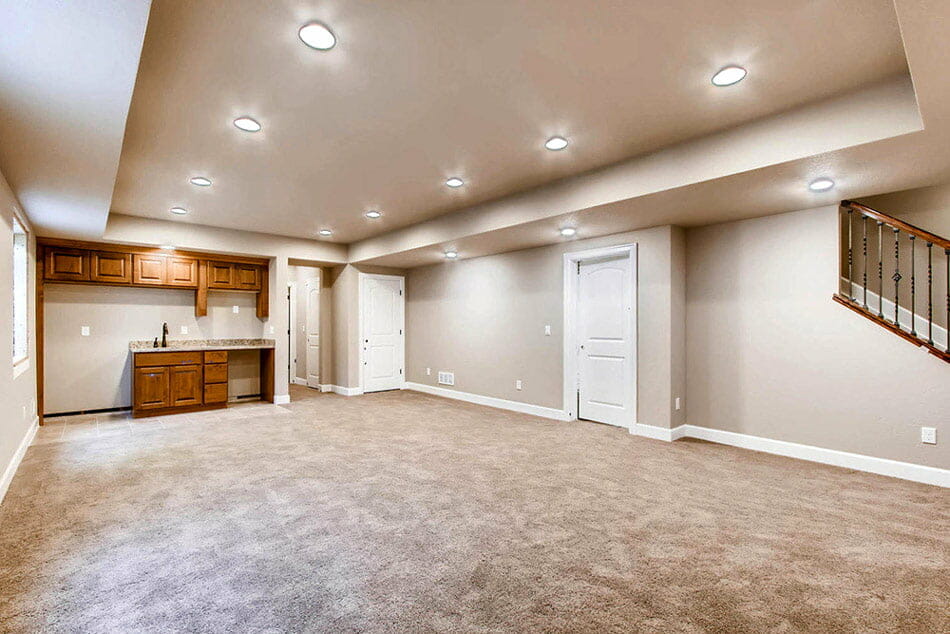 Drywalling your basement ceiling is one of the cheapest and most rampant ceiling ideas for most homeowners. Its ease of installation and finishing makes it perfect for DIYs and also results in an attractive finish.
All you'll need is to apply one or two coats of primer then add coats of your preferred paint color to get the appearance you desire.
You might need to consult a professional contractor to help you get around the exposed pipes and wiring if you're not an experienced DIYer, but installing light fixtures is very easy.
Drywall ceiling idea will cost you anywhere from $2.95 – $3.65 per sq. ft including materials and labor. Materials pricing ranges between $0.50 – $0.70 per sq. ft. The level of drywall finish you choose for your basement will also affect the overall costs.
Advantages of drywall ceilings
Easy to install and repair
Relatively inexpensive
Offers good insulation properties
Can be painted any color you want
It's fire-resistant and has eco-friendly options
Comes in a variety of options and sizes
Disadvantages of drywall ceilings
Easily damaged by water or moisture
Not resistant to impact
Drywall sheets may be heavy requiring extra labor help
Looking for a basement contractor?
Try our FREE service! HomeGardenGuides.com is the fastest and easiest way to get three quotes for your basement finishing job from the best and most affordable contractors near you.
The service quickly matches you with the 3 basement specialists voted #1 by previous users in your area. All you have to do is:
Scroll up to the top of the page and enter your ZIP Code in the blue form.
Give us a few details about your basement ceiling job, plus some contact information.
We will then forward your job details to the closest three basement contractors, all voted best priced in your area, who will price your job.
IMPORTANT: There is no obligation to hire any of the contractors. This is a free tool and service to be used at your pleasure.
There's no one-fits-all ceiling for every basement. Your choice will depend on the height of your basement and the look you're going for. That said, suspended ceilings have for a long time been considered among the best by many basement owners.
White. While there are numerous other bright colors that could work, white helps reflect more light into the basement. It also gives you a good base to try out your decorative designs.
Painting it. Just one coat of paint on your ceiling can drastically change its appearance. It may hide the stained ceiling surfaces and even make the room appear more modern.