Whether you are remodeling your home or building a new one, it is essential to use high-quality materials and experienced contractors. If you decide to use drywall for your ceilings and walls, make sure you find the best quality and hire the best team for the job.
Many drywall contractors are available, and you can easily find the best one if you know what you want and where to look. Also, you should know the square footage of the rooms and the level of finish to plan your budget.
A good contractor will visit the worksite and measure the rooms to give you a right and detailed quote or estimate. So, you should take the time to find a professional that will offer you the best services.
Drywall installation is a hard and labor-intensive task that requires a high level of professionalism. Most contractors charge about $50 to $100 per hour to install drywall. Others charge by square foot after estimating the hours the project will take.
The cost to install drywall per square foot is $2 on average, with a range of $1 to $3 per square foot. This cost includes labor and materials. The number of rooms and the drywall finish level also determine the total cost of the project.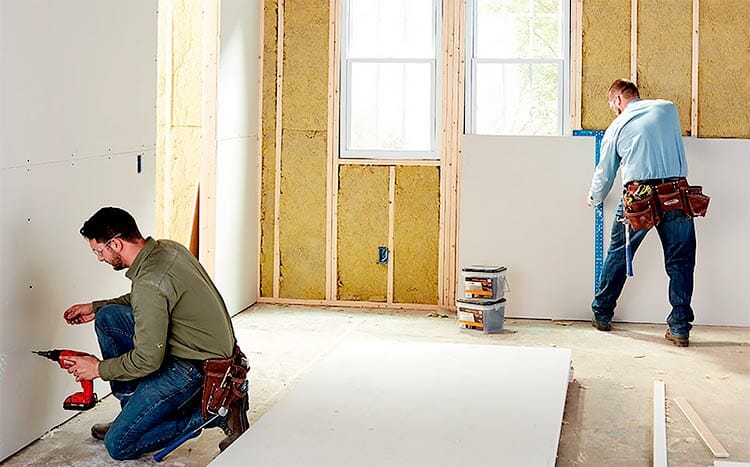 National average cost to install drywall
The national average cost for installing drywall is approximately $1,842, coming in between $1,020 to $2,875. On the low end, you can pay $425, while the cost can go up to $5000 on the high end. For a typical 12 x 12 room, you can use about 18 panels. This translates to $1,000 to $1,600 for the installation.
The total cost of the project will depend on the complexity and size of the project. For instance, a simple square room will cost less to install drywall than a room with non-standard dimensions and arches.
As mentioned above, it is critical to hire a qualified contractor to do the installation. The contractor should provide you with a detailed estimate of the project to help you plan your budget. The estimate should include:
Materials for the job and their specific dimensions and type of panels
Transportation cost of the materials and all the necessary tools to the worksite
Cost to prep the site and protecting existing structures
Labor cost and
Clean-up plus debris removal after the completion of the project.
Avoid any contractor that does not give you a detailed estimate for the project. This is because it will be hard to know how much money you will spend. More so, you may spend an unreasonable amount of money or even get stuck in the middle.
If you want to replace drywall for your home, the cost can be between $1.50 and $3.50 per square foot. This includes demolition cost of $0.40 to $0.50 per square foot. The total average cost to demolish the interior of a house ranges between $1,200 and $4,800. For a typical 200 square foot space, you can pay about $300 to $ 500 to remove and dispose of the old drywall material.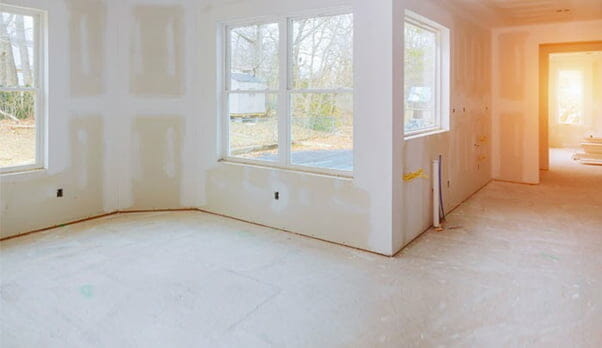 Choosing a good drywall contractor near me
Although most homeowners prefer to DIY their drywall project to save some cash, it is paramount to hire contractors if you want the job done fast and professionally. The job is too technical and labor-intensive, and it may take you a long time to finish, especially if you have never installed drywall before.
If you are looking for a professional contractor, the following tips will help you choose the best one.
It is easy to tell whether a drywall contractor is experienced and qualified by checking their past projects. Usually, a professionally installed drywall should be smooth and hard to tell where the joints or seams are. If the contractor's past projects have a high-quality finishing, this indicates that the expert is qualified and experienced.
Ensure the expert shows you their previous work, and if possible, you should contact a former client to be sure.
Any genuine professional contractors will not hesitate to give you any information you request. It is paramount to work with a trained and certified contractor. The professional should also have a license to operate in your area and proper insurance. Without the proper certification, you cannot tell whether the contractor is genuine or not.
Determine their level of experience
The level of experience of the contractor is also a critical aspect to consider. The number of years the experts have been in the industry will show their level of expertise. Professionals with over 4 years' experience are the best to choose because they will be more familiar with the industry standards. More so, they are more likely to install your drywall better than newer companies.
One of the simplest ways to find qualified drywall contractors is by looking for referrals. Ask your family, friends, neighbors, and colleagues to recommend you to a qualified contractor if they know one. However, since people's likes and preferences differ, you should determine whether the referral you get is right for you.
Questions to ask local drywall contractors before hiring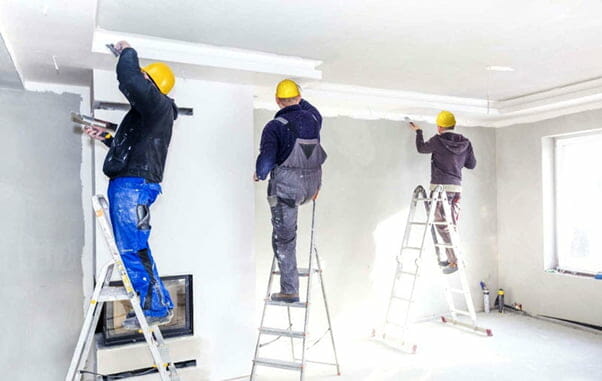 Hiring a drywall contractor is not as easy as it seems. This is because you should compare several professionals to determine which one is the best for you. This may take longer than expected, and it may be a daunting process.
To make your work easier, you should ask all potential contractors the following questions to know whether they are right for you.
How many similar projects have you handled in the past?
It is essential to work with a professional that specializes in drywall installation. So, by asking the professional how many similar projects they have handled in the past, you will know whether they have the right experience. More so, you will have the assurance that your job will be perfectly done.
Ask the experts to provide you with samples and, if possible, contact several past clients for confirmation. This will eliminate doubts, and you will have an idea of what to expect.
Can I see your insurance cover?
Always request to see a copy of the contractor's insurance policy to ensure that they carry one. This will also help you to know what kind of insurance they have and the worth. Some contractors may have insurance cover, but it may not be enough to cover your home. Other cunning contractors may only pay the first months and trick you that they are fully covered.
To be sure that the professionals have the right insurance, contact the insurance providers to know whether the policy is genuine. If the drywall professional does not have proper insurance, you may be liable for any damages and accidents that happen at the job site.
How long have you been installing drywall
Knowing how long the drywall contractor has been in the industry will tell you whether they are experienced or not. Although there are many competitive newer companies, a company that has been in the market for a longer time will know how to deal with different cases and handle complex projects better. So, ask the experts how many years they have been installing drywall before hiring them.
How long will the project take
Whether you are installing new drywall or replacing an old one, you should know how long the project will take. This is especially essential if you have to find a place to stay in the meantime as you have your drywall replaced. Also, if you plan to move into your new home soon, ask the experts to give you a tentative finish date for the project.
How much will the project cost?
You cannot start any project if you do not know how much it is going to cost. One of the first things you ought to ask the contractor is how much money you are likely to spend on the project. The expert should give you a detailed estimate that will guide you through planning a reliable budget.
Hiring drywall contractors
Before you choose a particular drywall contractor, make sure you know what to expect. Below are several tips to guide you through the hiring process.
Once you decide to install drywall, you should take the time to assess the project first. Determine how many rooms you would like to install drywall and how long you would like the project to take. Once you know what you want, it will be easier to find a reliable contractor.
Hiring a drywall contractor is not an easy task because you must take the time to select and compare several professionals. The internet provides you with many options as long as you know where to look.
Compare several websites and check the reviews and ratings of the contractors. This will help you to know whether they are reliable or not. You can also ask for recommendations from people close to you or your local council.
Check licensing and insurance
All professional contractors should always carry a copy of their license and insurance. The license should indicate that the expert is permitted to operate in your area. Also, the credentials should be up to date.
Check the credentials critically to determine whether they are genuine. You can also call the insurance provider to check whether it has insured that particular contractor. This way, you will avoid conflicts with the authorities, and you will not be liable for any accidents or damages that happen at the worksite.
Request for contact information
Always make sure the contractors give you the right contact information. Get their physical address, phone, and business numbers of the experts before hiring them. Even if they are highly qualified, ensure you get their contact information beforehand.
This is because something may go wrong sometime in the future, and without the right contacts, it may be hard to reach the contractors. Avoid any company that cannot provide you with a proper physical address or business/phone number.
With the right drywall contractor, you will have peace of mind knowing your project is in the right hands. For this reason, you should take your time when choosing and hiring these professionals. It is better to spend more time looking for a qualified and experienced expert than hurry and regret later.