Drywall is quite susceptible to damage like bumps, scuffs, holes, and water damage. No matter how careful you are, you will damage your drywall at some point. 
On average, it costs about $50 to $75 per square foot to patch/repair holes in drywall. The average cost for the repairs costs about $130 to $225. A handyman may charge approximately $60 per hour for the project, while a professional contractor may charge up to $90 per hour. The actual price depends on the size of the hole, finish option and location.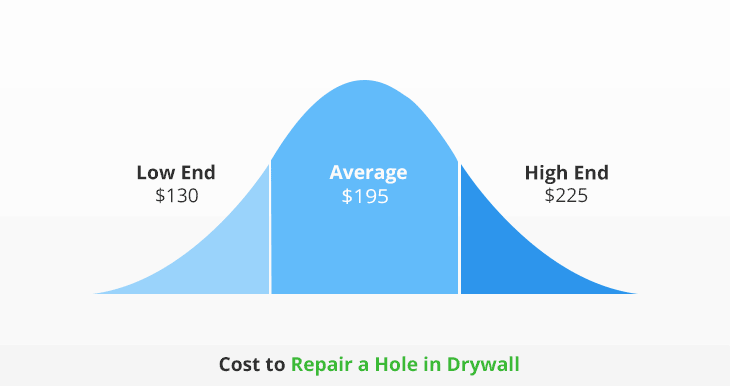 Below is an estimate of the cost to patch or repair small to large holes.
| Repair type | Low | High |
| --- | --- | --- |
| Small hole | $45 | $75 |
| Medium hole | $75 | $125 |
| Large hole | $90 | $150 |
| Cost per square foot | $50 | $75 |
| Labor cost per hour | $50 | $90 |
| Hole in the ceiling | $75 | $115 |
| Average Cost | $130 | $225 |
Cost to repair/patch a small hole
Small holes are usually caused by doorknobs, rodents, nail bumps and screws. They may range from below an inch to about 4 inches in size. Professionals charge about $45 to $75 per hole to repair or patch small holes. These holes are easy to fix, and most homeowners prefer DIYing the job. 
If you wish to DIY the repair, you only need to smear a little mud, sand and repaint the area. You can buy all-purpose drywall from a home improvement shop at about $6 to $16 per panel. Since there is a lot of empty space behind the drywall, it is necessary to patch the hole before applying mud. This ensures the hole is steady and even when you sand and repaint it. 
Cost to repair/patch a medium hole
To fix a medium hole, expect to pay about $75 to $125 per hole, depending on its size. Things like furniture and TV brackets tend to cause medium holes in drywall. A medium hole can be about 7 to 12 inches, which means you can still DIY the project. 
DIY is cost-effective if there is more than one hole. For instance, if you are patching only one hole, it may be more economical to hire a contractor who may charge you about $150 for the job. This is because you will need to buy all the materials needed for the job, including paint which may be costly. The good thing with DIYing the job is that the materials can be used for future repairs.
Cost to repair/patch a large hole
Typically, it costs about $90 to $150 per hole to fix large holes in drywall. Large holes are often caused by household accidents, sporting equipment, and furniture. You will likely need a handyman or professional contractor to repair large holes because the repair is more detailed. More so, larger holes may require more than a simple repair kit. 
A handyman charges about $60 per hour for the job, while a contractor may charge about $60 to $90 per hour for the same job. Hourly charges are cost-effective for smaller projects. If the project takes more than 5 hours, it is best to ask for fixed rates.
Generally, it costs about $50 to $75 per square foot to patch and repair holes. If you have high ceilings and difficult angles, expect to pay more for the job. The cost to repair holes depends on the size of the holes. Typically, bigger holes take longer to repair and may need extra materials and more than one contractor. 
Additional services like prepping and finishing may make the overall repair cost to be higher. For instance, the cost to remove and dispose of debris is about $200 on average. Also, if your walls need retexturing and repainting, the cost will be higher. A handyman may charge you a slightly lower price than a contractor. However, you must make sure the repairer has the right skills to avoid causing more damage to the drywall.
If the contractor must move furniture and other items from the worksite, or the holes are difficult to reach, the overall labor cost will be higher. You can do the prep work earlier if you wish to lower the total project cost.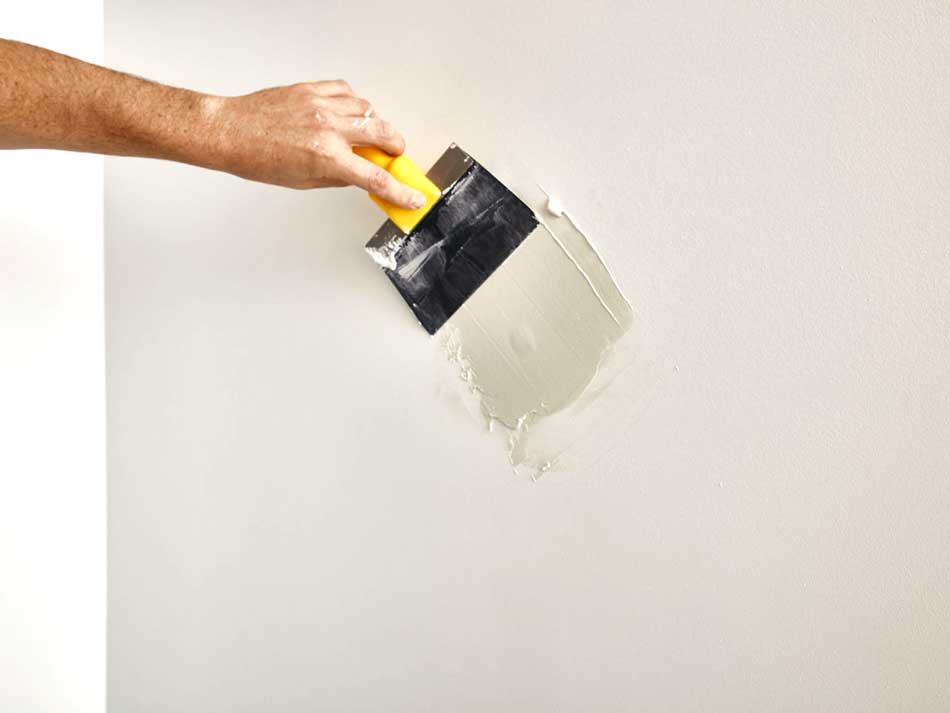 Material prices for repairing/patching a hole in drywall
If you choose to DIY the project, you will need to buy several tools from a local home improvement store or Home Depot. Some of the thing you will need include:
Sheet of 4' x 8' drywall sheetrock at about $12
Screws at $6 per pound
150 feet tape at $5
A pail of mud at $14
Face mask at $7
Sanding blocks at $5
Flat trowel at $7
Corner trowel at $12
Once you buy these materials, you can comfortably patch the holes and repaint the walls. In case you need a professional painter, you can hire one at about $70 to $130 per hour. 
Cost to repair a hole in drywall with no studs
The average cost to repair a hole in drywall may be higher than repairing a hole in the drywall with studs. This is because the professional will need to improvise to make sure the patch is strong. On average, you can pay a contractor about $60 to $80 per square foot to patch the hole. The professional may either create makeshift studs using small pieces of wood or find another way to make the patch stable.
Cost to repair/patch a hole in drywall with texture
The cost to repair a hole in textured drywall may also be slightly higher. Contractors charge about $50 to $75 per square foot to repair or patch a hole in drywall. If texture needs to be reapplied, you can pay application professionals about $60 per hour for the job. If the paint needs to be reapplied, you can pay a painting contractor about $70 to $130 per hour.
Luckily, most painters are now experts in repairs. So, you may not need to hire separate professionals to repair and paint drywall. 
Labor cost to repair/patch a hole in drywall
Labor is usually the most expensive part of a project because it takes about 70% of the total cost. Expect to pay about $60 to $90 per hour or about 50 to 75 per square foot for the repairs. If you DIY the project, you can spend about $45 for materials, which is much cheaper than hiring a professional.
DIY vs. Hiring a Professional
You can decide to DIY or hire a professional to handle the repairs depending on how large the holes are. Smaller projects are easier to handle, but larger repairs may need the attention of a professional contractor. Also, if there is a major underlying issue like mold, you will need to hire a mold remediation expert and determine the root of the problem.
Homeowners who choose to handle their own repairs will only need to buy material. However, if the job is done incorrectly, you will have to hire a professional to undo the damage. 
For small holes, you can buy materials worth $45 or lower for the job. Also, you may need a small repair kit costing about $10 to $30. 
The best part about DIY repairs is that they are inexpensive. Also, you can use the remainder of the materials for future repairs, making the cost even lower. Larger holes may be more complicated to repair, but with the right materials and a little help from a friend or family member, you can pull it through. 
Cost is usually the main advantage of DIY projects because you will only need to buy materials for the job. 
DIYers have the freedom to handle the job as they want without any pressure. So, you can find the easiest and cheapest way to repair the holes.
The materials you buy can be used for future repairs.
You will get a chance to learn and improve your skills with time.
If you have never done any repairs before, you risk causing more damages which may be costlier to repair.
Safety is a major issue with DIY projects because the drywall sheets are heavy to lift. Also, you may injure yourself if you try to reach high places.
The project may take longer because of lack of enough time or experience.
It is recommended to hire a professional drywall contractor to do the repairs for you. While you can comfortably fix smaller holes, larger holes are more complex to repair. More so, poor repairs may impact your home's visual appeal and even reduce its resale value. 
A professional drywall contractor will spot all issues, including damage to wires, insulation, and pipes besides the holes. Also, the expert will handle the repairs professionally and ensure your house is in perfect shape.
Before you hire a professional, always ensure you get at least three quotations from different contractors. This will help you determine the range of the project. Also, ensure you get a detailed estimate before the contractor starts work.
They are trained and experienced in the job to handle the repairs without causing more damages.
Pros can work without wasting materials because they know the quantities needed for the job.
The home's visual appeal will be better because the experts handle their work with a high level of professionalism. This means the resale value of your home will be higher.
You will have peace of mind throughout the work because pros know what they are doing.
The labor costs to repair holes are high, making the project's total cost to be high.
Once pros take over the project, you will lose control which means you may not get the results you wished for.