Drywall cracks typically appear within the first year of building construction and have varying degrees of difficulty to repair depending on their size. Unattended cracks in drywall reduce your home value and affect its structural integrity. Several factors determine your drywall repair scope, and this article addresses the cost implication of these factors on your overall repair expenses.
The cost to fix a drywall crack ranges from $130 to $850 on average. The price per square foot you will pay is $75 to $95 depending on the job difficulty, drywall type, and finishing options. Average repair costs (including painting and cleanup) are around $579.
THE average DIY repair costs per crack (excluding paint) is about $55 for materials.
Professionals may charge a lower amount per square foot to repair multiple large or severe cracks.
| Cost per linear foot | $2 |
| --- | --- |
| Small cracks (up to 6 inches) | $130 - $190 |
| Medium cracks (6 - 24 inches) | $220 - $330 |
| Large cracks ( > 24 inches)) | $390 - $570 |
| Textured drywall cracks | $150 - $460 |
| Ceiling cracks | $150 -$850 |
| National average cost | $550 |
| Labor cost (per hour) | $55 - $85 |
| Material cost (per avg. job) | $55 |
For most homeowners, the cost to repair drywall cracks depends on certain cost factors that determine not just how much you pay; but to whom and on what. Even though fixing the cracks in your drywall boosts your home value, it is also essential to keep your repair costs reasonable and exert significant (where you can) control over the following cost factors.
The repair technique under consideration.
The quality of the materials such as patches and joint compound to be used in the drywall repair.
If the repair intends to preserve the original aesthetics such as texture or color of the drywall.
If the drywall crack indicates a severe structural problem, that could result in extensive repairs or outright replacement.
The decision to hire a drywall contractor or perform a DIY repair.
The table below illustrates drywall crack repair costs.
Contractors often offer free estimates, consisting of material and labor costs, unless you request otherwise. Ensure that the estimates you are given specify the costs for each list item. Note that prices vary per contractor, and you may get slightly different quotes from each one. Therefore, it is always a good idea to shop around for the best quotes. However, contractors who provide higher quality jobs charge higher fees, and you should expect to pay a premium for their experience and expertise.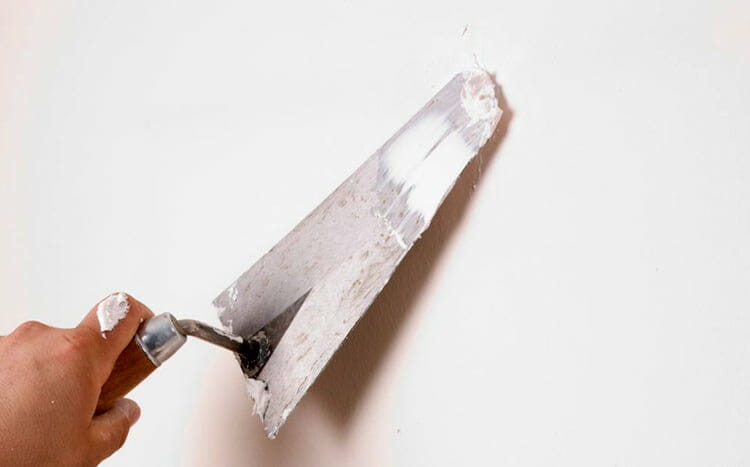 Professionals may factor additional costs into their drywall crack repair estimates for several reasons. They include:
Length of the job: fixing cracks on textured or specialty drywall can be more time-consuming than working on standard drywall. For example, textured drywalls may require multiple applications of the patch. And professionals may charge between $40 – $60 per hour in additional costs to cover the extra hours and labor involved.
A paint job: contractors charge extra costs for painting cracked drywall after the repair. Painting costs depend on paint quality and whether you want the repaired area painted to blend in with the existing room paint.
Difficulty: contractors typically charge extra costs to repair a crack in the drywall used for vaulted ceilings and archways due to these jobs' complex nature.
Equipment: some drywall repair jobs require special equipment to access the damaged area, and contractors will charge extra to cover rental or haulage costs. For example, the scaffolding necessary for ceiling drywall repair jobs.
Routine human activities within the home can cause the drywall to crack. For example, when doorknobs bang against the wall over a while, it can cause damages to develop around the impact area.
Other causes include:
Stress cracks: are commonly caused by movement within the building structure or the settling of the foundation. It can also occur as a result of seismic activity.
Loose drywall panels: cracks can occur when drywall sheets are not properly secured.
Preventing drywall cracks
Preventing cracks in drywall goes beyond just fixing them because it just isn't enough to prevent a recurrence. If your home is beset by cracked drywall, then you must identify and mitigate the cause. However, preventing drywall cracks is the key to keep them from appearing in the first place. Below are a few tips to keep your drywall free from cracks:
Expansion joints: use expansion joints to limit movement within the building structure and prevent cracks from emerging.
Avoid mesh tapes: mesh tapes lack sufficient strength and are prone to early deterioration when used in corners and wall/ceiling joints. Use paper tapes instead; they are stronger and more durable.
Lengthy drywall installations: use control joints when installing an extended stretch of drywall to prevent ridging and expansion or contraction cracking.
Door knobs: install door stops to prevent door knobs from banging against the drywall.
HomeGardenGuides.com is a free service that quickly matches you with top-voted local mold remediation companies.
You can get three estimates fast by real certified experts in your area in just 2 minutes.
Scroll to the top of the page and enter your Zip code.
Answer questions about your mold remediation job.
Your project details are forwarded to three local experts. They will send you a price estimate for the job and some friendly advice.
IMPORTANT: There is no obligation to hire. This is a free tool and service to be used at your pleasure.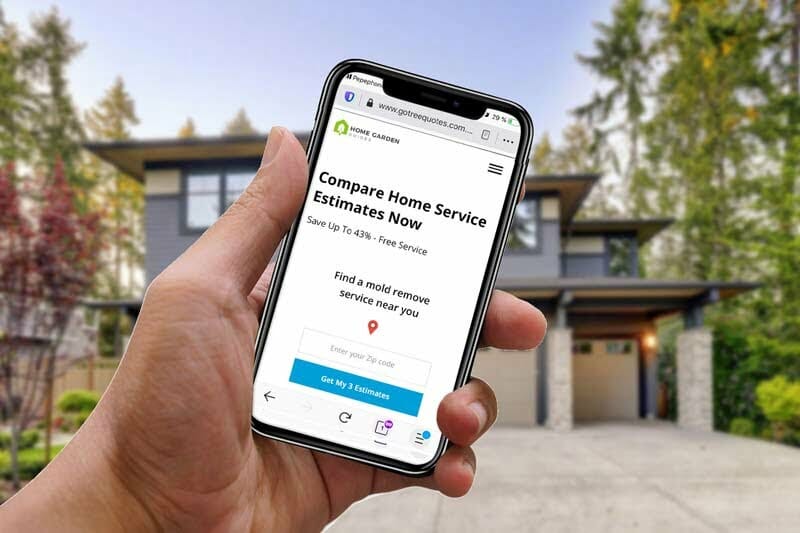 Cost to repair drywall crack per linear foot
The average cost to repair a drywall crack is $2 per linear foot, depending on the size of the crack, drywall surface, and location. Professionals charge between $1.75 to $3.45 per linear foot for walls and $2.30 – $4 per linear foot for ceilings.
Material cost per linear foot – materials such as patches, drywall nails, adhesives, and compounds needed to fix drywall cracks cost between $0.45 to $1 per linear foot, depending on the material quality and the quantity you need to repair the crack.
Labor cost per linear foot – labor makes up more than a third of drywall crack repair costs. Pros charge average prices of $1.35 to $2.45 to fix drywall crack.
Cost to repair drywall cracks by size
Cracks in drywall are a common occurrence in old and newly installed walls. Drywall cracks can be fixed by either a professional or as a DIY project. Below is a breakdown of how much professionals charge to repair drywall cracks based on their size.

Small cracks
Pros charge average rates of between $65 to $95 per hour for a 1-2 hour job to repair small drywall cracks from ⅛ of an inch up to 6 inches. The average cost for materials to repair small cracks is $15. A DIY fix may cost an average of $55 for materials, and you can use leftover materials to fix subsequent drywall cracks. You can use home repair kits to fix minuscule cracks, and they are available for sale at hardware stores at prices ranging from $20 – $45. Painting over the patched drywall can nudge the repair cost into three digits. Painters charge between $100 to $150 per hour, but they may charge an average flat rate of $80 for small jobs.
Small cracks are easy to repair, and even though we'd recommend a pro to handle a drywall crack repair, fixing small cracks is a job the average homeowner can successfully handle. The materials required include:
Sparkle.
Putty knife.
Sandpaper.

Medium cracks
Medium-sized drywall cracks measuring between 6 to 24 inches cost around $210 to repair. Average prices charged by professionals start from $180 and can reach $330. Labor and material costs are $20 – $40 and $100 – $290, respectively, depending on the job difficulty and drywall type. Repairs typically involve new drywall sections, adhesive, wood supports, and several coats of compound. Painting the repaired area may add an extra $150 to the total costs.
Patching up a moderate crack in drywall can be a bit challenging if you've never attempted one before. However, the process is straightforward once you get to understand it. DIY buffs can make use of a home repair kit that contains everything you need, including:
Patch.
Joint compound (mud)
Putty knife.
Sandpaper.

Large cracks
Large drywall cracks measuring more than 24 inches in size cost $305 on average to repair. Contractors charge hourly rates of $65 to $95 for a 5-6 hour repair job. The process of fixing a large drywall crack involves inserting a new piece of drywall into a cut-out section in the subsisting drywall where the crack occurred. This is an exact process and should be handled by a skilled contractor with prior experience in fixing large drywall cracks.
Cost to repair drywall ceiling crack
A drywall ceiling crack repair is more labor-intensive, and prices tend to be higher than your regular drywall repair. Expect drywall ceiling crack repair to cost between $173.77 to $209.50 per patch or $75 to $105 per hour for a 3 to 5-hour job to repair large cracks on your ceiling. DIY material cost for the same drywall ceiling patch job is about $45. However, DIY repair is not recommended for drywall ceiling cracks.
Standard installation
Fixing a crack on a flat drywall ceiling costs $55 to $65 per square foot for labor, materials, and cleanup. The cost to repair multiple cracks on a 14×16 room drywall ceiling range from $400 to $2,000. Cracks caused by water damage or failed joints or seams are more expensive to repair.
Vaulted ceilings
Fixing cracks on vaulted or tray ceilings and archways costs between $400 to $850 depending on the crack's size and the materials used. High ceilings can be difficult to access, and contractors may need to rent scaffolding which increases repair costs.
Professionals have the proper equipment and the skills to fix cracks on drywall ceilings. In addition to fixing cracks, they also perform specialized repairs such as patching up large holes and drywall splits caused by water damage.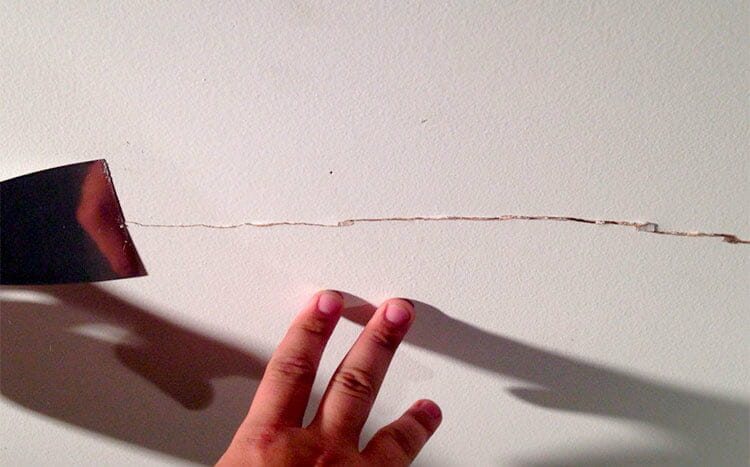 Cost to repair a crack in textured drywall
Although it can be difficult, you can repair a crack on cracked textured drywall to match the existing wall surface. However, this feat can only be performed by a skilled contractor. The labor and materials cost to repair a moderate crack on textured drywall range between $160 – $220. Large cracks cost around $450 on average to repair.
DIY repair cost: the do-it-yourself option is available for homeowners who love getting their hands dirty. The average DIY cost to repair a textured drywall crack is $40 for materials.
Creating a seamless repair patch on a textured drywall texture is a job for highly experienced professionals. The challenge is perfectly concealing the trace edges between the original drywall and the repaired section.
Here are some helpful tips you can use:
When fixing a crack, use new drywall mud of matching consistency with the existing mud to preserve the flawless appearance of your textured drywall.
Apply texture on the new drywall patch using the exact techniques and tools used to create the original texture.
Carefully erase the line of delineation around the new patch to ensure a smooth transition between the repaired section and the encircling drywall texture.
Apply minimal coating to the surrounding texture around the repaired section to allow the new texture to blend in easily
Use drywall of the same thickness as the original to repair a crack.
Labor cost to repair a crack in drywall
The labor cost to repair a crack in drywall ranges from $55 to $85 per hour, or between $65 – $90 per square foot, depending on the crack's size and the difficulty. Labor accounts for more than a third of drywall repair costs, and contractors charge around $45 per square foot, or $60 per hour, to repair tiny cracks. Labor costs, as its name implies, are the fees charged by the contractor or handyman for the repair, planning, equipment deployment, preparation, and protection (if required) of the job site. Some contractors charge extra fees for cleanup and disposal of hazardous waste is generated.
DIY vs. Calling a Professional
A crack in your drywall isn't a pretty sight, and if left unattended, it can spread and make your wall or ceiling drywall look really bad. The standard set of options apply when it comes to fixing drywall cracks. You either go the DIY route or hire a professional.
However, before making a decision, we recommend that you assess the crack's size and severity and how your repair option might impact your home value. A low-risk assessment means you can go for a DIY repair option, while a high-risk evaluation implies that the crack needs a professional's attention.
Your decision to go the DIY route ultimately depends on how much experience you have with tools and whether you relish the challenge of tackling home improvement projects.
Your DIY material costs will depend on the size of the drywall crack you are dealing with and the scope of work required. Also, you will need to purchase the tools you will need. Material costs for your first-time DIY drywall crack repair can be a bit higher than your subsequent drywall repair projects. However, you can use the leftover materials to fix future drywall cracks at no cost.
Here is a list of some materials and equipment you need:
Dust mask
Mud pan
Drywall mud or putty
Painters tape
Putty knife
Utility knife
Paper drywall tape
Joint compound (pre-mixed)
Setting compound
Handheld Sander
Sandpaper
Paint.

Pros
Fixing a drywall crack by yourself is cheaper than hiring a professional.
It helps you develop additional skills, such as painting skills, that can help perform other household projects.
It is a great way to bond with family and friends you can invite to fix larger cracks.
It allows you to inspect your home from a closer range and spot other issues that otherwise might have gone unnoticed.

Cons
A DIY repair done by an inexperienced person can make the problem worse.
You pay more for materials. Contractors often have deals with hardware stores that allow them to buy bulk materials at discount prices.
What you often get with a DIY repair is a poor quality finish that can reduce your home value.
A botched DIY repair project could end up costing more than hiring a pro if you end up hiring a contractor to redo the job.
Hiring a professional is the apparent option for homeowners who don't have time to handle drywall repairs by themselves or have no idea of what to do. We recommend calling in a pro for substantial cracks that require a complex fix. For example, professionals have the skills and experience to cut into drywall without damaging the insulation, pipes, and wires installed behind the wall, a task most DIY amateurs cannot manage.
Pros
Professionals work faster, and they repair your drywall without creating a lot of mess.
Professionals deliver a higher quality repair job.
When a water leakage causes a crack, professionals can quickly detect damage to the wires and insulation installed behind the wall.
A contractor can perform additional repairs at little extra cost. For example, they can repair leaking pipes if the crack was caused by water damage.
A pro can make suggestions if required about the extra work needed to protect the drywall from cracks.
Cons
Hiring a contractor can be expensive.
Yes, you can repair cracked drywall. Drywall repair is an exact science that involves using skills and materials to make even the largest gashes unnoticeable. The key to fixing drywall cracks is applying the appropriate technique and materials for each crack. For example, a ⅛ inch drywall crack may not require a reinforcing mesh but cracks larger than ½ do. The general advice for a DIYer is to avoid unnecessary wall gouging, go easy on the joint compound, and get busy with the sander. Hiring professionals guarantees a flawless drywall repair.
A drywall crack that widens and spreads rapidly across your wall or ceiling surface is an indication of structural damage and should be taken seriously. Hairline cracks over inner windows and doors are pretty harmless, but the following couple of cracks can present serious problems which require prompt professional attention.
Extended horizontal cracks appear at the joints connecting the interior walls and ceilings.
Stair-step cracks that extend from window and door corners.
Rarely is damaged drywall replaced. The majority of drywall damage consists of small or large cuts, cracks, holes, dents, notches, and scrapes that a quick fix can resolve and leave your drywall looking as good as new. Even severely damaged areas can be cut out and replaced with a new piece of drywall. However, it is better to replace drywall when there is serious mold growth on the drywall due to moisture problems. This turns the drywall into a health hazard that must be promptly returned.