Regardless of how well you installed your drywall, over time, cracks, holes, and dents might still appear on the walls or ceiling. This calls for you to take urgent action to repair them before they spread and become more costly to fix.
The average cost to resurface your walls and ceiling in the country ranges between $1.50 – $3.50 per square foot. The actual price you'll pay will depend on the size and condition of the walls and ceilings.
Here's a breakdown of the costs you should expect for the project.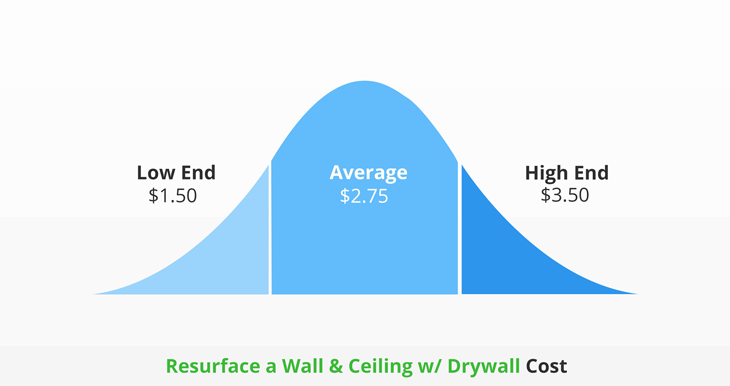 The true cost of resurfacing your wall and ceilings with drywall will vary depending on the materials, supplies, and labor costs.
The national average for the job stands at $2.35 per square foot including the materials and labor costs. The materials alone will cost you around $0.40 per square foot and up to $0.60 extra depending on your desired finish.
| per square foot | $1.50 – $3.50 |
| --- | --- |
| National average cost | $2.50 |
| Typical range (500 sq. ft) | $750 – $1,750 |
| Per standard 12 x 12 room | $432 - $1,010 |
| 2 rooms | $900 - $2,500 |
| 3 rooms | $1,350 - $3,300 |
| 4 rooms | $1,800 - $4,5000 |
| 1,500 sq ft House | $2,500 - $6,000 |
| Labor cost (500 sq. ft) | $500 - $1,000 |
The overall price of resurfacing your walls and ceiling stands between $1.50 and $3.50 per square foot if you hire a pro. The labor costs could be as high as $2 per square foot or around $50 – $80 per hour, depending on the finish level you want.
If you're doing it as a DIY, the costs may go as low as $0.50 per sq. ft. As such, for a standard 500 sq. ft room, you can expect to pay anywhere from $750 to $1,850.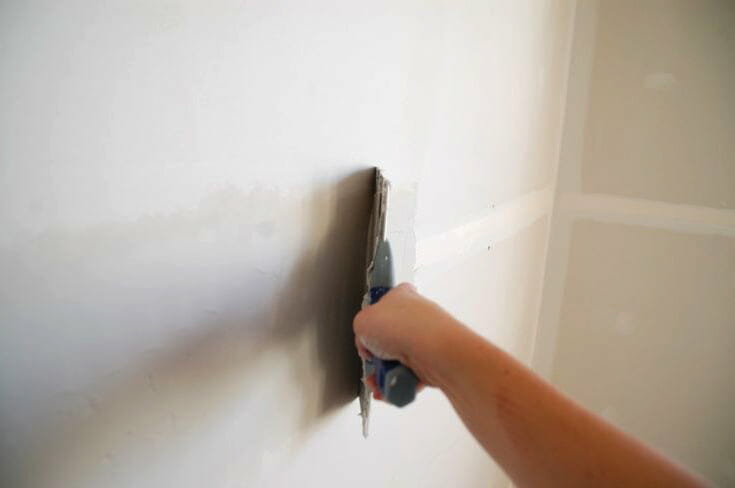 Standard 12 x 12 room inc. ceiling
The total costs of resurfacing a 12 X 12 room range between $432 – $1,010. When you include the ceiling, the total costs go as high as 1,500 depending on its height.
However, if the surface requires some prep work such as hole patching and other repairs, the labor and material cost will increase.
The number of rooms in your house will also influence the overall costs of the resurfacing jobs. The more rooms require to resurface drywalling, the higher the contractor can charge you for the job.
These expenses could be higher if it's a story building.
To resurface drywall 2 rooms, including the ceiling, expect to spend anywhere from $900 – $2,500 for standard rooms. Depending on the material used for the drywall and the size of the rooms, these costs could be higher.
How high the ceilings of each room are will also influence the total costs for both rooms.
As a DIY, you'll spend about $180 – $300 on the materials and supplies for the wall, and up to $500 for the ceilings resurfacing supplies.
The average cost to resurface drywall three rooms, including the ceilings, stands between $1,350 – $3,300. More rooms mean that resurfacing drywall will require more supplies, labor, and materials.
However, these costs become cheaper per square foot on 3 or more rooms, since you don't have to invest in supplies and equipment for each room.
As a DIY project, you'll spend anywhere from $300 – $500 on the supplies and material costs. Big rooms like master bedrooms and living rooms might add up the costs for the total resurfacing project.
A four-room drywall resurfacing project will cost you between $1,800 – $4,500. For such a large project, many contractors usually have several discount packages that allow you to save a few bucks.
You also save on tools and supplies costs. For DIYers, the costs of supplies and materials for four rooms stand between $350 – $600. These costs could still be lower since most of the supplies can be reused.
A 1,500 sq. ft house will cost you anywhere from $2,500 – $6,000 to resurface drywall, including the ceilings. Factors such as the number of rooms, the height of the ceilings, and the materials to be used are likely to increase your expenses.
Most contractors will also charge higher if the house is two-story.
Additionally, the level of finishing you choose for the drywall may increase the total resurfacing costs to around $10,000.
You can, however, ask for a discount from your contractor for such a large project.
For DIY enthusiasts, such an endeavor will cost them anywhere from $600 – $900 for the materials and supplies costs.
Most experts charge anywhere from $1 – $2 per square foot or between $50 – $80 per hour for this job. Different experts will charge differently for the job depending on the complexity and condition of the drywall.
Usually, a contractor will charge you more if they have to remove and dispose of your old drywall. They will also charge higher to patch any holes or cracks on the wall or ceiling.
If you choose to DIY, the labor costs are drastically cut down, but you'll have to consider the value of the time you'll spend on the project.
How much does it cost to retexture drywall?
Many homeowners spend between $1.20 to $1.50 per square foot to retexture their drywall. These costs may be higher in large rooms such as the living room compared to the bedrooms.
Other factors such as surface preparation, cost of materials and supplies as well as your location also jerk up the costs.
Retexturing your ceiling may cost you around $3.35 per square foot. This is inclusive of labor for removal, surface prep, removal supplies, equipment, and debris disposal.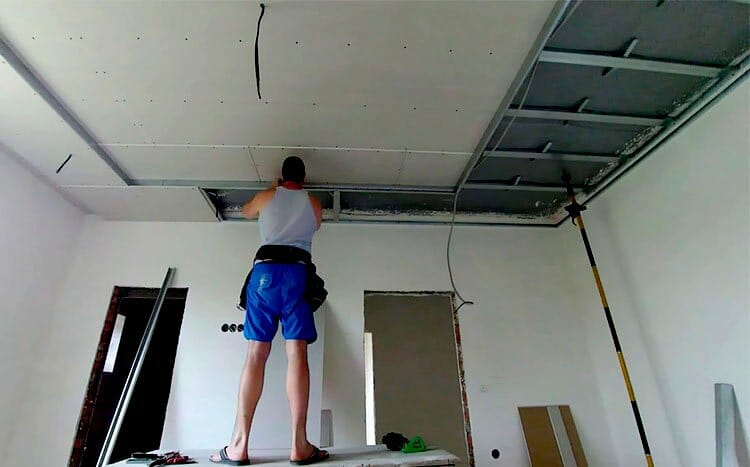 How much does it cost to redo drywall?
It depends on the size of your surfaces. On average, you'll spend between $1.50 to $4 per square foot to redo the drywall on your walls.
For the ceiling, these costs start from $3.50 to $5 per sq. ft. They are higher because drywalling the ceiling is riskier and may require a special type of lightweight drywall.
If the old drywall will first need to be demolished, you'll spend an extra $0.40 – $0.50 per sq. ft for the job.
Therefore, for a standard 200 sq. ft room, you'll spend between $700 – $1,800 to completely redo the drywall.
Who to hire to resurface drywall
To get the best results for your drywall resurfacing job, you'll need to hire the best contractor for the job.
This means doing extensive research on the contractors you approach since the market is now flooded with inexperienced drywallers.
Among the most important things you should look for in the contractors include:
Licensing and Certifications – Always choose to work with a drywall contractor who can prove that they are licensed to operate within your area. Certifications also prove that the contractor has gone through the right training to complete the job.
Go for referrals – Getting positive reviews about a contractor from someone you trust is always a good sign. Ask around your circle of friends or family if there's anyone who has recently done some drywall renovations on their home. If possible, visit them to check the quality of the work the contractor did.
Experience of the team – How long a contractor has been in the business could help you judge their experience. Ask them about their years of operation, and whether they can offer testimonials for their work.
Ask questions – Nothing exposes a rooky drywaller better than asking the right questions. By interviewing each contractor on your list, you'll be able to see through any contractor who doesn't know what he/she is doing.
HomeGardenGuides.com is the fastest and easiest way to get three quotes for your drywall resurfacing job from the best and most affordable contractors near you.
The service quickly matches you with the 3 drywall repair specialists voted #1 by previous users in your area. All you have to do is:
Scroll up to the top of the page and enter your ZIP Code in the blue form.
Give us a few details about your wall and ceiling drywall resurfacing job, plus some contact information.
We will then forward your drywall details to the closest three drywall contractors, all voted best priced, who will price your drywall job.
IMPORTANT: There is no obligation to hire any of the contractors. This is a free tool and service to be used at your pleasure.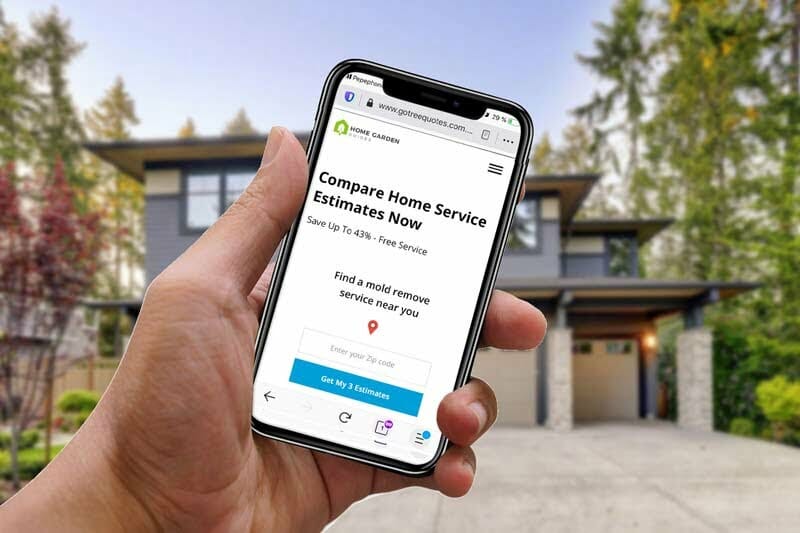 DIY vs. Hiring a Professional
The fact that drywalling is something any homeowner can do by themselves always makes the decision to hire a pro hard. But the truth is, each option has its fair share of benefits and disadvantages.
Moreover, there are several instances where you just can't depend on your DIY skills. You'll need the help of an expert drywaller to get that professional touch.
Pros
It saves you nearly 80% of the total costs that usually cover labor
It gives you the opportunity to learn and practice a new skill
Cons
Might not give the best results unlike when done by a pro
Cost of purchasing drywall supplies could be expensive
It's time wasting for the owner
Exposes you and your family to injury risks during the resurfacing
Pros
Proper and high-quality installation is guaranteed
Some contractors may help you obtain permits where required
Contractors can handle large projects within a short time
Pros may help you get good deals on materials
Cons
Can be very costly
Inexperienced drywallers may do more damage costing you more
Instead of the drywall contractors, some homeowners still opt to hire a handyman for the job. While choosing either professional isn't wrong, you need to know when to hire each of them.
Handymen essentially take care of small drywall projects and surface finishing. You should, therefore, hire them if your resurfacing job is relatively small, and doesn't involve complex repairs that could cause a structural problem.
Many homeowners prefer hiring them because they offer a cheaper resurfacing option.
Keep in mind: Most handymen don't have licenses and they aren't required by law to get them. So, do your research carefully before hiring any of them.
When to hire professional contractors
Professionals are best suited to work on large projects, sometimes those that pose structural challenges. If the resurfacing project may interfere with the plumbing or electrical system, that's a job for the contractor.
Every contractor has to be licensed by your local council and should have a certification. The best thing about hiring them is that they always work with a team and so, can complete the job on time.