Drywall is available in different types, shapes, and sizes. It is essential to know what size and thickness of drywall will be ideal for your home. This article takes you through the different types of drywalls and their applications.
Ideally, the 1/2 – inch drywall panels are the accepted standard ceilings and interior walls. The 5/8-inch drywall thickness is also common for ceilings and walls that need a prescribed fire-resistance rating.
When building a new home or remodeling your current one, make sure you choose the right thickness and drywall size for your rooms. Your contractor should guide you on the same and offer you a detailed estimate for the room or entire house.
Drywall is the most common material for interior walls and ceilings for all types of buildings. It is engineered using gypsum material sandwiched between two sheets of thick paper. It is a top choice for most homes because of its durability and effectiveness. Below is a list of different drywall thicknesses, their applications, and costs.
1/4 – Inch (6.35mm): this drywall thickness is the most economical option, and it is suitable for curved surfaces. It is also ideal for creating new surfaces over plaster. These drywall panels are lightweight (38 pounds) and very thin, so you must handle them with a lot of caution to avoid bending or breaking them.
3/8 – Inch (9.52mm): this drywall thickness is ideal for remodeling partitions. It can be used interchangeably with the ¾-inch ones for patching or fixing patches on the wall where the plaster has been removed or has worn out.
1/2 – Inch (12.7mm): ½- inch drywall thickness is the standard drywall type for most homes, and it is available in a variety of lengths. It is ideal for walls and ceilings and can be used with wood and steel frames.
5/8 – Inch (15.9mm): the 5/8-inch drywall is the thickest option, suitable for commercial projects. It is also called firewall drywall, and its thickness offers soundproofing, especially in noisy places.
| Thickness | Application | 4 x 8' sheet cost |
| --- | --- | --- |
| 1/4" | Curved surfaces | $6 - $9 |
| 3/8" | Cheaper wall alternative | $10 - $15 |
| 1/2" | Standard - Walls | $12 - $18 |
| 5/8" | Ceiling/ fire resistant | $14 - $20 |
This drywall is suitable for walls and ceilings, and it does not sag when installed on ceilings. 5/8-inch thick drywall is not common in residential homes, and it is heavier and costlier than the other options.
Drywall thickness comes with other related properties like moisture and mold resistance or insulation. Thicker drywall panels offer additional insulation and are ideal for homes that do not retain heat. They also provide moisture, mold, mildew, and fire resistance.
The table below shows the different prices for various drywall thicknesses.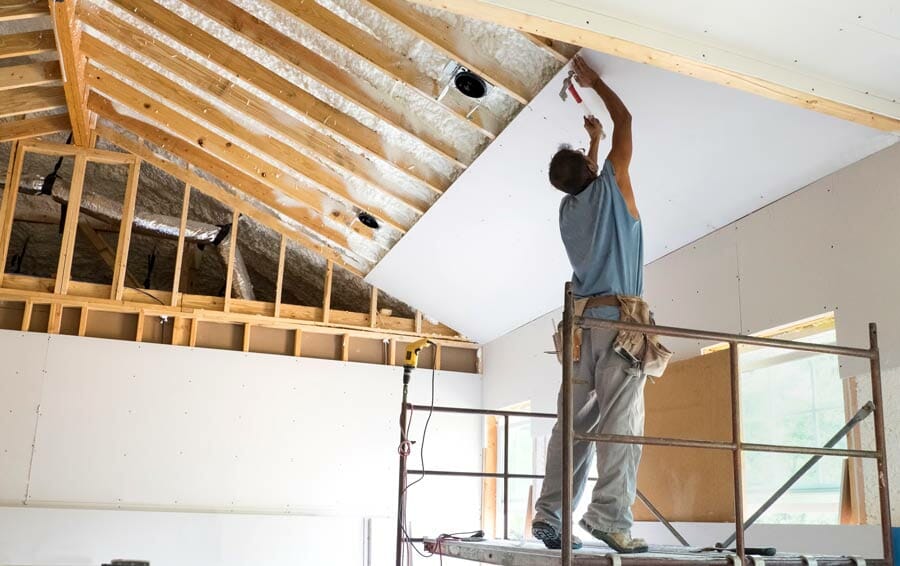 Best thickness drywall for walls
The ½ -inch drywall is the standard type used in most residential homes. It is the most common option for interior walls and ceilings because it is easy to carry and install.
If you are DIYing the project and are looking for light drywall, consider buying the ultra-light ½ -inch drywall. The ultra-light option is about 13 pounds lighter than similar options of the same thickness and size.
Best thickness drywall for ceilings

The best thickness for ceilings is either the ½ – inch drywall or the 5/8-inch one. The standard thickness for both walls and ceilings is the ½ -inch drywall, while the 5/8 –inch drywall is commonly installed on ceilings or walls that need a prescribed fire-proof rating.
Standard drywall sheet sizes
Drywall sheets are available in different standard sizes. The 4 x 8' size is the easiest to work with, making it the most common choice for installers unless larger sizes are required.
4-foot x 8 foot: this is the most common drywall size, and it comes in all types. This drywall is the easiest to handle and install, and it is also the least expensive. If you plan to DIY your project, this drywall should be your go-to option because it is lighter and easier to handle unless you require larger options for different applications.
4-foot x 10 foot: this drywall is lighter than most traditional ½ -inch drywall. It is also easier to use and cheaper than other heavier options. It is suitable for both walls and ceilings, thus resulting in less waste. It also accepts several decorative finishes, wall coverings, paint, and textured coatings.
4-foot x 12 foot: this panel size is the most common option for ceilings and can be used in rooms with higher ceilings. The pieces are longer, which makes them suitable for higher-than-average ceiling heights. It is easier to complete the walls without lots of cuts and offers a better finish. However, this drywall size is more challenging to handle, and it is not recommended for DIY installations. This is because the sheets are heavier, and it can be tough to move them without help.
| Sheet size | Application | Average cost |
| --- | --- | --- |
| 4 x 8 foot | Suitable for old walls, ceilings, curved surfaces | $10 - $15 |
| 4 x 10 foot | Ideal for both walls and ceilings | $11 - $13 |
| 4 x 12 foot | Ideal for ceilings | $12 - $18 |
How thick is green board drywall?
Greenboard drywall is available in 1/2 -inch and 5/8- inch thicknesses and 4 x 8' sizes. This drywall adds extra green material to the outer surfaces of the panels. This layer is water-resistant, and it is suitable for areas with moisture concerns, like the kitchen.
It is, however, not ideal for walls that need to be completely waterproof and should be covered with tiles and grout. This drywall costs between $14 and $18 per panel.
How thick is Type X fire-resistant drywall?
The Type X drywall is usually 5/8 –inch thick. It is fire-resistant and has a super-tough core. All gypsum boards have a certain degree of fire resistance, but Type X has a denser pack of non-combustible fibers. It is much heavier and harder to cut than most other panels, and it meets the one-hour fire-resistance rating. It is available in ½ – inch and ¾ – inch thickness as well.
This drywall type also offers soundproof and is suitable for garages and basements. It is also ideal for buildings that have to meet specific building codes, and it costs between $20 and $30 per panel.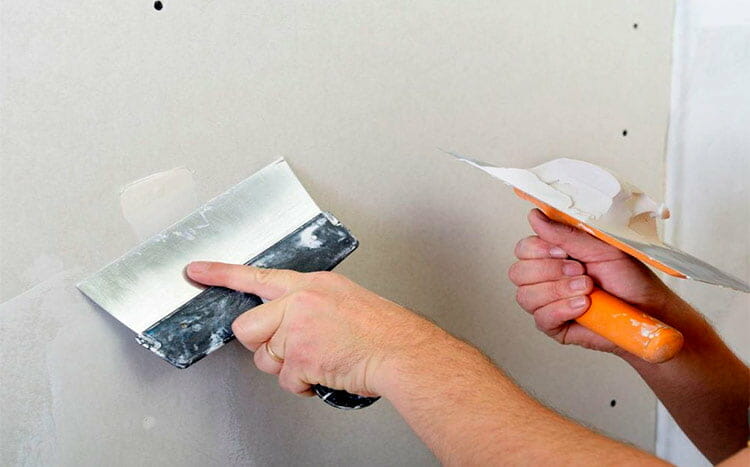 How thick is Blue board drywall?
The Blue board drywall comes typically in 5/8 –inch thickness, and it uses a different paper type to sandwich the gypsum material. This drywall has a smoother finish and holds finish plaster on the surface. This allows installers to build a very smooth and seam-free finish. This drywall type is not designed to be used with joint compound, mud, and tape, and its price ranges between $12 and $15 per panel.