Soundproofing of walls is certainly the way to go when looking to rid an internal environment such as that of a household of external noise. It is usually employed in situations where there is a need to reduce or eliminate external noise pressure without bringing down the walls.
Adding soundproofing insulation is one of the most common soundproofing techniques available. Others include:
Installing a second drywall layer
Adding mass loaded vinyl
Installing acoustic foam panels
Building a new wall in front of the current one
Hanging sound deadening curtains
Sealing crack to outlets in wall
Hanging acoustic fabric panels
Painting walls with soundproof paint
Adding another layer of drywall
These alternatives normally vary depending on a wide range of factors which include the thickness of material used, simplicity of installation, cost, mechanical decoupling and degree of absorption just to mention a few.
Usually, there are some steps that need to be adhered to before engaging any soundproofing techniques. Identifying the source of the noise is usually the first of these. This is normally followed by locating and marking of studs in the wall.
Roofing nails are then used to join the soundproofing material to the studs in question. The seams must then be sealed using barrier tape. The position of the soundproofing system should therefore be such that it is over the barrier layer with acoustic panels in between.
A gypsum board and some sealant can then be used in finishing the wall. These steps slightly vary from technique to technique. The major soundproofing techniques include: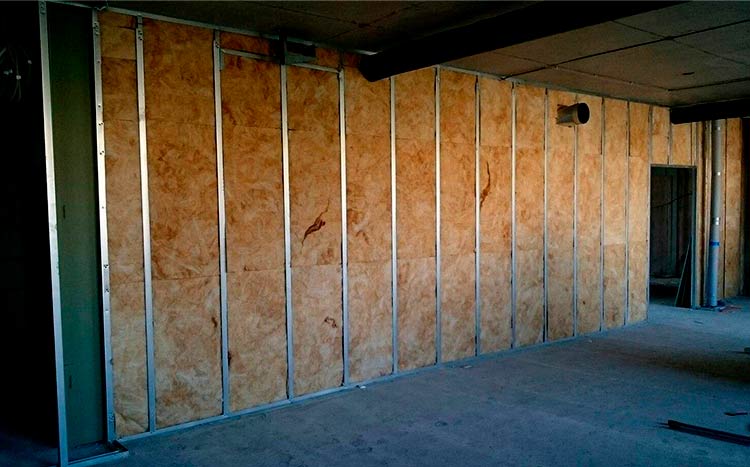 Adding soundproofing insulation
This technique is known to increase a wall's sound absorption qualities by trapping sound waves within its cellulose-built air pockets. It is made up of recycled newsprint which means it can be installed post-construction. Its STC rating is 44.
Mass loaded Vinyl or MVL is a sound mass blocking material that can also be installed between drywall and framing when looking to create a sound dampening layer. Its high-density metal particles are what give it such sound dampening capabilities.
Installing acoustic foam panels
This is one of the simplest DIY soundproofing techniques. This is because It only takes the use of a unique adhesive spray to attach these panels to the walls. Once this is done, these panels can be able to absorb and eliminate any sound waves present.
Build a new wall in front of existing
This technique usually relies on the decoupling mechanism which nullifies the transmission of vibrations from the outer wall to the independent inner wall. The inner wall is normally lined with mass loaded vinyl and sealed with acoustic caulk.
Putting soundproof curtains
Soundproof curtains are great when it comes to ridding a space of external noise without damaging its structural or aesthetic appearance. They are normally used either as window covers or room separators and are extremely cost and labor effective.
Sealing cracks and outlets in the wall
This can be accomplished by thoroughly sealing all your wall and window corners and edges using acoustic caulk. Electrical outlets and switches should then also be sealed using the rather inexpensive wall plate insulation gaskets.
Hanging acoustic fabric panels
Acoustic panels can not only keep external noise out of your space but also add aesthetic appeal while at it. They are also known to absorb internal echoes and reverberations which in turn leads to better quality acoustics for music, conversations and movies.
Painting the walls with soundproofing paint
Outside noises can also be absorbed through the relatively simple application of thick soundproof paint. This paint is known to be more effective in multiple layers. It is however not a permanent solution which means that it may require supplementing with other ways.
Installing another layer of drywall
This method is normally regarded as relatively effective due to its mass addition properties which increase wall thickness. It should however be supplemented through the creation of a green-glue sound dampening layer between the two drywall panels.
Bonus: Using decoration and furniture to lower the reverberation
This technique normally involves reducing the space available for soundwaves to vibrate in. Here, larger and heavier fittings are usually kept along the room's perimeter with no contact whatsoever to the walls. Lighter fittings are then used to absorb any loose waves.
Quiet rock VS Double drywall comparison
When it comes to drywall soundproofing Quiet rock and double-drywall panels are certainly at the forefront. This is because they are generally considered to provide sufficient sound deadening qualities.
Quiet rock is arguably the most known drywall soundproofing panel. Its panels are usually used when looking to achieve better sound dampening quality on walls and ceilings than ordinary drywall panels can offer.
The first two layers of a Quiet rock panel are usually made up of 5/8-inch thick sheets. A third layer of viscoelastic polymers which is responsible for sound dissipation is normally found in between.
Types of quiet rock panels
| Type | Size | Quiet Rock | Drywall |
| --- | --- | --- | --- |
| EZ-SNAP | 5/8 inch 4" x 8" | $60 - $65 | $14 - $20 |
| EZ-SNAP Mold resistant | 5/8 inch 4" x 8" | $60 - $65 | $20 - $24 |
| QuietRock 510 | ½ inch 4" x 8" | $55 - $60 | $10 - $12 |
| QuietRock 530 | 5/8 inch 4" x 8" | $105 - $110 | NA |
| QuietRock 530 RF | 5/8 inch 4" x 8" | $105 - $110 | NA |
| QuietRock 545 | 3/8 inch 4" x 8" | $105 - $110 | NA |
EZ-SNAP – 5/8" thick 4×8', 9, or 10'' sheets that score and snap easily, and can be used the same as standard drywall, but with better soundproofing performance.
EZ-SNAP Mold Resistant – As you can imagine it's the same as
EZ-SNAP but with mold-resistant paper and soundproofing core material.
QuietRock 510 – This is a cheaper version at 1/2″ thick 4×8', 9, 10', and 12' gypsum panels also have a sound damping core. They can be installed directly over existing drywall for a soundproofing quick fix.
QuietRock 530 – A denser 5/8" panel is also available in 4×8', 9', 10' and 12', and it's also rated for almost 500-pounds.
QuietRock 530 RF – This is the same as the 530, but with added shielding against radio frequency penetration.
QuietRock 545 – An 11 layered high-performance drywall panel that is recommended for home or commercial studios, sound rooms, or theaters.
Pros and Cons of quiet rock panels
| Pros | Cons |
| --- | --- |
| Better layer to layer sound attenuation | Relatively expensive |
| Time and Labor effective | Difficult to apply on ceilings |
| Single-layer effective | Less effective for decoupling and impact noise |
| Type | Price Range |
| --- | --- |
| Regular/Whiteboard | $12-$20 |
| Green board - moisture-resistant | $14-$18 |
| Blue Board | $12-$15 |
| Paperless gypsum | $12-$60 |
| Purple covered gypsum | $15-$60 |
| Type X | $20-$30 |
| Soundproof drywall | $40 |
| Pros | Cons |
| --- | --- |
| Items can be hanged on drywall | Not moisture and water resistant |
| Provides heat and sound insulation | Relatively difficult to install |
| Resistant to fire | Relatively inflexible |
There are many distinct types of sound. Below are two of them:
Airborne sound
This basically refers to any kind of sound whose transmission medium is the air. Speech and music are great examples of airborne sound.
Structure borne sound
When sound is carried through the structure of any given building, it is usually referred to as structure borne sound. Any kind of noise on the upper floor for example movement than can be heard on the lower floor is a good example of structure borne sound
DIY or Hire a professional
One of the major factors that should be considered when looking to either hire a professional or soundproof a space by yourself is the degree of soundproofing required. Partial sound treatments on surface exteriors which include carpeting and tiling are usually a DIY job.
Professionals should however be involved in any work that involves the interior parts of the wall. Some popular examples of such tasks include window replacement, drywall insulation and spraying insulating foam.
https://homegardenguides.com/ is a great tool that quickly matches you with the best drywall soundproofing specialists in your locality. You can get three estimates from local drywall soundproofing professionals in a matter of two minutes. Kindly follow the steps below to enjoy this great service:
Scroll to the top of the page and enter your zip code
Answer questions about your drywall job
Your drywall soundproofing details are forwarded to three local experts who will send you a price estimate for your job with some friendly advice.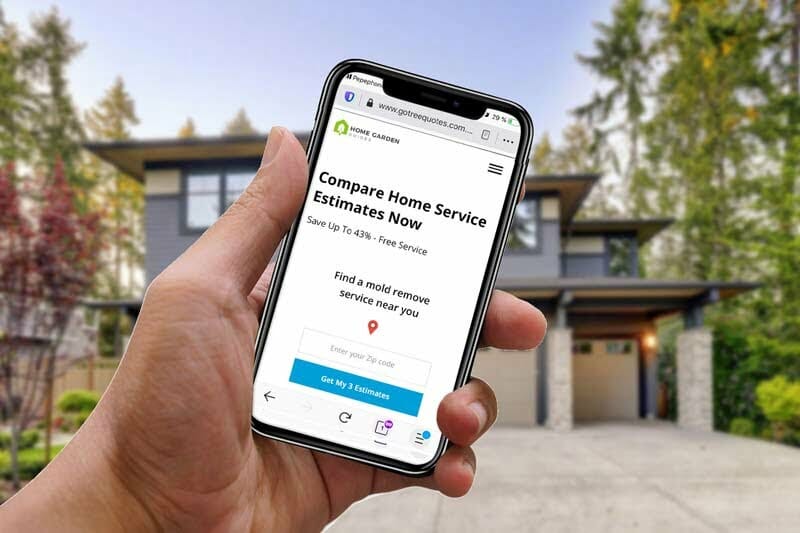 Cost is also a great consideration especially because it normally takes an average of $300 to hire a soundproofing expert. The following are the demerits and merits that come with either method:
Pros
DIY soundproofing is usually cheaper when compared to engaging a professional. This is because one can be able to save an average of $300 on labor.
Cons
The lack of soundproofing expertise as far as DIY practitioners are concerned normally reduces the quality of the sound insulation installed in the room in question.
Pros
Professionals normally come in handy when looking to engage in soundproofing techniques which require structural adjustment. These include window replacements and interior wall insulation.
Cons
Professionals generally cost a lot more when compared to DIY practitioners.