Installing drywall is a great way of refreshing the look of a room that has old paneling. However, the process of first removing the paneling and thereafter installing the drywall can be both time-consuming and tedious. And while you can always use a contractor to make things easier on yourself, most contractors tend to charge an extra fee for removing and disposing of old paneling. The question is: can you just put drywall over paneling and altogether forgo the paneling removal process.
Yes, you can put drywall over paneling. As long as you use extensions on trims and sockets, it is possible to do so without sacrificing the appearance or functionality of your room. In fact, doing so is an easy and cost-effective option for homeowners who don't want to spend extra on remodeling a room that needs new drywall.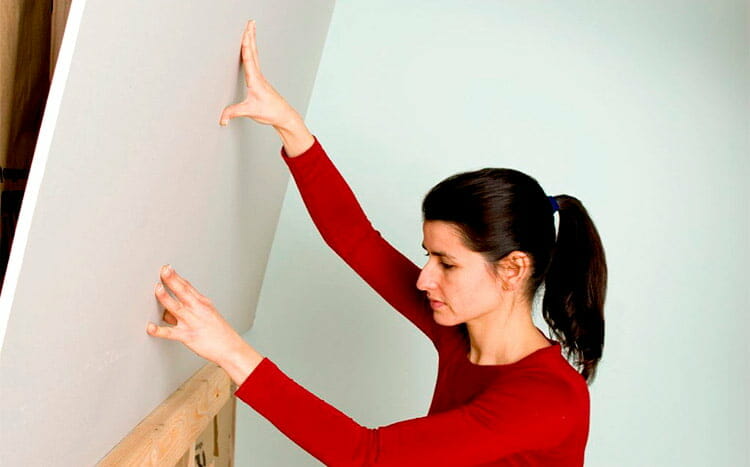 It is better to remove paneling first because you don't have to look for workarounds in relation to the increased wall thickness and the fact that you will have the existing paneling blocking your view of the wall studs.
Stress-free drywall installation
As a result, by removing the paneling first, you won't have to:
Purchase an electronic stud finder and then having to use it to find and mark the stud locations
Install extensions with door and window trims in order to correct the odd look that the increased thickness will create
Purchase and install box extension rings in order to comply with building codes relating to the distance between the wall surface and the electrical box
Take the time and effort to ensure that these modifications do not end up messing with the overall look and feel of the remodeled room.
However, as far as costs are concerned, removing the paneling first is not better. In fact, it is a more expensive and labor-intensive option.
It takes a lot of time to do, requires extra resources to dispose of the resulting debris, and it also results in pollution. And in cases where you are using contractors to do the drywall installation, the cost of paneling removal and disposal can cause a significant increase in the amount of money that you will end up spending on remodeling the room.
Therefore, provided the paneling is structurally sound, and that you account for the increase in wall thickness, simply installing drywall over paneling presents a more attractive option for most homeowners. And when done right, it is almost impossible to tell the difference as far as aesthetics are concerned.
Cost to drywall over paneling
| Service | Quantity | Low | High |
| --- | --- | --- | --- |
| Drywall over paneling cost | per sq ft | $1.1 | $3.0 |
| Drywall over paneling cost per room | 10 x 12 room | $132 | $360 |
| Drywall over paneling labor | Per hour | $50 | $100 |
| Drywall over vaulted ceiling paneling | per sq ft | $2.25 | $3.0 |
| Drywall over paneling per sheet | Per sheet | $65 | $100 |
| National Average | 1,500 sq ft home | $1500 | $4500 |
Cost to drywall over wood paneling per sq ft
While the cost of removing wood paneling and replacing it with drywall ranges between $2 and $4.50, the cost of simply installing the drywall over the wood paneling is lower because it does not include the wood paneling removal costs. And since the removal and disposal costs of wood panels $0.18 and $0.20 per square foot, the actual cost to drywall over wood paneling per sq ft will be between $1.8 to $4.38 per square foot. This will vary widely depending on the type of drywall you will be installing, whether you will need any drywall finishing, and your location.
Drywall over paneling cost for a 10 x 12 room
The cost of installing drywall over paneling for a 10×12 room ranges between $195.6 and $315.6.
Cost to drywall over paneling per sheet
The total amount that you will have to pay in order to install drywall over paneling per sheet will range between $320 and $640.
Is it better to remove wood paneling first?
When you are simply considering the ease of the actual drywall installation process, then it is better to remove wood paneling first. This is because when you do so, you will be able to install drywall faster by virtue of having direct access to the studs. This will make attaching the drywall easier.
Another thing that will make for an easier installation process, and hence making it a better option, will be not having to worry about installing extensions. This includes installing extensions for window and door trims. And also for sockets. This is because when you completely remove the wood paneling before doing the installation, you won't be dealing with extra wall thickness.
Furthermore, when you remove the wood paneling first before installing the drywall, you will have a better chance of ending up with cleaner and visually appealing remodeling results simply because you won't have to install extensions.
However, in terms of actual costs and overall project time, removing the wood paneling first isn't better. This is because demolition costs a lot in terms of time and actual labor costs. Debris disposal costs will also have to be budgeted for.
Therefore, if you are working with a tighter budget, removing the wood paneling first before installing the drywall is not a better option.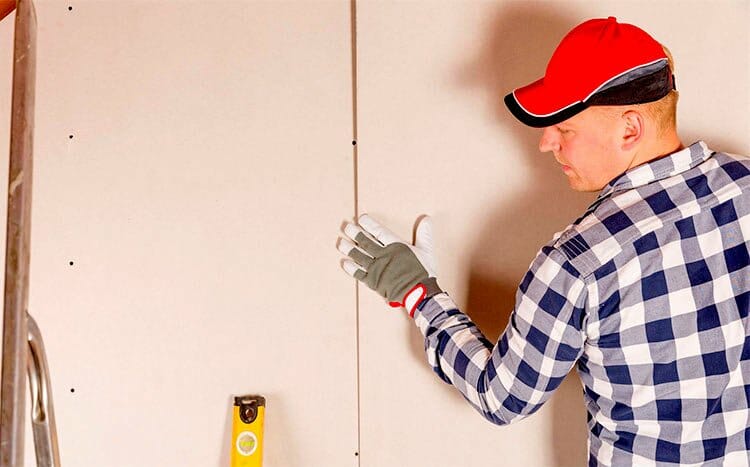 DIY tips for hanging drywall over paneling
There are a few things that you can do in order to make the drywall hanging process smoother. Here are the main tips that will definitely help to save you time and money.
Always start the process by marking out the vertical studs. Doing so will make the installation process much easier. And to simplify the finding process, make sure you arm yourself with an electric stud finder and a pencil.
While driving screws far into the studs is essential to ensuring a sturdy installation, you shouldn't drive them to a point where they puncture the paper surface. This is because doing so will compromise the integrity of the drywall and may thus accelerate the rate at which it breaks down.
To simplify and speed up the process of making switch and outlet cutouts, start by marking the edges of the fixtures with colored chalk. After you are done, simply put the drywall panel in place and then press it against the fixtures. The paint will transfer to the drywall, and this will give you the exact dimensions that you need to create perfect cutouts.
To avoid any wall attachments and trims looking sunken, always use extensions to slightly lift them off the wall surface. This will help to compensate for the increase in wall thickness that results when you install drywall over paneling without removing the paneling first.
Can you skim coat over wood paneling?
Yes, you can skim coat over wood paneling. This technique is effective at refreshing the look of old wood paneling. And provided you ensure that you properly degloss the panel by sanding it or using a chemical deglosser, the drywall compound will stick just fine on the surface of the panels.
3 alternatives to covering up wood paneling
Covering up wood paneling with drywall is not the only alternative available to homeowners who are dealing with old and worn-out paneling. Instead of covering it up, you can choose to first remove it and then replace it with new drywall or any other wall material.
Painting the wood panels is also a great way of refreshing their look. And provided they are properly deglossed, and as long as the panels are still structurally sound, this is usually an incredibly cost-effective way of refreshing the look of rooms with wood panels.
If you love the look of drywall and you don't want to spend money on purchasing drywall, you can apply drywall compound directly on the panels. This is a great way of getting rid of the "paneling look" since the drywall compound will fill up the lines and cracks of the panels. The resultant effect will be wood paneling that looks like a regular wall. And provided you properly prime, sand, and paint the surface afterward, this will give your wall a new and aesthetically pleasing look.
Is drywall better than paneling?
Drywall is better than paneling because it is easier to install. It is cost-effective, both in terms of material costs and installation costs. And since it is typically made of crystallized water and gypsum, it also has an edge over most materials — including paneling — in terms of the ability to resist fires.
These advantages, in addition to the fact that it is better at soundproofing rooms and that it is easy to maintain and repair, give it a significant edge over paneling.
However, if you are looking to create an aesthetically pleasing natural look, then paneling is definitely a better material. And when you consider its ability to provide a clean and professional look, together with the fact that it is a lighter material that is easy to trim and cut, it is easy to see why some homeowners would prefer it over drywall.
Yes, wood paneling is making a comeback especially in cases where homeowners want to create a cozy feel in a particular room. It is typically used sparingly and in specific rooms. And in most cases, lighter-colored and warmer toned panels are preferred.
If the wood paneling is structurally sound and isn't severely worn out, then you should definitely paint it. Painting is less labor-intensive, requires less skill, and costs less money. Therefore, it is a less capital-intensive and labor-intensive remodeling option.
If you need help with installing drywall, you should definitely use HomeGardenGuides.com. It offers a free service that quickly matches you with the top-voted local experts.
Using the website, you can get 3 estimates fast by real certified experts in your area in just 2 minutes. Here is how it works.
You scroll to the top of the page and enter your Zip code.
Answer questions about your drywall remodeling project
Your details will be forwarded to three local experts.
You will then receive a price estimate for the job and some friendly advice.
IMPORTANT: There is no obligation to hire. This is a free tool and service to be used at your pleasure.