If you're looking for a good exterior finish for your home, stucco is by far one of the best materials in the market. Besides its durability, beautiful appearance, and cost, stucco offers a wide range of texture and finish options, making it an excellent finishing material.
But sadly, even though most homeowners love stucco, many can't differentiate between the different types of stucco finishes and textures. This makes it hard for them to choose the right stucco that'll give them their desired results.
If you're sailing in this boat, here's a breakdown of the 8 most popular stucco finishes to help you make the right decision.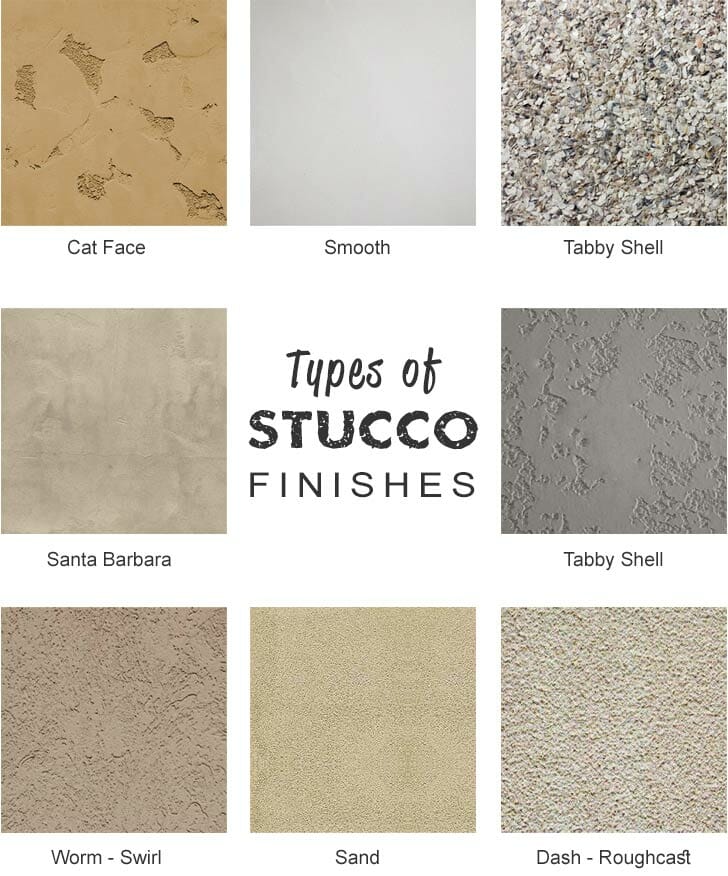 Got its name from its tendency to look like cat faces. The finish is usually very smooth but has some rough patches scattered intentionally on the walls to give it some character.
It's these rough patches that end up forming the cat faces. Depending on the finish you're going for, the rough patches can be small to large, and spaced close together or further apart.
You can also have the Montalvo finish, which is more or less the cat face finish but can comprise both acrylic/synthetic or traditional stucco.
Application technique
For the best results, you'll have to use two coats of stucco for the cat face finish. The first (base) coat is the rough coat which should be applied using a trowel or stucco sprayer.
Once this coat is dry, the second (top) coat is applied. This is usually the smooth layer, applied using a metal trowel and finished by hand. Some irregular rough spots are allowed to show, depending on your preference, enabling the cat face(s) to 'peek through'.
Average cost
The average cost of the cat face texture greatly varies depending on the size of rough patches and the proximity to each other. However, you can expect to spend anywhere from $6 – $8 per sq ft for the finish.
Smooth finishes result in the most beautiful texture options when completed the right way. However, its process is the most complex and relies on an expert to get the best results.
From the name, the finish is smooth and elegant, suitable for Mediterranean-style homes.
Among its biggest benefits is that smooth finishes give the homeowner versatility with the choice of colors. This means you can easily customize it by adding different colors to get a classic mottled look.
The finish is also easy to clean and allows homeowners to choose from either synthetic or acrylic stucco.
Drawback: Cracks on this finish are more visible and much harder to patch or repair compared to other alternatives.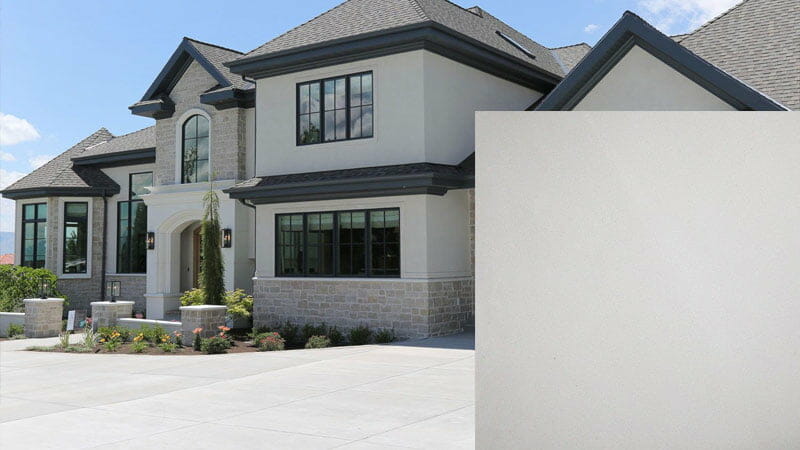 Application Technique
The smooth finish requires two coats. The first coat, consisting of fine cement stucco, is applied and forms a smooth and solid base coat.
The second coat is the finishing coat which is applied once the first one dries, and it is scraped using a pool trowel until it's smooth and clean.
Average cost
The average cost of a smooth finish ranges between $7 – $14 per sq. ft. This cost is much higher than other traditional stucco finishes mainly due to the high labor costs.
Most contractors will charge you between $5 – $10 per sq. ft for the job. If the wall is already textured, the costs could be around $4.50 per sq. ft.
Originally from California, this finish features a uniquely elegant and irregular texture, not to be confused with the smooth finish. To achieve its final semi-smooth look, the finish uses extra small sand particles.
It's more common in the early adobe-style or Spanish-type homes.
Owing to its cement-based nature, the Santa Barbara finish may have slightly varying colors, which can be easily painted over for uniformity.
Drawback: Just like the smooth finish, this finish is also pretty hard to repair and patch in cases of a crack.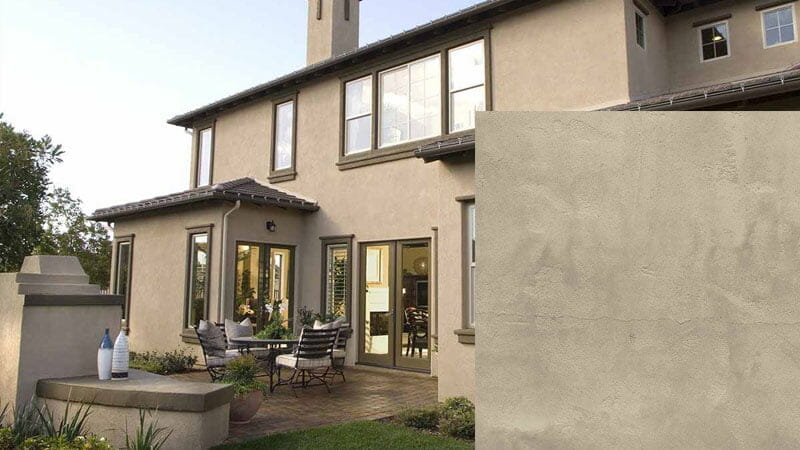 Application Technique
The finish requires two coats of the traditional stucco to complete the desired look. The first coat is the base coat which should be applied using the pool trowel, then allowed to dry.
The second coat (topcoat) is much thicker than the first and is applied using the pool trowel, then smoothened by a pool float before it hardens.
Average cost
The average cost of Santa Barbara finish ranges between $6 – $9 per sq. ft. The actual costs may vary depending on the contractor's labor costs, condition of your walls, and your location.
Lace Finish (Skip-trowel)
The Lace finish, also known as Skip-trowel, is the best-known stucco finish. You probably think of this texture first whenever someone mentions stucco. It's quite popular due to its versatility in residential and commercial applications as well as its ability to hide imperfections after installation.
This finish comes in a fine, coarse, and medium pattern. It also occurs in a diverse range of unique looks, allowing homeowners to enjoy different finished appearances despite being of the same texture.
Traditional acrylic stucco is the most used for this finish.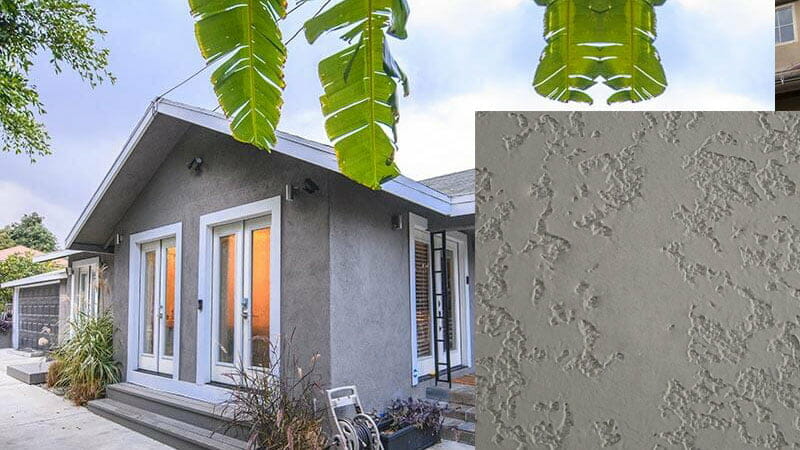 Application Technique
Lace finish requires two coats of traditional stucco. The first coat serves as the base coat, and the second coat is the texture coat. Most installers apply this texture by hand although it's possible to spray on it then knock it down using a wet trowel.
If you want to create a different pattern, you can skip the trowel. The coarse, medium, and fine grains are created by the intensity applied to the finish.
Average cost
The average cost of lace finish ranges between $4.25 to $7 per square foot, but these costs could vary depending on the condition of the wall. Any prep work or repairs required could also significantly increase the labor costs.
Dash finish is one of the roughest textures available today. Popularly known as roughcast, this finish is a favorite among homeowners due to its unique highly textured gravel appearance.
It is a universal match for almost every home and comes in several variations including the fine dash, pebble dash, knockdown dash, and heavy dash.
These variations are typically the same type of finish and only differ slightly in color based on the material used and the pressure exerted by the person applying it.
This dash finish variant is made by simply knocking the stucco down using a wet metal trowel. The process should be done in smooth long strokes until all stuccos are down.
The pebble dash refers to a mixture of your traditional stucco mix and fine gravel or some shell remnants. These pebbles are then dashed against the wall once the first coat dries up. Any pebble that sticks forms an appealing natural look.
Drawback: Dash finishes and its variants become rough after drying. This could be a problem for you.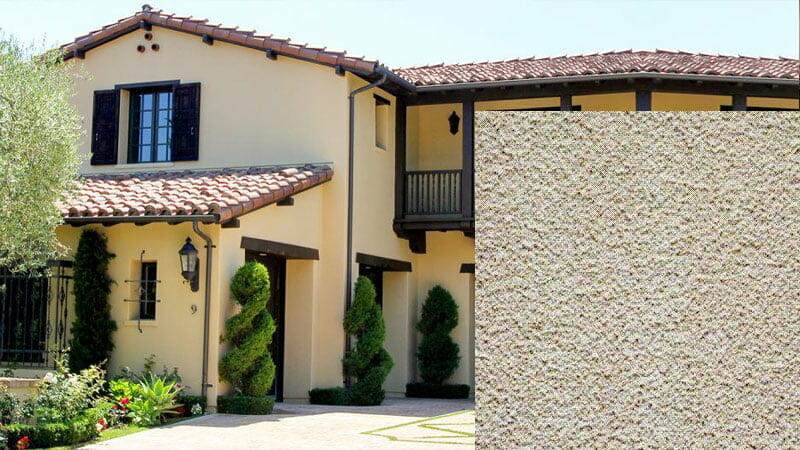 Application Technique
The dash finish may require two to three coats of the traditional stucco to achieve a uniform final surface. The base coat is first applied to the wall then stucco is sprayed to it through a hopper gun.
You can use a finer spray if you want a fine dash finish, and a heavier spray if you expect a heavy dash finish. For a smaller area, the finish can be applied by hand.
Average cost
Since the dash finish can be applied by just one person (for small projects), the costs tend to be cheaper compared to other smoother finish options.
On average you can expect to spend anywhere from $6 – $9 per sq. ft.
The sand finish is one of the basic stucco textures common among commercial buildings. Right from its name, the finish appears like beach sand since it's a mixture of sand and stucco mix.
The sand finish can appear fine, medium, and coarse depending on its manufacturer. It's also called the float finish because it's created by lightly pressing the plastering float into the stucco.
A massive advantage of using sand textures and finishes is that it's good at masking surface imperfections, easy to repair or patch, and it's quite versatile.
Depending on the finish you want, this texture can be fine, medium, or coarse.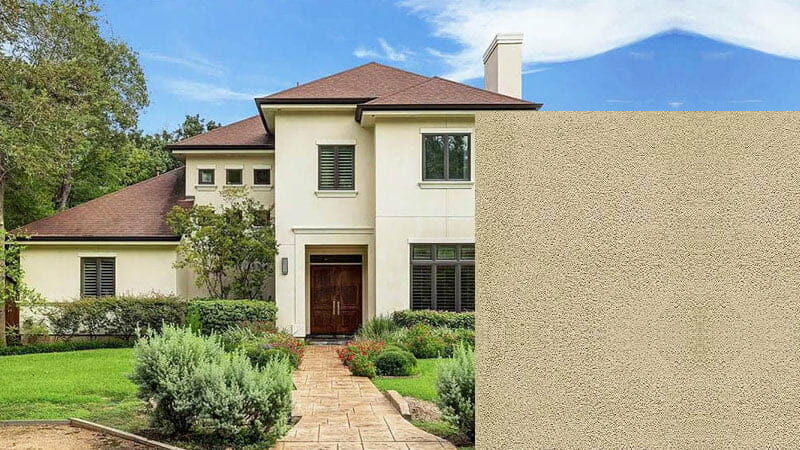 Application Technique
Sand finish can be applied using either traditional or synthetic stucco, which is then troweled by hand. To level out the stucco, the foam float is also used, ensuring a proper finish.
You can also spray it first on the sand finish, then trowel it down tightly. Ideally, this finish can be applied in one coat only.
Average cost
The average cost of installing the sand finish ranges between $2 to $5 per sq. ft, excluding the labor costs.
Worm Finish (Swirl or Putz)
The worm finish isn't the most common in this list but it still preserves a fantastic appearance. The finish leaves grooves or indentations that look like small worms pressed hard against the stucco – hence the name.
To achieve the look, you'll have to use a synthetic stucco mix combined with a special aggregate of materials to get the right texture. It can come in fine, medium, and heavy finish.
Drawback: Worm finishes are fairly hard to apply or patch as they have to be done by hand.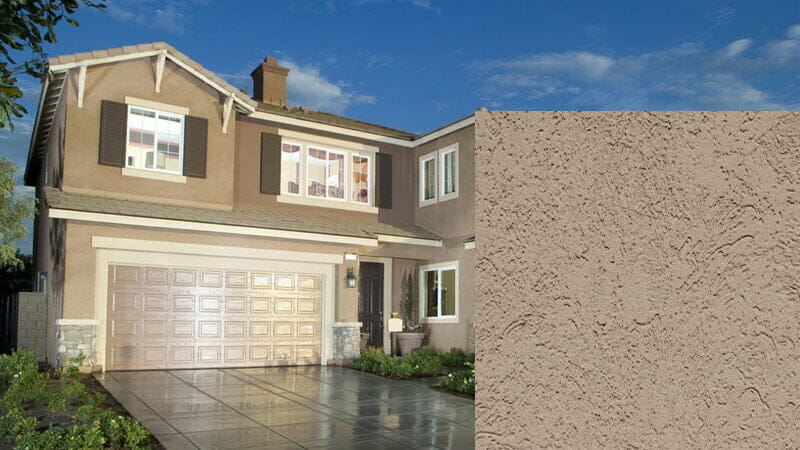 Application Technique
Everything is applied by hand. The first step is mixing the stucco with special particulates to add texture.
You then have to rub the mixture in a circular motion on the wall using your hands until you form your desired finish. You can also use a plastic trowel or the EIFS trowel to complete this part.
Average cost
The average cost of the worm finish stands between $3 to $5 per square foot. The actual costs may however be slightly higher due to the additional materials required.
The tabby shell finish offers a unique new look for homes by covering the plaster with oyster shells. This creates a mottled texture on the walls. Unlike traditional tabby shell stucco finishes, modern finishes combine some cement to increase their strength and durability.
Drawback: This finish can't be applied on synthetic materials and other thin-coated stuccos.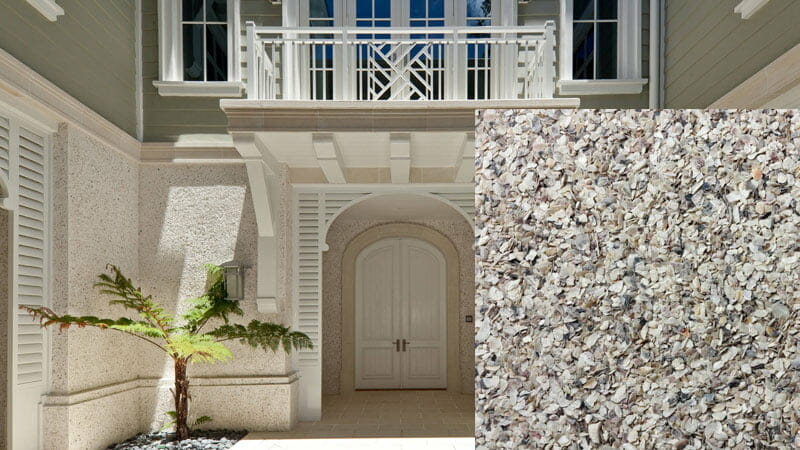 Average cost
The average cost of tabby stucco finishes stands between $5.50 to $10 per sq. ft. It's a tad more expensive than the traditional stucco due to the cost of finding the oyster shells.
Average Cost of Stucco Finishes
| Type of finish | Average cost (per sq. ft) |
| --- | --- |
| Cat Face Finish | $6 - $8 |
| Smooth Finish | $8 - $14 |
| Santa Barbara Finish | $6 - $9 |
| Skip / Lace Finish | $4.25 - $9 |
| Dash Finish | $2 - $4 |
| Pebble Dash Finish | $6 - $9 |
| Float / Sand Finish | $2 - $6 |
| Worm Finish | $3 - $5 |
| Tabby Shell | $5.50 - $10 |
Is stucco exterior expensive?
Yes! The national average cost of stucco siding ranges between $7 – $10 per sq. ft which is on the high end when it comes to siding options. This means that for a 1,500 sq. ft home, you'll spend anywhere from $10,500 – $15,000.
However, stucco is also one of the most durable materials for your exterior that requires little maintenance and can last for more than 80 years. This makes it a good long-term investment.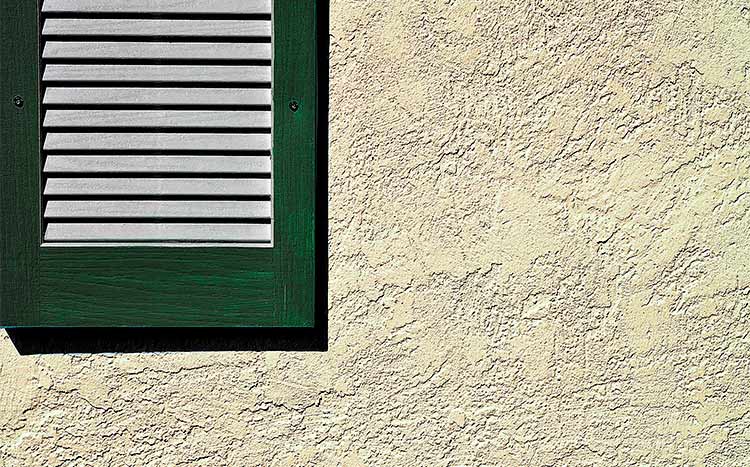 Should I Paint My Stucco?
It depends. The best thing about stucco is that you have the freedom to do what you want, including choosing to paint it or not. If you want to paint for aesthetic reasons, stucco requires painting every 5 – 6 years to preserve the look.
But since many modern stucco finishes use cement-based products, they can last for long periods of time without needing paint.
Nonetheless, the stucco paper used on 3 coat systems and the foam used on 2-coat systems must be painted or covered within the first 4 weeks. These are the only vulnerable parts of the stucco that should worry you when making this decision.
What is the best color for stucco?
Any color with a high reflective value (LRV) is good for your stucco. A high reflective value means that the paint reflects most of the UV radiations from the surface ensuring the paint takes longer to fade.
Typiaclly, most light shades of neutral colors including tan, off-white, brown, grey, and white are among the best choices.
How Long Does Stucco Last?
50 – 80+ years. Compared to other siding options, stucco is very durable. With the right maintenance and care, the material can last way longer than 8 decades.