Stockade fencing is arguably one of the most popular fence types in the United States. Millions of residents prefer using this wooden fence due to the privacy and security it offers.
Another key selling point for Stockade fencing is the relatively cheap costs of installation. The average homeowner spends about $12 per linear foot for the job.
However, this cost doesn't account for factors such as the post brackets and the nature of the site, among others which could easily pump up the total amount you'll spend.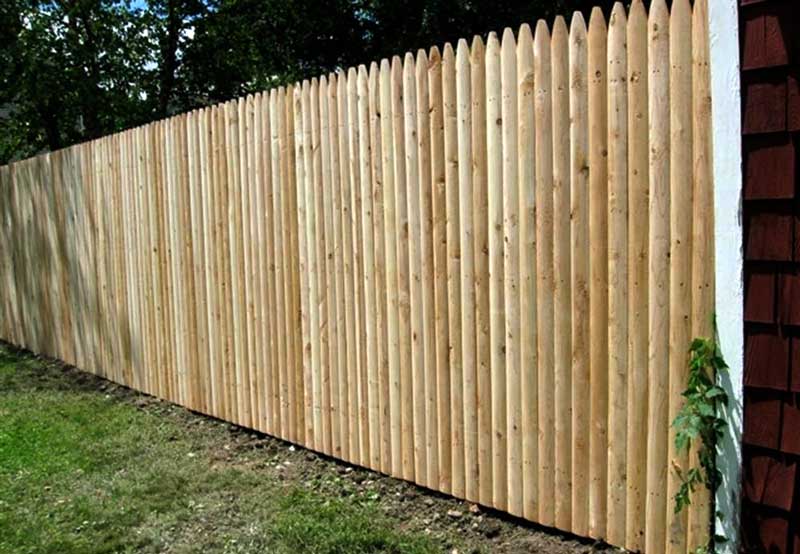 The actual cost of Stockade fencing ranges between $8 – $15 per linear foot. This price difference is caused by the different sizes (height) of stockade fencing available and the type of wood used.
Expect to spend anywhere from $10 – $30 per linear foot on material costs alone and an extra $10 to $20 per linear foot for labor. If the contractor charges by the hour, you'll spend between $30 – $65 an hour.
These costs may vary slightly depending on the different contractors.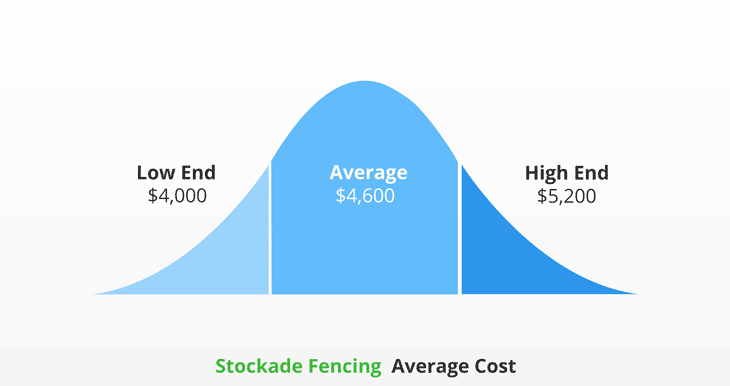 | Service | Quantity | Low | High |
| --- | --- | --- | --- |
| Stockade Fencing cost | per foot | $8 | $15 |
| Stockade Fencing cost (installed) | per foot | $20 | $26 |
| Stockade Fencing labor cost | Per hour | $30 | $65 |
| Stockade Fencing costs 200 ft. (installed) | 200 ft | $4,000 | $5,200 |
What is a stockade-style fence?
A stockade fence refers to a solid fence made up of wood boards that are placed tightly together so that no gap is left. The top edges of this fence are usually pointed, giving it a uniquely stylish finish.
The fence style comes from five main types of wood; Cedar, Spruce, Redwood, Pine, and Pressure-treated wood. Its height ranges from 4, 6, and 8 feet tall.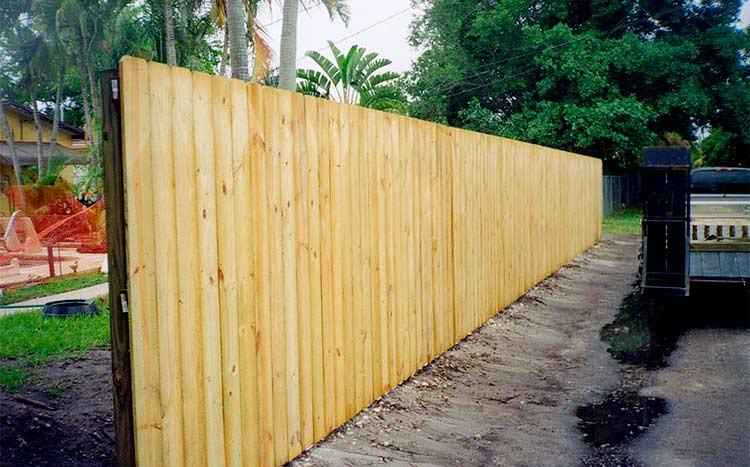 How much does Stockade fence installation cost?
The total costs of Stockade fence installation mainly depend on the length of the fence to be installed. However, most homeowners spend between $20 – $26 per linear foot to have a professional install a 6 foot or taller fence.
If you're installing it as a DIY, the materials and supplies could cost you anywhere from $10 – $15 per linear foot.
For a standard 100 ft fence, you can expect to spend between $2,000 – $2,600. If you DIY the project, your expenses will range between $1,000 – $1,500.
These costs may be higher if you're also paying your contractors to remove and dispose of the old fence.
Stockade fence cost per linear foot
The type of wood you choose to use for your Stockade fencing will determine how much the project will cost. Here's how much you can expect depending on the size of your intended fence.
| Length (linear foot) | Low | High |
| --- | --- | --- |
| 1 linear foot | $8 | $15 |
| 100 ft | $800 | $1,500 |
| 200 ft | $1,600 | $3,000 |
| 400 ft | $3,200 | $6,000 |
How tall is a stockade fence?
The tallest Stockade fence has a height of 8-feet, followed by the 6-feet and 4-feet stockade fencing. If you need a fence for privacy, the 8-feet Stockade is the best, but for aesthetics, a 6- or 4-foot fence will do.
Can I install a stockade fence myself?
Yes! Stockade fences are among the easiest fences to erect from scratch since they require no expertise. The Stockade boards come pre-assembled, and your only job will be putting them together.
Your only challenge could be the weights of the panels, as they can be heavy to lift by yourself. To avoid hurting your back, it's best if you complete the job with a friend.
The whole installation process can take you anywhere from 8 – 12 hours, depending on the length of the area to be covered.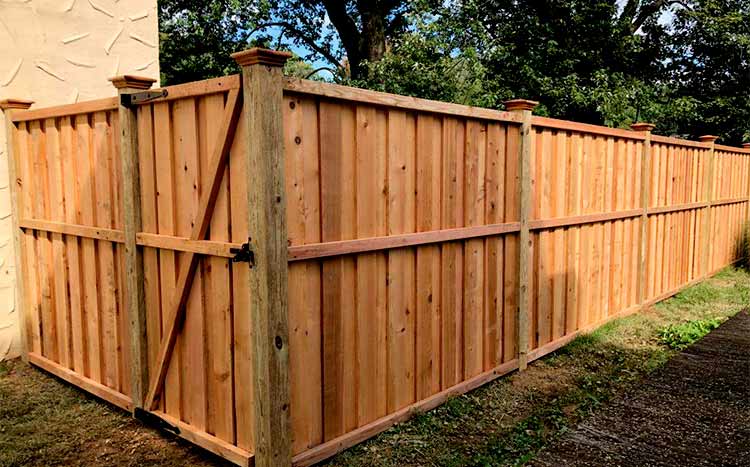 Besides the labor, materials, and supplies costs, there are several other factors that may increase your total costs for the project. This includes:
Permits – In many states, you'll need a zoning permit to install a fence on your property. These permits may cost you anywhere from $75 – $200 for fences shorter than 6 feet, and up to $400 for taller fences.
Grade of land – It's generally much harder to fence a sloping area than a flat area. If your lawn is sloping, the fence installer will have to level the lawn or hand-make the Stockade boards to fit on the slope. This adds to the labor and material costs.
Rocky land – Rocky areas make it hard to dig deep enough holes for your fence posts. A contractor working on such a yard may charge you more to dig up or hire special equipment for the rock removal. Keep in mind; the posts should be at least 3 feet in the ground to achieve maximum stability.
Access – Most contractors drive up their costs if they find it harder to access your home. Narrow pathways, thick bushes, etc., may force them to carry their equipment, and this increases their labor. If the installers also have to fence around an obstruction, they'll utilize more materials, resulting in added material costs.
Tips to hiring Stockade fencing contractors
If you've never hired a fencing contractor before, finding the right contractors in your area can be a challenge. Here are some tips to help you hire the right stockade fencing contractor.
Even though price shouldn't be your main focus when hiring a contractor, getting multiple estimates is key in ensuring you get a fair price for the fencing job.
Most contractors offer free estimates for their potential clients, so get at least three estimates. Doing this will give you the standard price range for each fencing contractor.
Avoid any contractor who charges extremely high or low for their services. If you must deal with them, look carefully into those outliers.
Licensing should always be a non-negotiable factor to look for in any contractor. Being licensed shows that the professional has received enough training and certifications to complete your project well.
Before signing any contracts, ask the contractor to provide their license number and verify them before proceeding.
Any fencing contractor worth his salt should be able to provide you with their insurance coverage details and a certificate of insurance.
Working with an uninsured contractor sets you up for lawsuits and makes you liable for damages should any mishap occur on your property. Even if your home insurance policy can cover some damages, you may pay more for damages you didn't cause.
Ensure the contractor's insurance covers at least worker's compensation and general liability to be on the safe side.
Regardless of how cheap a contractor offers their services, there's always something you'll learn from the reviews of their past clients. Go online and look at the kind of reviews and ratings the contractor receives.
Contractors with quality services will receive more positive reviews and a few negative ones. Be wary of any fencing company that has too many positive or negative reviews.
If you know a friend or neighbor who has recently installed a Stockade fence, go to them for recommendations and references. Word-of-mouth reviews of the contractor will reveal the truth about working with a contractor.
You can also assess the quality of work the contractor did on their fence. If you like it, that could be the one for you!
HomeGardenGuides.com is a free service that quickly matches you with the top-voted Stockade fencing professionals.
You can get 3 estimates by real certified experts in your area in just 2 minutes by simply scrolling to the top of the page, entering your Zip code then answering some questions about the Stockade fencing you want.
We forward your fencing job details to three local experts, who'll then send you a price estimate for the job with some friendly advice.
IMPORTANT: There is no obligation to hire. This is a free tool and service to be used at your pleasure.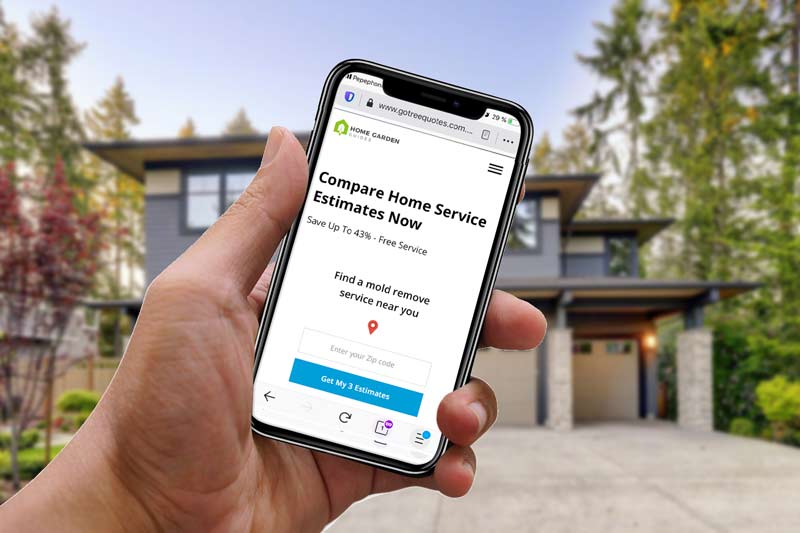 Questions to ask fence installers
Whenever you're in a dilemma regarding which fence installer to hire, asking questions is always the best way to help your decision-making. But to get the best fence contractor, you have to ask the right questions.
Here are five of the best questions you should ask the contractors before hiring.
How long has the company been in operation?
The US market today is flooded with numerous fencing contractors, some good, most inexperienced. You, therefore, need to be certain that a contractor has been working for at least five years before you entrust them with your Stockade fencing.
Contractors who've been in the industry for a while have gained enough experience to guarantee you high-quality work.
Most new contractors may charge you less for the job, but their inexperience will prove to be costly in the long run. Do your research beforehand, and don't take anyone's word for it – you deserve the best services!
Do you have a list of references I can contact?
There's a big difference between telling you about their previous successful jobs and showing them to you. That's why this question should be at the top of your list.
Ask the contractor to refer you to some of their previous clients who were happy with their services. A good fencing contractor should have at least three or four past clients who they can refer to.
Make a point of contacting these references and get their feedback on their experience with this contractor.
If the contractor appears hesitant to give you any reference, it'll be best to avoid them.
Will you obtain the necessary permits for me?
While some fencing projects may not require permits, you need to be sure that the contractor will get you the necessary permits if the need arises.
Most experienced fence contractors will obtain the permits or at least guide you through the process. You should therefore ensure that the contractor understands all the local rules and regulations regarding the building codes.
Working with a timeline is always the best way to assess a contractor's experience and professionalism. Ask the contractor to give you a definitive estimate of how fast they can complete the job and agree on a timeline.
You should also inquire about the possibilities of any discounts for delays in the installation or inability to achieve the agreed goals.
Doing this pushes the contractors to work faster to beat the deadline while still delivering quality services.
Tip: Ensure that all these details are documented in your contract agreement so that the contractor won't have room for any cheeky stalling tactics.
Will you provide a detailed payment contract?
Your last but most important question to the fencing installer should be about payment. Ask them if they include all the required costs in the final quote and have it jotted down into the contract.
Most homeowners agree to payments by word-of-mouth and are later slapped with several hidden costs midway through the project.
Ensure the contract you sign covers all expected costs, the payment plans, and even how to resolve any payment disputes.