Lawn aeration costs $35 to $150 for the average lawn, but you will pay more for larger ½ acre and 1 acre properties.
In most cases it cost about the same to hire a lawn aeration machine or DIY, so you might as well get a pro in to make light work of it.
| Service | Quantity | Low | High |
| --- | --- | --- | --- |
| Lawn aeration cost | Per sq. ft. | $0.015 | $0.019 |
| Lawn aeration per 1000 sq ft | 1000 sq. ft. | $15 | $19 |
| DIY equipment hire | 4 hours | $55 | $85 |
| Lawn aeration labor cost | 1 hour | $35 | $65 |
| | | | |
| National average core aeration cost | 7,500 sq ft | $112 | $142 |
To make a proper estimate of what you might need to pay for lawn aeration costs, you'll need to do a proper evaluation of the job to be done. This way, you will be able to tell if it's a good idea to either rent the aeration equipment and do the aeration yourself or outsource to a professional landscaping/lawn aeration company.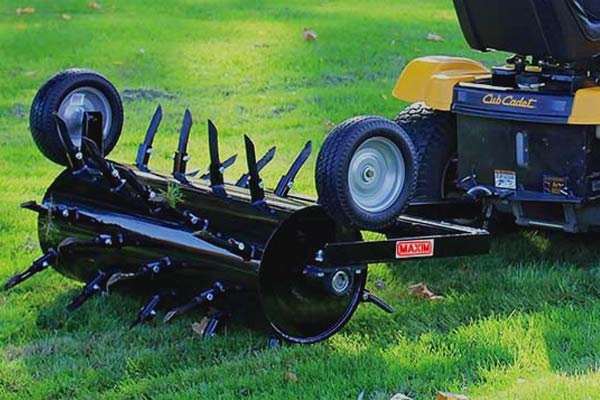 The following factors will determine how much you pay for lawn aeration services in the USA:
The $35 to $150 figure given above is based on standard lawn sizes in the United States. However, you still need to peg your cost estimate based on the specific lawn size you want to be aerated in terms of surface area. Most professional lawn aeration companies or landscapers will want to give a quote based on the size of your lawn.
State
Avg. lawn Size
Sq. ft.
Core Aeration (Low)
Core Aeration
(High)
Countrywide average
8,560
$128
$162
Alaska
22,562
$330
$418
Alabama
24,332
$360
$456
Arkansas
29,450
$435
$551
Arizona
6,500
$97
$123
California
5,500
$82
$104
Colorado
8,025
$120
$152
Connecticut
19,525
$285
$361
Delaware
9,000
$135
$171
Florida
8,350
$124
$157
Georgia
24,600
$360
$456
Hawaii
20,422
$300
$380
Iowa
9,250
$138
$174
Idaho
11,150
$165
$209
Illinois
12,307
$180
$225
Indiana
11,780
$165
$209
Kentucky
19,525
$285
$361
Kansas
10,850
$150
$190
Louisiana
41,974
$630
$779
Massachusetts
12,544
$180
$228
Maryland
8,125
$121
$152
Maine
42,768
$630
$798
Michigan
20,250
$300
$380
Minnesota
12,500
$187
$237
Missouri
10,980
$155
$195
Mississippi
54,749
$810
$1,026
Montana
71,576
$1,065
$1,349
North Carolina
18,253
$270
$342
North Dakota
9,462
$141
$178
Nebraska
17,556
$225
$323
New Hampshire
47,200
$705
$893
New Jersey
8,250
$123
$155
New Mexico
12,547
$180
$228
Nevada
4,300
$64
$81
New York
11,304
$165
$209
Ohio
10,025
$150
$190
Oklahoma
10,215
$150
$190
Oregon
8,120
$121
$152
Pennsylvania
10,470
$150
$190
Rhode Island
8,753
$130
$165
South Carolina
17,300
$259
$328
South Dakota
10,770
$150
$190
Tennessee
25,595
$375
$475
Texas
7,500
$112
$142
Utah
7,714
$115
$146
Virginia
16,835
$240
$304
Vermont
73,979
$1,095
$1,387
Washington
9,850
$180
$171
Wisconsin
28,225
$420
$532
West Virginia
37,224
$510
$703
Wyoming
19,125
$285
$361
A flat lawn is easier to work with as compared to one which has steep slopes or uneven surfaces. Aeration is a manual job that involves driving a machine around the lawn. Steep slopes or uneven topography will make the job slightly harder for the person doing the job and will most likely cost slightly more if it's an hourly contract. Of course, this does not hold any significance if you decide to rent the aeration equipment and do the aeration yourself.
If the above factors are carefully considered and factored into a final quote, you may be able to tell how much you would pay a landscaper to aerate the lawn or if you are better off doing it yourself with rented equipment. Pay close attention to the difficulty of the job at hand if the landscaping company is offering an hourly rate as the final costs could be significantly different from initial estimates.
What kind of soil is holding the grass on your lawn? While landscapers might not give a price based on the soil type, it may become a factor later especially when the soil in question either lengthens or shortens the time needed to finish the job.
Generally, moderately dry and compacted clay soils will make the aeration job more difficult and will probably add to the costs if it's an hourly contract. On the other hand, loose, loamy, or cotton soil types are generally easier to work with and will, therefore, take the contractor less time to finish.
How tufted or patchy is the grass in question? Will it require mowing and raking before the aeration starts or is it just a maintenance job? These are important considerations even when it's the aeration cost you are trying to estimate given that one job leads to the other. Lawns with tall grass, thick thatch, shrubs, and other foreign weeds and plants need a lot of work before they are aerated. Most landscapers will include additional services in their quotes that are necessary for the aeration job to be completed.
What Happens During Lawn Aeration?
Lawn aeration typically involves using ground-penetrating aeration equipment to pull small inches of thatched grass and loosen compacted soil. The equipment can be pulled by a tractor, or by hand using lawn-mower like equipment to move around the lawn. The base of the aeration machine has cylinder-shaped tines that dig into the soil and loosen it without causing too much damage to the grass.
Aeration should not involve removing or uprooting the grass in the soil but, rather, de-compacting the soil and loosening thatched grass. Sometimes, you may need to first mow the lawn if the grass is too tall to allow the aerator to penetrate the compacted soil and properly aerate your lawn.
At the end of the aeration, you should have nicely loose but healthy grass across the entire lawn ready to be watered and left to spread the roots further. Look out for contractors who create uneven patches of dead grass or unattended weeds after aerating your lawn.
Why You Should Aerate Your Lawn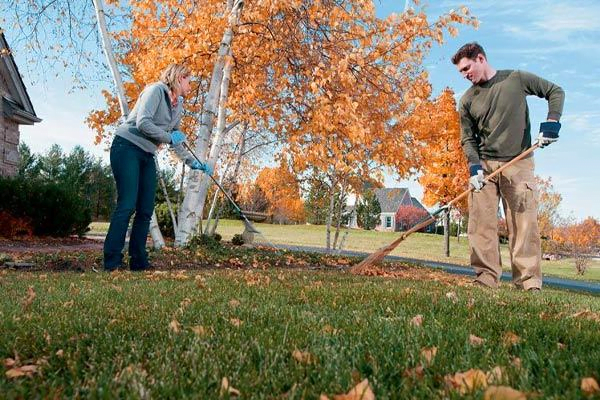 Lawn aeration is an important activity that should be carried out at regular intervals. Here are some of the reasons you should aerate your lawn:
Lawn aeration gets rid of dead and thatch grass– aerating your lawn will help get rid of the dead and thatched grass to maintain grass health and aesthetic appearance.
Aerating your lawn allows for better root formation– the main reason for aerating your lawn is to allow the roots to grow deeper into the soil and become stronger. This will in turn choke out the weeds by giving them less leeway to take hold on your lawn.
Better soil health– Soil that does not get enough oxygen, water, and nutrients will reduce in quality over time and eventually affect the overall health of your lawn. Aeration helps prevent this by creating enough space between the grass for air, water, and nutrients to seep into the soil and be absorbed much more easily.
Aeration helps the sun to penetrate – If the grass is too compact and full of dead grass and weeds, it might prevent the sun from reaching young sprouts of healthy grass thus making your lawn brownout or develop random dead patches. Through aeration, there will be enough space for the sun to penetrate through the older grass and improve sprouting and overall lawn health.
Aeration improves drainage– It's one thing to water your lawn regularly but another thing to ensure that water is properly absorbed into the soil. Compacted lawns full of thatched grass and hardened soil will prevent the water from draining thus creating a soggy lawn. Lawn aeration creates enough spaces between the grass and de-compacts the soil to improve the soil.
Soil aeration allows for better fertilizer utilization– It's not ideal to apply fertilizer on compacted lawns because much of it will remain on the surface and dry out in the sun. Aeration will ensure that a lot of the fertilizer seeps to the soil and is, therefore, absorbed by the roots for lawn health.
Aeration Might reduce the amount of water you need for your lawn as it will be able to retain more water afterward. Compact soil on the other hand leads to wastage of water because much of it either evaporates or drains off.
Aeration provides extra top dressing for your lawn– the plugs of grass that remain after aeration can act as a free top dressing for your lawns. It will become mulch after decomposing and provide some extra moisture to the remaining grass leading to better growth and nutrient formation.
There are certainly many more reasons you should have your lawn aerated from time to time if you want to maintain its health. It's one of the activities that should form part of your routine landscaping care if you want to have that pristine lawn all year round.
When Should I Aerate My Lawn?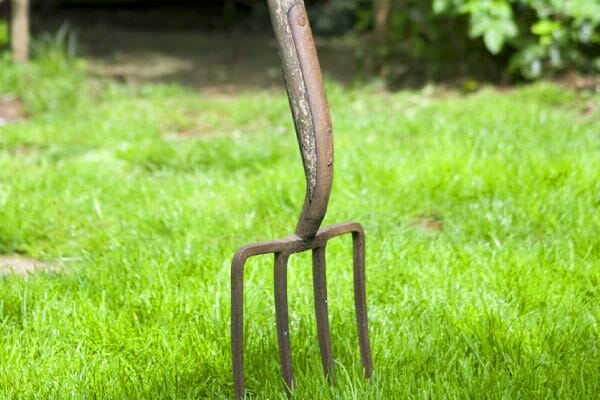 There are two things you should consider when deciding when to aerate your lawn. One of them is the type of grass on your lawn and the other is the season. These two factors are important because they determine how effective the aeration will be. Below is a table showing when you should aerate your lawn based on the type of grass and season.
| Type of Grass on Your lawn | When to aerate | Reason |
| --- | --- | --- |
| Couch, soft-leaf buffalo, or Zoysia varieties | Spring | These types of grasses normally thrive during the summer or spring hence the reason why you should aerate them at this time of the year. |
| Rye Grass, Fescue | Any time of the year- Depends on the condition of the grass. | These are considered cool-season grass varieties and can be aerated at any time of year. Schedule the aeration when the lawn is at its finest, especially after the rainy season. |
The time you choose to aerate your lawn should be partly informed by the condition of your lawn. You should always aerate the lawn when it has moisture in it and not when it's completely dry or soggy. If you are using an artificial watering system as opposed to rain, ensure that the lawn is properly watered a few days before the aeration is done.
At the same time, have a look at the condition of the grass and soil on your lawn before you decide to aerate. You should aerate your lawn if you can observe the following:
The grass has become thatched or formed thick tufts after a growing phase– this usually happens after the rainy season or after the grass has been constantly watered. This should be a sign that the grass is ready to be aerated and doing so will not hinder its growth.
If the lawn has flattened and the soil compacted– This is a common occurrence for lawns used for recreational purposes where there is a lot of foot traffic. After some time, you might notice that stepping on the lawn does not feel as soft as before and that the soil has become unusually hard and compact. You can try and dig some soil out and see how hard or compact it has become.
If the lawn is always soggy after a light rain or overnight watering– If the lawn is always soggy after some light rain or sprinkling, then it could be a sign that the drainage is not proper due to compacted soil and probably needs aeration to fix the issue. Note that leaving your lawn in this condition for too long might affect its health and lead to patches forming up or withered grass.
Should I Rent A Machine to Aerate My Lawn?
You might be debating whether to rent the aeration machine and do the aeration yourself or get a gardener or landscaper to do it for you. Aeration is a simple job (more like mowing your lawn) of you know what you are doing. Deciding on who should do the job may come down to the following factors:
How big is your lawn? – If you have a large lawn or multiple lawns to work with, then it might not be practical to rent the aeration equipment and do it yourself because of the amount of work involved. It might make more sense to get a professional crew to do the aeration. This will also help maintain a uniform lawn surface if the aeration is completed in a shorter period.
How much time and effort are you willing to put in? – Lawn aeration is a manual job that might take a bit of effort and time to do properly. If you don't have the time and are not interested in spending hours doing manual work on your grounds, then you may find it easier to get someone else to do it for you.
If you already have a contract with a landscaping company– Most landscaping companies will provide lawn aeration services as part of the package. If not, then inquire if they can also provide the service for an extra free.
Renting an aeration machine costs around $35 to $60 in the United States. Given that you may spend an entire day or two to complete the aeration job, it might make more sense to have it done by a professional gardener or landscaper at more or less the same cost.
Here is to aerate your lawn should you choose to rent the machine and do it yourself.
Aeration machine/equipment- You are better off with an automatic aeration machine as opposed to the fancy spiked shoes or walking equipment you might find being sold as aeration equipment. It will take a lot of effort and time to properly aerate a lawn manually with the spiked shoes especially if the soil is a bit soggy or dried up.
Start from one end of the lawn and drive your aeration machine while punching holes and removing a few plugs of grass as you move. Make sure you keep a straight line so that you don't find yourself going over the same patch of grass on the next trip. Repeat the process until you have covered the entire lawn.
Leave the plugs of grass on the lawn as they will become a top layer and decompose. You should, however, rake any extra debris and soil off especially if you are dealing with Bermuda grass.
How to Choose A Lawn Aeration Company
Here are some of the things you should consider before you sign a contract with a lawn aeration company or gardener:
You should try and find companies that are locally based as they will have a better understanding of the local weather conditions, soil, and the kind of grass found in the locality.
Find a Qualified Contractor
How experienced is the landscaping or lawn aeration company under consideration? You can do some research on the internet or through an outreach call to find out if the company has some experience in the business. Ask if they have done any projects in your area and seek referrals. You could ask to see pictures of work they have done in the past and see if their quality is up to par.
It's very easy to find what past customers are saying about a contractor before you decide to work with them. You can do this by finding their Google My Business page on Google or visiting their Facebook page. Avoid companies with low ratings or negative reviews.
Find A Registered Contractor
It's best if you work with a landscaping or gardening company that is registered and licensed to provide services in your location. This way, you will be able to sign a formal contract with them before they start working on your property.
You should leave the plugs intact after aeration so that they act as a top dressing and will later decompose to provide nutrients to the soil. Only remove the plugs if you have Bermuda grass on your lawn as it tends to wither if covered. Water and apply fertilizer after aeration.