Learning the various drywall sizes is absolutely essential when looking to renovate your walls and ceilings with the same.
Drywalls mostly come in sheet sizes measuring 4 by 8 feet. Larger drywall sheets measuring either 4 by 12 or 4 by 16 feet are however also available. Be that as it may, it is important to note that the length and width of drywall sheets are usually based on designer, builder, and client needs.
When it comes to thickness, drywalls also offer a wide variety. 3/8 and 1/2-inch thick sheets are usually the most common especially with regard to residential construction. 5/8-inch-thick sheets are mostly used for walls with larger stud gaps. There are also 1/4 -inch sheets that are normally used to form curved surfaces.
Choosing the size of drywall to use usually revolves around cost-effectiveness, fire resistance, wall partitioning, durability, and ease of hanging items just to mention a few. Clients are thus advised to use sheet sizes that can create a finished product with the least amount of seams.
Drywalls exist in a variety of shapes and sizes depending on the activity and location of their installation. It is therefore essential to engage experts when looking to choose the best type of drywall for your space.
Home Garden Guides is a great tool that quickly matches you with the best drywall specialists in your locality. You can get three estimates from local drywall professionals in a matter of two minutes. Kindly follow the steps below to enjoy this great service:
Scroll to the top of the page and enter your zip code
Answer questions about your drywall job
Your drywall repair details are forwarded to three local experts who will send you a price estimate for your job with some friendly advice

The following are the main types of drywall: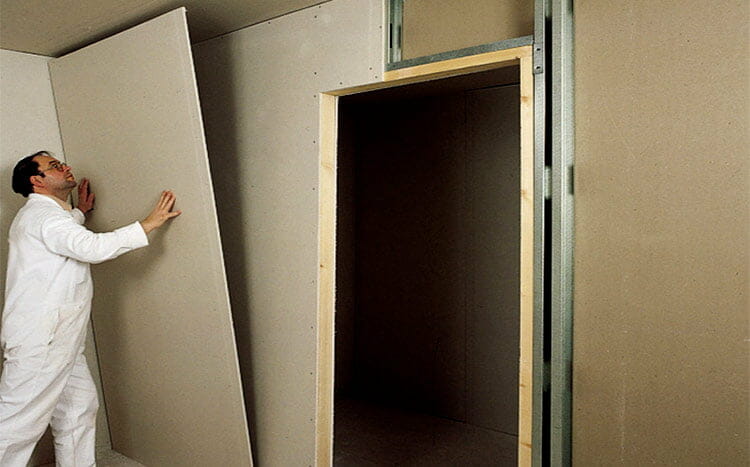 Regular drywall can be easily identified by its white front side and brown backside. It is usually available in thicknesses ranging from 3/8 inch to 1 inch.
The standard length and width of its panels in the market are normally 4 and 8 feet respectively. The regular drywall is also by far the most available type of
drywall in the market.
Soundproof drywall is simply a type of regular drywall with extra framing features which include thicker walls, insulated cavities, and sound-suppressing sheets. The inner layers of their walls usually comprise materials such as gypsum, ceramics, polymers, and viscoelastic.
It is these materials that limit their sound transmission capabilities. Due to its rather thick walls, soundproof drywalls usually require a little more effort as far as cutting is concerned. It is generally available in typical 4 by 8-foot panels with 5/6-inch thickness.
Fire-resistant drywall is also known as the type-x drywall. It usually consists of thickness-enhanced walls for a higher fire rating. It is normally used in buildings that possess a higher risk of loss in case of a fire breakout for example garage and residential premises.
Its walls are usually fortified by unique non-combustible substances which make it harder to cut when compared to regular drywall. Its standard market thickness is 5/8 inches which means that it can also help in soundproofing any given space.
A 5/8-inch-thick panel must achieve a minimum of 1-hour fire resistance grading for it to be considered as a type- X drywall. A 1/2-inch-thick panel on the other hand must achieve a 45-minute fire-resistance rating in order to reach the same goal.
Moisture Resistant Drywall
Moisture-resistant drywall is also referred to as Green board drywall. It's green covering which reduces its susceptibility to moisture is what distinguishes it from regular drywall. It normally comes in 4 by 8-foot panels with 1/2 inch and 5/8 inch thicknesses.
Although it is more expensive and functional when compared to regular drywall, it is not waterproof. This means that it should not be used in areas where it is likely to come into direct contact with water.
This type of drywall is also commonly known as mold and abuse-resistant drywall. This is because of its fiberglass covering which increases the degree to which the gypsum board can resist mold, mildew, and rot.
Although it is quite tough, some experts consider it as easy to cut as regular drywall. It can mostly be found in panels measuring 4 by 8-feet with thicknesses ranging from 3/8-inch to 1 inch.
4 x 8 foot
The popularity of 4 by 8-foot drywall sheets is largely attributed to the utility they offer to do-it-yourself renovators. This is because most ½ inch-thick sheets of this size typically weigh an average of 57 pounds. This is usually the maximum amount of weight that such renovators are able to carry per time.
4 x 12 foot
An average 4 by 12-foot 1/2-inch drywall panel weighs an average of 80 pounds which means around 1.6 pounds per square foot. Its lightweight panels are usually around 10 to 13 pounds lighter.
Their unbroken continuity is extremely useful when looking to create smooth vertical surfaces to meet rather elevated ceilings.
4 x 16 foot
Panels of 4 by 16 feet are usually used to cover walls and ceilings when either under construction or renovation. They are relatively heavy which means that they require greater manpower for handling during use.
2 x 2 foot
Smaller sheets of 2 by 2 feet are usually also available when looking to patch or wall-board small openings.
1/ 4-inch
This is the cheapest version of drywall in the market. It is normally used for surfacing different materials including plaster and texture ceilings.
They are also ideal for installation on curved surfaces.
They are however dampened to increase their flexibility as far as extremely curved surfaces are concerned. They normally weigh an average of 38 pounds due to their thinness. This makes them rather susceptible to either breaking or bending if not handled with care.
1/ 2-inch
1/2-inch drywalls are extremely suitable for the walls and ceilings of residential buildings. Conventional 1/2 inch drywalls weigh an average of 57 pounds with their lightweight counterparts weighing around 44 pounds per 4 by the 8-foot panel.
This makes them relatively light for use as far as do-it-yourself renovators are concerned. The fact that they can work with both wood and steel frames also makes them really common.
5/ 8-inch
5/8 inches is usually as far as drywalls go in terms of thickness. This type of drywall is commonly known as the firewall drywall. This is because it is mostly used for surfaces in need of specific fire-resistant ratings.
It is considered a better ceiling alternative when compared to its 1/2-inch counterpart. This is because it is usually less likely to sag. Textured surfaces with 24-inch spaced studs also require the thicker 5/8-inch drywall.
It is normally found in industrial premises rather than residential establishments since it is more expensive than all the other drywall alternatives. Owners of noisy buildings also install it due to its prime sound-proofing qualities.
Types of Framing Construction
Framing construction is simply the creation of a given structure or shape by joining materials such as engineered wood and structured steel together.
Heavy-frame construction involves using vertical supports that are few and strong to hold up a drywall sheet. Light-frame construction on the other hand usually involves using small and few vertical supports in order to create a structure. Residential builders normally utilize the latter for drywall support.
What is the most common size per sheet?
4 by 8-foot sheets are certainly the most common drywall sheets available in the market. This is because of their rather light nature which allows for easier transportation by users.
Square-edged vs. taper edged sheets
Most drywall sheets are usually square-edged. They are normally used for plastering ceilings and walls because of how their sheets butt up and plaster over one another.
Taper-edged drywall sheets are commonly used in wall finishing activities. This is because they facilitate easier gap-filling as a result of their tapered ends.
What's the ideal thickness for soundproofing?
5/8-inch-thick drywall is widely regarded as the most ideal when looking to soundproof any given establishment.