Precast concrete fences remove the stress of building a concrete fence on site. Your installer delivers the precast concrete panels to the site ready to make a fence.
Precast concrete fences cost $150 to $320 per linear foot or $25 to $40 per square foot to install inclusive of labor costs. How much you pay depends on your installer, the size and height of your fence and the type of panels used.
Below we take a closer look at cost factors and other examples.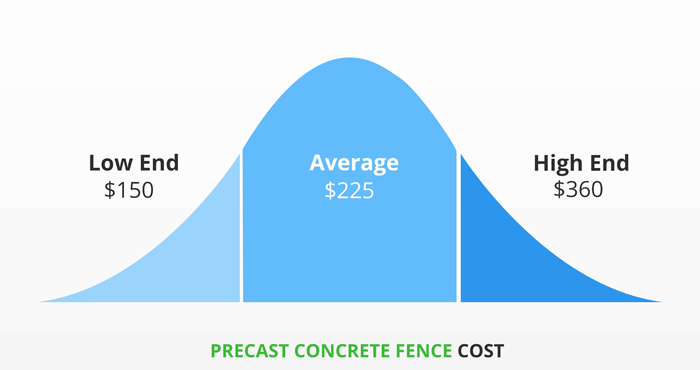 Features of precast concrete fence
Like concrete fences, precast concrete fences require little to no maintenance. They are not affected by changes in the weather and can withstand heavy hits without breaking or denting.
They do not rust or rot. Water runs off them easily and will not affect their strength or durability.
Precast fences once installed are likely to last for up to 100 years. They are not easy to damage and are mostly permanent fixtures.
Precast concrete fences offer all the features and benefits of a concrete fence at a lower cost.
Most of the work is completed offsite by the manufacturer. They get to your land ready to set up and install your fence.
Precast concrete fences are available in unique shapes and designs. Unlike concrete brick walls or fences, they can have unique textures, finishes and shapes.
Same texture on both sides
Many types of fences have different textures. On your side, the fence may be smooth while it is rough on your neighbor's side.
Precast concrete fences are good for neighborliness. You will not need your neighbor to take care of your fence on their side.
Precast concrete fences can be stained in any color to fit any appearance that you want.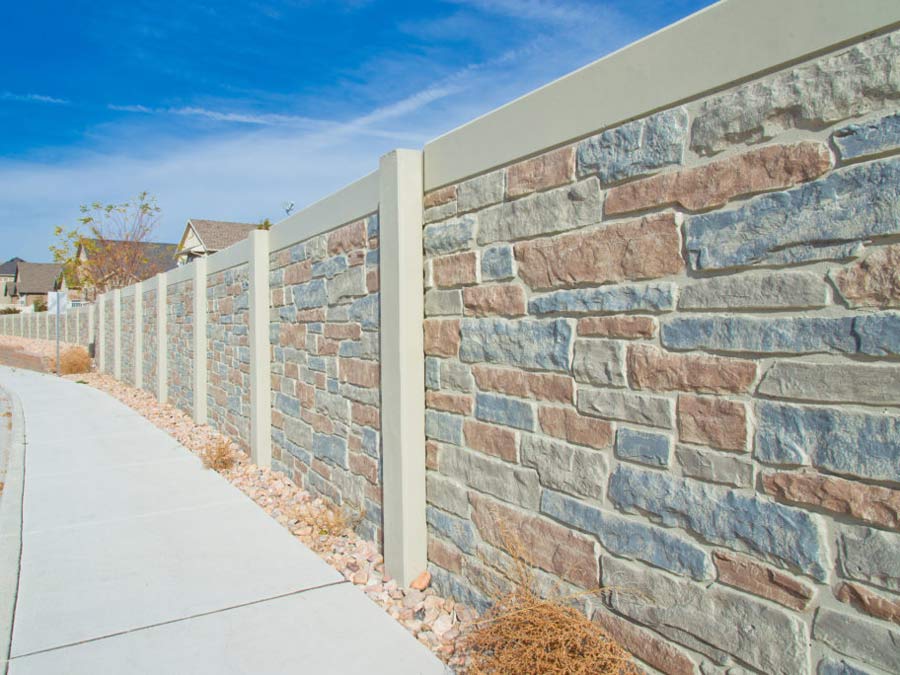 Benefits of precast concrete fence
Sturdy
Permanent
Little to no maintenance
High levels of security
Enhance privacy
Soundproof or reduces external noise.
Cost-effective
Fast and easy installation since they are modular and standardized.
Wind and fire resistance
Can be molded into any shape.
Disadvantages of Precast concrete fence
It May be difficult to handle or transport depending on the shape.
Heavy panels
High initial cost of precast fence preparation.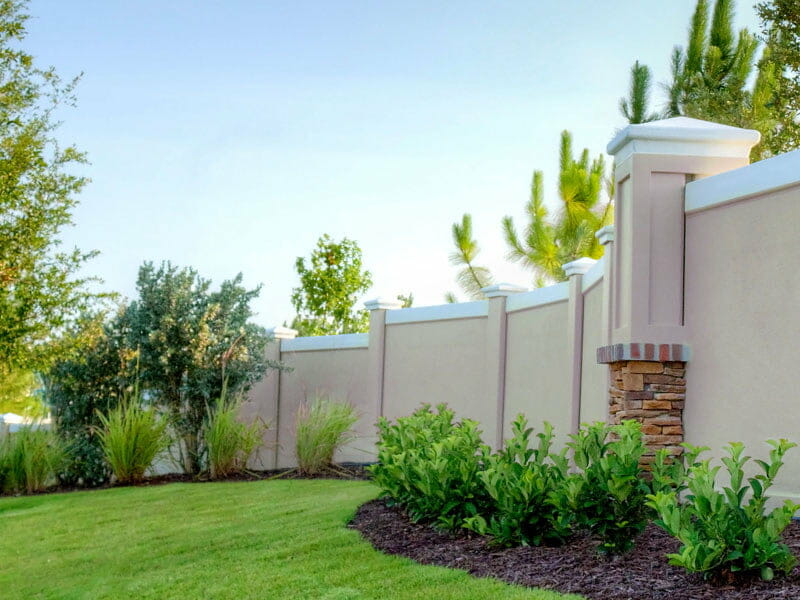 Factors that influence the cost of precast concrete fences
High fences to enhance privacy and improve security. Like every other fence, the higher a concrete fence is, the more it costs.
An 8-foot precast concrete privacy fence costs more than a 6-foot fence. The higher the fence you need, the more materials precast concrete manufacturers need to make it.
It increases the cost of the fence.
The location where you want the fence installed will determine how much you pay for your concrete fence.
First, consider the distance from where you are getting your materials. Depending on the shape, length and size of the precast concrete, it may be difficult to transport your fence materials over a long distance. The further the distance, the more you pay.
Second, the ground on which the fence is to be installed needs proper preparation. If you leave it to the pros, you will pay more for fence installation.
The quantity of materials needed to build a concrete fence determines the cost of fence installation.
The larger your fence, the more materials you require. Consequently, the more you pay.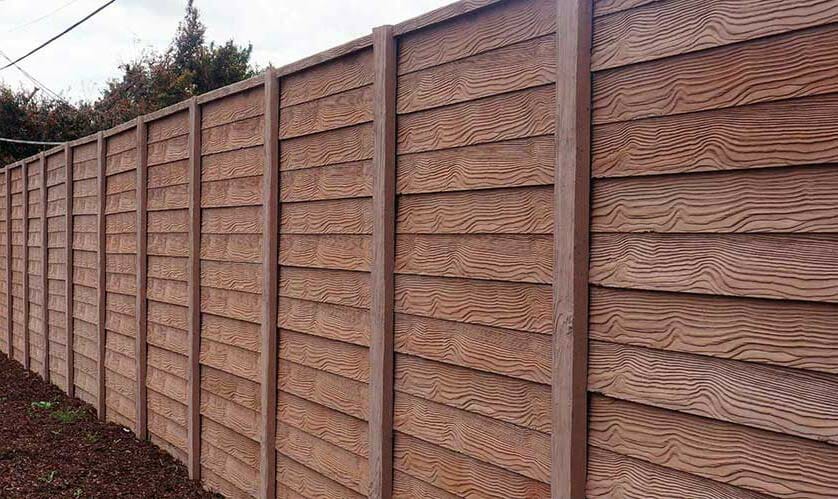 Besides the cost of purchasing the precast concurrent fences, you will also pay for labor.
Labor costs are determined by several factors. The size of the fence, the complexity of the task and, how long it takes.
You will pay more to install a large fence. Additionally, fence installers may charge you per hour or per project. If you pay per hour, the longer the installation takes, the more you pay.
The final appearance of your precast concrete fence determines its cost.
You will pay more for a smooth finish than for a rough appearance. Additionally, the cost will increase if the fence is painted or stained.
The more natural the fence looks, the less you pay.
Depending on where you live, you may have to pay for a permit to install a precast concrete fence.
The precast fence manufacturer will advise you on whether you need a permit and how much you have to pay for it.
Or, you can visit your local government office to find out if you need to pay for a permit to install a precast concrete fence.
Precast concrete fences have more than concrete bricks. They are made with several components which determine their strength and quality.
The higher the quality of the fence, the more it costs.
Difference between precast concrete and regular concrete fences
The major difference between concrete and precast concrete is thickness.
Concrete is thicker than precast concrete. It makes the precast concrete lighter and easier to handle.
It ensures that it can be made into panels in one place, transported to the fence location and joined together.
If you use concrete, you will need to dig and build a foundation to build a fence.
Complexity of installation
Installing a precast concrete fence is much easier than installing a concrete fence.
To install a precast concrete fence, you will only need to connect the panels by the set grooves.
Installing a fence will require masons to build it. Making it more complex, time-consuming and expensive.
Precast concrete fences are cheaper to install than concrete fences. The installation process is less involving than when building a concrete fence.
Can I get a warranty on a precast concrete fence?
If you buy prefabricated concrete fences, you will get a warranty from the manufacturer.
Most warranties for built or prefabricated concrete fences are valid for 25 years. Over this period, if you have a problem with your fence, you can contact your contractor or its manufacturer and they will fix it for free.
Concrete fences are strong and durable. They will last longer than the warranty provided and will rarely exhibit problems that need you to call the contractor back for repair.