Electric fences are essential for enclosing animals and protecting your property from intruders. They are also called charged fences and use mild electric shocks to train pets and domestic animals to stay inside the fence.
The average cost to install an electric fence is $550 on average, with a typical range of $450 to $650. 
The actual installation cost depends on the electric fence type, location, and size of the project.
| Electric fence type | Low | High |
| --- | --- | --- |
| Rope | $4.50 | $8.20 |
| Twine | $4.00 | $7.00 |
| Tape | $3.50 | $7.90 |
| Wire | $4.95 | $9.50 |
Rope electric fence: Costs about $4.50 to $8.20 per linear foot to install. It is an excellent option if you want a strong electric fence. The rope is made of tightly woven fibers through which electricity is conducted. It is more visible than twine and wire, and its construction makes it hardwearing. It is weatherproof and can remain steady in strong winds.
Twine electric fences: Can set you back by about $ 4.00 to $7.00 per linear foot. This fence is light and effortless to set up, making it ideal for DIY installations. It is not as strong as wire or rope electric fences. However, it is very effective because its copper filament gives it a high conductivity. It is resistant to UV rays, and it makes a great option if you want a less conspicuous fence.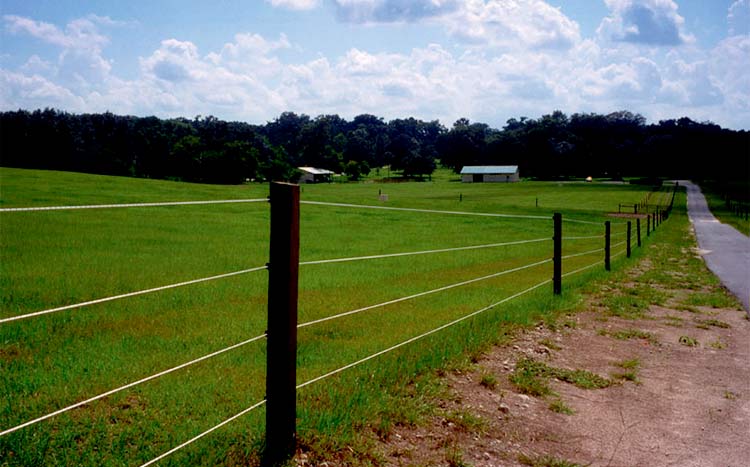 Tape electric fence: It costs about $3.50 to $7.90 per linear foot to install tape electric fences. It is made by weaving stainless steel conductors into plastic filaments. This fence is an excellent option if you are looking for a high visibility fence. It is, however, prone to wind damage, so it is not ideal for windy areas.
Wire electric fence: The average cost to install wire electric fence is around $4.95 to $9.50 per linear foot. A solid electric wire fence is the most popular electric fence. It has an incredible conducting filament that makes it the most effective option for electric fences. It is galvanized by zinc and aluminum that make it durable and efficient.
The national average cost to install an electric fence is about $8.12 per linear, with a range of $6.30 to $9.93. This cost includes labor and materials. You can spend about $3.30 per linear foot for materials alone, coming in between $2.96 to $3.64. Installing an electric fence on a typical 64 linear foot project costs about $519.68, ranging between $403.20 and $635.52.
The total cost for the project will depend on the job size, electric fence type, and location.
Cost of an electrical fence per linear foot
Installing an electric fence costs about $6.00 to $10.00 per linear foot. The cost can be lower or higher depending on the project size. Electric fences are popular in rural areas because they are used to protect livestock from predators. In urban areas, homeowners use these fences to train their pets to stay in one area and protect them from stray dogs.
When installed properly, they can last for a long time. However, they can cause significant injuries to animals and humans if they become faulty due to poor installation.
Cost of an electrical fence per acre
The cost to install an electric fence in one acre is about $1,500 to $2,000 for a straightforward installation. If the area is rocky or hilly, the installation cost can go higher due to the challenges.
This project can take about 12 hours from start to finish. A DIY project can take a longer time, but professional installations are the best option if you want a high-quality job.
How much does an invisible electric fence cost?
Homeowners pay about $1200 to install an invisible electric fence. The cost ranges between 900 to $1,500, and it depends on the type you choose. You can pay about $300 for the installation on the low end, while the high-end installation price can be up to $2,000.
The cost to install an electric fence per linear foot is about $2.50. So, you can pay about $5,000 for a 2,000 linear foot project. Irregular terrain may increase the installation price.
This cost includes wires, a transmitter, and a receiver. These fences are typically used to keep pets on the property. So, this price also includes a charger, collar, batteries, and voltage meter.
Invisible electric fences are about 10-15 percent cheaper than physical fences. This is because they require fewer repair and maintenance costs. Invisible electric fences come in packages, and you can buy them from an online store without a hassle. The components are also replaceable, making them highly convenient.
Cost factors for invisible electric fences
There are several cost factors that you should consider before you install an invisible electric fence. These include:
Solar charger – If you do not want to use power, or power cannot run out to the electric fence, you can power it using a solar charger. The charger should face the southeast for it to get the most sunshine. You can also power your fence by running underground wires. This may, however, increase your power costs.
Accessories – You may need some optional accessories that may increase the overall installation cost of your electric fence. These include:
Back-up power system in case of power downtime.
High-quality wires for durability.
Lighting protection.
Your contractor should advise you on all the accessories you may need to ensure the fence is of good quality.
Radio Interference – Sometimes electric fences can generate radio noise or frequency that may interfere with the other electronics in the house. You should factor in the repair costs for your devices in case they become problematic.
Training – If you are installing an invisible electric fence to train your animal, you may need a qualified trainer. The price for hiring a trainer will depend on your location and the number of pets.
Injuries
Electric fences can become faulty and cause severe injuries to your animals. Treating the animal will require extra cash depending on the extent of the injury.
How much does an electric fence cost per month?
An electric fence uses about 10 to 50 watts per day, depending on the type and size. So, the average electricity consumption is about 30 watts. For one month, you can use about 1,000 watts. To get the kilowatts, you can divide the 1,000 watts by 1,000 to get 1.00 kilowatts per month.
The average electricity rate in the U.S. is about 13.19 cents per kilowatt-hour. This means you can pay about 13 cents per month for your electric fence. This is a relatively low price for so many benefits.
How do I estimate the cost of an electrical fence?
To estimate the cost of an electric fence, you must contact a reliable professional to provide an accurate assessment of the job. You should, however, remember that the estimate is not a substitute for a written quote. The cost estimate should include:
The cost of materials and equipment used for the installation.
The transportation cost to and from the worksite.
The cost to prep the worksite before the installation of the electric fence. Prepping cost includes the price to protect nearby structures, finishes, components, and materials.
The labor setup and mobilization time plus the minimum per-hour charges for the installation. Small electric fence installation projects are usually charged by the hour. If you DIY the project, the labor cost will be excluded.
The cost estimate will, however, not cover the following:
The cost for repairing, relocating, modifying, or moving existing HVAC, surfacing, plumbing, and electrical systems. It also does not include making the mentioned systems compliant with the building codes.
The testing and remediation costs of any hazardous materials such as lead and asbestos.
The cost for a general contractor to organize and supervise the project. If a general contractor supervises the installation, you will need to add about 20 percent to the total cost.
Sales tax that applies on the materials or supplies required for the project.
Local permits and inspection fees for the project.
Once you know all the costs involved in the project, it will be easier to plan and set aside enough money to run it. Also, make sure you get all the permits before the start date to avoid paying extra fees for violations. You can also prep the worksite early to lower the overall cost of the installation.
More so, make sure you fix all damages to give the installers an easy time during the work. Rates become lower if there are fewer obstacles.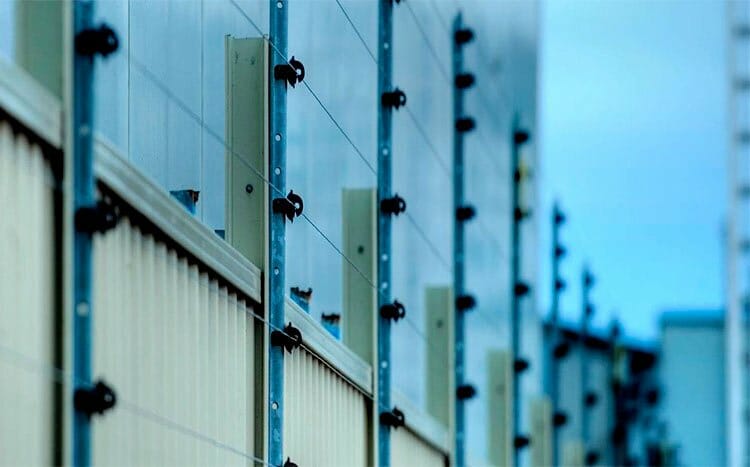 Using a pro vs. Doing it yourself
Homeowners have different preferences for home improvement projects. While you can install an electric fence yourself, you should think about the quality of the installation. Pros can handle the job professionally and ensure the fence is safe for you and your animals. However, if you have enough skills, you can DIY the job to save on the total installation cost.
Hiring a pro is a better option when it comes to the installation of an electric fence. You can easily find a reliable contractor near you if you have the right sources. More so, you will get a warranty on the materials and labor, which is a better deal than DIYing the job.
Pros
They will complete the job within the set deadline, which is convenient if you need the fence urgently.
The installation will be high-quality and safe for you, your loved ones, and your animals.
You will have ongoing support and advice from the pros.
Professionals will advise you on the best materials to use to lower your monthly power consumption.
Cons
The installation cost will be quite high because of high labor costs.
It can be challenging to find a reputable installer, especially if this is your first project.
Some pros may not meet the standard you expected, which can be disappointing considering the amount of money you invested in the project.
DIY installations are an excellent way to save some cash, especially if your pocket is tight. You can acquaint yourself with the job through online materials beforehand. If you are a handy person, this shouldn't be difficult for you.
Pros
The installation cost will be much cheaper because you will not include labor costs.
You will have a chance to sharpen your skills, which is essential for future projects.
You will have the final say on the materials and supplies you need. Also, you will control how you want the installation to go.
Cons
Dealing with electric wires can be dangerous if you have no idea what you are doing.
The installation will take much longer, which may cause inconveniences.
DIY projects are expensive in the long run because you may need to hire pros to undo your mistakes.
The average cost to install a fence is around $550, coming in between 450 to $650. The cost per linear foot is about $6 to $9.50, inclusive of labor and materials. The actual cost depends on the size of the area you wish to enclose, your location, and the type of electric fence. Electric fences are essential in keeping your animals, such as pets and livestock, safe from predators and unfriendly animals. They are also excellent in training pets to stay within the property.
Electric fences are designed to be weatherproof. However, rain can affect electric fences, especially during heavy outpours. When the rainwater comes into contact with the electric fence, it can cause arcing. Heavy rains can cause vegetation near the electric fence to collapse on or close to the fence. The vegetation can attract charge, which can lead to shorting or arcing.
Electric fences can last for about 7 to 20 years, depending on their tensile strength. Weather elements such as the sun, wind, and rain can largely affect the fences. To get the most out of your fence, ensure you install the best quality and maintain it regularly. With proper maintenance, electric fences can last for more than 20 years.
Electric fences are essential for any homeowner looking to protect their animals. They effectively keep out intruders while leaving the house's aesthetics visible. However, they should be professionally installed because they can cause fatal injuries when faulty.