Fences do so much for your property. They add safety, security, helps you keep kids and pets inside the yard, improve the curb appeal, and much more. One of the things that most homeowners have doubts about when choosing the material for their fence is how long it will last.
Wooden fences last from 5 to 30 years depending on the type of wood, Aluminum fences lifespan is impressive, with proper maintenance easily 50+ years. The life expectancy of vinyl or PVC fences is 20 to 30 years.
In this article, we will talk about the fence's lifespan primarily, but we will cover some other factors on this subject too. Let's go!
Before you spend your money on a new fence is normal that you want to know how long your fence will last. There are a whole host of factors that determine the lifespan of the fence. First the material, elements that fence will be exposed to, way of maintaining, place where is installed, the weather condition in your area, etc.
How Long Does a Wood Fence Last?
A wood fence split rail, picket fence can contribute to the curb appeal of your property and can increase the value of your home. The average life expectancy of the wood fence is 15 years, but with the proper maintenance and protection it can last up to years or more.
Wood Fencing Consideration
Wood fences are famous and widely used due to their ability to withstand decay and rot. Part of the fence post which has constant contact with the ground and is exposed to moisture and insects should be pressure treated with chemicals that keep away water and bugs so the wood will not get damaged.
When you have a new fence installed, wait at least a year before painting and staining it so the chemicals used on the wood can dry out. Otherway you will seal the moisture inside and very fast you will end up with damaged fence. Pressure-treating ensures that the wood is protected from fungal decay and termites. Anyway, if you overlook the regular maintenance of the fence your wood will suffer from swelling, shrinking, cracking, and wrapping.
Conduct an Annual Inspection
Conducting an annual inspection ensures the longevity of your fence. Simply walk around and locate damaged or rotten boards. If needed replace any broken boards, hammer in nails, or tighten screws. Also, check if the wood sections are properly attached to each other and if any part of the fence is leaning, make sure the posts are tightly in the ground.
Pressure-treated wood isn't 100% waterproof so whatever steps you take to avoid moisture will increase the lifespan of your fence. Also, you can adjust your sprinklers so they don't get your fence wet and cause the wood to rot ar lead to moss growing on your wood. Trim back your bushes and shrubs so they don't hang on the fence because they're adding weight and hold on moisture.
Thorough Cleaning Every 2 to 3 Years
Every two to three years clean your wood fence to avoid dirt, moss, mildew, and graying, and after that apply UV inhibiting, water-repellant coating. Scrape off any moss or peeling paint until you're able to see the wood again. If mold is already an issue prepare a cleaning solution of 20% bleach with 80% mild detergent and spray it on the fence an hour before washing to kill any mold spores and stop them from growing back.
Reseal or Repaint After Cleaning
Painting and sealing should be conducted at the same time as cleaning, more precisely after. For wooden fences use exterior oil-based stain or latex paint which will seal out the moisture, prevent the wood from rotting, and limit the amount of weathering of your wood. Use products with a UV inhibitor to help keep the wood from turning gray.
How Long Does Aluminum Fence Last?
There are a lot of things to love with an aluminum fence. First the sleek look, the luxury of zero maintenance, and last but not least the extraordinary durability and lifespan. Aluminum is an absolute champion among fence materials with a lifespan of 50+ years, but it depends on the quality of aluminum and the coating process.
Its impressive lifespan is due to the impermeable aluminum base. Aluminum unlike wood is not susceptible to rot and mildew and stands very well against dirt and grime. The combination of almost zero maintenance and longevity makes aluminum a great choice for your fence.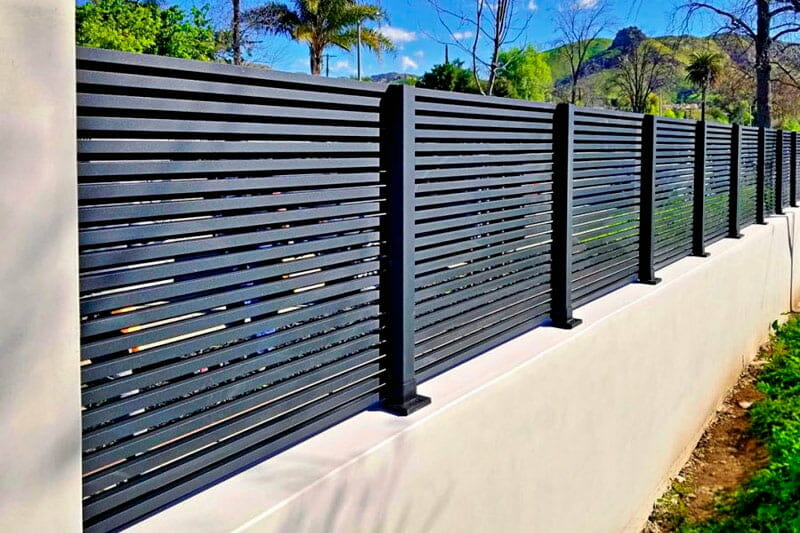 Aluminum Fence Maintenance
Although we mentioned above that aluminum fences require almost zero maintenance, there are still some things you will have to do, not for increasing a fence lifespan but to keep the good looking of the aluminum.
Every few weeks, or when necessary, hose down your fence to get rid of any dirt, fertilizer chemicals, and other waste. None of this can hurt your fence but they will ruin the picture of a perfect aluminum fence, and for sure you don't want that.
If hosing it down doesn't help, after some muddy storm for example, and the bottom of the fence is caked with splatters of mud, wipe it down with some soft cloth, but never use something like a wire brush to remove dirt from the aluminum fence. Wash up first to dilute the dirt and then wash down to remove it away from the fence post. Let the fresh air do the magic and then wipe it down with a soft cloth.
For harder stains use CLR ( Calcium Lime and Rust Remover) which is not a dangerous chemical but still beware when you working near plants or vegetable gardens. In that case, apply the CLR with a rag. For areas that are more soiled and that aren't coming clean with water or degreaser, use warm water with dish soap.
Important to note that if you live near the coast where saltwater corrosion is a problem you will have to use your hose more often to be sure that the salt will not cause problems.
How Long Does Vinyl/PVC Fence Last?
20 – 30 years is the life expectancy of a vinyl/PVC fence, of course, it can range depending on the quality and brand of vinyl fence. Check the manufacturer's warranty to know how long a specific vinyl/PVC fence will last. Warranties range from 20 years to a lifetime, and if your fence is installed correctly and properly maintained, should last as long as the warranty.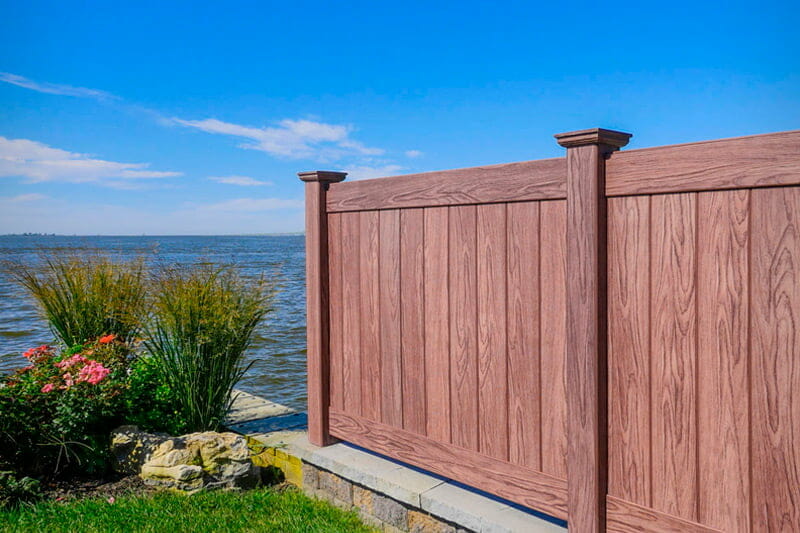 What Makes Vinyl/PVC Fence Last so Long?
Polyvinyl chloride is responsible for the longevity of the vinyl/PVC fences. Vinyl is durable and strong, it has five times the tensile strength and four times the flexibility of wood. Vinyl fence material is typically blended with other ingredients to become a low-maintenance product that will last for years.
Is Vinyl/PVC Fence Prone to Cracking and Brittling?
Quality vinyl/PVC fence products won't crack or become brittle due to sun exposure or cold temperatures. Good vinyl is UV-resistant and can accommodate normal temperature changes.
To be sure that your vinyl/PVC fence will stand well against sun exposure and weather conditions, made some researches about the brand you are going to purchase because some seemingly cheap options can cost you a lot in the future due to the reparation or even replacing your fence.
HomeGardenGuides.com is a free service that quickly matches you with top-voted local Fence Specialists.
You can get 3 estimates fast by real certified experts in your area in just 2 minutes.
Scroll to the top of the page and enter your Zip code.
Answer questions about your fencing job
Your dancing job details are forwarded to three local experts. They will send you a price estimate for the job and some friendly advice.
IMPORTANT: There is no obligation to hire. This is a free tool and service to be used at your pleasure.
Location or where you will install your fence has a big influence on the fence lifespan. This applies to all types of fences. Swampy or uneven ground or heavily forested areas with a lot of weak trees can take a few years of your fence lifetime. However it is possible to build on a slope, so-called "racking" a fence, if you don't have other options.
Substantially solid, devoid of weak threes, and leveled as much as possible installation area acts favorably on your fence.
Connection Between Installation and Lifespan
While installing your fence don't place posts too close together because you will get a too rigid structure that will not stand well against strong wind. You want a flexible fence.
Digging 6 inches deeper than recommended holes will provide enough room for gravel needed under the posts for extra strength. Avoid places with lots of rocks and debris.
How long your fence will last depends on lots of factors, including the type of the fence, location choice, installation quality, maintenance. Take time before deciding on the fence you will spend your money on. Good luck!