If you are a landowner in Mississippi and are interested in enclosing your land or home, then you need to understand property line fence laws in the state. Mississippi, like all the other states, has statutes in place for both commercial and residential fences. Read on for a detailed analysis of Mississippi property line laws.
Yes, you need a fence permit to build a fence on commercial and residential lots anywhere in Mississippi. Permits are usually issued to contractors or individual landowners from a local office or relevant department in their city or county.
For instance, landowners in the city of Biloxi can obtain physical fence permit application forms from the city's community development department or download them. It's advisable to work with a licensed contractor in your city when applying for a fence permit to ensure compliance and approval.
Fence permits are required to ensure compliance with local planning and building regulations or standards.Depending on your location in the state, you are required to follow set specifications to ensure your fence is compliant with these laws. As an example, some cities specify maximum residential fence heights and materials in their building ordinances or laws that must be adhered to.
Can I Replace an Existing Fence Without A Permit?
No, you cannot replace or alter a fence without a permit in Mississippi. You still need to obtain a permit from the relevant authorities in your city to replace a fence on commercial or residential lots. All the cities and towns in the state have a specific code of ordinances specifying when you need to apply for a permit.
For instance, you need a fence permit to erect, build, alter, replace, enlarge or remove a fence on private property If you are a resident of D'Iberville, MS. Other cities and localities in the state have similar or slightly different requirements with bigger cities such as Jackson having stricter laws due to zoning requirements.
How Tall Can A Privacy Fence Be in Mississippi?
The average fence height limit in Mississippi is seven feet for residential and commercial lots. Fence height limits are contained in local city or county-level fence ordinances with each having its requirements based on building and zoning laws. The table below contains sample fence limits for some of the cities and towns in the state:
| City/Town in Mississippi | Fence Height Limit in Feet |
| --- | --- |
| Jackson | 6 to 8 Feet Depending on area and zoning district |
| Biloxi | 4 Feet (Front yards) and 8 Feet (Rear yards) |
| D'Iberville | 4 Feet (Normal fences) and 7 Feet for security screening fences. |
| Tupelo | 4 Feet (Front yards), 12 Feet (Side yards) 8 Feet (Rear yards) |
| Gulfport | 4 Feet Front yards |
All the other cities, towns, and rural areas within the state have their set of ordinances with specifications such as fence height limitations and other requirements.
Note: You will need to submit documentation on the fence you are erecting for approval to get a permit from your relevant local government office. Working with a licensed local contractor might make it easier to satisfy building requirements because they have experience erecting similar fences in the area.
Who Owns The Fence On Property Lines In MS?
According to Mississippi Code Title 89 on real and personal property, fences built on the property line are jointly owned by the title holders, lessees or landowners involved. These types of fences are referred to as "party fences" in the statute.
Each party is bound to contribute an equal sum to go towards the erection, maintenance, and repair of the "party fence" under specific circumstances described in the law. However, an owner can opt to build an additional fence away from the property line within sixty days. By doing this, they will not be bound by the code.
Additionally, this statute prohibits one party from demolishing, replacing, or altering the shared property line fence in any way without consulting the other owner even when there is no written agreement in place between them. One can only cease to be a joint owner when they are no longer using their land or have transferred ownership to another party who will take over ownership.
How Do You Know Where the Property Boundary Is?
A boundary line or property line is the point or line where your land ends or where your lot is separated from your neighbor. If you cannot access your property boundary from deed documentation in your possession, then your best option is to do a survey. A land surveyor within your location can also search for plat maps and other documentation showing lot division and ownership records in your area.
You can also check the records on your municipal recorder or assessor's office either online or physically. Some of them will charge a small fee to facilitate the search while others provide free mapping tools showing detailed real estate data for residents. However, some of the maps and real estate documents can be technical for most people so you might need to find an expert to help.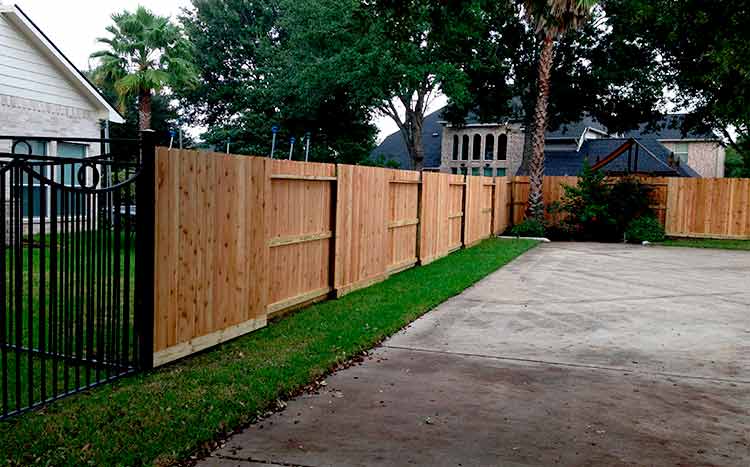 Can My Neighbor Build A Fence On The Property Line?
Your neighbor has the same right as you on the use of the property line. This means they can build a fence on the property line if they needed to and share costs with you. However, you will still be a part-owner of the property line fence and be required by law to contribute towards its maintenance and repairs unless you have a fence on your side of the land.
You can avoid disputes regarding the use of the property line or ownership of a property line fence by signing a property line agreement with your neighbors. These agreements are used to specify how immediate neighbors utilize the property line and how to share fence maintenance costs. Property line agreements are recognized by law.
Can I Put Up A Fence on My Side of The Property Line?
Mississippi fence laws allow you to build a fence on your side of the property line. Any fence built on the property line is, however, jointly owned with your neighbor and referred to as a party fence. You can depart from this joint ownership by placing your fence a few inches or feet from the property line. Doing this gives you sole ownership of the fence and you will be responsible for its maintenance.
Do You Have to Contribute to Maintaining A Boundary Fence in Mississippi?
Yes, landowners or lessees are required to contribute towards the maintenance of a boundary fence according to Mississippi code § 89-13-1. "Persons owning adjoining land or lots, or being lessees thereof for more than two (2) years, shall be bound to contribute equally to the erection of fences on the line dividing the land or lots". You can depart from this obligation by erecting a fence on your land within sixty days of notifying your neighbor of your intentions.
Does One Law Cover All of The States in Mississippi?
Mississippi state fence laws and statutes cover the entire state but have a limited scope. The state has delegated some authorities to local municipal, county, and other units of governments to make local codes of the ordinance. These local codes of ordinance cover specific issues such as fence height limitations, types of fences, and placement. For instance, each city in Mississippi has a code of ordinances on fences based on zoning districts and city building regulations.
A spite fence is a fence built to annoy a neighbor or inconvenience them in some way. For instance, a tall spite fence can be built to block a view from a neighbor's side. Spite fences are mostly illegal if local fence building regulations are invoked. Neighbors can also sue the offending party by raising a private nuisance claim in court.
Mississippi Boundary Fence Laws at A Glance